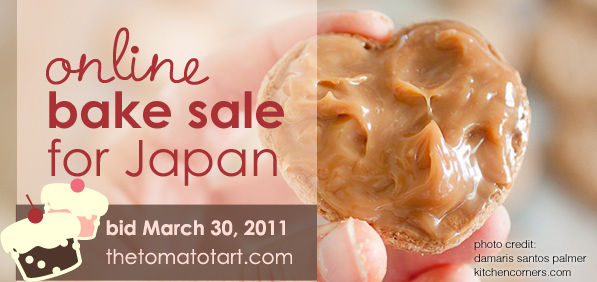 UPDATE: we beat our goal of $2,5oo by a whole bunch, read all about it.
My original goal was $2,500. I am hoping we can now beat that. Let's see!
Thank you all so much. Bidding is now closed. I can't wait to see the totals. Be back soon.
Bidding is live until 12pm Eastern on the 31st of March
All bids start at $20.00 and go in $1.00 increments.
There is a buy it now option for every item set at $250.00.
Good Luck and Happy Bidding
Email: auction@thetomatotart.com or use this handy form created by Angi of Rice And Wheat.
………………………………………………………………………………………………………………………
The Tomato Tart
Sabrina Modelle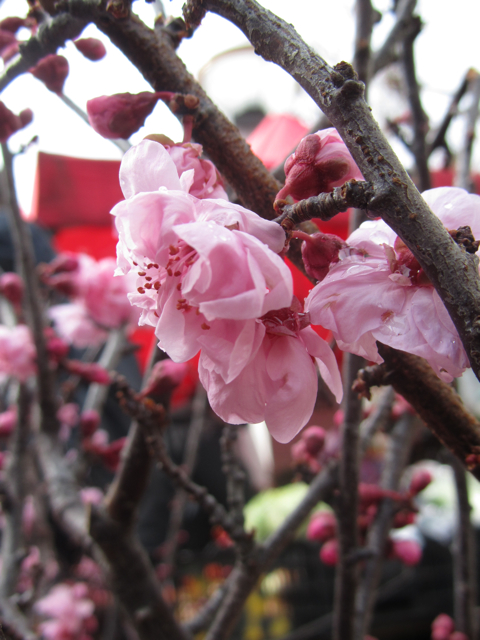 A Love Note to Japan Vegan Cupcakes
Matcha green tea just speaks of Japan- beautiful, green, and robustly flavored, there are rituals around preparing and drinking this tea. They certainly don't involve cute little cupcakes topped with white chocolate sudachi-kissed ganache, but hey, it's so delicious and adorable, the Japanese are bound to love it! Oh, and what is this sudachi, you ask. It is a citrus fruit from Japan- something akin to a lime- but like no lime you've ever tasted. It is haunting with hints of white pepper.This cupcake, like Japan, is unique, gentle, yet very strong.
INTERNATIONAL SHIPPING!
………………………………………………………………………………………………………………………
The Tomato Tart
Sabrina Modelle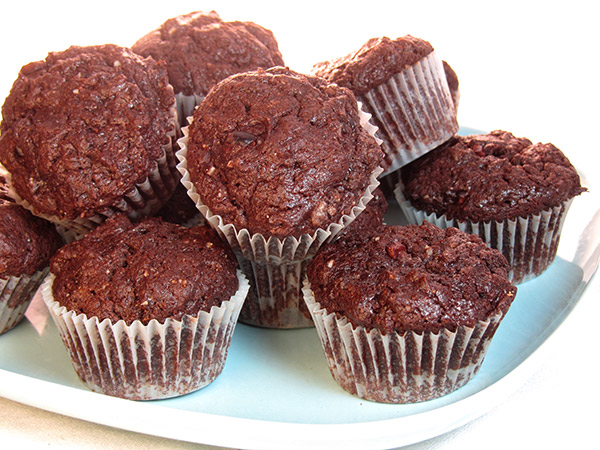 Vegan Hazelnut Chocolate Brownie Bites
Rich and chocolatey- dare you to eat just one- or… more than three! Totally vegan and utterly fudgy and delicious.
INTERNATIONAL SHIPPING!
………………………………………………………………………………………………………………………
The Tomato Tart
Sabrina Modelle
Rosemary Olive Oil Chocolate Chunk Cake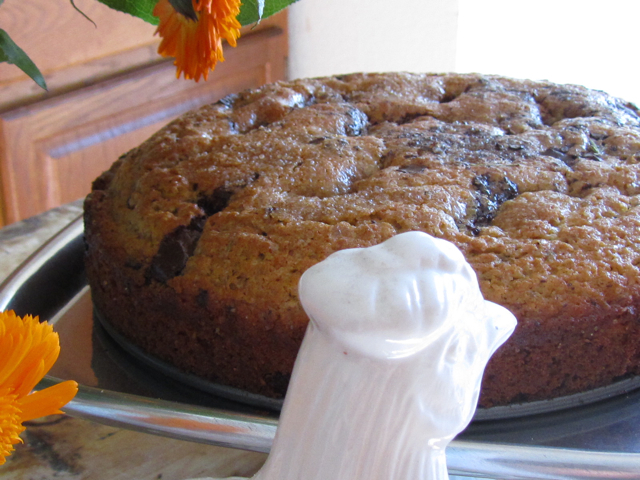 This is the best cake I have ever made. You will want two. Made with Mcevoy Olive Oil and Callebut Chocolate as well as Rosemary from a friend's garden. I got this recipe from Heidi Swanson's 101 cookbooks & when I met her she told a funny story of showing up to a potluck and 5 different people showed up with this cake. That's how awesome this is. I have made this over and over to rave reviews. Mine's a little extra special with some modifications and because my fingers taste soooo sweet!
INTERNATIONAL SHIPPING!
………………………………………………………………………………………………………………………
Annelies Zijderveld
la vie en route
www.lavieenroute.com
San Francisco
A menagerie of tea shortbreads. Having worked at a tea company for many years, we stocked our pantries and accustomed our palates to the tastes of tea from around the world, including Japan. In my menagerie of tea shortbreads, you will find a new way to indulge your love of tea. This menagerie includes the following flavors: Lapsang Souchong Bacon, gyokuro walnut, matcha chocolate chunk, rooibos yuzu & Spiced chai.
US Shipping Only
………………………………………………………………………………………………………………………
Joy
The Herbed Kitchen
I am offering a double batch of the Vegan Lemon Poppyseed Scones ( http://theherbedkitchen.wordpress.com/2011/03/28/lemon-poppyseed-scones-vegan-in-support-of-japan/ ) which would be 12 scones.
US SHIPPING ONLY
………………………………………………………………………………………………………………………
Amanda Areias
www.givemeflour.com
Chicago USA
I'll make Brigadeiros! Two box (15 each) of delicious Brazilian caramel candy to state live can be sweet too.
Made with sweetened condensed milk and chocolate, this chocolate pudding cousin and fudge spread brother has its own and unique identity. You gotta try!
By the way, do you know Brazil has the biggest Japanese community outside Japan?
For me that's not only a way to help but a way to show appreciation to Japan and its population.
You can check Brigadeiro Tutorial here:
http://givemeflour.com/?p=904
US SHIPPING ONLY
……………………………………………………………………………………………………………………….
Allison Day
http://www.sushiday.com
Los Angeles, CA
Mochi is a Japanese sweet that I grew up eating, ever since I was a young girl. Every time we went to the Japanese supermarket, each of my siblings and I would get to buy a piece of mochi from the nearby bakery as a treat afterwards. When I visited Japan a year ago, you can be sure that I ate as much mochi there as I could possibly manage. Mochi is wonderful. And mochi cake… even better! This gluten-free chocolate-chip banana mochi cake that I am making embodies everything I love about Japanese sweets – light, not too sweet, just right.
http://sushiday.com/archives/2010/10/15/mochi-cakes-for-a-fantastic-gluten-free-potluck-picnic-in-sf/
US SHIPPING ONLY
……………………………………………………………………………………………………………………….
Amy Cleary
WineBookGirl
Winebookgirl.blogspot.com
San Francisco, CA
I'm offering a citrus trio of preserves: Honeyed Blood Oranges. Orange and Rosemary Marmalade and Kumquats in Mint Syrup. My 8 year-old chose them because she thought they looked "cheerful."
INTERNATIONAL SHIPPING!
……………………………………………………………………………………………………………………….
Amy Tong
uTry.it
http://www.utryit.com
Los Angeles, CA
……………………………………………………………………………………………………………………….
Two Dozen Triple Chocolate Almond Cookies
These Triple Chocolate Almond Cookies are the most popular treats requested among my family and friends whenever we ahve gatherings. I'll ship them in cookie tin so they stay nice and fresh.
http://utry.it/2011/03/virtual-bake-sale-to-benefit-japan.html-
US SHIPPING ONLY
……………………………………………………………………………………………………………………….
Andra Zeppelin
French Press Memos
www.frenchpressmemos.com
Denver, Colorado
……………………………………………………………………………………………………………………….
My granola recipe was developed after I fell in love with the addicting Hippie Crack granola at a bakery in Washington, D.C.. It was love at first bite and I have replicated and modified to what I consider perfection. The French Press Memos granola is made with organic ingredients- oats, almonds, pecans, dried fruit, Colorado honey, and extra virgin olive oil. It is not dry nor over-moist- just a perfect balance of crunch and chewyness. The only warning is that it is addictive. It is packed in 8 ounce bags and I encourage you to win more than one.
http://frenchpressmemos.blogspot.com/2010/03/confession-wednesday-sharing-or-not.html
INTERNATIONAL SHIPPING!
……………………………………………………………………………………………………………………….
Miki
San Francisco, CA
This pineapple cheesecake is a ~20 years old Japanese recipe I've been using! It has good balance of flavors (pineapple and cream cheese). Its texture is perfect with pound-cake like consistency yet moist. Two highest bidder will win a loaf each. Note that since it is a Japanese recipe, 1) it's not as sweet as usual American cakes (but don't worry, the pineapple and cheese flavor will satisfy you for sure), and 2) it's slightly smaller (3 1/2 x 8 1/2 x 2 in). I like to have it as a breakfast or at tea time with a nice cup of black tea.
(hosted on rice & wheat)
http://www.riceandwheat.com/2011/03/cheddar-chive-scones-and-how-you-can-get-some/
US SHIPPING ONLY
……………………………………………………………………………………………………………………….
Angi
rice & wheat
http://www.riceandwheat.com
San Francisco, CA
I'm baking up two dozens of cheddar-chive scones! I know, it's not sweet – but I also know there must be savory-foods-enthusiasts like me out there in BakeSaleLand. Each of the two highest bidders will win one dozen of my favorite breakfast/brunch treat, shipped to you well-wrapped so you can pop them directly into your fridge or freezer. Reheat briefly in a warm oven or microwave and voila, breakfast! (or lunch…or dinner…or midnight snack…)
http://www.riceandwheat.com/2011/03/cheddar-chive-scones-and-how-you-can-get-some/
US SHIPPING ONLY
……………………………………………………………………………………………………………………….
Annapet S. Isidoro
The Daily Palette
http://www.thedailypalette.com
Central Marin, CA
An omnipresent French cookie alluringly called "Langues de Chat" without the Bouchon Bakery markup! You'll get eight dozen cookies that measure 3″x1″
http://thedailypalette.com/2011/03/24/the-tomato-tart-online-bake-sale-for-japan-langues-de-chat/
US & CANADIAN SHIPPING ONLY
……………………………………………………………………………………………………………………….
Toni
Boulder Locavore
http://boulderlocavore.blogspot.com/
Boulder Colorado
A trio of homemade organic jams. 3 Citrus Marmalade from a vintage recipe featuring grapefruit, orange and lemon (featuring on my blog). Sour Cherry Jam made with sour cherries picked by me last summer. The Golden Ticket: Wild Raspberry and Wild Rhubarb Mountain Jam. All handpicked by me in the Boulder Moutains which were subsequently swallowed by a wildfire last fall. I only made three jars total.
……………………………………………………………………………………………………………………….
The BEST Oatmeal Cookies (gluten free, but gluten eaters will never know). This recipe has a little secret that always ensures the most moist and flavorful cookie you've ever had. Cookies have oatmeal, raisins and pecans. Nothing better. 2 dozen.
http://boulderlocavore.blogspot.com/2011/03/online-bake-sale-for-japan-lets-raise.html
US SHIPPING ONLY
……………………………………………………………………………………………………………………….
Brooke Brickman
Toms River, NJ
My Rosemary & Sea Salt Shortbread is inspired by those I loved so much when I was growing up in England. This buttery shortbread has a subtle savoury flavour, and can be paired with cheese and wine just as well as with a cup of green tea. The shortbread will be freshly baked for you and shipped by Monday, the 11th of April.
INTERNATIONAL SHIPPING!
……………………………………………………………………………………………………………………….
Cali
Offally Tasty
www.offallytasty.wordpress.com
New York City
These huge Blueberry and Cream Cookies are the genius creation of the folks over at momofuku milk bar. They are, in a word, amazing. Crispy around the edges and chewy in the center, with a slight blueberry scent, these are unlike any cookies you've ever had. You'll fall for the milk crumbs, I promise.
http://offallytasty.wordpress.com/2010/10/14/blueberry-and-cream-cookies/
US SHIPPING ONLY
……………………………………………………………………………………………………………………….
Caroline
When Adobo Met Feijoada
http://whenadobometfeijoada.blogspot.com
Los Angeles, CA
……………………………………………………………………………………………………………………….
Hello Kitty Strawberry Polvoron & Matcha Green Tea Polvoron
Polvoron are crumbly, creamy cookies, (similar to shortbread) beloved by all Filipinos. Philippines, once a former colony of Spain, had adapted this shortbread and made them their own. They are not even baked! Flour is toasted to a golden brown and combined with powdered milk, sugar and butter.
I had an idea to add strawberries last spring from seeing the abundant strawberries while shopping at our local farmers' market. The Matcha Green Tea Polvoron I had made plenty of times before but have yet to post in my blog. A little token of support towards Japan and her people.
http://whenadobometfeijoada.blogspot.com/2010/04/polvoron-for-kulinarya-cooking-club.html
US SHIPPING ONLY
……………………………………………………………………………………………………………………….
Scrabble Cookies
These are actually Meyer Lemon Sugar Cookies. The delicately crisp cookies are cut to the size of Scrabble letter tiles. I will provide 100 "letter tile" cookies with the accurate letter distribution so you can actually play Scrabble with them before you munch 'em.
http://whenadobometfeijoada.blogspot.com/2010/03/scrabble-cookies.html
US SHIPPING ONLY
………………………………………………………………………………………………………………………
Carolyn
All Day I Dream About Food
http://dreamaboutfood.blogspot.com
New England.
Both chewy and crispy, these peanut butter cookies are studded with Reese's Pieces for a serious peanut butter experience. And I will add extra Reese's Pieces and/or chocolate chips, as you like. Tailor these cookies to your own satisfaction.
http://dreamaboutfood.blogspot.com/2010/10/reeses-pieces-peanut-butter-cookies.html
US SHIPPING ONLY
………………………………………………………………………………………………………………………
Cat Beurnier
Sugar Daze
English: http://www.littlemisscupcakeparis.blogspot.com/
French:http://littlemisscupcakeparisvf.blogspot.com/
Paris, France
One Dozen cupcakes: half will be devil's food with salted caramel buttercream, 1/2 will be chocolate with raspberry-champagne buttercream (Retail value is 44 euros)
English: http://littlemisscupcakeparis.blogspot.com/2011/03/baby-give-it-up.html
French: http://littlemisscupcakeparisvf.blogspot.com/2011/03/baby-give-it-up.html
INTERNATIONAL SHIPPING!
………………………………………………………………………………………………………………………
Cristina De Guzman
Pinay In Texas Cooking Corner
http://www.pinaycookingcorner.com
Little Elm, TX
Food for the Gods is basically dates and walnut bar which is a favorite holiday treat in the Philippines that can bring delight to anyone eating it. I want to bring delight to the people of Japan in my own little way, hence this is the best baked goody I could think of. Baked with a delightful blend of dates, walnuts, butter, molasses, and honey (plus pecans in my recipe) these bars are very delicious and addictive. I'm donating 3 boxes with 12 individually wrapped bars in each box. It will be shipped in a hard decorative round box that will ensure that the Food for the Gods will arrive in good condition.
http://www.pinaycookingcorner.com/2011/03/filipino-food-for-gods.html
http://www.pinaycookingcorner.com/2011/03/online-bakesale-for-japan-let-us-raise.html
US SHIPPING ONLY
………………………………………………………………………………………………………………………
Damaris Santos-Palmer
Kitchen Corners
www.kitchencorners.com
Santa Cruz, California
Gluten Free Alfajores Pops!
I am making 10 gluten free alfajore pops, traditional argentinian cookies filled with homemade dulce de leche and dipped in chocolate. Made with love from Damaris and her sous chefs Enzo and baby Maria. Each individually wrapped in gold foil and ribbon.
http://www.kitchencorners.com/2011/02/gluten-free-alfajore-pops-for.html
US SHIPPING ONLY
………………………………………………………………………………………………………………………
Dennis Littley
More Than A Mount Full
http://www.morethanmountfull.com
Oaklyn, New Jersey
My absolute favorite cookie is one by Alice Medrich, a chocolate decadence cookie. I have made these for so many different people and I always get the same response when they first eat them……….so I called them my OMG cookies! These cookies do have walnuts in them so if your allergic, these cookies are not for you.
http://www.morethanamountfull.com/2010/08/when-your-having-bad-daybake-cookies.html
US SHIPPING ONLY
………………………………………………………………………………………………………………………
Donna Currie
Cookistry
http://cookistry.blogspot.com/
Longmont, Colorado
Fire Crackers are crackers with a kick of spice, thanks to a jalepeno spread made by a small local company. These crackers also generated my "Optical Illusion Cracker" that had the face of a bear in the cracker. There is no guarantee that you'll get an optical illusion in your batch of crackers, but you never know. And if you don't get a face in a cracker, these are great for snacking.
(can be made more or less spicy as requested)
http://cookistry.blogspot.com/2010/07/botd-fire-crackers.html
US SHIPPING ONLY
………………………………………………………………………………………………………………………
Mary Kauer Smith
The Gluten Freed Gourmet
http://www.theglutenfreedgourmet.com
San Mateo, CA
Donation 2) One time home/office delivery of 2 dozen cupcakes, bidders choice of chocolate/yellow/red velvet cakes and buttercream/chocolate/cream cheese frostings or "Hostess" cupcakes. This is for local bidders only and they have 12 months to redeem their winning bid (I'm thinking this would be great for birthday parties, etc).
http://theglutenfreedgourmet.com/category/sweet-recipes/cookies/
………………………………………………………………………………………………………………………
Emiko
Kitchen M
http://kitchen-em.blogspot.com
Napa, California
Matcha & Raspberry Flower Honey Madeleines
Matcha exemplifies the Japanese soul and me. A subtle touch of this pungent tea flavor goes a long way in a madeleine recipe from my favorite Japanese dessert cookbook. A Raspberry Flower Honey, made locally where I live, adds another layer of floral essence, balancing out the slight bitterness of matcha, without being overbearingly sweet. 15 madeleines in the package.
http://kitchen-em.blogspot.com/2011/03/matcha-raspberry-flower-honey-madeleine.html
US SHIPPING ONLY
………………………………………………………………………………………………………………………
Emily Hanhan
Nomnivorous
www.nomnivorous.com
Brooklyn, NY
cake pops:
Cake pops are composed of cake, baked and thoroughly crumbled, mixed with frosting, put on sticks, dunked in candy melts, and sprinkled with the pretty, pretty sprinkles of your choice. The cake and frosting are from scratch, no exceptions. They are little bites of sugary cake joy! And there will be cake pops of three flavors available for auction.
Funfetti cake with vanilla frosting
Chocolate cake with chocolate / coffee / peanut butter frosting your choice
Vanilla cake with lemon /coconut /strawberry/vanilla frosting
http://nomnivorous.com/2011/01/24/once-you-pop/
cookies:
I have one dozen salty-sweet chocolate chip cookies with butterscotch sauce. [Also known as Not Yo Moma's Chocolate Chip Cookies.] This recipe borders between a chewy and a crispy cookie, puffing up a bit but spreading as well. These cookies are full of browned butter, brown sugar and chocolate, with a touch of salt. And the butterscotch sauce that joins it is both loaded with vanilla and sea salt. Packed in a separate jar to keep your cookies fresh and not soggy, you can dip them, drizzle them, or eat them straight up.
http://nomnivorous.com/2009/12/21/cookie-takedown-2009-verdict-madness/
http://nomnivorous.com/2011/03/24/noms-for-a-cause/
US SHIPPING ONLY
………………………………………………………………………………………………………………………
Eugene He
Food and Scent
http://foodandscent.com
Singapore
A box of petite gluten and sugar-free crumbles in three Japanese inspired flavours. Savoury seaweed and olive oil, sweet black sesame vanilla and tangy yuzu lemon butter. These sugar-free bite sized treats explodes flavours in your mouth and you can have a second, third or even fourth without feeling guilty.
http://foodandscent.com/2011/03/25/online-bake-sale-for-japan/
INTERNATIONAL SHIPPING!
………………………………………………………………………………………………………………………
Eunice Montes
www.eunicemontes.com
www.twitter.com/nieceymo
Los Angeles, CA
Homemade Fluffy Marshmallows:
A dozen neatly packaged fluffy marshmallows in either vanilla bean or bubble gum flavor. Perfect treat by themselves or to accompany a cup of hot chocolate!
French Macarons:
Parisian almond cookies in flavors of Vanilla, Champagne, Strawberry, Chocolate & Green Tea. Packaged in a cute assorment box of 10.
http://www.foodbuzz.com/foodies/profile/nieceymo
US & CANADA
………………………………………………………………………………………………………………………
Geni Telkamp
Sweet and Crumby
www.sweetandcrumby.com
Burbank, CA
"Tea and Cookies" : I will be sending you one dozen Pistachio Cardamom cookies sealed airtight for freshness. They are infused with just a touch of fragrant rosewater and are the perfect accompaniment to a nice hot cup of tea or espresso. I will also include an organic box of tea bags that will pair nicely with these cookies. They are soft and chewy with just a bit of a crunch. I can add white chocolate chips or dark chocolate chips if you would like. Just let me know and I'll be happy to include those in the ingredients.
http://sweetandcrumby.com/2011/03/10/rose-water-infused-pistachio-cardamom-cookies/
US SHIPPING ONLY
………………………………………………………………………………………………………………………
Elizabeth Barbone
GlutenFreeBaking.com
http://www.glutenfreebaking.com
Upstate New York
I'm offering gluten-free chocolate chip cookies to the bake sale. (The winner may select either traditional or vegan.)
While thinking about what I wanted to contribute, I remembered my friend Yoko. We met in college. She was an international student from Japan in need of a home cooked meal. I was cook away from family and friends. Over good meals, a friendship was born. Several times a month, I invited her to my tiny apartment for dinner and a movie. Her favorite treat? My chocolate chip cookies. The most comforting cookie I know. And right now, we could all use a little bit of comfort.
http://www.glutenfreebaking.com/public/Bake_Sale_for_Japan_My_Offering.cfm
US SHIPPING ONLY
………………………………………………………………………………………………………………………
Heather Lynne
Hezzi-D's Books and Cooks
http://www.hezzi-dsbooksandcooks.blogspot.com
Mountain Maryland
I am making my world famous chocolate chip cookie dough brownies. These are oooey, gooey, chocolate filled brownies with chocolate chip cookies baked in the middle of them. They are topped off by a rich and creamy chocolate ganache. II addition to the brownies the winner of this item will receive my homemade peppermint mocha coffee blend which pairs wonderfully with the brownies..
US SHIPPING ONLY
………………………………………………………………………………………………………………………
Name: Ken Leung
Blog: Hungry Rabbit http://hungryrabbitnyc.com
Location: New York, NY
Caramel Pecan Kisses. Pecans and coconut are encrusted in the buttery cookies, while the caramelized filling provides a great contrast in texture as well as a hint of salt to highlight the sweetness. These bite-size cookies are inspired by the desserts from Japanese bakeries that deliver the perfect accompaniment for a cup of tea.
http://hungryrabbitnyc.com/2011/03/kisses-to-the-highest-bidder/
INTERNATIONAL SHIPPING!
………………………………………………………………………………………………………………………
Ilke McAliley
Ilke's Kitchen
http://www.ilkeskitchen.com
Rock Hill, SC
I am making Nutella Cake that I saw on Nigella Lawson's web page and I replaced the liquor with Kahlua. It is a pure Nutella heaven and my group of friends always ask for this specifically as I have a Nutella crazy group of friends. It is dense, rich and very chocolaty, fudge-like cake. If you are living within 50 miles of Charlotte, NC, I can meet you somewhere and deliver it fresh out of the oven with chocolate ganache/hazelnuts on top. If I need to ship it, I will pack the chocolate ganache and hazelnuts in a small ziplock containers, so you can warm it up and spread it when you receive it. Hope you will enjoy it as much as we do!
http://www.ilkeskitchen.com/2010/08/my-nutty-nutella-craziness-long-live-ferrero/
http://www.ilkeskitchen.com/2011/03/bookstores-biscotties-and-bake-sale-for-japan/
US SHIPPING ONLY
………………………………………………………………………………………………………………………
Manuela Zangara
Manu's Menu
www.manusmenu.com
Sydney, Australia
ALMOND SWEETS (DOLCETTI DI MANDORLE) – These are traditional Sicilian
sweets. Sicily is renowned for its citrus fruits, its pistachio nuts and
almonds. All these products make fantastic ingredients for sweets.
Whenever I go to Sicily, the little mountain top medieval town of Erice is
my favourite spot to enjoy almond based sweets. This is a very easy recipe
to make delicious almond cookies, just like the ones you would eat in
Erice.
……………………………………………………………………………………………………………………….
http://www.manusmenu.com/almond-cookies-dolcetti-di-mandorle
INTERNATIONAL SHIPPING
MARZIPAN (MARTORANA) – Martorana are marzipan treats shaped like fruits that are sold (and made) everywhere in Sicily. The name "martorana" comes from the Martorana Monastery in Palermo whose nuns are believed to have invented the sweet. It is very easy and lots of fun to make… and kids love it as it is so colourful and creative. You can easily make it and let
them paint the different shapes. In Sicily the traditional shapes are
fruits, especially figs, watermelons, oranges, walnuts… Around Easter
time you also find Easter lambs made of marzipan. You can really make
anything: flowers, figures, shapes… or whatever you fancy.
http://www.manusmenu.com/marzipan-martorana
INTERNATIONAL SHIPPING!
………………………………………………………………………………………………………………………
Justine Levine
A Half Baked Life
http://ahalfbakedlife.blogspot.com
As much as I love brownies, sometimes they're just too dark — you want something brighter, lighter, with more variation in texture, sweet but complex, like the food blogging community itself. These blondies are also sweet and complex: buttery, nutty, chocolate-filled treats. I've baked them for others before in times of small crises, and I hope they help in a small way to bring relief to Japan.
Link: http://ahalfbakedlife.blogspot.com/2011/01/speechless-almost-blondies-for-guests.html
US SHIPPING ONLY
………………………………………………………………………………………………………………………
Jackie
I Am A Feeder
http://iamafeeder.net
London, UK
I'm astounded every day when I see another fundraising idea, hear another incredible story from people in the affected areas, see the images and videos flooding the news; the events in Japan and the ways in which so many people have stepped forward to try and do their part has been overwhelming. How, I wondered, could I contribute something that was in this spirit? I was racking my brains when suddenly it hit me: why not pie it forward? My Mini Jar Pies are fantastic because they're not only delicious but you also get a brilliant little jar to re-use, or, if you like, make another pie to pass on to somebody else (hence: pie it forward). The filling will be Spring-themed rather than the Christmas pies I posted on my blog, but if you make the winning bid on these please send me an email and let me know if there's any particular filling you prefer! Pl
http://iamafeeder.net/all-i-want-for-christmas
UK ONLY
………………………………………………………………………………………………………………………
Jacqueline Raposo
The Dusty Baker
http://thedustybaker.com
New York, NY
Lemon Scones with Genmaicha Green Tea (Gluten-dairy-free optional)
The Japanese diet has taught so many of us how to help our immune system fight for itself, with gentle foods and anti-oxidant-punching green teas. So it seemed only fitting to incorporate one of my favorite healing beverages – Japanese Genmaicha green tea and lemon – into a warm and cozy scone for this cause. They are delightfully moist, lightly lemon-scented and perfection when paired with a glass of good green tea. You let me know your dietary restrictions and I'll make them with or without gluten, dairy or a specific sweetener, and always with thanks and love for your support of this cause. (8 large scones in a batch)…
If they're purchased in NYC I'll personally drop them off at an office or in a public space the afternoon they're baked, and double the batch!
http://thedustybaker.com/2011/03/23/lemon-scones-with-genmaicha-green-tea-bake-sale-for-japan/
US SHIPPING ONLY
………………………………………………………………………………………………………………………
Jane Ko
A Taste of Koko
http://www.atasteofkoko.com
Austin, Texas
Green tea is ubiquitous in Japan so I am transforming it into the form of a macaron. Little crispy, chewy, and tender.
US SHIPPING ONLY
………………………………………………………………………………………………………………………
Jennifer Lee Robinson
The Adventuresome Kitchen
http://www.adventuresomekitchen.wordpress.com
Kansas City
Gluten-Free Orange Almond Teacakes… The first tea ritual I ever learned about was the japanese tea ceremony when I was in the 4th grade. We had a student teacher that year from Japan who also taught us calligraphy. While these tea cakes don't belong in the traditional Japanese ceremony, they do make a lovely snack, and are great for a tea or coffee break. * These are gluten-free. If you're dairy free let me know, I can substitute a different oil in place of the melted butter. This recipe makes 12-14 cakes. In order to preserve freshness, I will freeze these right after making. They should be thawed by the time they reach you.
http://adventuresomekitchen.wordpress.com/2011/03/21/gluten-free-orange-almond-tea-cakes-a-tea-party-and-a-cause/
INTERNATIONAL SHIPPING!!
………………………………………………………………………………………………………………………
Jen
the baked life
www.thebakedlife.blogspot.com
Vancouver, B.C. , Canada
Brownie rollout cookies. The chocolate version of your favourite sugar cookie, but better. A chewy, moist, rich and chocolately cookie that is so versitile can be used for ice cream sandwiches, homemade oreos or just eating plain with some milk. Will ship in a pretty little container, wrapped nice and tight to prevent any cookie breaking accidents.
http://thebakedlife.blogspot.com/2011/02/brownie-cookie-hearts.html
INTERNATIONAL SHIPPING!
………………………………………………………………………………………………………………………
Jessica Lum
Little Girl Big Appetite
www.littlegirlbigappetite.com
Whitestone, NY
Healthy Blueberry Muffins (dozen): Moist, fluffy supercharged with blueberries and topped with fine milled blueberry flaxseed for an extra dose of Omega-3′s, protein and fiber. The best part is, you get all the flavor and health benefits without the simple sugars and highly processed white flour.
These delightful bites will come individually wrapped and tied with a blue ribbon and packed in a hot pink bakery box with window. Perfect for a healthy and fantastic breakfast for the office that your co-workers will absolutely love!
http://littlegirlbigappetite.com/2011/03/online-bake-sale-to-help-japan/
http://littlegirlbigappetite.com/2011/02/supercharged-healthy-blueberry-muffin-recipe/
US ONLY
………………………………………………………………………………………………………………………
Jessica Larson
Chipped Bowl
http://chippedbowl.tumblr.com/
New York, NY
I love all chocolate, but peppermint + chocolate is best. My vegan thin mints are refreshingly cool with the perfect amount of sweetness. Unlike traditional thin mints, mine are free of dairy (and eggs too!). They are perfect for after a dinner party or just an afternoon snack. I'll ship you a baker's dozen in a sealed box so these cookies stay fresh and are ready to be devoured upon delivery. Bid with confidence for a great cause and enjoy a little sweetness in your heart and mouth =).
http://chippedbowl.tumblr.com/post/3807207084/vegan-thin-mints-yes-i-was-a-girl-scout-for-six
US SHIPPING ONLY
………………………………………………………………………………………………………………………
Johnna Perry
52 Sweets
http://www.52Sweets.com
Kansas City, MO
I'm baking gluten-free, vegan Choco-Toffee-Cran cookies. You know the recipe you bake that everyone asks you to bring to holiday dinners, to bake for their birthday? These cookies are that recipe for me. I've removed the gluten and recently made them vegan. Packed full of dark chocolate, homemade toffee, fruit-juice sweetened cranberries and oats, these cookies will really tickle your tastebuds.
INTL. SHIPPING!
………………………………………………………………………………………………………………………
Jules Bogdanski
Jules Bea [Gluten-Free] Makeshop
http://julesbea.wordpress.com/
Oakland, CA
All of my sweet treat recipes are gluten-free and my Coconut Chocolate Chip Oatmeal Cookies are no exception. Made with certified gluten-free oats, sorghum flour, toasted coconut (yum!), brown sugar and dark chocolate chips (yum yumm!) – these cookies are a world of texture delight. Soft, moist AND crunchy! A care package staple from my humble kitchen – I always make them in big batches …and I will happily send you two dozen cookies baked just for YOU. Thank you for supporting the Online Bakesale for Japan!
http://julesbea.wordpress.com/2011/03/16/bakesales-for-japan-lets-make-some-dough/
US SHIPPING ONLY
………………………………………………………………………………………………………………………
Kayla Coleman
Babe in Soyland
http://babeinsoyland.com
San Jose, CA
vegan peanut butter blondies
My vegan Peanut Butter Blondies are rich and chewy, with a bit of a crunch from the peanuts sprinkled on top. They're perfect for an afternoon snack, a dessert, or — in my case — even a naughty breakfast. But no matter when you eat them, make sure to have a glass of almond or soy milk handy.
………………………………………………………………………………………………………………………
Kimberly Fujitaki
Unrivaledkitch
http://unrivaledkitch.livejournal.com
Los Angeles , CA
Carrot shortbread Crumb Bars with Roasted Pears and Candied Fuji Apples
These crumbly dense cookie bars will fill your senses with mystery as you bite and explore new elements.
Lovely notes of sweet carrot caramel and roasted sweet pears fill this bar playing on its classical play ground of apple crumb
These will ship vacuum sealed for freshness
INTERNATIONAL SHIPPING!
……………………………………………………………………………………………………………………….
Vegan Clementine Blueberry Cupcakes with Candied Blueberry Compote
This little lovelies are moist and light. They will be coming with the blueberry compote on the side and you can decide how much you'd like on top. These lovely zesty Clementine Cupcakes are perfect for the spring.
Cupcakes will be shipped in a container and the compote will be in a small jar
INTERNATIONAL SHIPPING
………………………………………………………………………………………………………………………
Kimmie
Full Circle
www.fullcircleadv.com
San Francisco, CA
My Three-Ginger Gingersnaps are being baked in honor of my own Grandma Ginger who spent 20 beautiful years living in Japan. Crunchy on the outside and perfectly chewy on the inside, these gingersnaps are made using fresh, ground and crystalized ginger. A favorite component to my Baked with Love gift boxes, I couldn't imagine a more appropriate donation of love for Japan.
Link to recipe on my blog:
http://www.fullcircleadv.com/2010/12/three-ginger-gingersnaps.html
Link to post about bake sale and additional info on my item:
http://www.fullcircleadv.com/2011/03/online-bake-sale-for-japan.html
INTERNATIONAL SHIPPING!
………………………………………………………………………………………………………………………
Krista Dearden
Budget Gourmet Mom
http://www.budgetgourmetmom.com
Utah
My triple layer sour cream chocolate cake is perfectly paired with a sweet vanilla frosting filling and topped with a chocolate-hazelnut buttercream. This cake was a huge hit at a recent party and I'm sure it will be a favorite of yours! Delivered in mason jars these will make a great late night escape!
http://www.budgetgourmetmom.com/cake-in-a-jar-online-bake-sale/
US ONLY
………………………………………………………………………………………………………………………
Kristin Johnson
Dulcis Serenus
www.dulcisserenus.wordpress.com
Austin, TX
US SHIPPING ONLY ON ALL ITEMS!
Jams:
Jam is something I always have in my pantry. It's so very versatile. I particularly love to use it to dress up cookies. This set of four jams would be a perfect addition to your pantry. The flavors include: Strawberry Balsamic, Lemon Curd, Mango Cinnamon, and Blueberry Lime. These jams have been canned and will last up to a year, but I expect they will be long gone before then. Except for the Lemon Curd, they are egg and dairy free. (Four sets available.)
Banana Bread:
The first time I made this Whole Wheat Vegan Banana Bread I fell in love with it. I now feel the need to make it about once a week. Sometimes I even make two and store one in the freezer in case I'm having a banana bread emergency and just need to eat some…right now. This bread is moist and slightly dense, as any good banana bread should be, and completely free of eggs and dairy. (Two loaves available.)
Jam Thumbprints:
Whenever an overwhelming urge to bake cookies starts to come over me, I make Blackberry Jam Thumbprints. They are seriously delicious and everyone loves them. They are soft, crumbly cookies with a sweet jam center. The cookies are rolled in white sparkling sugar before baking to give them a little crunch. These bite-sized cookies are so good I could easily eat a dozen in one sitting, so I am going to ship you three dozen in a decorative tin.
S'mores:
Homemade marshmallows are a necessity in life; they are just so much better than store-bought. They're soft and pillowy and just slightly chewy, plus they make the cutest S'mores! Homemade S'mores are the most requested sweet from all of my friends. I'll be shipping a dozen of these in a decorative tin to ensure the marshmallows stay fresh.
Vegan Shortbreads:
If you love the crunch, crumble, and buttery goodness of shortbread cookies, but don't eat dairy or eggs, these Vegan Shortbread Cookies are for you. They get their buttery taste and flaky crumble from butter flavored vegetable shortening, are completely egg and dairy free, and made with natural, raw sugar. They're especially good with a little jam on top! You will receive 20 shortbreads in a decorative tin.
………………………………………………………………………………………………………………………
Irvin Lin
Eat the Love
http://www.Eatthelove.com
Salted Exotic Bourbon Blood Orange Burnt Sugar Crème Fraiche Caramel Chews. A chewy confectionary delight which marries bourbon blood orange and burnt sugar caramel. Tahitian vanilla bean and grains of paradise elevate these candies to a place few candies go, while a hint of bourbon gives the sassy citrus blood orange a subtle adult kick.
http://www.eatthelove.com/2011/03/a-virtual-bake-sale-to-benefit-japan-earthquake-victims-my-one-year-blog-anniversary/
US ONLY!
………………………………………………………………………………………………………………………
Courtney
C&C Cakery
cccakery.blogspot.com
Vancouver, BC
What we're making: A duo of truffles: The heavenly white chocolate matcha truffle (whose earthy, yet sweet, tones really melt in your mouth) and the dangerous dark chocolate wasabi truffle (bite into this baby and you'll get hit with that nose-clearing spice that is oh so addictive). And, don't worry, we only use the best chocolate and freshest ingredients in our truffles. For adventurous chocolate lovers only! If you win this treat, you'll be receiving a box of a dozen – six white and six dark.
Blog Post: http://cccakery.blogspot.com/2011/03/online-bake-sale-for-japan-matcha-and.html
US & CANADA
…………………………………………………………………………………………………………………
Kumiko
Kumiko's Diary in the USA
http://ameblo.jp/corniste/
Bay Area
This Fruit Coffee Cake is from my favorite Japanese sweets recipe book. This is a classic silky butter cake which has rich coffee aroma and plenty of preserved dried fruits in rum. Because you will receive two same cakes, one of them is good for a gift while you enjoy the same cake!
INTERNATIONAL SHIPPING!
………………………………………………………………………………………………………………………
Laura H. Beck
Vegansaurus!
www.Vegansaurus.com
Oakland, CA
I will make pink dinosaur cookies for the winner! They are vegan and they are delicious, don't worry about it! I cannot provide a picture because I've not previously attempted this feat. BUT! Here are some cupcakes I've made in the past so you can clearly see that I'm very good at baking.
US ONLY
………………………………………………………………………………………………………………………
Laura
NoonCafe
http://nooncafe.com/
Seattle, WA
My whole-wheat crackers with tomato, oregano and Parmesan are one of my very favorite comfort foods. After having a similar (but decadent) cracker in a gourmet restaurant, I tried to duplicate them…in a healthier way. These never last long in my house. They also ship well, so I've sent many batches to friends and family who have had only sweet things to say about them. Crisp and cheesy goodness :-).
http://nooncafe.com/?p=13
US ONLY
………………………………………………………………………………………………………………………
Lauren & Chrissy
From the Little Yellow Kitchen
http://www.fromthelittleyellowkitchen.com/
San Diego
These can be customized with your favorite candy bar! Kit-Kat, Snickers, Reese's, Heath Bar? You name it, we'll make it! Our Candy Bar Stuffed Chocolate Chip Cookies were inspired by Jenny of Picky Palate.
http://www.fromthelittleyellowkitchen.com/2011/03/15/reeses-stuffed-chocolate-chip-cookie/
US ONLY
………………………………………………………………………………………………………………………
Jean
Lemons and Anchovies
http://lemonsandanchovies.wordpress.com
Where I Live: San Francisco Bay Area
One batch of chocolate chili bites will yield about 48 pieces
These chocolate chili bites are made with virtually no flour. Even with only a handful of ingredients these little treats are rich and dense; the deep chocolate flavor truly shines. What sets these apart from others is the addition of ground chili pepper–just enough to brighten the chocolate experience without ringing smoke alarms. These bites may be little but they are big on flavor.
http://lemonsandanchovies.wordpress.com/2011/02/21/im-a-giveaway-winner/
US ONLY
………………………………………………………………………………………………………………………
Lindsay Strannigan
Rosemarried
http://www.rosemarried.com
Portland, Oregon
Salted Honey Lavender Shortbread cookies: This is a rich and buttery shortbread cookie with hints of lavender, wildflower honey, and sea salt. The cookies are simple and elegant, and are completely unique in their flavor. Made with organic butter from Portland, OR, culinary lavender (grown by my mother-in-law!), and organic raw wildflower honey from Sandy, OR. (Note: the shape, size, and packaging of the cookies may vary due to shipping considerations. I will do all that is within my power to ensure the delivery of whole and beautiful cookies!)
http://rosemarried.wordpress.com/2011/03/23/online-bakesale-for-japan/
US ONLY
………………………………………………………………………………………………………………………
Lisa Davies
This little piggy went to the farmers market
www.thislittlepiggywenttothefarmersmarket.com
New Jersey
My chocolate banana bread – a true comfort food. This delicious, moist bread is a winner with both children and adults. It will come wrapped beautifully in a tea towel. It travels well and will keep for 5 days in an airtight container.
http://thislittlepiggywenttothefarmersmarket.com/category/pudding/chocolate-banana-bread/
http://thislittlepiggywenttothefarmersmarket.com/online-bake-sale-for-japan/
US ONLY
………………………………………………………………………………………………………………………
Liz Berg
That Skinny Chick Can Bake!!!
http://thatskinnychickcanbake.blogspot.com/
Indianapolis
You will receive approximately 3 dozen delightfully chewy cookies spiked with delectable Butterfinger pieces. Perfect with your tea or a big glass of cold milk. Butterfinger lovers will adore these gems…
http://thatskinnychickcanbake.blogspot.com/2011/03/butterfinger-cookies.html
INTERNATIONAL
………………………………………………………………………………………………………………………
Mariko Jackson
The Little Foodie
http://www.thelittlefoodie.com
Hawaii
Momofuku Crack Pie. You do need this. Oh, yes. Do you need any other reason? I suggest that you keep this pie to yourself, but try to eat it over two days, straight from the pan. Caramel filling in a cookie crumble crust doesn't even begin to describe this chewy lovely. This is the kind of dessert that inspires a morning of baking and impatient hours waiting for it to cool.
http://www.thelittlefoodie.com/2011/03/bake-sales-crack-pies-butter-mochi-and.html
………………………………………………………………………………………………………………………
Marnee Robinson
marnees
http://www.marnees.wordpress.com
Bath, ME
The Cookie Karma Tin: What goes around comes around! Bid on some cookies and send some cookie-licious karma (aka cash) to those in Japan.
This gourmet cookie tin includes 8 – 4″ large Nirvana (semi-sweet chocolate chip and toffee) encircled by 90-1″ Euphoria (cranberries, white chocolate and pecan) minis.
Nirvana, has been voted one of America's best chocolate chip cookies by ForbesTraveler/Rachael Ray and Euphoria has been touted by Rachael Ray.
Thanks for participating in this random act of cookie kindness…because life is simply too short not to help those in need.
FMI www.marnees.com
http://marnees.wordpress.com/2011/03/21/online-bake-sale-for-japan/
US ONLY
………………………………………………………………………………………………………………………
Martha Priest
Makin' Whoopie
http://makinwhoopie14.blogspot.com/
Massachusetts
I am making classic Chocolate w/Marshmallow cream Whoopie Pies. I can post some pics later on the blog when i get home from work. I have pics of the small ones I make but I thought if I make the large version, it might be a bit easier to package and ship. I am going to make a bakers dozen.
INTERNATIONAL
………………………………………………………………………………………………………………………
Nikki
The Tolerant Vegan
http://thetolerantvegan.com
New York
These Vegan Cherry Chocolate Oatmeal Cookies are filled with dried cherries, dark chocolate chunks and an immeasurable amount of love.
http://thetolerantvegan.com/2011/03/online-bake-sale-for-japan-march-30/
INTERNATIONAL
………………………………………………………………………………………………………………………
Lorraine Elliott
Not Quite Nigella
http://www.notquitenigella.com
Sydney, NSW, Australia
As someone that has lived in Japan the Japanese earthquake has had quite an impact on me. I would love to help any way that I can and for me my first instinct is baking. I would love to make one dozen cupcakes decorated in your style of choosing from this selection:
Tattoo Cupcakes: http://www.notquitenigella.com/2011/03/21/tattoo-cupcakes/
Linzer Hearts:http://www.notquitenigella.com/2011/02/10/linzer-heart-cupcakes/
Springtime cupcakes: http://www.notquitenigella.com/2010/10/12/springtime-mango-poppyseed-cupcakes/
Koala cupcakes: http://www.notquitenigella.com/2009/08/17/koala-cupcakes-rspca-cupcake-day/
Jam Donut cupcakes: http://www.notquitenigella.com/2009/01/02/jam-donut-cupcakes/
Baby bootie cupcakes: http://www.notquitenigella.com/2008/09/23/baby-booties-cupcakes/
I thought that way people might be able to use them for baby showers or for particular people that might suit the style that I've done (eg tattoo cupcakes).
Delivery is within a 30km delivery zone within Sydney's CBD or we can arrange a pick up from an inner city location on the date that you want!
………………………………………………………………………………………………………………………
Paola M
An Italian cooking in the Midwest
http://cookingitalianinthemidwest.blogspot.com/
Twin Cities Area, MN
My orange cake is famous among my friends for being delicious and decadent and almost fat free. With no butter, cream or fat (well except that bit of milk and chocolate used for glazing) you don't have to feel guilty when eating your cake. I can bake this cake as cupcakes or as a loaf, your pick. In both cases it will be covered in chocolate goodness and packed in tin boxes so that you can enjoy it fresh and whole when it gets to you!
http://cookingitalianinthemidwest.blogspot.com/2011/01/awesome-orange-and-chocolate-cake.html
………………………………………………………………………………………………………………………
Sarah Couto
Cupcake Carousel
http://cupcake-carousel.blogspot.com/
Oconomowoc ,Wi
Chocolate Peanut Butter Cupcakes. Moist chocolate cakes with a
chocolate ganache and peanut butter frosting shipped in mason jars.
http://cupcake-carousel.blogspot.com/2011/03/bake-sale-for-japan.html
………………………………………………………………………………………………………………………
Stephanie Hua
Lick My Spoon
http://lickmyspoon.com
Washington, DC
Blood Orange Marmalade Tart:
I learned how to make this gorgeous tart from Joyce Goldstein, who adapted it from a recipe called Crostata di Marmellata delle Suore Trappiste, served at the Vineria Cozzi in Bergamo Alta, Italy. The tart gets its interesting name because it is filled with orange marmalade made by the Trappist nuns. In this version, we use blood oranges for a stunning presentation and floral flavor, "like an orange mixed with a rose." It tastes divine.
http://lickmyspoon.com/events-2/online-bake-sale-for-japan-blood-orange-marmalade-tart/
………………………………………………………………………………………………………………………
Sue Sparks
Munchkin Munchies
www.munchkinmunchies.blogspot.com
Central Coast of California
I am making some outrageously decadent cookies, peanut butter sandwich cookies. The classic peanut butter cookies with the creamy peanut butter/chocolate chip filling is out of this world! Everyone loves them! Here's the link: http://munchkinmunchies.blogspot.com/2010/05/peanut-butter-sandwich-cookies.html
………………………………………………………………………………………………………………………
Sunny Busby
And Love it, Too!
http://www.andloveittoo.com
http://andloveittoo.com/?p=722
Texas
These gluten free, dairy free cookies have won recognition in local baking events where none of the competitors were either gluten free or dairy free. Most recently, I won the golden spatula using this recipe in a local cook-off where more than a dozen other families shared their best recipes for chocolate chip cookies.
Because these cookies are best served fresh from the oven, what I am actually offering for this bake sale is not the cookie, but the cookie dough itself.
Arriving cold-pack quick ship box, this mason jar will provide you with enough dough to make up to two dozen award winning chocolate chip cookies straight away. Cooking instructions will be included on the label.
These chocolate chip cookies are not just gluten free and dairy free, they are absolutely vegan, egg free, corn free and grain free to boot. Loaded with rich dark chocolate and big beautiful chunks of pecan, these cookies are kissed with the slightest hint of cinnamon and nutmeg.
Ingredients for this award winning cookie recipe include: blanched almond flour, organic coconut oil, organic agave nectar, organic vegan chocolate chips, organic pecans, natural sea salt, baking soda, cinnamon, and nutmeg.
All ingredients are certified gluten free and kosher.
………………………………………………………………………………………………………………………
Susan Lester
Create Amazing Meals
www.createamazingmeals.com
Oxnard, CA
2 dozen soft, yummy Oatmeal Cookies that are imbued with cinnamon and cloves and studded with California honey dates and walnuts will be mailed from my kitchen to your front door. This worthy cause that is close to my heart because I lived in Atsugi, Japan for 2 years when I was young. This is a great opportunity to do something nice for others and reward yourself! Many thanks!
http://www.createamazingmeals.com/2010/06/amazing-oatmeal-cookies.html
………………………………………………………………………………………………………………………
Susan Miller-Lindquist
The Spice Garden
http://thespicegarden.blogspot.com
New Hampshire, USA … deep in New England
It's maple syrup season here in New England so I can think of nothing sweeter than a pound of maple walnut fudge and a small jug of locally produced maple syrup.
………………………………………………………………………………………………………………………
Suzanne Shelton
Nachista's Nest
http://nachista.blogspot.com/
Cache Valley, UT
My mother's recipe for Salted Saffron Caramel with Cashews. You can make this recipe as soft or as hard and chewy as you want by adjusting how long you cook it. This recipe can also be made with any nut or stir in you want (mac nuts, pretzels, and bacon have all been big hits). If you have a preference on a stir in let me know and if I can find it I will be happy to customize it for you!
http://nachista.blogspot.com/2011/03/salted-saffron-caramel-with-cashews.html
………………………………………………………………………………………………………………………
Tiffany M. Griffin
Como Water
www.comowater.com
Durham, North Carolina
I'll be making Clementine Almond Chip cookies. The clementine zest in this cookie reminds me of the sun and of spring–a hint that rebirth and rebuilding are on the horizon for Japan, even in this time of tragedy.
http://comowater.com/2011/02/12/clementine-almond-chip-cookies/
………………………………………………………………………………………………………………………
Toby Corn
Plate Fodder
http://platefodder.blogspot.com
Dahlonega Georgia
I have a thing about buying oranges… Unfortunately, I never end up eating them. I've decided to make marmalade and glasee oranges out of them
Minneola Marmalade –
http://platefodder.blogspot.com/2011/03/minneola-marmalade.html
Glasee Oranges –
http://platefodder.blogspot.com/2011/01/i-love-you-like-ball-and-chain.html
………………………………………………………………………………………………………………………
Valerie Frost
Sinfully Yours Chocolate
www.sinfullyyourschocolate.com
Daly City / San Francisco
"Sinfully Red Velvet Chocolate Truffle Cake Balls" & "Oh fudge Chocolate Truffle Balls."
These are the favorite on the list!..Inspired at a Christmas party when I tasted one made with European Chocolate. I had to learn to make them and have never stopped being inspired by creativity with chocolate <–and I use Belgium too! I will ship them in a pretty candy box (or I might pick up a bento box to place them in ) There will be a total of 16 pieces.
US ONLY
………………………………………………………………………………………………………………………
Whitney Moss
Whit's Amuse Bouche
www.whitsamusebouche.com
Chicago, IL
I'll be making my Homemade Oreos – a dead ringer for the original snack, without all the additives. These will be shipped in an air tight container for freshness.
http://whitsamusebouche.com/2011/03/03/unwanted-house-guests-ur-gunna-haz-em/
………………………………………………………………………………………………………………………
Katerina Petrovska
Diethood
http://www.diethood.com/
Crown Point, Indiana, USA
Honey Ginger Cookies – Made with honey, ginger powder and sprite, these cookies are mildly sweet, incredibly soft, and extremely tasty.
http://diethood.com/2011/03/12/honey-and-ginger-cookies/
________________________________________________________
Steph's Bite By Bite

Nothing brings people together like chocolate. This rich, decadent Triple Chocolate Chip Loaf Cake is perfect with a cup of coffee, paired with some ice cream, or just eaten plain as an afternoon snack. I am donating this chocolatey loaf to help raise funds for people of Japan, and give them a sense of comfort that we are here for them through this time of need.
http://www.stephsbitebybite.com/?p=1121
………………………………………………………………………………………………………………………
My name: Nannette Minley
Blog Name- Nannette in the Raw.
URL- nannetteraw.wordpress.com
I live in Seattle, WA.
I'm whipping up some scrumptious chai and chocolate chip (mini!) cupcakes. They're an absolute favorite among friends and family, and they're adorable! These are vegan, gluten-free and soy-free. I'm glad that my talents have the opportunity to help the world be a little bit brighter!"
………………………………………………………………………………………………………………………
Kai Kronfield
http://NoshThis.Com
This is an assorted 6-pack gift-bag of my best selling products. Included will be 2 each of the following: Bacon Crack, a chocolate dipped butter toffee with Zoe's Meats dry-cured, applewood smoked bacon, organic almonds and I'lle de Re Sel Gris; Balsamic Vinegar Salted Caramels with Olivier & Co. aged balsamic vinegar and I'lle de Re Sel Gris; and Salt and Pepper Caramels with Tellicherry pepper and I'lle de Re Sel Gris. All of my products use Gilt Edge Creamery butter (and/or cream) and E. Guittard Coucher du Soleil 72% chocolate.
US & Canda Only
………………………………………………………………………………………………………………………
Marc Matsumoto
No Recipes
http://www.norecipes.com
I'm a big fan of rustic Mexican chocolate, which is often infused with
spices such as cinnamon and chili peppers. It also tends to be much
more course than European chocolates due to the lack of conching. I
wanted to introduce some of this into these cookies, but since Mexican
chocolate can be hard to find, I added the spices to the dough
instead. The heat really punctuates the earthy chocolate and brown
sugar, making you pause for a moment while you figure out what's
different about this cookie.
There are few desserts that I can think of that cause as much debate
as the proper texture for a chocolate chip cookie. Some like them
chewy, others like them crunchy while there's another camp that
prefers a caky texture. I've always been on the fence, loving the
crisp caramelized snap of a good crunchy cookie while feeling equally
partial to the soft and chewy cookie more reminiscent of the dough
before it's gone in the oven. If you're a dunker like me, you probably
also appreciate the cakier cookies for their ability to soak up milk
like a sponge for a creamy mouthful of sweet heaven.
By using a balanced dough (between flour, sugar and butter), I can get
all these textures based on the amount of time they bake for, so let
me know whether you want them chewy, caky or crispy so I can make them
just how you like them!
………………………………………………………………………………………………………………………
Linda Miller Nicholson
Salty Seattle
http://www.SaltySeattle.com
Pure Sea Salt fresh from Ocean Shores collected and oven dried by Linda Miller Nicholson herself. Linda really wanted to participate in the bake sale, but was busy traveling, so the lovely (and deliciously wacky) lady of molecular gastronomy has donated her last three jars of hand collected Pacific Sea Salt to the cause. She's got to drive three hours each way (with a toddler in tow) to collect her next batch. That's how cool she is. BTW, Linda didn't write this and when she sees this, I hope she laughs- Sabrina, The Tomato Tart.
………………………………………………………………………………………………………………………
Sean Timberlake
Punkdomestics.com
San Francisco, CA
One jar each of some of my greatest hits: Fig-Fennel Pollen Jam, Tayberry-Paychauds Preserves, Curried Apple Chutney and Apple-Habanero Jelly
http://www.punkdomestics.com/content/help-japan-tsunami-victims-eat-nummy-treats
………………………………………………………………………………………………………………………
Yue's Handicrafts
http://yuehandicrafts.blogspot.com
London
Cake au Caramel
These mini cakes are made using a recipe from a Japanese patissier, Kazuto Tomoda. It's delicious & sweet with a hint of bitterness from the caramel. These mini cakes will be sold in 6 as a pack & carefully packed to retain the freshness & taste.
http://yuehandicrafts.blogspot.com/2010/06/cake-au-caramel.html
Shipping:
Preferably local shipping (UK) but I'm willing to ship internationally.
………………………………………………………………………………………………………………………
Susan Salzman
The Urban Baker
http://www.theurbanbaker.com
Los Angeles, CA.
My grandma's cookies were a staple in her cookie jar. This a very simple sugar-butter cookie that I have adorned with M & M's, non-perils, sprinkles, jelly, caramel, and nuts. However, best just the way she intended them to be, with plain and simple M & M's. These will be shipped in bags and tied with bow to insure freshness.
http://www.theurbanbaker.com/grandma-roses-butter-cookies/
———————————————–
Munchkin Munchies
www.munchkinmunchies.blogspot.com
Central Coast of California
I am making some outrageously decadent cookies, peanut butter sandwich cookies. The classic peanut butter cookies with the creamy peanut butter/chocolate chip filling is out of this world! Everyone loves them! Here's the http://munchkinmunchies.blogspot.com/2010/05/peanut-butter-sandwich-cookies.html
Yes, I will ship internationally.
………………………………………………………………………………………………………………………
Cooking With Sean & Joey
http://www.cookingwithsean.com
San Francisco, CA
When asked to bake something to raise money for Japan the first thing that came to mind was Chocolate Chip Cookies. When I lived in Japan I would fly back to the States twice a year to visit friends and family. I would always ask my Japanese family what they wanted me to bring back and they always said, "Homemade chocolate chip cookies." Not having an oven in Japan, the only chance I had to make them was when I was back in the States. The last night before I was returning to Japan I would make up a big batch of chocolate chip cookies to take back with me. These are completely organic with the best ingredients. They ship well staying both crispy and chewy. I am including the basket as well as a little touch of Japan.
………………………………………………………………………………………………………………………
My Name: Patricia Kline
ipies:
I live in the San Francisco Bay Area
What I'm making:
ipie will offer six ipies with either a classic apple filling or a pear honey filling.
An ipie is an individual fruit filled double crust pie about the size of a cupcake. I sell my ipies at the Palo Alto Farmers' Market and by special order.
I can't ship out of my local area but I would be happy to deliver them to you if you live in the San Francisco Bay Area.
Please check out my links for more information or to email me.
http://www.theipiestore.com/2011/03/ipie-and-online-bake-sale-for-japan.html
http://www.theipiestore.com/2011/03/ipie-and-online-bake-sale-for-japan.htmlhttp://ringalings.blogspot.com/2011/03/online-bake-sale-for-japan.html
………………………………………………………………………………………………………………………
FionaNuts about food
http://www.nutsaboutfooditaly.blogspot.com
Milan, Italy
I was baking this chocolate ganache tart with a hazelnut crust and chocolate honey glaze when the first news of the earthquake started coming through and I couldn't help but mention my feelings in the related post. We shared this with good friends, grateful for the food and the roof on our heads while it was raining outside.
………………………………………………………………………………..