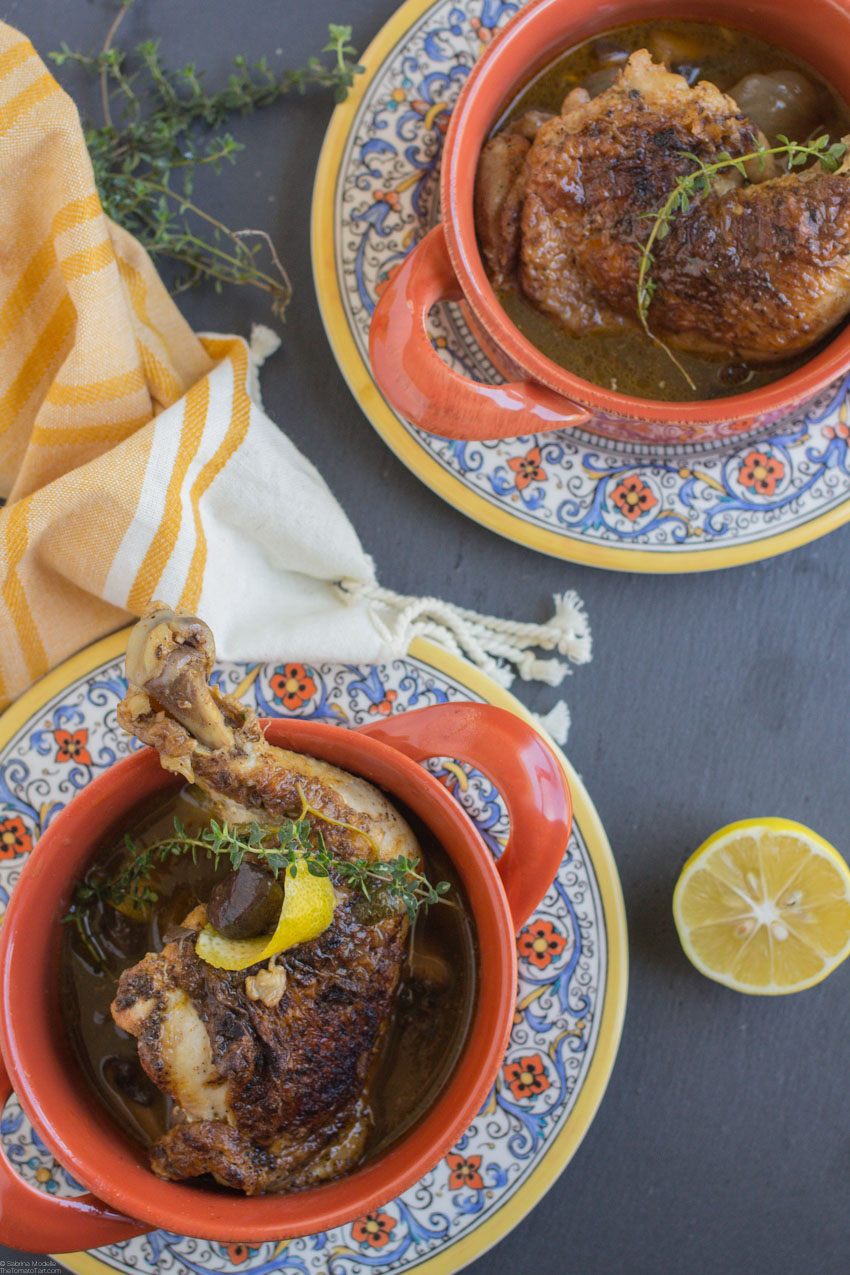 Braised Chicken with mushrooms– an easy, beautiful, and comforting one pot meal. Herbs, spices, wine, and lemon make this dish bright and unexpected. With only about 20 minutes of active time, you'll have an hour to relax with a glass of wine and a book while it's in the oven. Jump Straight to the Recipe.
ONE POT BRAISED CHICKEN WITH MUSHROOMS
Some evenings, there's nowhere I'd rather be than in my kitchen. On those occasions, I futz around for an hour or two working on new recipes or prepping for the following day's meals.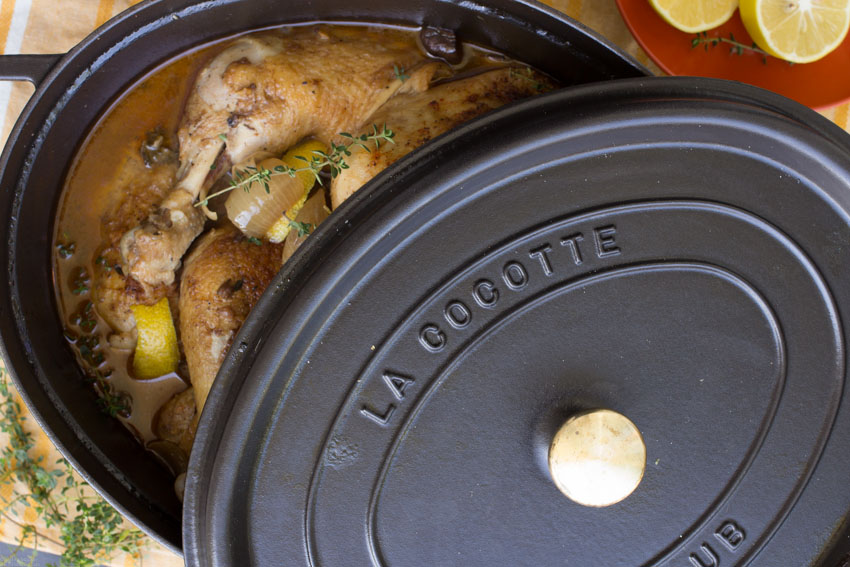 Then there are other nights when all I want to do is decompress from my day while snuggling with my husband and our fuzzy brood. After a long day, it's hard to resist puppy kisses, purrs, and a comfy sofa. I mean, how could I possibly say no to this smile?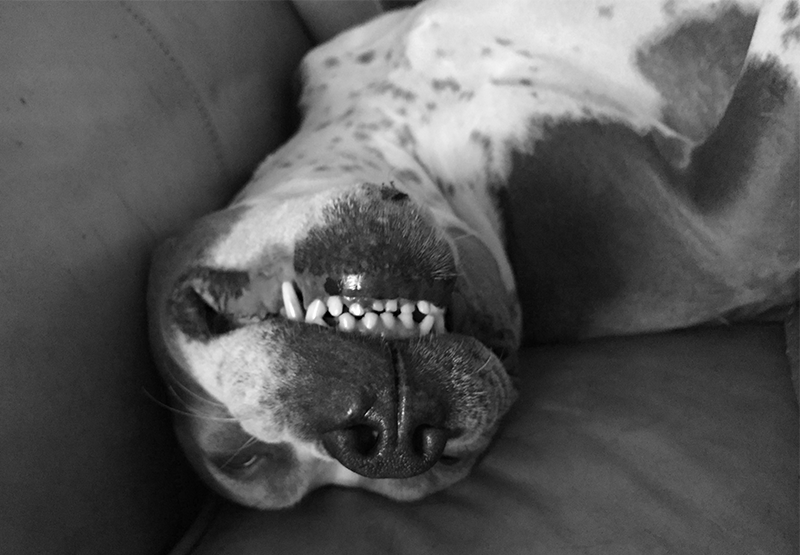 On those "I don't wanna cook" days, I often turn to the simple dishes I grew up with— the stews and braises that appeared on the table as if by magic. My mother called all of her braised chicken dishes "Poulet en Cocotte"— which is just French for Chicken in a Pot, so I suppose she was correct.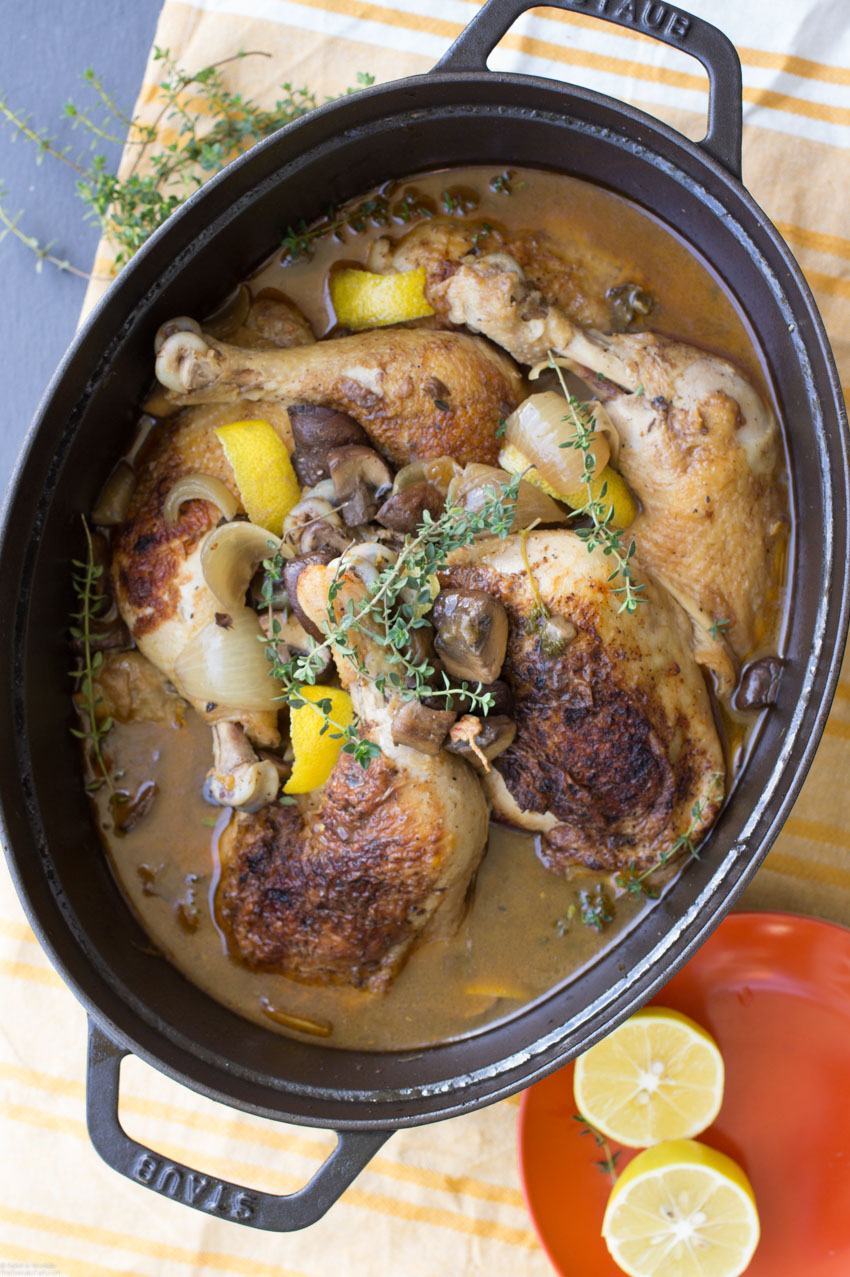 Whether you call it Poulet en Cocotte, Coq au Vin Blanc, Braised Chicken with Mushrooms, or just plain ol' Chicken Stew, you really should call it dinner.
---
A note about the stunning Dutch oven and the knives in these photos- they were very generously provided by Staub cookware and Zwilling J.A. Henckels.
I have always longed for a Staub Dutch Oven, and this one has been such a sheer pleasure to own. I am grateful to Staub for spoiling me with such a lovely gift. Though I was provided this beautiful oval cocotte, I was not required to post about it. My opinions are my own and are never for sale, but that oval cocotte is, and the holidays are right around the corner!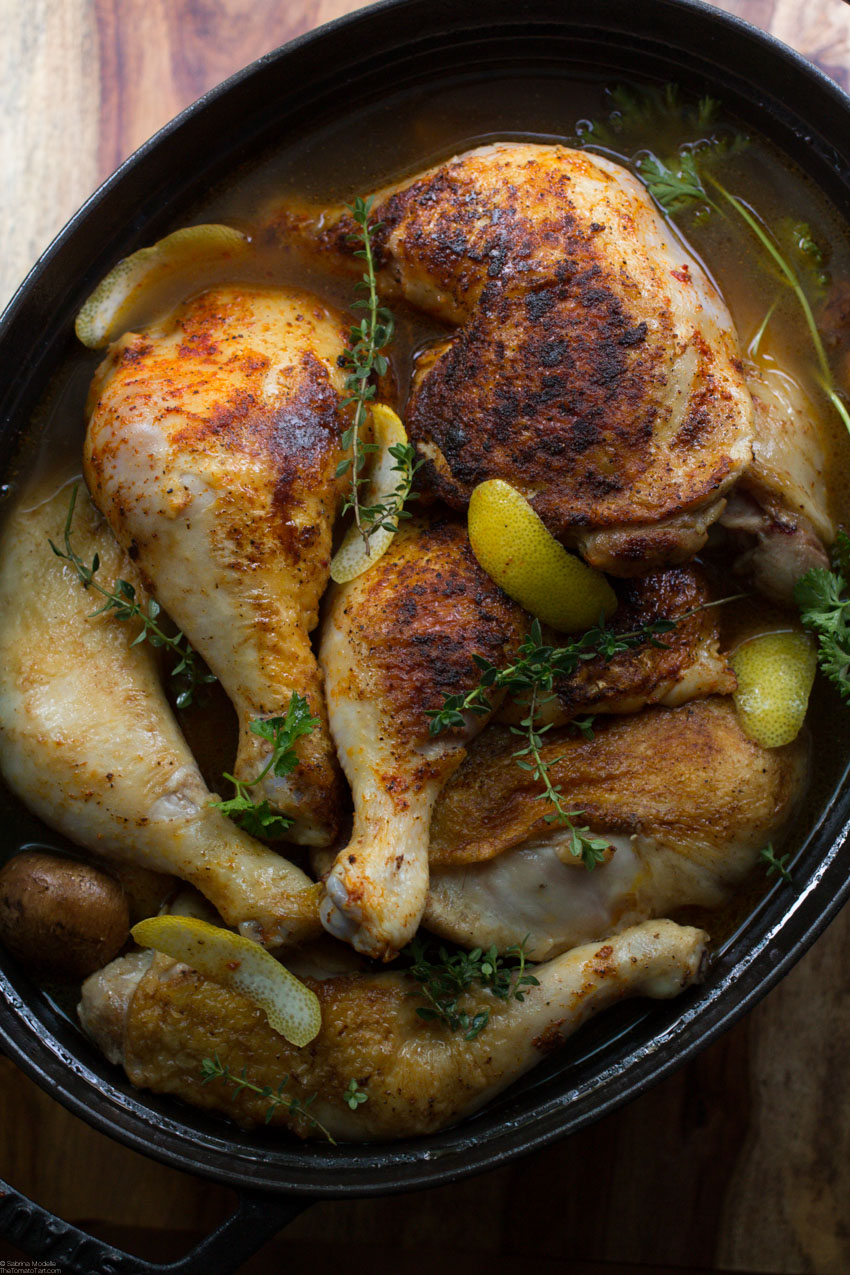 BRAISED CHICKEN WITH MUSHROOMS
Rating 5.0 from 3 reviews
Prep time:
Cook time:
Total time: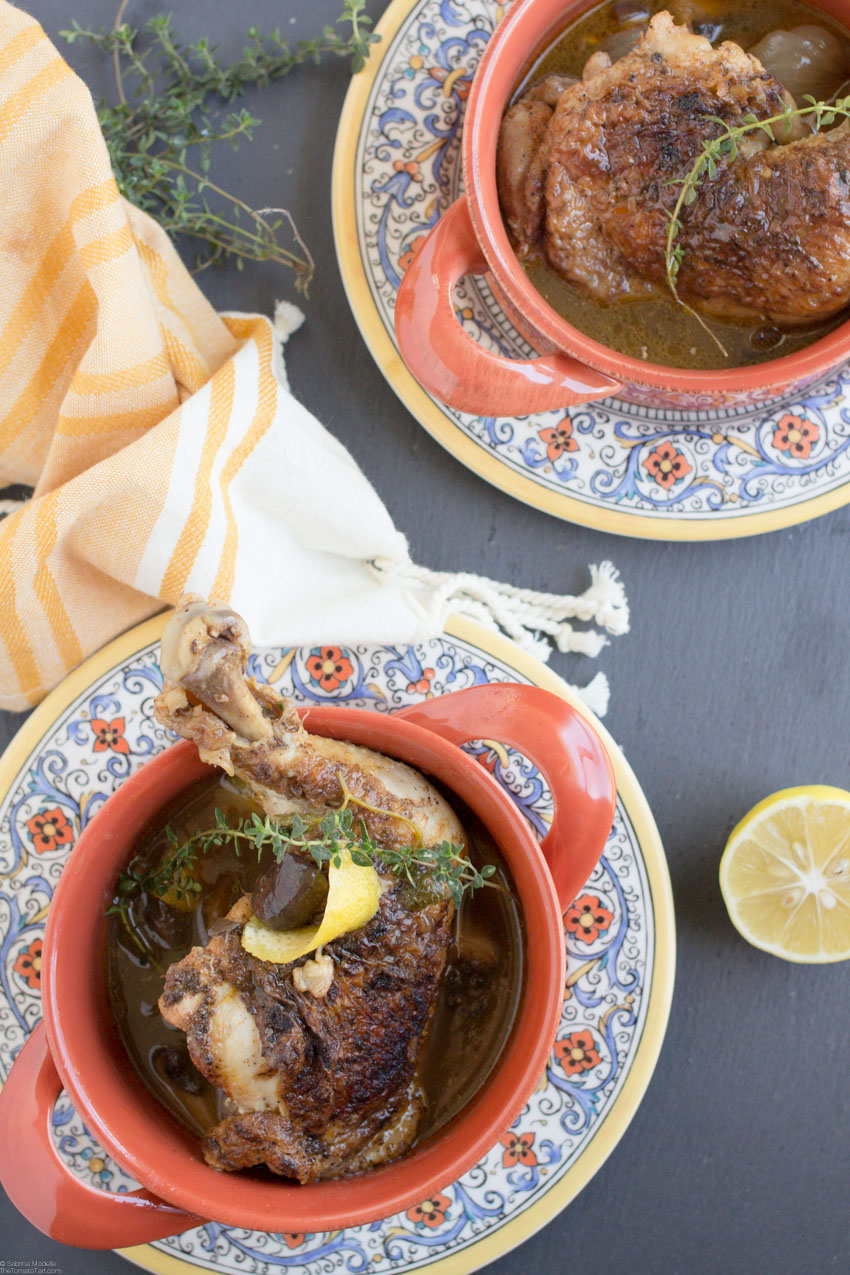 This recipe for braised chicken legs calls for a quick sauté of the chicken and the mushrooms, and the sautéing really does give a depth of flavor that I love. But if you're really strapped for time or drained of energy, go ahead and just throw everything in the pot. You won't get that round, browned flavor, but it will still be delicious. In the same vein, the final step calls for resting the chicken for 10 or so minutes while you reduce your sauce. Again, you could skip that step, in a pinch. I 100% support self-care, and sometime self-care means dumping everything in a pot while you do other stuff. I guarantee that whatever you make is going to be better than frozen pizza or your local drive through. With a flexible recipe like this, the level of effort isn't that much greater than either!
Ingredients
4 chicken legs
¼ teaspoon salt
½ teaspoon pepper
½ tablespoon dry mustard
½ tablespoon smoked paprika
1 lb crimini mushrooms, quartered
1 lb small onions, quartered
½ cup chicken stock
½ cup dry white wine
½ lemon, zested and juiced
4 sprigs of thyme
4 sprigs of parsley
2 tablespoons tapioca or arrowroot starch (optional)
Instructions
Season chicken legs with salt, pepper, dry mustard, and smoked paprika and rest on the counter for 15 minutes to one hour (or in the fridge overnight)
Preheat your oven to 350º. In a heavy-lidded pot or Dutch oven over medium heat on the stove, brown chicken on both sides.
Drain all but 1 tablespoon of the chicken fat into a bowl. Brown mushrooms in the remaining chicken fat. Work in batches to avoid crowding. Add a bit more chicken fat with each new batch of mushrooms (as needed). Remove all the mushrooms from the Dutch oven. (Save the leftover chicken fat for up to two weeks in the fridge. It's amazing for roasting potatoes.)
Add stock, wine, and lemon juice to the pot, using a wooden spoon to scrape up all of the browned bits from the bottom. Turn heat to high and bring to a boil. Keep at a rolling boil for 5 minutes then add the onions, mushrooms, chicken, lemon peel, and thyme. Cover, and cook in the oven for 1 hour.
Remove chicken and vegetables to a large bowl and cover with foil. Bring the liquid in the pot to a boil and cook until reduced by half. If you'd like a thicker sauce, you can add two tablespoons of tapioca mixed with 2 tablespoons of cold water and whisk .
Sprinkle the finished dish with fresh parsley. Serve over mashed potatoes or cauliflower mash.