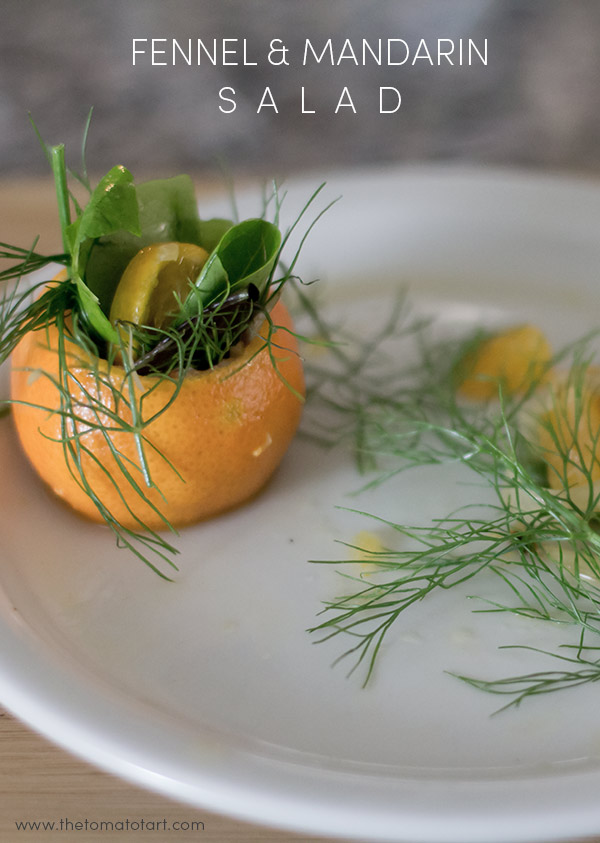 Mandarin Orange and Fennel Salad with Champagne Vinaigrette
Sometimes, a play day in the kitchen is just what's needed. I love making a roast chicken, a lamb or pork shank, or a big pot of chili in my slow cooker. Not only does it feed us for days, it allows me to have time to tinker and toy with new recipes, flavors, and plating.
Fennel and orange is a classic Italian flavor pairing, and one that I am especially fond of. The bright citrus zing of mandarin is complimented by the sweet anise-like flavor of the fennel and pulled together with a citrus and champagne vinaigrette.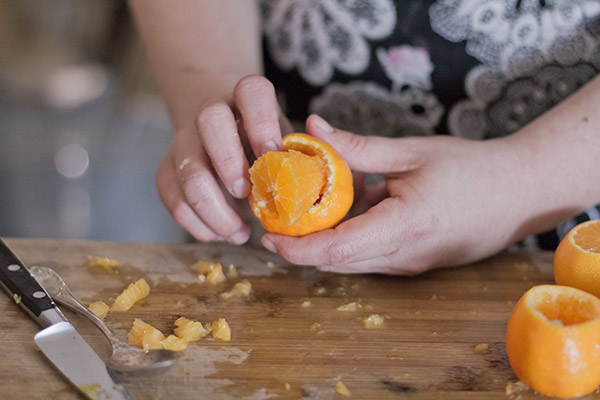 This salad is simple, vegan, and so pretty. While there is a bit of prep work involved, you can do much of it ahead of time, including hollowing out the oranges, sautéing the fennel, making the dressing and the supremes- just leave the plating and dressing the salad until the very last moments. This dish sparkles most when served very cold with a glass of Prosecco. It would work beautifully as an intermezzo served just before your dessert course.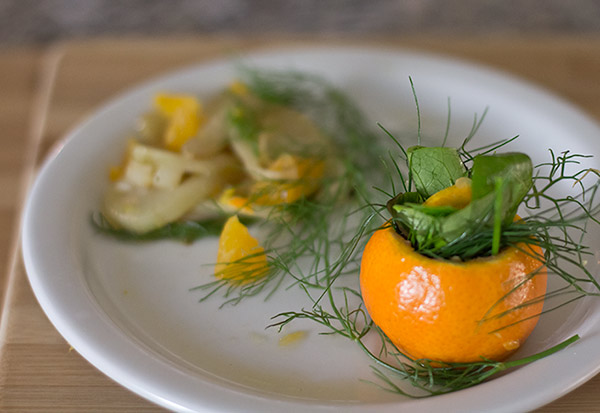 Ingredients

1 head of fennel, bulb and fronds
8 mandarin oranges (or clementines)- ice cold.
6 tablespoons olive oil (divided)
1 cup dry white wine
1 shallot, finely chopped
2 tablespoons champagne vinegar
1 tablespoon Dijon mustard
1 cup baby greens
salt and pepper
Instructions

Slice fennel bulb very thinly (discarding the tough core). Set fronds aside with cut ends in a glass of cold water
Heat 1 tablespoon olive oil in a large skillet over medium heat, add fennel bulb, and sauté until golden brown and well-caramelized.
Add white wine and a pinch of salt. Cover, and turn heat to medium high. Cook until liquid is absorbed- about 5-7 minutes.
Set fennel aside to cool in the refrigerator until very cold.
Cut the tops and bottoms off of four mandarin oranges.  Using a small paring knife, cut the flesh from the inside of the orange (see photos)
Juice and zest 2 mandarin oranges, mix with Dijon mustard, champagne vinegar and whisk vigorously. Add shallots and remaining olive oil. Whisk again and add salt and pepper to taste- chill until ready to use.
Make the supremes of mandarin: using a paring knife slice remaining two mandarins in half, and cut between membranes, to remove only the juicy flesh of the fruit- removing any pith as well.
To plate, place a small amount of baby greens inside the hollowed out mandarin. Top with some fennel frond. On the opposite side of the plate, place one quarter of the  sautéed fennel, top with some supremes of  mandarin and fennel fronds. Drizzle a bit of dressing over both the green salad and the fennel. Serve right away.