Participating in the Burwell General Store Vintage Recipe Swap is one of the highlights of my month. In addition to working with a fantastic community of bloggers, I also get to push my creativity. If you're not familiar with our swap, I'll explain. Each month, Christianna chooses a recipe from a vintage recipe book, and we, the bloggers, re-imagine it.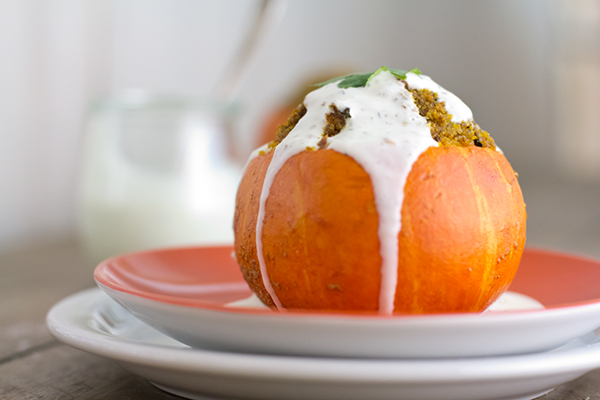 Simple. Right?
The re-imagining is my favorite part. I have gone from Potato Donuts to Donut Vodka– from Hot Slaw to Bacon and Escarole Custard and from Maple Cake to Savory Maple & Sausage Pies. This month's vintage recipe is Wild Rice Dressing. It was meant to be stuffed into a turkey.
Three things about the recipe stood out:
1. stuffing
2. turkey
3. curry powder
As I began to brainstorm about this one- I thought turkey, stuffing, thanksgiving, pumpkins… The first thought was to do a turkey sausage and lentil curry in little pumpkins, perhaps with some hand-harvested wild rice.  Fate intervened at my butcher shop, when some ground lamb called my name.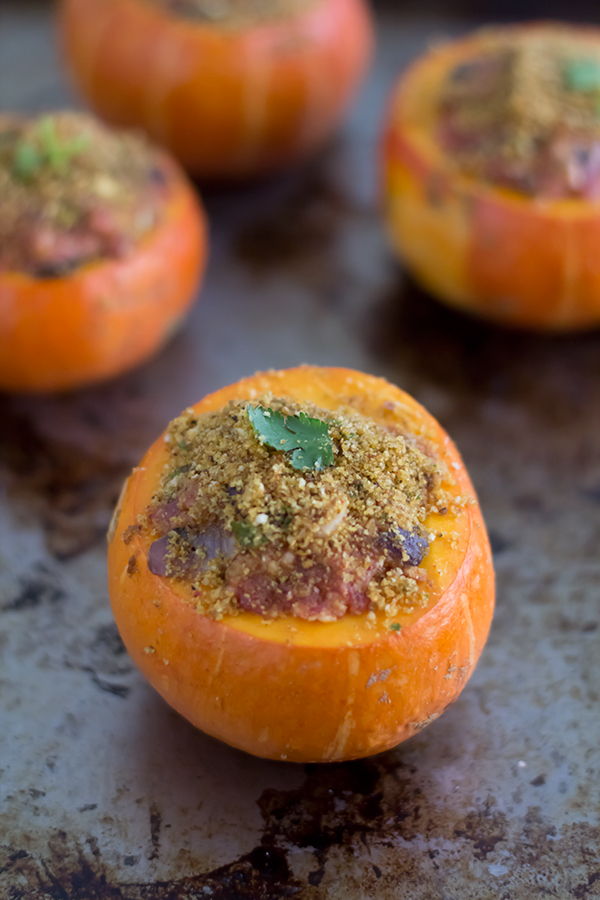 Right then and there, I thought of one of my favorite dishes, Kaddo Bourani. It is an Afghani specialty of sweet pumpkin, covered in meat sauce, then topped in yogurt sauce.  So, that's how these little guys came to be. I've used potimarron squash (also known as red kuri squash) because the skin is thin and edible. The flesh is dark orange red and tastes rather mapley and of chestnuts which is beautifully offset by the spices in the lamb. Baking the meatloaf right inside the pumpkin imparts an amazing flavor into the flavor of the squash as well.
My husband actually called it delightful. Just to clarify, he's not generally the kind of guy who uses the word, "delightful. So while this recipe remake traveled a long way from it's origins, I hope you'll enjoy it. We certainly have.
 INGREDIENTS LAMB MEATLOAF

1 red onion, coarsely chopped
1 tablespoon olive oil
2 lbs ground lamb
5 tablespoons tomato paste
4 eggs
2 tablespoons coarsely chopped fresh cilantro
3/4 tablespoon fresh ground coriander
2 teaspoons tumeric
1 tablespoon smoked paprika
2 teaspoons black pepper
1 ½ teaspoons sea salt
6 finely chopped cloves of garlic
1 ½ cups fresh gluten free breadcrumbs (for paleo, sub almond meal)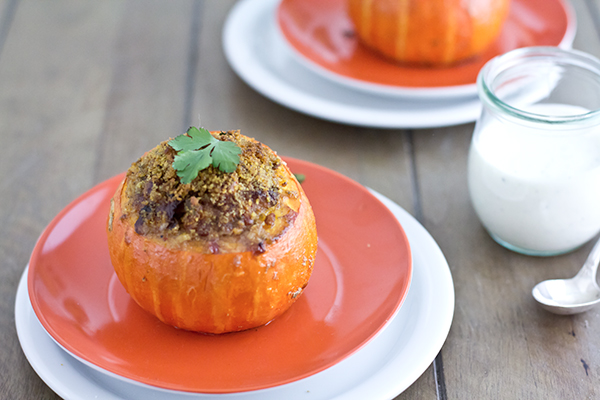 INGREDIENTS PUMPKINS*

8 small potimarron squash-each roughly 4-5 inches across
¼ cup coconut sugar
INGREDIENTS BREADCRUMB TOPPING

1 cup gluten free breadcrumbs (or almond meal)
3 tablespoons coconut sugar
1 teaspoon sea salt
1 teaspoon black pepper
2 teaspoons smoked paprika
handful of fresh cilantro
2 tablespoons olive oil
INGREDIENTS YOGURT SAUCE

(ever so barely adapted from The Helmand's Restaurant recipe published in SF Gate)
2 cups of plain full fat organic yogurt (for Paleo, use strained/Greek coconut yogurt)
1 teaspoon dried mint leaves (very finely chopped)
4 cloves garlic, very finely chopped
½ teaspoon sea salt
INSTRUCTIONS LAMB MEATLOAF

Preheat the oven to 400º and line a baking sheet with parchment paper.
Cook onions with one tablespoon of water and olive oil in a large skillet over medium low heat- for about 35 minutes, turning from time to time to avoid scorching. You are looking to get light caramelization, but no black or dark brown colors.
While onions are cooking, determine the top and bottom of your squash. Cut a very small amount off the bottom, just so it can stand up without wobbling. Be careful not to cut too deeply into the flesh. We want to keep the juice of the meatloaf all nice and sealed in. Next, flip it over, and cut off the top third of your squash.  Using a spoon, remove all of the seeds and the stringy matter from the inside.  Repeat with the rest of the squashes.
Rub the inside and cut tops of each squash with a little bit of coconut sugar.
Toss breadcrumbs with coconut sugar, sea salt, black pepper, smoked paprika, and cilantro until very well-combined. Drizzle in olive oil and toss to coat
 In a large bowl, combine sautéed onions with lamb, tomato paste, eggs, cilantro, coriander, tumeric, paprika, black pepper, sea salt, garlic, and breadcrumbs. Mix well, but gently, being careful not to overwork the meat.
Gently stuff the meatloaf into the squashes so that it's overfilled with a nice little mound on top. Finish each one with a generous sprinkling of breadcrumb/almond meal topping.
Bake for 30 minutes then check squashes for doneness- you'll know they're done when you can insert a knife in the side of one with ease. Final cook time for me was 45 minutes.
For Yogurt Sauce & Finishing Touches

While meatloaf is baking, make yogurt sauce. Mix yogurt, mint, garlic, and salt. Cover and refrigerate until ready to use.
When squashes are done, cool for at least 10 minutes before eating, then top with yogurt and some fresh cilantro and enjoy
*Should you wish to skip the pumpkins, you can bake these in 8oz mason jars without the lids. Leave 1 inch of headspace. They will freeze well and travel well too! You'll only need to bake these for about 25 minutes.