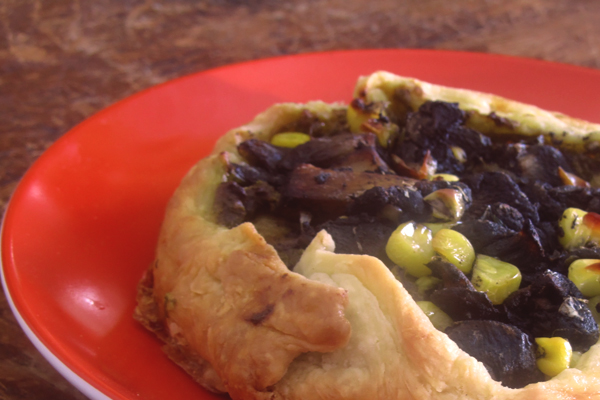 I am so grateful for the richness of my life. I am surrounded by loving, vibrant, funny, and talented people and a pretty adorable dog. I live in the heart of San Francisco's Mission District– a neighborhood where Latino families and artists have traditionally lived side by side- where the demographics are changing, but for the most part peace and vibrancy still preside.  The land around me is some of the most fertile in the world and provides the most beautiful & abundant produce, cheeses, meats, & wine.  Gratitude is a big part of my life and to have a whole day dedicated to it, suits me just fine.
Local food is always a mainstay of our table, but for this meal, I decided to focus not only on the local foods, but also on the local flavors, and the local merchants. I shopped for everything within three miles of my house (excluding the pork leg) every ingredient was sourced rom a small local business or a farmers market in an effort to honor my community on fthis special day as well.
Having grown up in California, Latin foods have always been a part of my life. As I developed my own cooking style, my French heritage and my deep appreciation for the foods of Mexico, El Salvador, Argentina and Puerto Rico have often seen a lively interplay.  This Thanksgiving, a day of gratitude, un dia de gracias, I set about creating a menu that would highlight some of my favorite traditional Latin dishes and some with a new twist.
One of the most exciting of these dishes for me was the huitlacoche and poblano puree tarts. Huitlacoche or corn smut as it's called in the US is a fungus that grows on corn. It has a sweet, smoky flavor with a depth that some compare to truffles- some even refer to this delicacy as a Mexican truffle. I was introduced to Huitlacoche some years ago at a Nuevo Latino restaurant- it was stuffed inside the skin of a roasted chicken. I've dreamed of finding fresh Huitlacoche ever since. I've heard tales of "just missing it" at the farmers market, but I've never seen it fresh. For this meal, I knew I had to have it, so with some serious searching I found that Far West Fungi sometimes carries some frozen. Off to the Ferry Building, I went.
These tarts were mind-alteringly delicious. If you cannot find Huitlacoche fresh or frozen, I'd stay away from the ones in the can. Simply double up on the mushrooms and add a dose of good quality truffle oil and the end of cooking.
TART CRUST
Make one portion of Alton Brown's pie crust and refrigerate the floured disc in plastic for at least two hours or overnight as I did.
This is the finest pie crust I have ever made. Granted, I used fine ingredients: Bob's Red Mill flour, beautiful porky lard from Bi-Rite, Clover Organic Butter, my egg wash was even made with an egg from Clark's Summit Farm, and my ice water was San Francisco's finest.  Still, consider my old pie crust recipes ditched! This is my new go to recipe.
INGREDIENTS POBLANO PUREE
1 lb poblanos, roasted peeled & seeded
1 thinly sliced onion caramelized in butter until nicely golden brown
¼ cup tablespoons cream cheese preferably real cream cheese without gums such as Gina Marie
½ Serrano chili (more or less to taste)
sea salt
INSTRUCTIONS POBLANO PUREE
puree poblanos, onions, cream cheese, chili, & sea salt until smooth and creamy
allow to rest for at least 30 minutes up to 2 hours
INGREDIENTS HUITLACOCHE CORN & MUSHROOM MIX
¼ lb small king trumpet mushrooms sliced thin
1 ear sweet corn shucked and removed from cob
½ lb huitlacoche (corn smut)*
3 cloves of garlic
1 tbsp butter
1 tsp sugar
splash of white wine
smoked maldon sea salt to taste
INSTRUCTIONS HUITLACOCHE, MUSHROOM, & CORN MIX
sauté mushrooms, huitlacoche, & garlic in butter over medium flame until mushrooms soften and begin to gain some golden color (they will darken from the huitlacoche as well, but look for a golden brown color from the sauté)
add wine, sugar, corn, & salt and cook for another five minutes allowing the liquid to absorb, the sugar to melt, and the flavors to come together.
BAKING INSTRUCTIONS
Preheat oven to 400º and line a cookie sheet with parchment paper
Portion pie dough into four pieces and bring out onto lightly floured surface.
Working quickly, to keep dough cold, roll each piece out into small rounds
Spread poblano puree so it is about a half in thick leaving a one inch border around the edge of the pie dough
Top with a nice mound of the mushroom, corn, & huitlacoche mixture
Fold the edges of the pie dough over to form a pretty yet rustic tart
Bake on the lined cookie sheet for 20 minutes then brush with an egg wash (1 egg beaten with 1 tbsp water) for another 5-10 minutes or until tarts are nice and golden