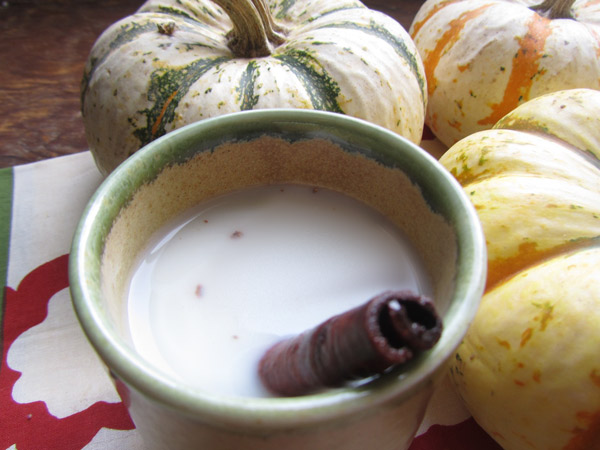 No holiday meal would be complete without horchata. Wait, horchata? Yep horchata. At least, that's how I feel, now. This Thanksgiving, we had a Latin influenced feast and my cocktail for the evening was spiced bourbon with horchata. It was met with mmm, yum, more, and delicious! And with a couple of "Who needs egg nog. Horchata for Christmas too!"s
Horchata is a whole lot healthier than egg nog as well- made with rice and nut meal rather than cream and eggs- I will be making this all holiday season and throughout the year now that I know how easy it is. There are many styles of horchata. Some from Mexico, El Salvador, Spain, and Nicaragua. Some are made with or without almonds, sesame seeds or tiger nuts and with or without milk. I chose to make mine with hazelnuts because some people in our party had almond allergies, but you could use almonds. Also, leave the bourbon separate until you mix the cocktail so that kiddies can enjoy it too. Next time, I'm definitely making a double batch because this went quickly!
Oh, and I had plenty of syrup left over, so I made cinnamon cream sodas and cinnamon vanilla milk. Both were out of this world!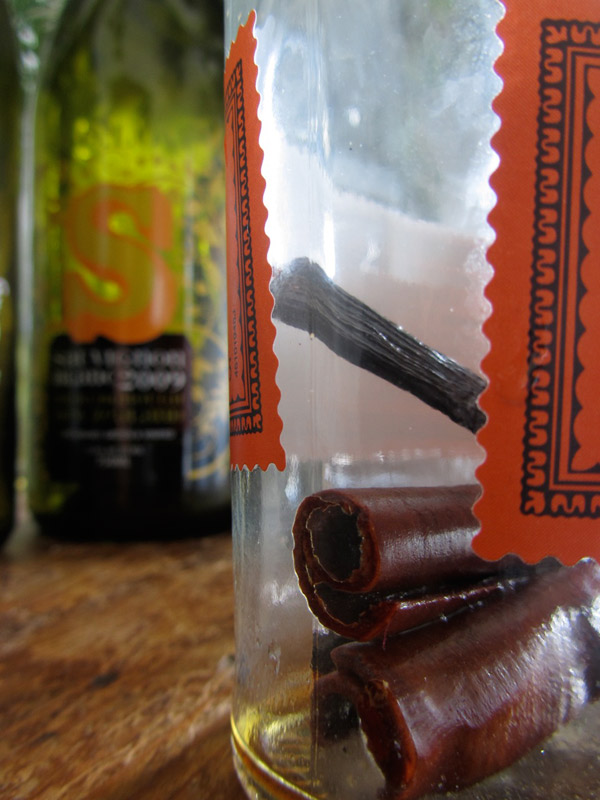 HORCHATA INGREDIENTS
2 cups of white rice
4 cinnamon sticks
1 vanilla bean
1 cup hazelnut meal
zest of 1 lime
8 cups of water
SPICED BOURBON
1 750 ml bourbon (I used Bulleit)
2 dried red chilies *
1 split vanilla bean
¼ tsp fresh ground nutmeg
2 cinnamon sticks
Add all of the spices to the bourbon and allow to infuse for at least one week or up to two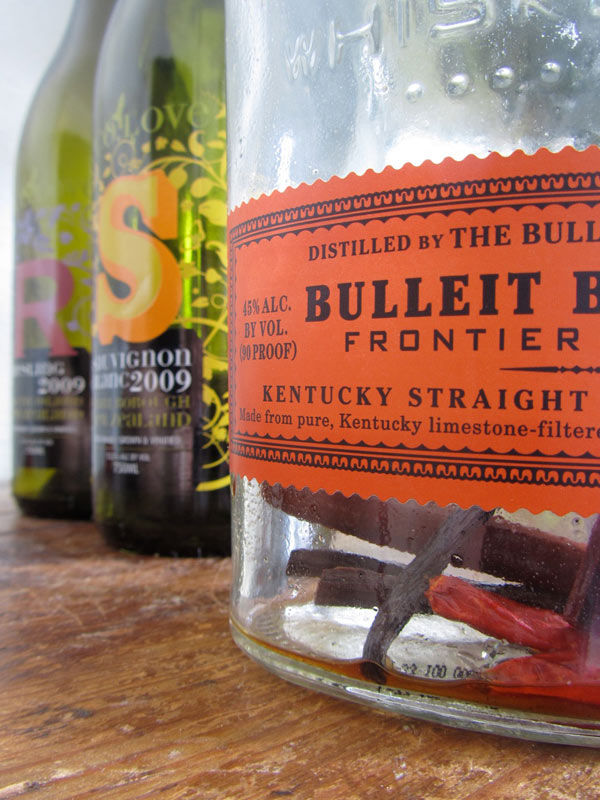 CINNAMON VANILLA SYRUP INGREDIENTS
1 cup sugar
1 cup water
1 cinnamon stick
2 tbsp vanilla
HORCHATA INSTRUCTIONS
soak rice in water with cinnamon for at least 2 hours
working in batches, blend in a blender until rice and cinnamon are pulverized adding hazelnut meal at the end of each batch and pulsing well.
add lime zest, scraped vanilla bean and pod and allow mixture to soak overnight in the fridge.
strain through cheese cloth and pour into a pitcher (if you choose to add milk, here is where you would do it)
sweeten with cinnamon vanilla syrup and spice it up with spiced bourbon (or not)
CINNAMON & VANILLA SIMPLE SYRUP INSTRUCTIONS
Place sugar, water, cinnamon, & vanilla into a medium saucepan on medium-high heat.  Bring the mixture to boil.  Reduce heat and cook just below the boiling point for 15 minutes.
Pour into a glass jar and cool in the fridge before using to sweeten the horchata.
(This also makes a fantastic cinnamon cream soda when added to plain soda water!)
* I used spicy red chilies (thai) with all seeds in tact and the bourbon turned our very spicy when I tasted it on it's own, but not very spicy at all when mixed. You could do dried ancho or chipotle and  to get a more Latin flavor. If you seed them, you may be able to put more in the bottle. Chipotle would give a distinctly smoky flavor which could be interesting. If you try, let me know!