This mulled red wine jelly is full of holiday spices like cinnamon, bay leaves, and orange. Grilled cheese, burgers, baked chicken, and even vanilla ice cream pair amazingly well with this lovely and easy homemade jelly.  Jump Straight to the Recipe
Homemade Mulled Wine Jelly
"Fifteen dollars? Fifteen dollars for a jar of jam?"
Joshua stared incredulously at the row of  ultra fancy conserves. Ranging from simple strawberry to the more exotic fig and thyme, the jams glistened— the jewels of the BiRite shelves. We continued our shopping and left… without any jam.
In the car, Joshua still couldn't let it go. "Why would someone pay $15 for fruit and sugar?" I tried to explain that hand made jam uses a lot of fruit. It takes a long time to make jams and jellies in a traditional manner. There is stirring and chopping and sterilizing and water bath canning…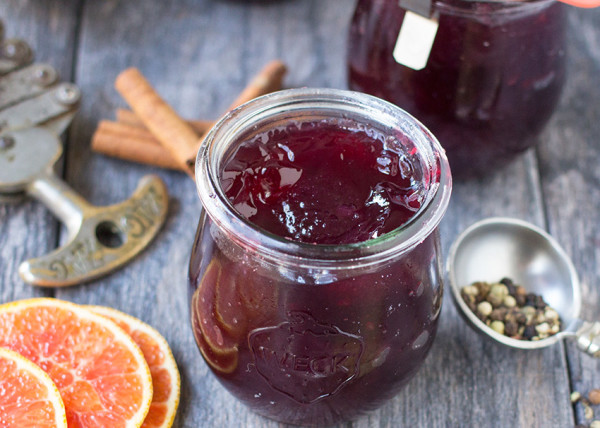 The truth was, though, I still hadn't canned my own jam or jelly. Sure, I'd made lots of jam from Blueberry, ginger, vanilla to tomato kumquat, but I had never taken that leap to home canning. Now, years later, it seems ridiculous that I was so afraid. These days, I've canned everything from heirloom tomatoes, to chutney, to blood orange marmalade. Every year, for the past five years, I've made jam, jelly, or chutney to give as hostess gifts and holiday gifts.
This year, I decided that wine jelly would be fun! I first had wine jelly many years ago. It was a white wine jelly with orange flower water. I've never forgotten that first taste on a bit of bread with cheese. The flavor was unexpected, but completely delicious. This jelly is made from red wine, entwine Cabernet Sauvignon to be exact.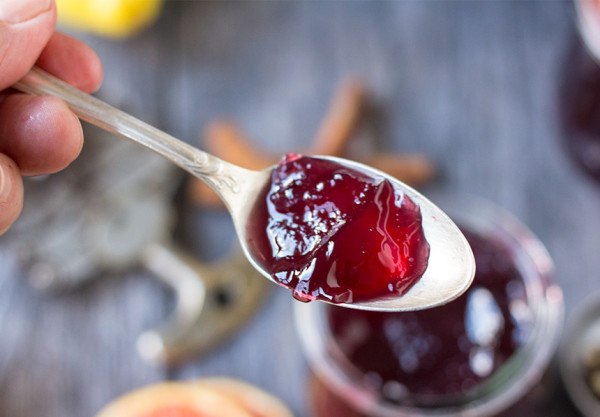 entwine  is a collaboration between the folks at Wente Vineyards in nearby Livermore, CA and Food Network. I had the good fortune to spend a day at Wente with Food Network's Executive Chef, Robert Bleifer and Rupa Bhattacharya, executive editor at Food Network. We walked the vineyards, did some barrel tasting, and had dinner at The Restaurant at Wente Vineyards. We talked about fun and goofy pairings including Rupa's love of potato chips and chardonnay and my yen for cinnamon and chipotle sweet potato fries with entwine Cab!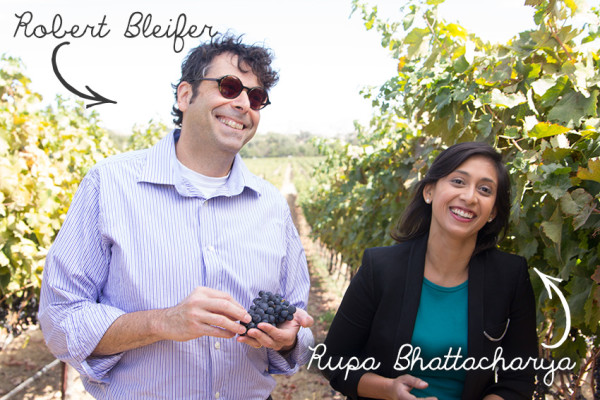 Since I was making my red wine jelly around the holidays, I decided to play off that spicy cinnamon pairing and add some mulling spices to the mix. I added sliced oranges, bay leaves, cinnamon sticks, and whole peppercorns. As the wine and spices warmed on the stove, my house began to smell just like the holidays. As much as I love eating this jelly, I have to say, that making it is an equal joy. Not only is it simple and quick, it also conjures up really nostalgic and sweet feelings.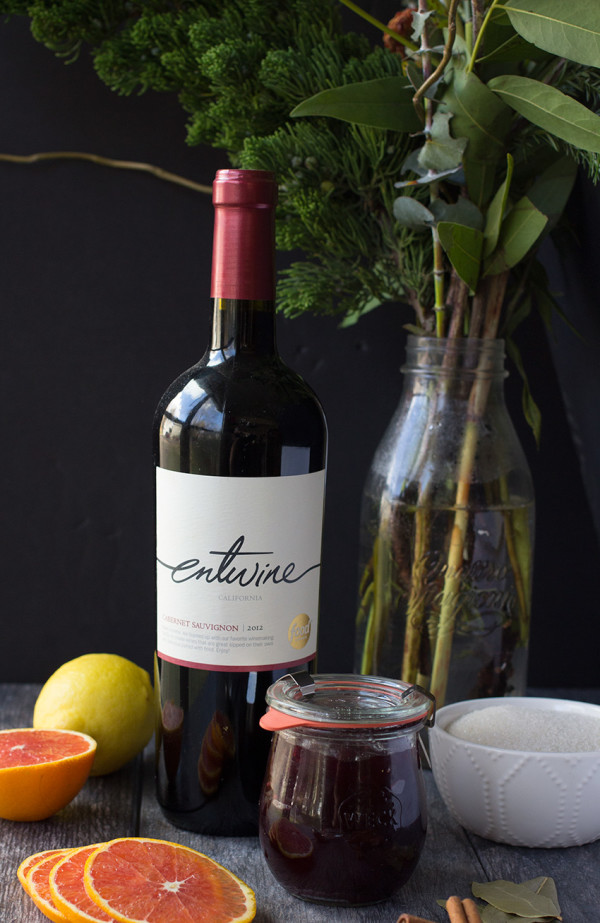 This mulled wine jelly is suprisingly versatile. I love it on turkey sandwiches and burgers or as a glaze for baked chicken or roast beef. It is so satisfying atop a bowl of vanilla ice cream with some shaved dark chocolate. Perhaps, though, this jelly shines the brightest when enjoyed with cheese. Dress up your grilled cheese sandwich or eat the jelly on a cracker with gorgonzola. Go for broke and slather it on your brie, wrap it in pie crust, and bake until golden and gooey. Of course, you can do like my friend, Mary, and eat it off a spoon.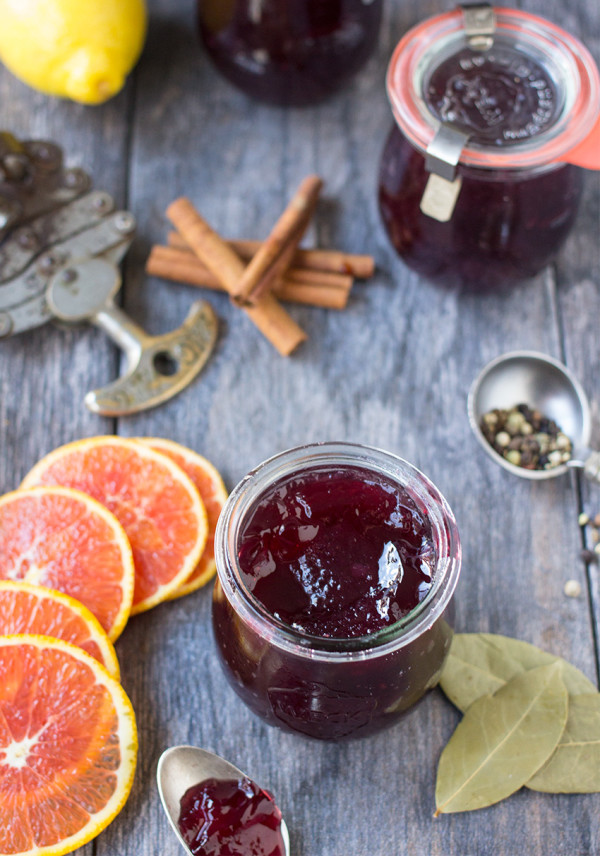 This post is sponsored by entwine wines. I received both product and compensation in exchange for creating this recipe. As always, my opinion is not for sale and I only work with brands I love and I feel will be useful for my readers. Thank you so much for supporting the brands that support this blog.
Rating 4.8 from 4 reviews
Prep time:
Cook time:
Total time: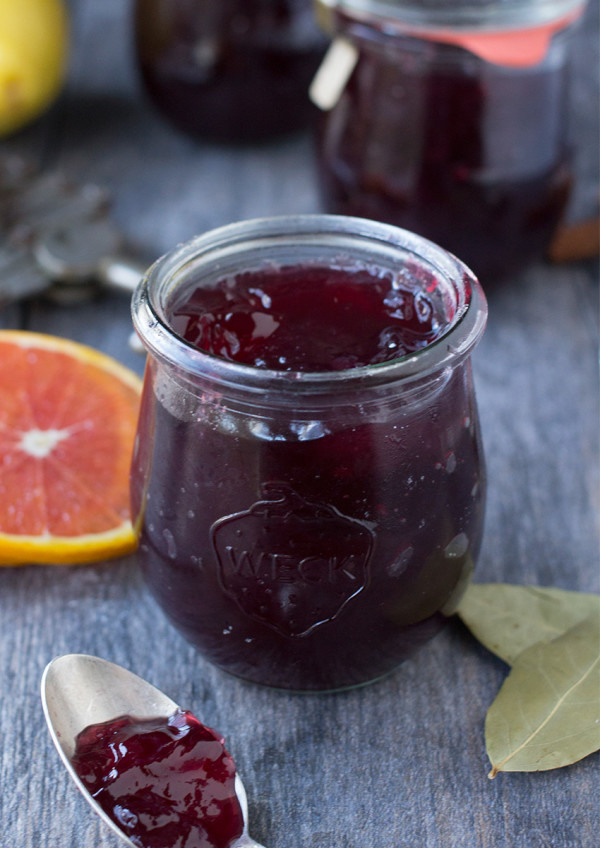 Red wine jelly gets the holiday treatment with the addition of cinnamon, bay leaves, peppercorns, and orange. Your whole house will smell like the holidays. Jars of this mulled wine jellyare amazing for the holidays, birthdays, and hostess gifts.
Ingredients
Red Wine Jelly Ingredients
1 bottle entwine Cabernet (divided)
2 cinnamon sticks
1 orange, thinly sliced
2 bay leaves
½ tablespoon whole peppercorns
1 ½ cups sugar divided
¼ cup lemon juice
2 teaspoons calcium water
3 teaspoons Pomona's Pectin powder
Instructions
If you are new to canning, check out
this great guide
before getting started. I like 8oz jars or Weck tulip jars for this jelly, but feel free to use pint jars if you prefer.
NOTE: this recipe was developed with Pomona's Low Sugar Pectin Powder. I cannot guarantee results with other types of pectin because of the reduced sugar in this jelly. You can find Pomona's online or at most natural foods stores.
Prepare your jars and lids for canning. Prepare your water canner bath.
Pour one cup of wine into a large saucepan over medium heat. Add cinnamon, orange, bay leaves, and peppercorns. Bring to a boil, the lower heat and simmer until liquid is reduced by half. Add remaining wine and ½ cup of sugar. Simmer for 10 minutes then strain through a fine mesh sieve. Return liquid to the saucepan; add calcium water and lemon juice and mix well.
In a bowl, mix remaining sugar with pectin until thoroughly combined.
Return the wine mix to a full boil. Add pectin and sugar, stirring vigorously for 1 to 2 minutes. You must keep stirring to dissolve the pectin all the way. Once the jam returns to a full boil, remove it from the heat.
Fill sterilized jars leaving ¼ inch of headspace. Wipe rims clean and top with lids. Put filled jars in boiling water to cover and process for 10 minutes. Remove from water. Let jars cool all the way before checking seals. I usually leave them overnight. Any jars that are not well-sealed can be stored in the fridge for several weeks.