This recipe for plum & zinfandel ketchup is inspired by The Dry Creek Valley. The homemade ketchup is made from local plums, zinfandel wine, and zinfandel vinegar, and spiced with star anise, everything about this condiment reminds me of Sonoma County, the place I call home.
A blogger trip to Sonoma County's wine country was just the thing I needed to provide the final nudge to leave San Francisco. In May of 2012, I spent three glorious days at the Raford Inn in Healdsburg, CA. Eleven months later, our moving truck was packed, and we were on our way.
Since I was a girl, I've been captivated, enchanted, totally bewitched by Sonoma County. This place can take hold of someone and be stubborn in letting go.  The Pomo people have been here for at least 5,000 years- the very name of this place, Sonoma, is said to have come from the Pomo words for Earth Place (tso) and Village (noma). There are farmers and vintners who have been here for 5, 6 even 8 generations and there's little question as to why they stay.
The Dry Creek AVA runs along a tributary of the Russian River (the very river I now live on) and is 16 miles x 2 miles.  If you've heard of Dry Creek Valley, then you're probably thinking of their spectacular Zinfandels. Georges Bloc, of France, was the first vintner in the Dry Creek Valley, and when he planted there in 1833, it is thought that he planted Zinfandel grapes. It is no accident that those very grapes have dominated Dry Creek since the 1880s- Dry Creek's terroir and climate make for some of the best Zins in the world.
On a recent blogger outing to the Dry Creek Valley (Mihilakawna, in Pomo in case you wondereed), I had the opportunity to drink, taste, smell, pair, and blend wines from the famous AVA.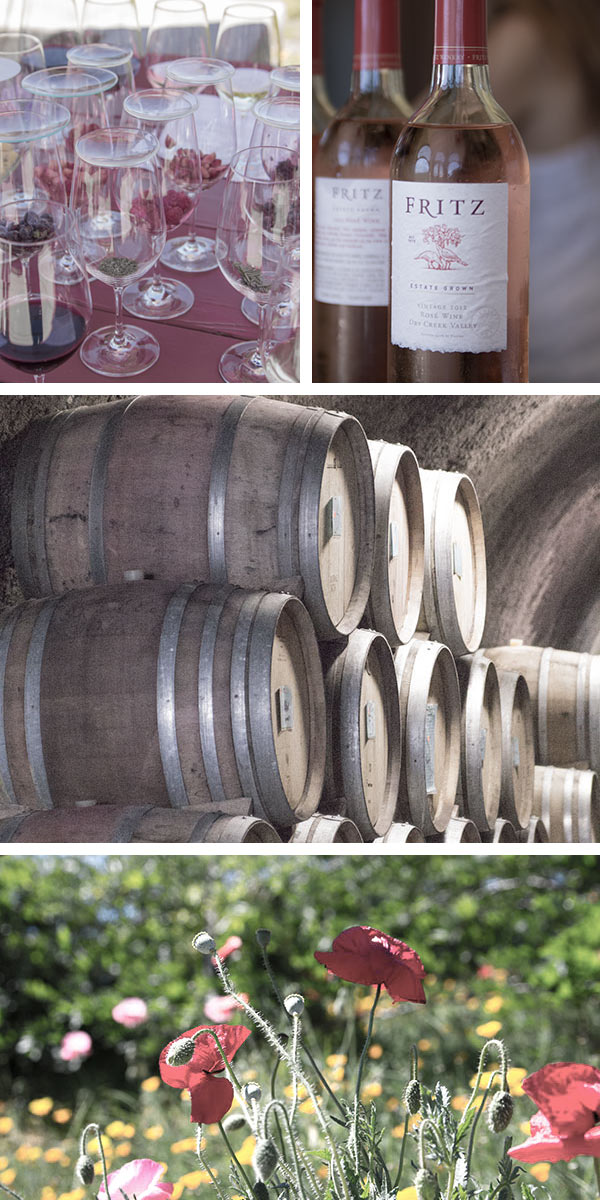 Our day began at Fritz Underground Winery where we walked the gorgeous grounds, explored the cellars, and did a scent seminar. It's always fascinating to see what notes people smell in wine and how the notes change as the wines change temperature and are exposed to air. I have an insanely strong sense of smell- which is a blessing when it comes to cooking and pairing wines but a curse when it comes to living with two pit bulls.
I'll admit, I was quite skeptical when I learned we'd be doing a "soil tasting" at Mauritson. While I'm an adventurous eater, and have enjoyed "soil" in the molecular gastronomy world, I never even ate dirt as a child. The thought of starting a dirt-eating habit in my 30's seemed unlikely, but I never say never. I was quite relieved that our soil-tasting consisted of smelling, touching, and comparing soils then tasting the wines that are grown in them. Mauritson knows its soil too, they've been growing on this land for nearly 175 years.

Our trip to Quivira was my second. Their grounds are modern yet rustic, beautiful, and boast lots of critters like pigs, bees, and chickens as well as abundant wildlife. Quivira is certified organic and biodynamic which means they use no chemical fertilizers, only organic pest control, and they make gorgeous compost tea by burying their compost underground.  Their organic gardens are friends to the grapes, beneficial insects, and soil, yet foe to the nasty pests which can destroy grapes. Quivira has been working hard to restore Dry Creek and to bring the salmon back. Oh, and did I mention how very nice they are?
Our final stop on our day-long tour was to Dutcher Crossing where we had a crash course in blending wines- specifically Zinfandel. This is the MOST fun I've ever had with wine (well, that I can write about here). Dutcher Crossing winemaker, Kerry Damskey absolutely knows his stuff. I absolutely love his passion for wine, his casual take on tasting, and also his wife Kitty.  Being a total nerd, I had so much fun making notes on the percentage of each wine, tasting, and tasting again until I had (what I thought was) a really tasty blend.

The owner of Dutcher Crossing, Debra, had us to her home for a lovely dinner which was almost entirely gluten free (yay). It was during dinner that our blends were judged in a blind tasting by a panel of winemakers from Dutcher Crossing, Amphora, Thumbprint, and Collier Falls . I was thrilled to learn that the judges agreed "instantaneously and unanimously" that I had indeed made a very tasty wine- the tastiest as a matter of fact. I went home with a huge prize package including some very very nice wine as well as two tickets to the Dry Creek Valley Passport Event.
Since May, I've opened a few amazing bottles of Dry Creek Valley Zinfandel and one outstanding Petit Verdot from Thumbprint. While each Zin has it's own character, and I am particularly fond of zins, I am partial to those with rich dark plum flavors and a hint of clove and spice. When cooking with Zinfandel, I adore pairing it with plums, blackberries, spice, and sometimes even very dark chocolate with fruity acidic tones.
The idea for a homemade ketchup recipe came when I was getting ready to grill some sausages. I thought of how beautifully sausages would pair with spiced plum ketchup. We had wild boar, pheasant, and duck sausages from a local purveyor and each one paired beautifully with the ketchup- and don't forget to pour a big glass of zin to accompany your meal.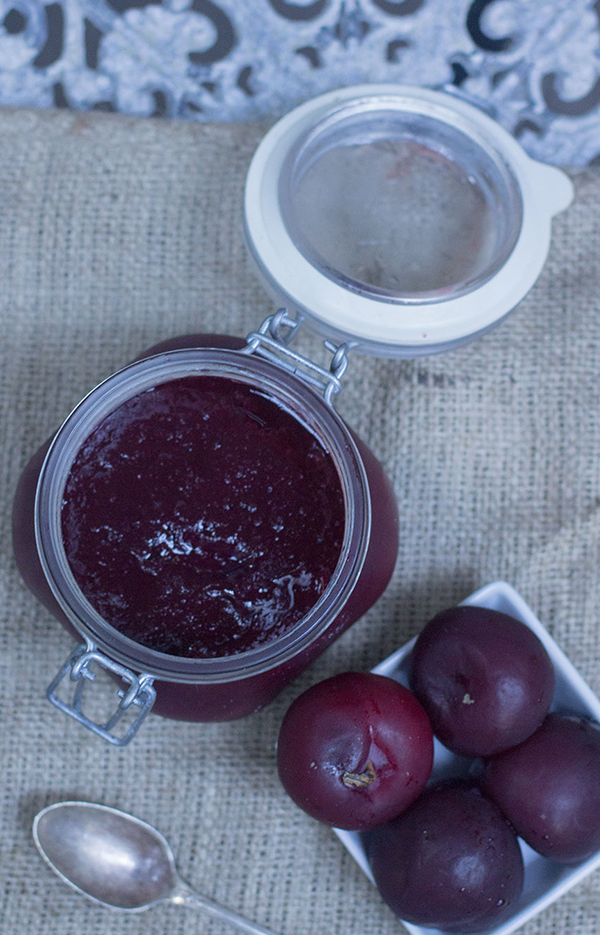 I used juicy black plums from my local market, Food For Humans. You could also use Santa Rosa or Elephant Heart Plums. For a special treat, try this with locally foraged wild plums!
Ingredients for Homemade Ketchup with Plums & Zinfandel

2.5 lbs of ripe juicy plums, quartered and pitted
½ cup Zinfandel
2 tablespoons red wine vinegar (I used this Zinfandel Vinegar from Katz)
2/3 cup of coconut sugar
1 piece star anise
1 pinch ground clove
1 cinnamon stick
¼ teaspoon allspice
½ teaspoon course sea salt plus more to taste
2 teaspoons cayenne pepper (optional)
4 cloves finely minced garlic
Instructions for Homemade Ketchup with Plums & Zinfandel

In a heavy saucepan over medium high heat, bring all ingredients except garlic and cayenne to a boil. Lower heat to medium and cook at a simmer. Stir frequently, mashing plums as you go for 20 minutes or until the liquid is very thick and syrupy- verging on a jammy texure.
Allow to cool for 10 minutes, remove star anise and cinnamon stick and then blend in a high powered blender (I used the Ninja Mega Kitchen System) or food processor until completely smooth.
Return to the saucepan, adding garlic and cayenne. Cook on medium low, and keep at a bare simmer until the ketchup is as thick as (well) ketchup. Five to Ten minutes should be just about right.
 Pour into a glass mason jar and enjoy anywhere you'd enjoy ketchup or barbecue sauce.