This year we'll be lightening up our Thanksgiving dinner with a vegan Thanksgiving Feast.  Joshua has to work in the afternoon, so after our early Thanksgiving lunch,  some friends and I will be making sandwiches and pumpkin-spiced hot cocoa. We'll be passing it out along with socks, beanies, and gloves to homeless people here on the San Francisco streets. It's very different than our giant Thanksgiving dinner last year, but brings us together in a different way.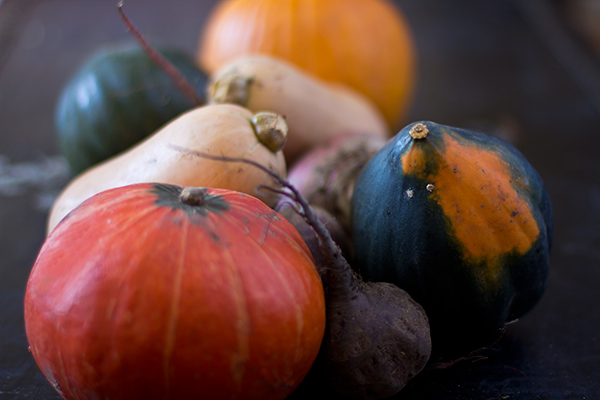 Here are some of my favorite vegan Thanksgiving recipes.
Vegan Thanksgiving Appetizers
Fig & Olive Tapenade
This easy appetizer combines figs and olives for a robust and elegant holiday tapenade. Salty and a little bit sweet, put this out with bread and your favorite crackers for a wine-friendly app.
Vegan White Truffle Pate
This vegan pâté is so savory and luxe with flavors of truffles, caramelized shallots, and the rich texture of butterbeans, that I nicknamed it faux gras. From Thanksgiving to New Year, this makes many appearances on my holiday table and comes along as a little hostess gift in a pretty jar. It will keep two weeks when refrigerated in a mason jar.
Pear & Apple Chutney
You cannot go wrong with this chutney. Serve it alongside your savory dishes like rice pilav and lentils or with cheese for your friends who eat it. I canned a dozen jars of this last year, and it was not nearly enough. Everyone I gave it to, ate it straight from the jar.
Vegan Soups
Curried Butternut Squash Soup
I made this soup for my dear friends' wedding day. It is spicy and sweet, just like them. I can't think of a better way to add a little twist to your Thanksgiving than with this hearty Indian-influenced soup.
Vegan Thanksgiving Side Dishes
Kale & Brussels Sprout Salad with Apples
Raw and vegan, tart and sweet, this salad fills my plate often during the colder months. It's easy enough to make for a weekday lunch, yet surprising enough to grace your holiday table.
Thanksgiving Green Beans with Glazed Pecans
I must admit I never understood the lure of the green bean casserole, but I adore green beans. These feature a light and fresh lemon glaze and glazed lemon and brown sugar pecans. Pure bliss.
Main Course
Butternut Squash & Mushroom Tart
This was my first vegan tart, and while it's a bit of work, it is so worth it. You might make two while you're at it! Vegan butternut squash custard is topped with sautéed wild mushrooms.
Vegan Holiday Dessert
Chocolate Mousse with Orange Vanilla Bean Whipped Cream
Perhaps the easiest and best loved vegan dessert I've ever made is this chocolate mousse. It arrived to oohs and ahs and "Oh my goodness, is that chocolate mousse?" You could add another dimension of holiday to it by adding pumpkin pie spice to the whipped cream!
I hope your holiday is fantastic and tasty and spent making memories with those you love.
X
Sabrina