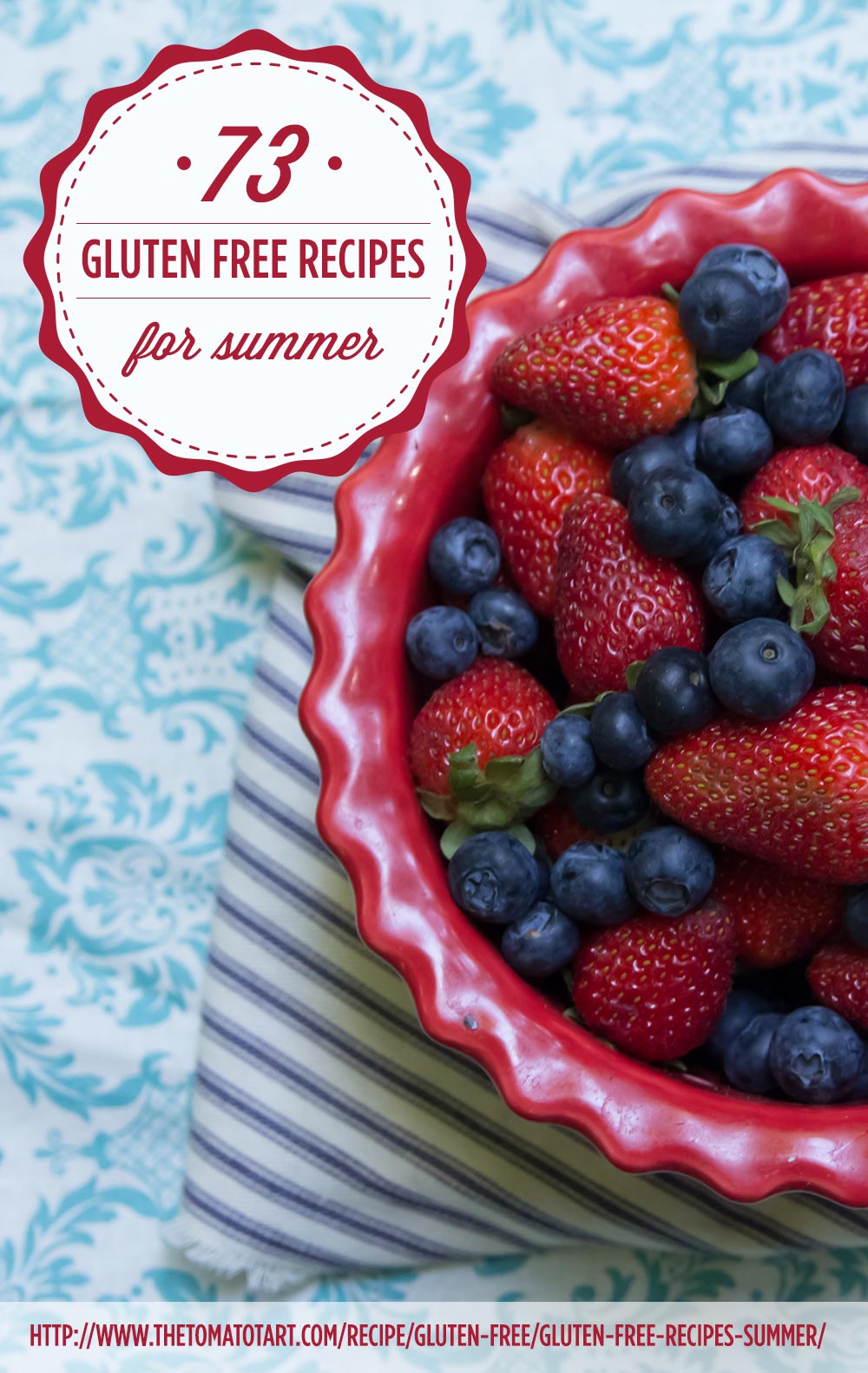 Summer: Barbecues, Picnics, Garden Parties, Camping, and Pool Parties.  I'm a summer girl and I love summer recipes too. There's nothing like a late summer night by a campfire with ooey gooey s'mores or a hot summer afternoon chowin' down on some barbecued ribs.
In summers past, I could just show up at a party or event and enjoy whatever was put in front of me. Since I was diagnosed with a gluten intolerance, going to barbecues and picnics may take a little more planning, but it's no less enjoyable.
In honor of my favorite season (Summer, Duh!) I've gathered 73 Gluten Free Recipes for barbecues, picnics, camping, and more. From Potato Salad to Gluten Free Ribs to Gluten Free Cherry Pie, I've got your summer menu covered.
Happy Gluten Free Eating… enjoy the recipes

Gluten Free Vegetarian Nachos with Homemade Cheese Sauce The Tomato Tart
Raw Cashew Hummus from Gluten Free Goddess
Leek and Almond Tart with Socca Crust
Mini Bacon Guacamole Cups from All Day Long I Dream About Food
Baked Goat Cheese with Raspberries and Thyme from The Tomato Tart
Baked Grape tomatoes from Gluten Free Goddess
Deviled Eggs from The Leftover Queen
Thai Prawns with Mango Dipping Sauce from The Tomato Tart
Chilled Soba in Cucumber Cups from The Kitchn

Juicy Plum Caprese from The Tomato Tart
How to Build a Green Bean Salad from Simple Bites
German Cucumber Salad from The Culinary Life
Red Quinoa with Mango Salad from Taste Love Nourish
Spicy Thai Salad with Coconut Chicken from The Tomato Tart
Cucumber and Tomato Salad from Peanut Butter and Peppers
Gluten Free Vegan Potato Salad from Free People Blog
Chicken Salad from The Culinary Life
New World Veggie Salad from The Leftover Queen
Lessons on Potato Salad from Mother Would Know
Gluten Free Tabouli with Quinoa from Hye Thyme Cafe
Fresh Corn and Tomato Salad from Whisk and Cleaver
Gluten Free Sides for your Barbecue, Picnic, or Summer Party
Roasted Tomato Gazpacho with Yellow Plum Salsa from The Tomato Tart
Gluten Free Three Bean Beer Chili from ATX Gluten Free
Grilled Corn on the Cob with Chipotle Butter from Bon Appetit
Grilled Shisito Peppers from Cooking Stoned
 Grilled Veggies from Bibberche
Corn on the Cob, How To. From Tikkido
Grilled Potato Rosemary Skewers from Food Done Light
Plum and Zinfandel Ketchup from The Tomato Tart
Gluten Free Blueberry Barbecue Sauce from Cooking Stoned
Strawberry Blueberry Salsa from Franny Cakes
Homemade Mustard from David Lebovitz
Fresh Tomato Pesto from Farm Fresh Feasts
Pineapple Mint Salsa from The Mom 100
Spicy Tomato Kumquat Jam from The Tomat Tart
Watermelon Salsa from Peanut Butter and Peppers
Sweet Pepper and Zucchini Relish from Simple Bites
Homemade Spciy Ketchup from Joy The Baker
Black Bean, Corn, and Avocado Salsa from With Style and Grace

Gluten Free Burger Buns from Gluten Free Girl
Vegan and Gluten Free Hamburger Buns from Gluten Free Doctor
Jalapeno Corn Bread Muffins from Minimalist Baker
Gluten Free Cheddar Beer Bread from The Baking Beauties
Gluten Free Biscuits from Your Home Based Mom
Gluten Free Cornbread from Chocolate Covered Katie

Vegan Sweet Potato Tacos with Spicy Cream Sauce from The Tomato Tart
Caprese Mozzarella Panini's from With Style and Grace
Smoked Goat Cheddar Quesadillas with Spinach and Mushrooms from The Tomato Tart
Grilled Tofu Tacos from Love and Lemons
Lentil Sloppy Joes from Namely Marly
Spicy Grilled Tofu from Get off your Tush and Cook
Quinoa & Bean Burger from Holy Cow Vegan
Gluten Free Mini Quiches from The Tomato Tart

Gluten Free BBQ Turkey Sliders from Gluten Free Doctor
No Sugar Added Pulled Pork from The Lucky Penny
Gluten Free Asian Ribs from Simply Gluten Free
Gluten Free Fried Chicken- no picnic would be complete without this recipe from Michael Ruhlman
Pulled Barbecued Chicken from A Girl Defloured
Homemade Hotdogs from The Paupered Chef
Barbecued Grilled Sausages with Veggies from Goldilocks Finds Manhattan
Grilled Chicken with Orange Grape and Feta from Diethoot
Gluten Free and Dairy Free Chicken Skewers from Once a Month Mom
Herb Grilled Chicken Thighs from The Creekside Cook
Simple and Easy Herbed Chicken Thighs
Gluten Free Buffalo Chicken from me, The Tomato Tart

Gluten Free S'Mores in a Jar with Bourbon Marshmallows
Marry Me Brownies from Franny Cakes
Gluten Free Cherry Crumble Pie from Gluten Free Girl
Ice Cream Sandwiches from Gluten Free on a Shoestring
Angel Food Cake with Strawberries from Hey That Tastes Good
Pimms Cup Popsicles from Shutterbean
Gluten Free S'Mores Brownies from Gluten Free on a Shoestring
Oatmeal Banana Muffins from Bowl Licker
Gluten Free, Dairy Free Lemon Blueberry Scones
Green Tea Meyer Lemon Popsicles from Cooking Stoned