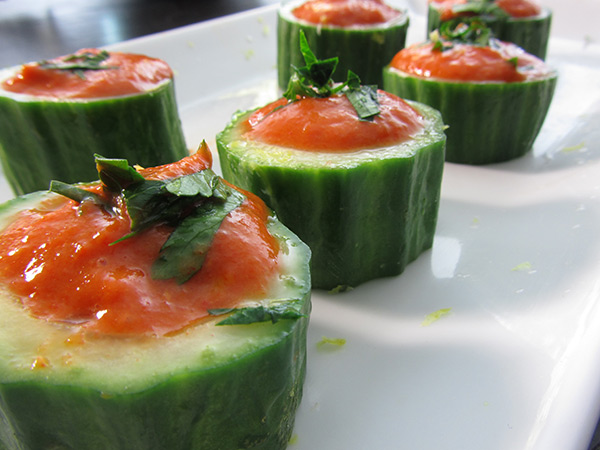 When I was asked to do some wine pairings for eco.love winery,  I was totally thrilled. Not only do they make two lovely white wines, they are also the world's first carbon-zero winery. (Pinot Noir is also coming in 2011) It seems they're doing everything just about right.  From their recycled glass bottles, to eco-friendly screw caps, to their (beautiful) ecologolically sound labels, to their really delicious wines, I am am thrilled with this wine.
The Sauvignon blanc is marvelously fruity with tropical notes- At first sniff I  am immediately met by passion fruit and a whiff of lemon. This crisp white still finishes strongly and lingers on the tongue.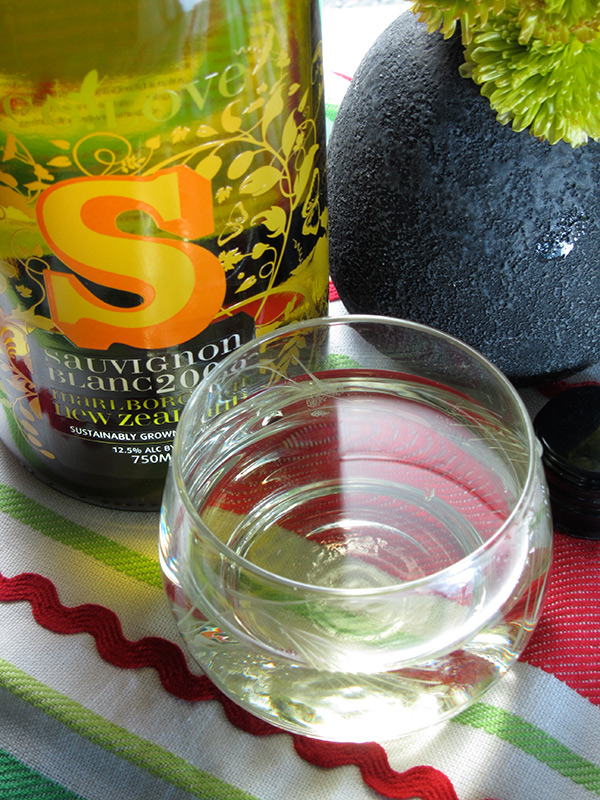 This lovely wine really sings with food, and when I started tasting with cucumber slices, I knew that this wine had to be paired with a cucumber dish. So in the spirit of the holidays, I decided on a hearty and healthy vegan roasted red pepper & white bean puree served in cucumber cups.  The dish is super easy to prepare, and looks beautiful on a holiday table with it's festive red and green color scheme.  It is also a nice respite from so many heavy holiday treats. When my husband happily ate a whole plate of these,  I can guarantee you that the wasn't thinking about how vegan how healthy or how gluten free these were- he ate them solely based on yum factor.
One note: if you don't have time or desire to make these into cucumber cups,  try this variation: add the whole can of beans to the mix instead of half and serve in a pretty bowl topped with walnuts and a drizzle of olive oil with bread, crackers, or crudités.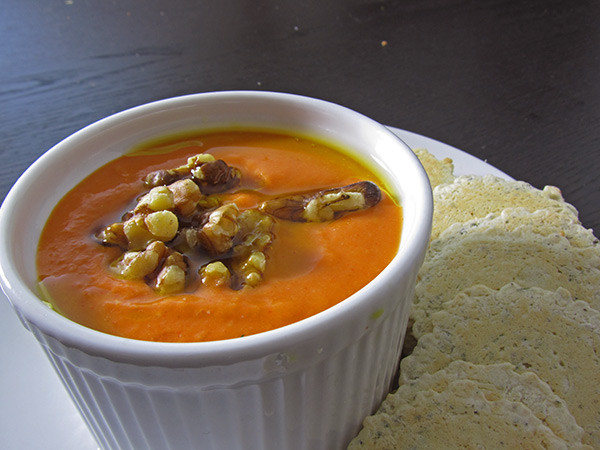 INGREDIENTS
3 large red bell peppers
3 english cucumbers
½ cup silken tofu
½ cup canned cannellini beans (rinsed and drained)
½ tbsp smoked paprika
3 cloves of garlic
juice from ½ of a lemon
zest ftom ½ of a lemon
Italian parsley finely chopped
cayenne pepper to taste
sea salt to taste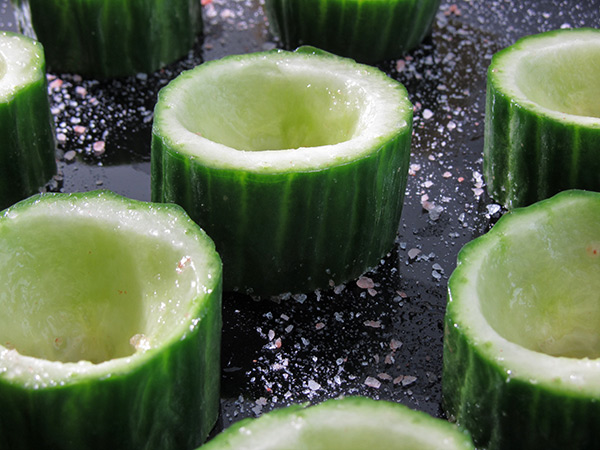 INSTRUCTIONS
Roast red peppers on a foil lined cookie sheet under the broiler- turning every few minutes until all sides are bubbly and blackened
While peppers are roasting, partially hollow out one inch slices of English cucumber with a small teaspoon, salt liberally all over the flesh, and place scooped side up on a plate in the refrigerator.
Remove peppers from oven and place in paper bag for about fifteen minutes. This steams the peppers and makes them very easy to peel
Peel peppers and remove seeds, then add them to the bowl of your food processor with tofu, beans, smoked paprika, garlic, and lemon juice. Process until very smooth- 3-5 minutes.
Taste, then add salt and cayenne a little bit at a time.
Spoon red pepper spread into cucumber cups, top with parsley, and sprinkle with lemon zest.
Serve with chilled eco.love sauvignon blanc.