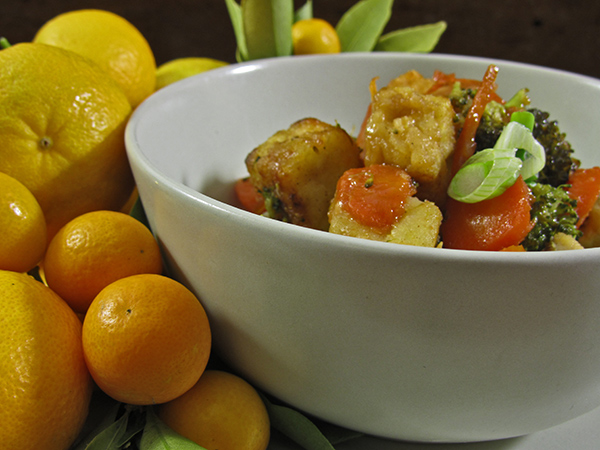 Kung Hei Fat Choy, Happy New Year! Today marks the first day of the Lunar New Year celebration, better known as Chinese New Year in the western world.  You see, there ain't no party like a lunarnewyearparty cause a lunarnewyearparty don't stop- at least not for 15 days.
The first day is marked by a vegetarian feast (for which this gluten free, and vegan dish is perfect)- it is meant to prepare you for two weeks of eating rich foods and sweets and to bring good karma considering you're not killing anything. The second day, "commencement day" is when the family gets down to business cooking and preparing for the New Year. Day 3, "The Day of Squabbles" Leave it to an ancient culture to actually build it into holiday week that if you spend too much time with your family, you're gonna fight!  There's a day known as "everyone's birthday" and the "festival of lanterns as well". Two weeks of holidays sounds like heaven, right?
Seeing as I love citrus, I have always wondered what the significance of citrus was during the Chinese New Year. It turns out that the Chinese give gifts of oranges and tangerines because the words sound similar to gold and wealth. Imagine, if we did that, we'd be eating mold for health- not quite as appealing. Pomelos, that other ubiquitous New Year's fruit  is meant to signify wealth and abundance and good luck because is it so ripe, juicy, and full inside, I am told.
In honor of the year of the rabbit, I have decided to make a vegan version of the most popular dish of America's most popular (therefore best?) Chinese restaurant.  Panda Express can be found at every mall across the country and there is always a line, and people are lining up for one thing, it's that ooey gooey deep-fried orange beef. Although there are many Chinese restaurants that I frequent which have clearly copied this dish and made it far less fried and far less sweet, they have not become as famous as Panda Express. I suppose I might be a little strange, but I'll admit I like the ones from the less famous restaurants a little bit better.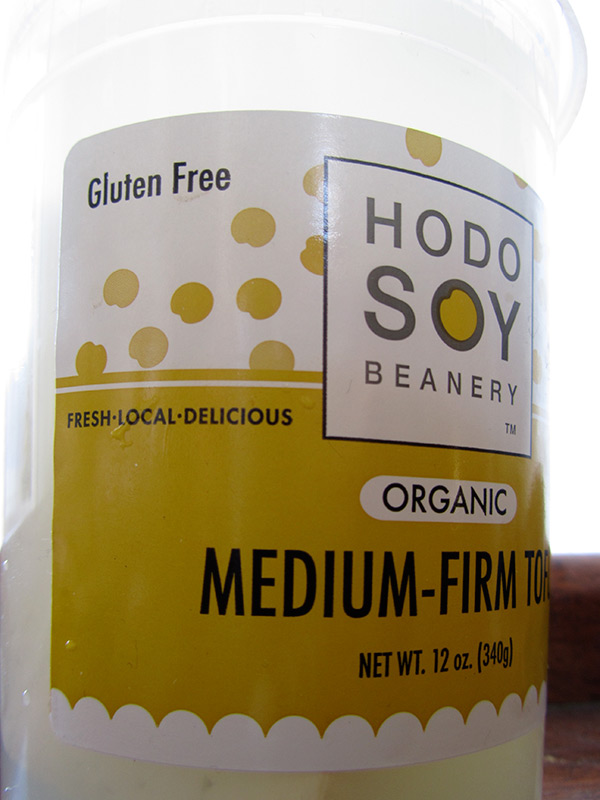 I hope you'll enjoy my very lucky orange tofu which is a deep jewel red from the blood orange juice. In Chinese culture, red represents good fortune, joy, and happiness, which is what I wish for you and your loved ones in this, The Year of The Rabbit.
INGREDIENTS
Peel of 1 large orange- white pith removed as best you can sliced into long 1/8 inch strips.
Juice of three oranges (I used cara cara oranges)
Juice of two blood oranges
2 teaspoons natural orange flavor- I use Simply Organic brand (divided) Orange oil or orange liqueur could be substituted, but
2 tbsp sherry vinegar
1 tbsp low sodium gluten free soy sauce (tamari)
3 tbsp light brown muscavado sugar + 1 teaspoon
2 cups broccoli florets
1 cup carrots cut into coins (about 4 large carrots)
3 cloves garlic cut into razor-thin slices
1 tablespoon fresh ginger minced
½ cup of water
3 tbsp grape seed oil
12 oz medium firm tofu (I use Hodo Soy)
½ cup corn starch
¼ cup white rice flour
1 teaspoon powdered ginger
salt and white pepper
4 tbsp scallions-white and light green parts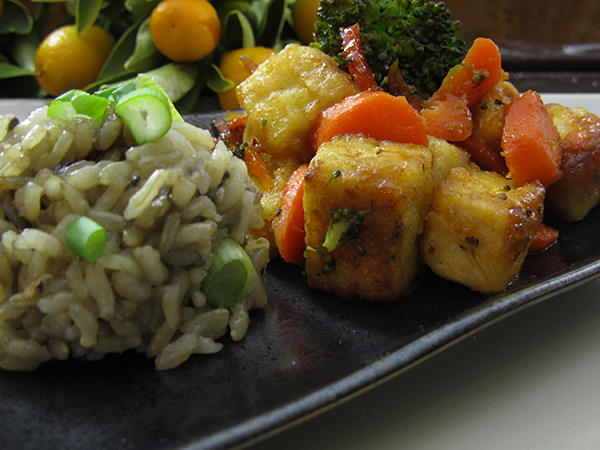 INSTRUCTIONS
Slice tofu into ½ thick pieces, wrap in paper towels and place in a colander with a heavy bowl on top. Change paper towels after 15 minutes and drain for another 15 minutes, at least.
Add orange peel, orange juice, 1 teaspoon orange flavor, sherry vinegar, soy sauce, and 3 tablespoons brown sugar to a heavy bottomed saucepan and cook on medium-high heat until it becomes thick and slightly syrupy. About 7-10 minutes.
Heat a large saucepan over high heat and add the water. Toss carrots on the bottom and put the broccoli on top of the carrots. Cover and cook for about 2-3  minutes. You want them to be just barely softened and a nice bright color.
Then remove the veggies and place in an ice water bath with a little lemon juice inside.  Drain after about 1 minute.
Cut tofu into cubes and pat dry one more time.
Sift together 1 teaspoon brown sugar,  a heavy pinch of salt, powdered ginger, 1, and a ½ teaspoon white pepper, and add 1 teaspoon orange flavor to the sifted mix. Then add tofu and toss gently- being careful not to break the tofu cubes. Allow to sit in mixture for a couple of minutes.
The recipe up until this point can be prepared up to one day in advance and refrigerated.
Sift rice flour, corn starch, 1 teaspoon salt, and 1 teaspoon white pepper in a clean dry bowl. Working in batches, coat the tofu on all sides.
Heat a large skillet or wok over medium high heat. When you can add a water droplet and it skitters across the pan before evaporating (like a little ball of mercury) your pan is ready for oil.
Add enough grape seed oil to cover the bottom of the skillet to about 1/8 of an inch deep. Carefully (I like to use tongs) add about 1/3 of the tofu. You'll want to brown all four sides- be careful not to burn it and adjust the heat if necessary. I like it just golden brown, not dark at all, but please make it to your preference. For light golden brown, it's only about 1 minute per side. Remove tofu cubes, and add the next batch. Change the oil if there are too many burnt bits, but make sure to heat it again if you change it.
When all of the tofu is done, wipe down your pan, lower heat to medium, add 1 tbsp grape seed oil, fresh ginger, garlic, broccoli, carrots, tofu, and orange sauce. Cook for about 3-5 minutes (unless everything has been refrigerated then it will take longer) or until everything is just heated through
Serve over brown rice or noodles and garnish with scallions.