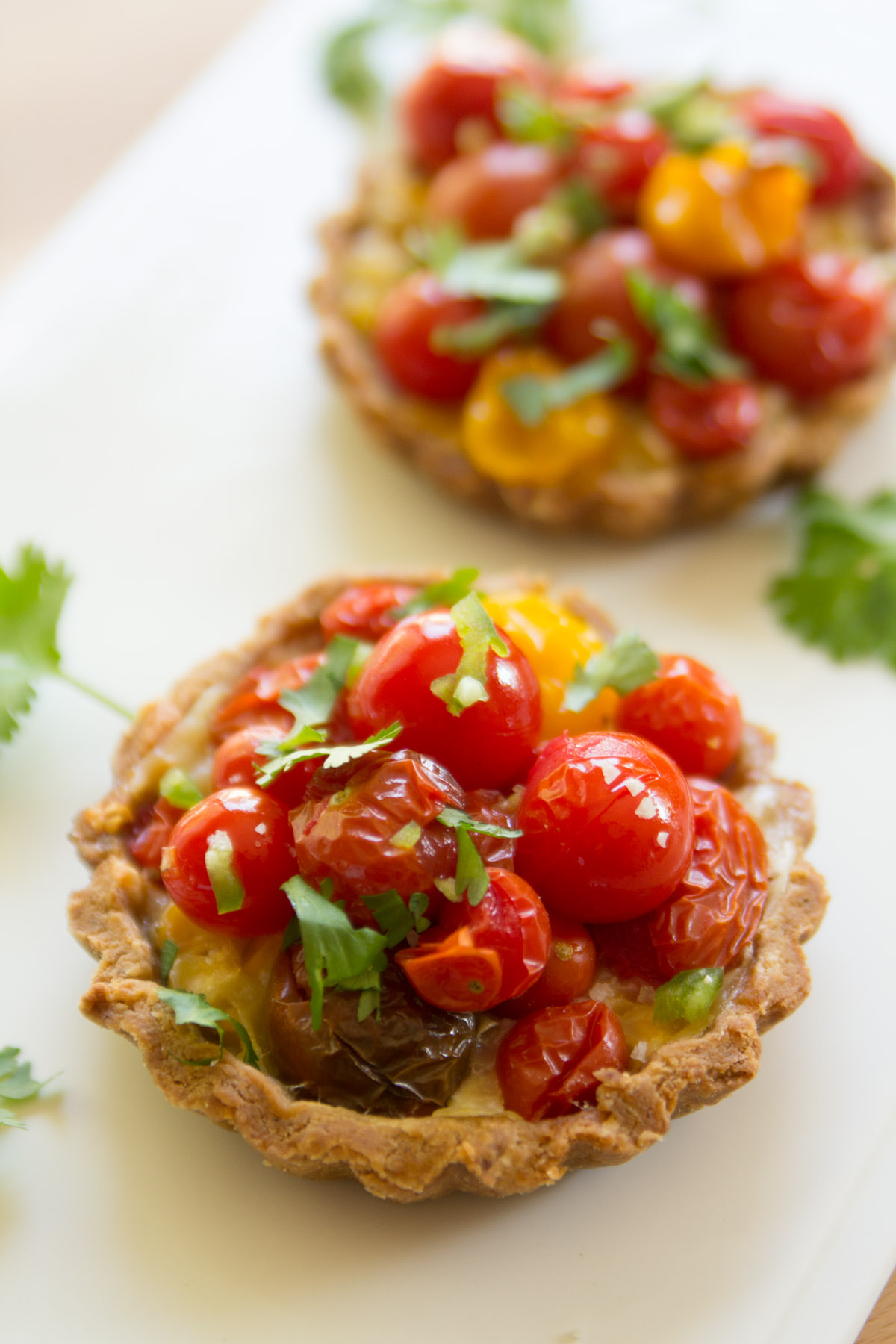 These gluten free miniature tomato tarts capture, perfectly, the taste of late summer. Bright cherry tomatoes, sweet corn and pepper jack are all baked to perfection in a savory, flaky gluten free pie crust. Make them the star of your next picnic or outdoor party! Jump Straight to The Recipe
Gluten Free Tomato Tarts with Sweet Corn and Pepper Jack
Two weeks after moving to Sacramento, my friend Hank invited us over for a little birthday shindig. Hank is a food superstar and all of Sacramento's food glitterati would be there to celebrate.
I knew I had to make a gluten free tomato tart to bring to the party—I mean, what else would I bring? On a whim, I decided to add some fresh summer corn to my tart. The fresh corn added sweetness and crunch to the tart and added a whole new dimension to my favorite dish. The tart was a huge hit and I had so many "This pie crust is amazing, is it really gluten free?" comments, it was almost embarrassing. Notice, I said almost?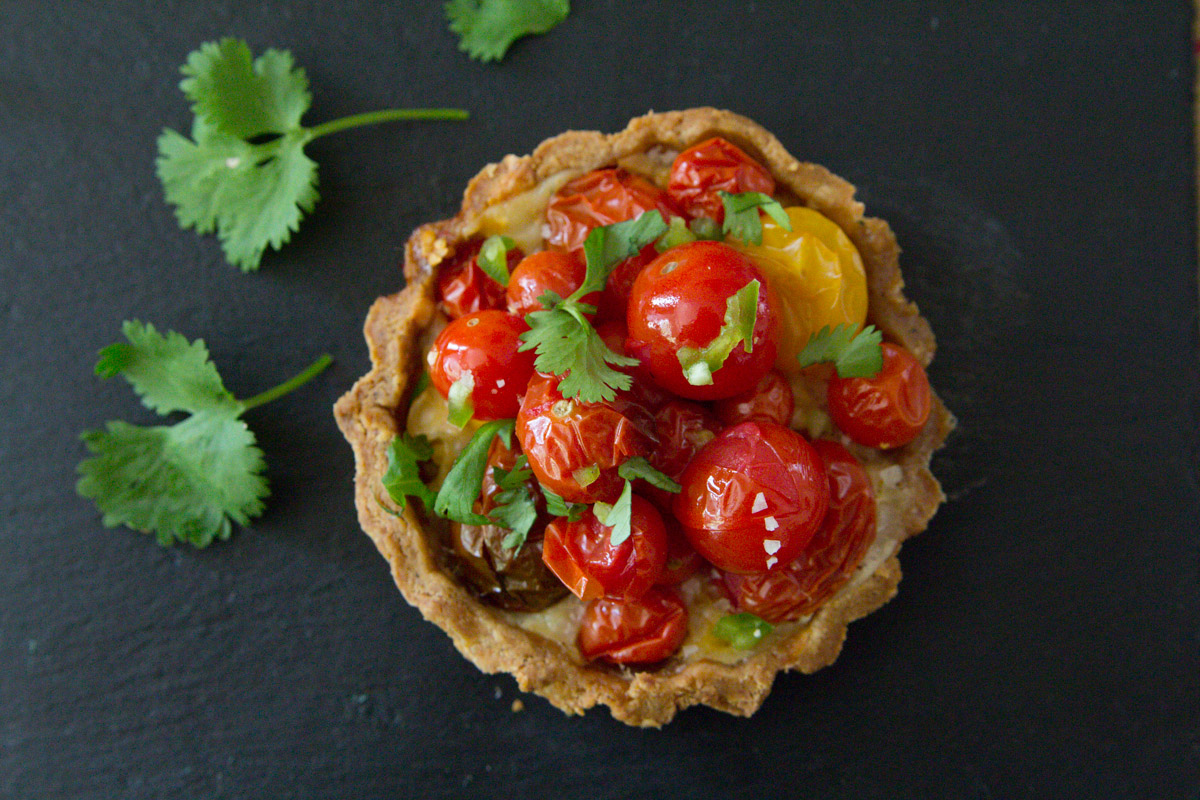 Fast forward a couple of years, and I am surprised by a gorgeous gluten free gift basket from Nicole, a woman I'd met at that very party. Turns out, Nicole is now working for Nugget Markets, a family-owned chain of grocery stores based right here in Sacramento.

If you're from this region, you probably know and love Nugget. I am totally smitten with their incredible produce- it's the first thing you see and smell when you walk in the door. Some of their relationships with local farmers date back to 1926 when Mack and Wiliam Stille opened their first store.
Today, fourth and fifth generation Stilles are running Nugget Markets. They still embrace the ethos of treating their customers, employees, and producers like family. At the same time, they've got a totally modern approach to speciality diet customers (like me!!). There are sweet little icons all over the store pointing towards a dizzying array of gluten free, vegan, vegetarian, and sugar free products. It makes shopping super-convenient and it makes me feel so welcomed! So, when Nicole asked if I'd be interested in doing some work with Nugget, I didn't hesitate for a second.
When it was time to decide what recipe I wanted to make for our little partnership, I knew it had to be that sweet corn and tomato tart I'd served on that August day at Hank's house.
I'm a little bit obsessed with flaky pastry, and when I had to say adios to gluten, pie crust was one of the first recipes I set to work on. I've tinkered and toyed with my all butter gluten free pie crust for five years, and it's pretty stinkin' amazing (check out the tutorial here, and a sweet pastry crust recipe here) But recently, I stumbled upon a much-loved recipe by the incomparable Rose Levy Beranbaum that had been updated by Amanda Hesser, and I wanted to work on a gluten free version.
Oh. My. Goodness—this recipe, you guys! I was skeptical, at first because the dough kind of looks a mess. No, offense dough, but you do.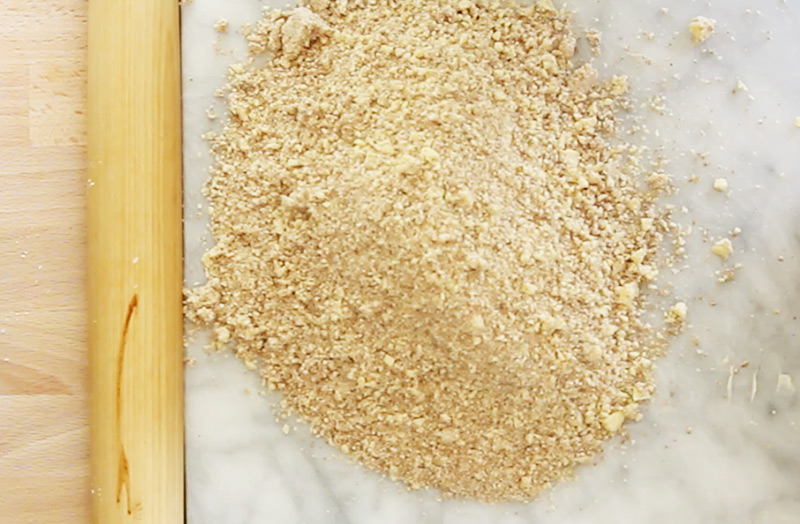 This cream cheese pie dough is so flaky, you might not even want to be friends with it. And that play on words was so bad, you might not even want to be friends with me. But, you'll still want to eat these little tarts. I mean, look at those gorgeous flaky layers in the next photo!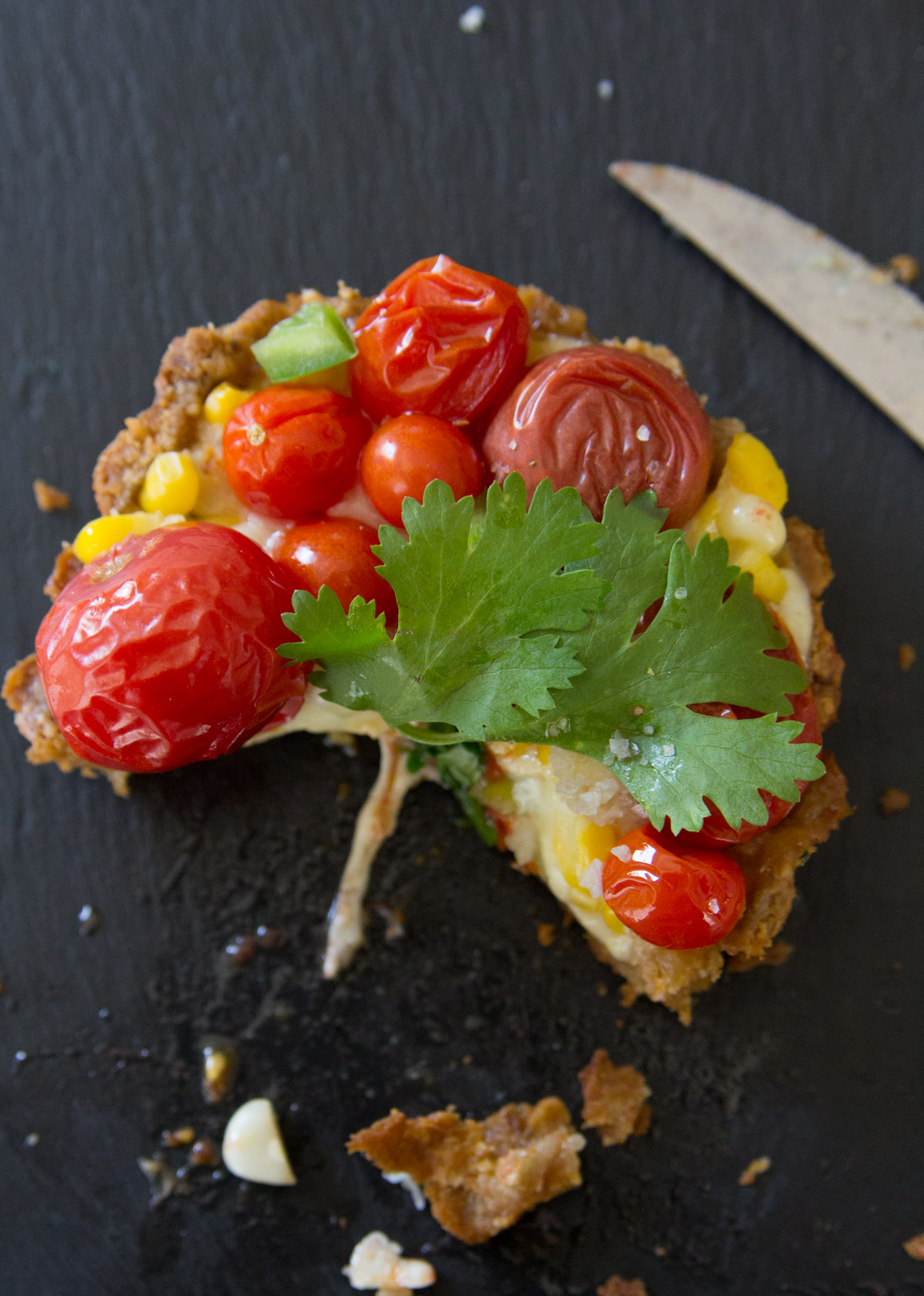 Inside that flaky, flavorful, dough is cheesy, corny, tomatoey, goodness. I like to top the tarts off with cilantro, chopped jalapeno, and nice sea salt. Hot from the oven, the tarts make a lovely appetizer for a summer soirée. The tarts are also great at room temperature and will keep for a couple of days—if you don't eat them all first.
This post is sponsored by Nugget Market. Though I have received monetary compensation for this post, I was a customer of Nugget long before I started working with them. My views and opinions are my own and are not for sale. I only work with brands I believe in and those I feel will be useful for my readers. Thank you so much for supporting the brands that keep this site free. 

Prep time:
Cook time:
Total time: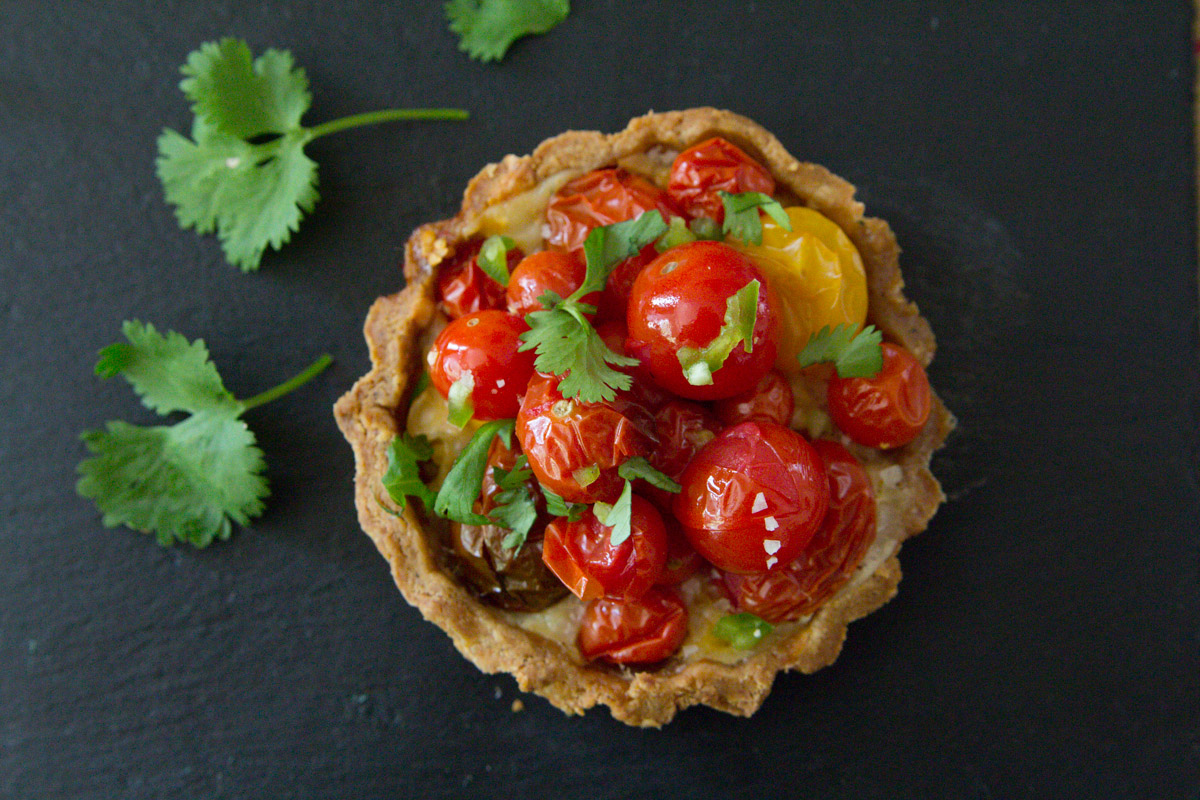 These gorgeous little tomato tarts are bursting with summer flavor and a hint of heat from pepper jack. Enjoy them at your next barbecue, picnic, or cocktail party. This recipe works best with very cold or frozen ingredients. I like to put my flour, butter, and cream cheese in the freezer so that it is very cold when I start. Also, this dough may look totally unusable when you pour it out of the food processor, but it will come together. I promise this is the most forgiving pie crust ever.
Ingredients
Make The Crust
6 oz (170 g) Cup4Cup gluten free flour, cold
¼ teaspoon salt
⅛ teaspoon baking powder
½ teaspoon sugar
2 teaspoons paprika
¼ teaspoon black pepper
pinch of cayenne (optional)
½ cup (110 g) butter, cut into cubes and chilled or frozen
3 oz (85 g) cream cheese, cut into cubes and chilled or frozen
1 tablespoon cold water
1 tablespoon cold balsamic vinegar


Filling

6 oz shredded pepper jack
2 ears fresh corn, cut from the cob
2 pints cherry tomatoes
6 sprigs fresh cilantro
2 tablespoons chopped jalapeño (optional)
Sea salt for sprinkling
Instructions
Make the dough
In a food processor, combine flour, salt, baking powder, sugar, paprika, pepper, and cayenne- pulse a few times to combine, well. Add the cream cheese to the flour mixture. Pulse for 20 seconds or so- until the mixture resembles coarse meal. Add the frozen butter and pulse until none of the butter is larger than the size of a hazelnut.
Add the water and balsamic. Pulse until most of the butter is reduced to the size of small peas, and the mixture holds together when you squeeze it in the palm of your hand. Pour onto a work surface, knead with (preferably cold) hands—pressing the dough into a chubby disk. It may look like the the dough has no chance of turning into something you can roll out, but I promise, it will!
Wrap the dough tightly with plastic wrap, and refrigerate for at least an hour, preferably overnight.
Roll out your dough, cut it to size, and transfer it to the tart tins. Reroll your scraps until you fill all six tart tins. Use a fork to dock the bottom of the tart tins. Freeze the dough, uncovered in the tins for at least 30 minutes. Overnight is even better!

Fill & Bake

Preheat the oven to 425º while the tart dough is chilling. Fill the tarts with cheese, corn, and tomatoes. Place on a baking sheet and bake for 25 minutes until tomatoes have some roasted brown bits, the cheese is melty, and the crust is a gorgeous golden brown. Allow to cool for 10 minutes before garnishing and serving. Enjoy!