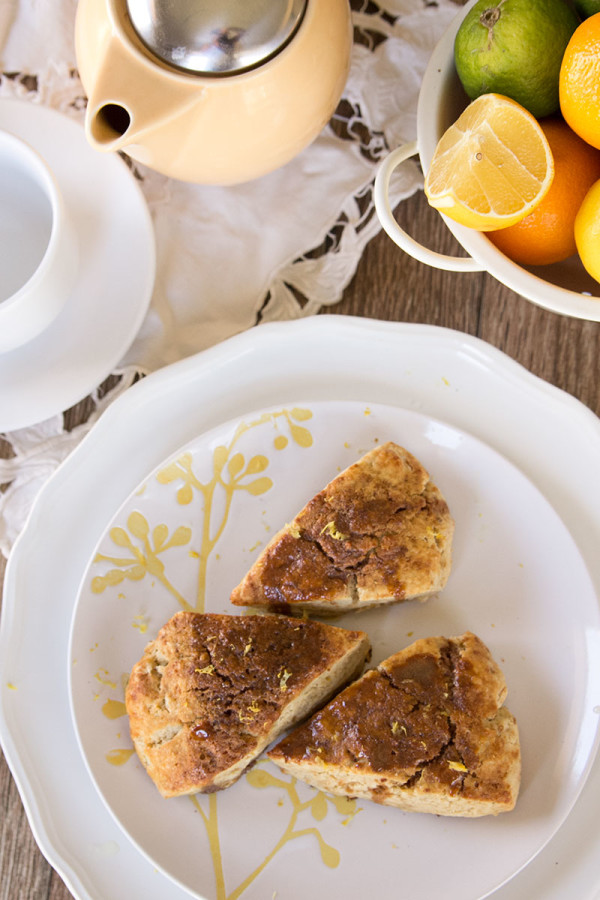 These gluten free scones bake up light and flaky and are so simple to make. Fresh lemon juice and lemon zest make these a perfect treat to perk up your afternoon tea or even a nice little breakfast. Jump straight to the recipe:
I have a little secret to share. Truth is, I have never seen the appeal in scones. Most of the ones I've tried are heavy, dense, dry bricks. Don't get me wrong, I see photos from my fellow bloggers and I think, "Wow, those are pretty scones; too bad they're well… scones." or "Wish I liked scones, those flavors sound killer." I actually never even bothered trying a gluten free scone because I figured that if the regular ones were so insipid, the gluten free ones had to be worse.
My scone skepticism was turned around after one bite of a maple walnut scone from my favorite gluten free bakery, Pushkin's Bakery here in Sacramento. That first bite revealed everything a gluten free scone could be when it is is living its best gluten free scone life. I thought, "Well, that's cool. I've now had a delicious scone." but then sort of put it out of my head.
That is, until, I picked up the latest issue of GFF Magazine (my new FAVORITE mag). In it, Jeffrey Larsen shares his recipe for gluten free scones. He does two versions: one with berries and one with cinnamon and pecan.Though I didn't have berries in the house, I did have some really lovely lemons. So, I decided to try Jeffery's recipe with a few tweaks.
Let me just say that these gluten free scones bake up fluffy and tender with a marvelous whole grain taste imparted by the sorghum flour, a super bright lemon zing, and a lovely vanilla bean flavor. The optional lemon and coconut sugar glaze is delicious and criminally easy to make.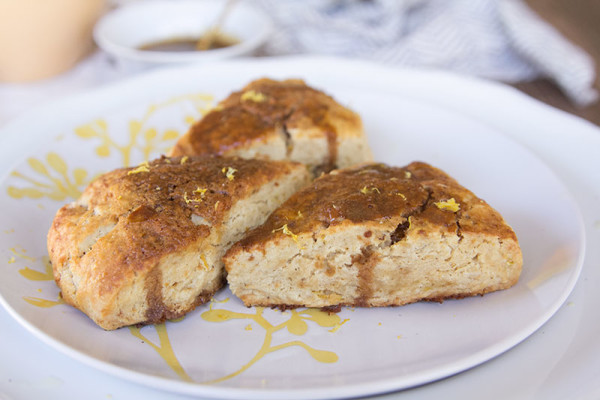 Gluten Free Scones with Lemon and Vanilla Bean
I made these on a crisp and cool Sunday morning. When my scones were ready, I sat right down, poured myself a hot cuppa, and enjoyed my gluten free lemon scone dunked into my milky tea. I opened up my GFF magazine, turned to the article about Maui, and drank in the moment while I sipped my tea. The sun on my back, the scent of vanilla bean and lemon, and a nice quiet moment. Here's to that!
A key to flaky light gluten free scones is to have cold hands. I like to run my hands under cold water for a few seconds and thoroughly dry them before turning the dough out onto my work surface for the final shaping.
These gluten free lemon scones are made with simple, but good quality ingredients. I use a super fine Sorghum Flour
from Authentic Foods. I am now purchasing most of my flours from them and the fine milling makes such a huge difference in the texture of finer crumb baked goods like cakes and cookies. Also, speaking of flour, please don't confuse potato starch with potato flour unless you like mashed potato scones.
I replaced the xanthan gum in the recipe with ground chia and psyllium husk and traded out the cane sugar for coconut sugar. I love the deep caramel taste that coconut sugar provides, but if you would prefer to use cane sugar, it will work just as well. I also used unsalted Kerrygold butter for the baking and I may have slathered a warm scone with a bit more of it and a spoonful of blood orange marmalade. Maybe.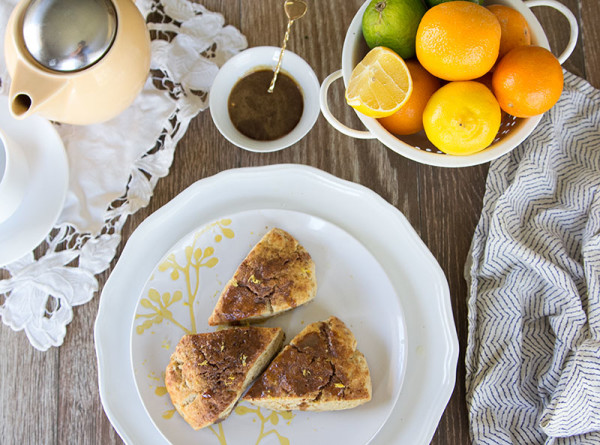 INGREDIENTS GLUTEN FREE LEMON SCONES
Adapted from Jefferey Larsen's recipe in GFF Magazine
150 grams superfine sorghum flour
35 grams arrowroot flour
100 grams potato starch
3 tablespoons coconut sugar
2 teaspoons gluten free baking powder
½ teaspoon baking soda
1 teaspoon ground chia seed
½ teaspoon psyllium husk
½ teaspoon coarse sea salt
zest from two lemons
8 tablespoons of very cold unsalted butter cut into small pieces
2 eggs at room temperature (one set aside for the egg wash)
1 vanilla bean (or one tablespoon vanilla extract)
¼ cup full fat Greek yogurt
3 tablespoons lemon juice
more coconut sugar for sprinkling on top (optional)
INSTRUCTIONS GLUTEN FREE LEMON SCONES
Preheat the oven to 375º and line a baking sheet with a silpat or parchment paper.
In a medium bowl, whisk together sorghum flour, arrowroot, potato starch, coconut sugar, baking powder, baking soda, chia, psyllium, salt, and lemon zest. Whisk until fully combined. With a pastry cutter, a fork, or cold hands, cut the butter into the dry mix until it resembles a crumbly coarse meal.
In a small bowl, whisk one egg until it's frothy and light in color. Scrape the seeds from the vanilla bean into the egg (or add the vanilla extract, add Greek yogurt and lemon juice and stir. Add the wet ingredients to the dry and stir until fully incorporated. The dough will be thick, sticky, and shaggy.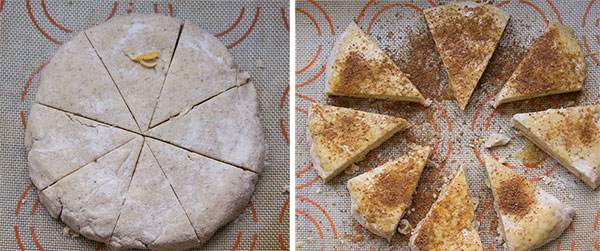 Dust your work surface with a bit of flour and turn the dough out onto the board. Sprinkle some flour on the top of the dough and work into a thick circle about 7 or 8 inches in diameter. Slice into 8 equal triangles using a very sharp knife.
Transfer triangles to the prepared baking sheet with at least an inch of space between them. Beat the remaining egg with a tablespoon of warm water. Brush the scones with the egg wash and sprinkle with the coconut sugar if using. Place baking sheet in the freezer for ten minutes to ensure flakier, lighter scones.
Bake for 20 minutes or until golden brown and cooked all the way through. Drizzle with lemon glaze if using.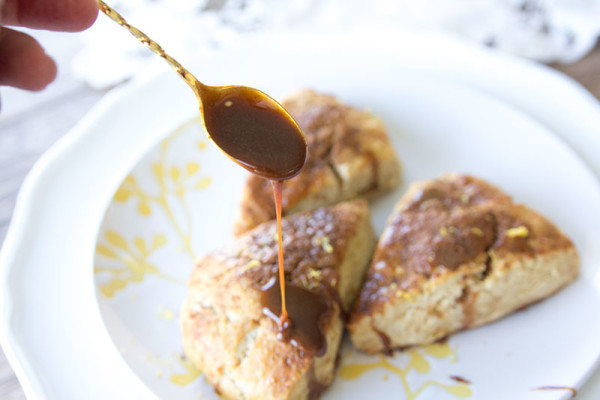 FOR LEMON GLAZE
⅓ cup coconut sugar
1 tablespoon lemon juice
1 teaspoon vanilla extract
Place coconut sugar in a high speed blender and process until fine and powdery. In a small bowl, mix powdered coconut sugar, lemon and vanilla extract. Drizzle over warm scones.
Check out these killer lemon, orange, and grapefruit flavored sweet treats:
Candied Citrus
Gluten Free Lemon Pudding Cakes
Gluten Free Lemon Rosemary Bread
Gluten Free Cranberry Orange Muffins
Grapefruit Brulée