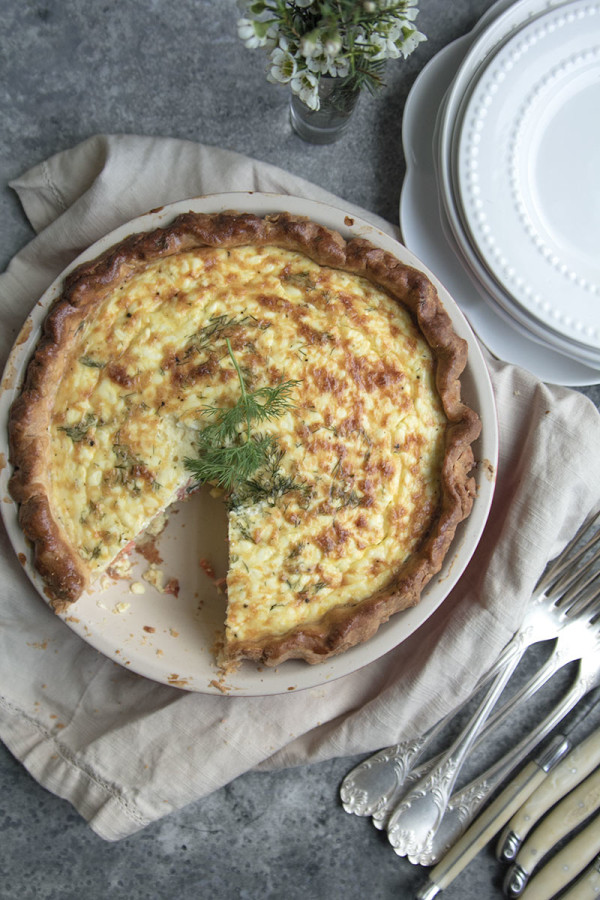 This gluten free quiche is filled with silky, creamy, eggs, smoked salmon, and fresh dill. Based on the famous recipe from Madame Quiche of Paris, this deep dish quiche is truly decadent and delicious. Jump Straight to the Recipe
Gluten Free Smoked Salmon Quiche with Dill
I'm going to be honest with you. I was not always a good cook. There was that one time I burned a pot beyond salvation. What was I cooking? Water. There was that other time when I wanted to soften some ice cream, so I put it in the oven… for 30 minutes. My most spectacular failure was when I left the wax paper in the bouche de noel. Needless to say, nobody ate it.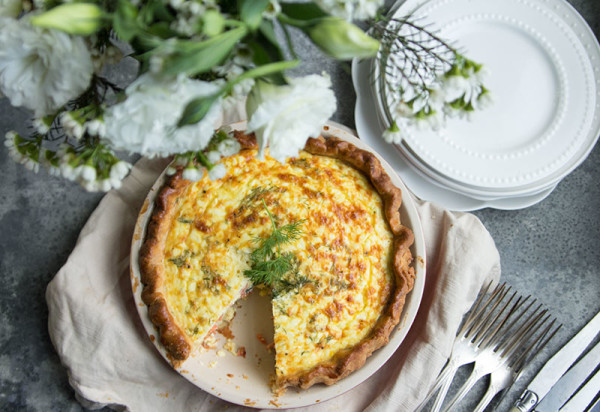 By the time I met my husband, I was a pretty good cook. Meal-sized salads, stirfry, soups, pastas with homemade sauces, tacos, salsas, and egg dishes made up the bulk of my kitchen repertoire at that time. The first time I made quiche for Joshua, he made it clear that he put no stock in that old book "Real Men Don't Eat Quiche". He also made it clear that I was welcome to make quiche any time. The first time I made gluten free quiche after having to cut out gluten, my husband looked like he might weep tears of joy.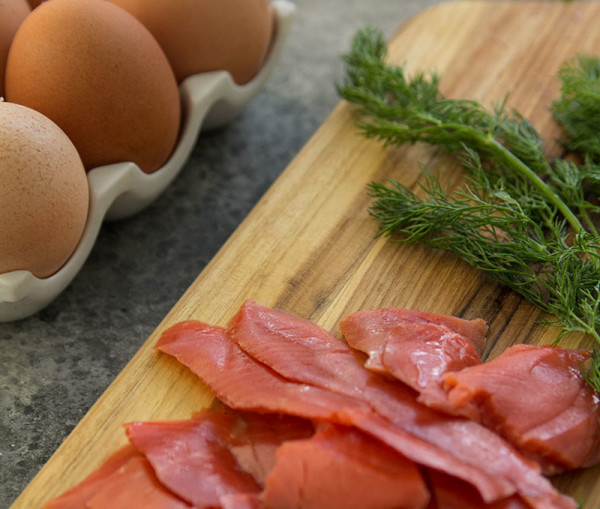 This gluten free quiche with smoked salmon and dill elicited a similar response. "Oh my. This. Is. So.Good. MOAR quiche." That was about the gist of it. There's something about this particular combination of beautiful pastured eggs, grass fed dairy, smoked fish, and herbs that makes this quiche one of my favorites. The texture of the custard is superb and the contrast with the buttery and crunchy gluten free crust is over-the-top delicious.
In the early days of feeding my man quiche, I was buying my pie dough. Like so many people, I was intimidated by pastry. I screwed up the courage to make my first pie crust in 2009; I've been making pastry dough from scratch ever since. When I had to say goodbye to gluten, gluten free pie crust was at the top of my agenda. I've even made excellent grain free tart crusts both sweet and savory. Pie crust is kinda my thing.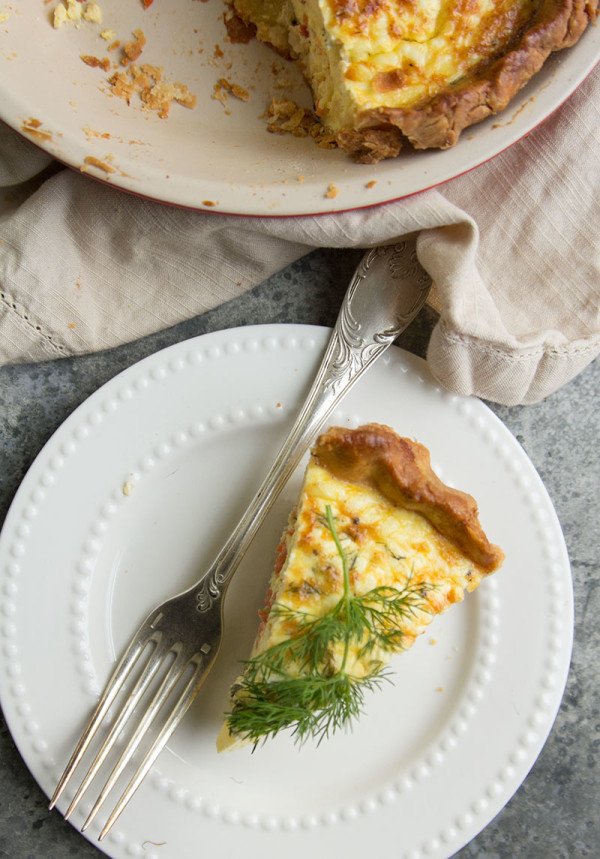 If you're afraid of making pie crust, I really want to help you make one. If you hate it after trying my easy method, go back to store bought. No judgement! If you won't be making the crust for this particular quiche, I suggest buying the French Picnic brand of pastry from your frozen aisle. Both the gluten free and gluten full versions are said to be excellent.

Gluten Free Smoked Salmon Quiche with Fresh Dill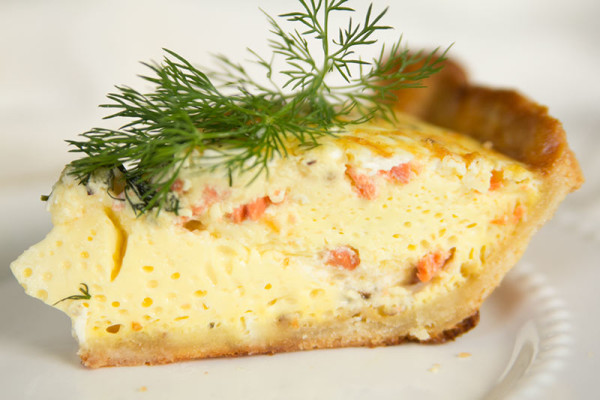 This gluten free quiche with smoked salmon and dill is based on the famous recipe from Madame Quiche. The addition of creme fraiche provides a gorgeous silky texture that is hard to beat. Though the amount of cheese if very small, do not skip it. It provides a very slight tang for flavor, but even more important is the texture it lends. Par-baking the crust after a rest in the freezer is another key step. You do not have to add pie weights or foil to a crust which has been frozen as it will not shrink. Also, freezing the dough before baking seriously improves the flakiness.
Gluten free pie dough (½ this recipe)
6 eggs (plus one for egg wash)
½ cup creme fraiche
¼ cup heavy cream
1 cup whole milk
4 oz wild smoked salmon, thinly sliced
1 tablespoon fresh dill, finely chopped
2 oz sharp cheddar cheese, shredded
¼ teaspoon fine sea salt
¼ teaspoon fresh ground pepper
Place pie crust in 9 inch pie pan and crimp edges. Make holes in the bottom of the crust with a fork or small knife. Place in the freezer for at 1 hour (or up to overnight).
Preheat oven to 425º for at least 20 minutes. Just before baking, whisk one egg with one tablespoon of water. Brush the entire pastry crust with the egg wash. Bake quiche crust for 25 minutes or until light golden brown. Turn the oven down to 375º. Cool the crust for 20 minutes before filling.
Whisk together, 6 eggs, cream, creme fraiche, and milk. Once well-combined and slightly frothy, stir in salmon, dill, cheese, salt and pepper. Bake for 45-50* minutes until quiche is puffed up and golden brown on the top. There should be the ever-so-slightest jiggle to the eggs.
* Check the quiche at 30 minutes, if the crust is browning too much, add some foil around the edges to protect it from overcooking.
Check out these smoked salmon recipes
Smoked Salmon and Creme Fraiche Appetizer
Smoked Salmon Gluten Free Pizza with Poached Eggs
Smoked Salmon Nicoise
Homemade Lox with Mexican Spices
Smoked Salmon Canapes