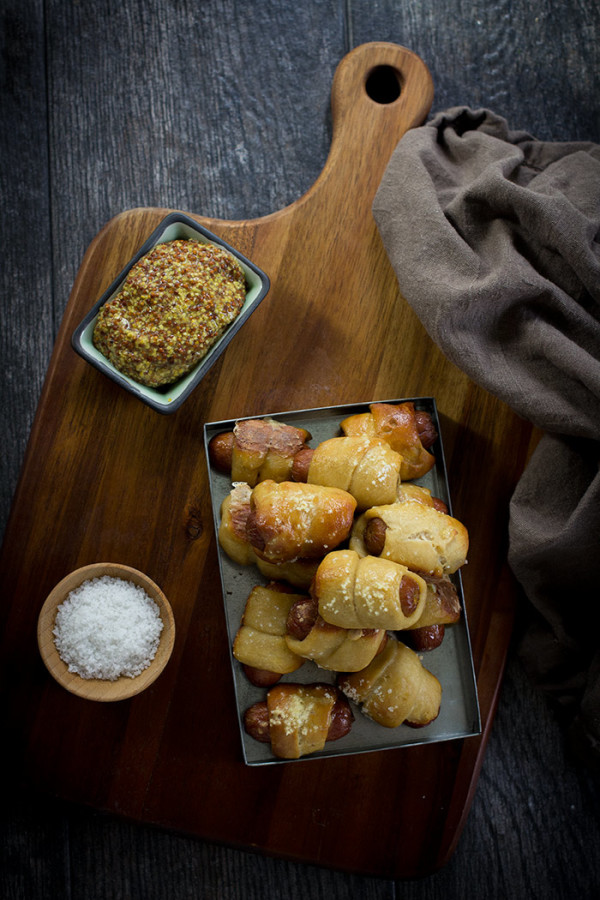 Gluten Free Pretzel Dogs for the Progressive Eats Pretzel Party
These gluten free pretzel dogs take tender and delicious gluten free pretzel dough and wrap it around super tasty all beef hotdogs. These savory snacks make a killer party appetizer or even a fun snack for kids and grown ups alike. Jump Straight to the Recipe
When I was a kid, I was pretty obsessed with pretzels. There was a joint called Hot Sam at the local mall, and my mom could always bribe me to behave while shopping with the promise of a pretzel with mustard. Every once in a while, I'd get the most delicious little mini preztel dogs. Hot Sam is long gone now—their doughy salty goodness replaced by sweet and buttery mall pretzels like Auntie Annies and Wetzel's. So pretzels and I kind of broke up.
Many years after that sad breakup, I was roaming the gilded aisles of Bi-Rite in San Francisco. Among their many wonders, I found gorgeous Bavarian pretzels baked in a wood fired oven until they shone a deep golden brown. I knew I'd reached the pinnacle of pretzel goodness when I tried those crispy on the outside, soft on the inside Firebrand Pretzels.
My pretzel love only grew when a German restaurant opened two blocks from our house. I was happy with a pretzel, a side of kraut, and beer for dinner.
And then… I got the news that gluten and I were now enemies for life. For a while, I was so focused on getting well that things like pretzels didn't even enter my mind, but being gluten free is funny- not like this video type of funny. But funny like a food memory pops into my head and takes up residence there. You know, a pretzel becomes more than just a pretzel when you can't just go get one.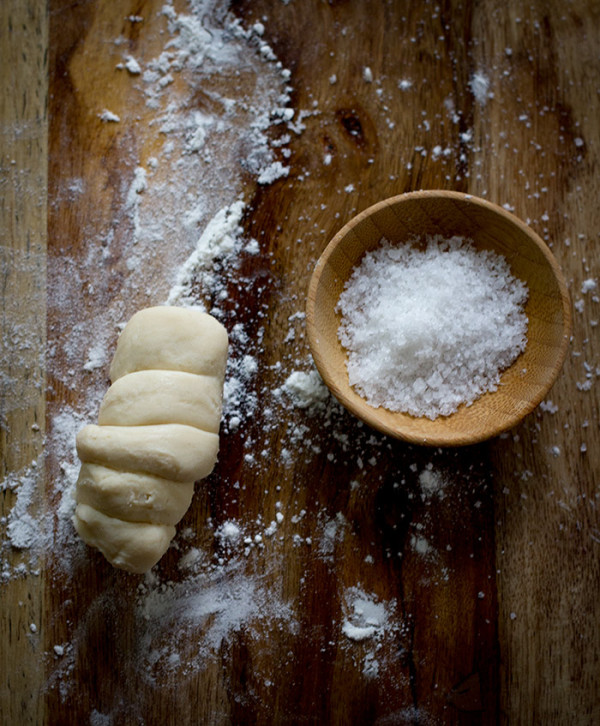 In February, I was having lunch and my server walked past my table on her way to deliver a glorious looking burger on a pretzel bun. That started a serious pretzel craving, so I turned to some of my favorite cookbooks. I made pretzel rolls, pretzel bites, and twisty pretzels from two of my favorite gluten free cookbooks Gluten Free on a Shoestring Bakes Bread and Gluten Free Girl American Classics. The pretzels from Gluten Free on a Shoestring reminded me of those perfect Hot Sam pretzels from when I was a kid while the ones from Gluten Free Girl called to mind those beautiful golden brown Bavarian pretzels. By the end of a week, my pretzel game was pretty on point, and my belly was pretty full. My craving quenched, I moved on to other food projects.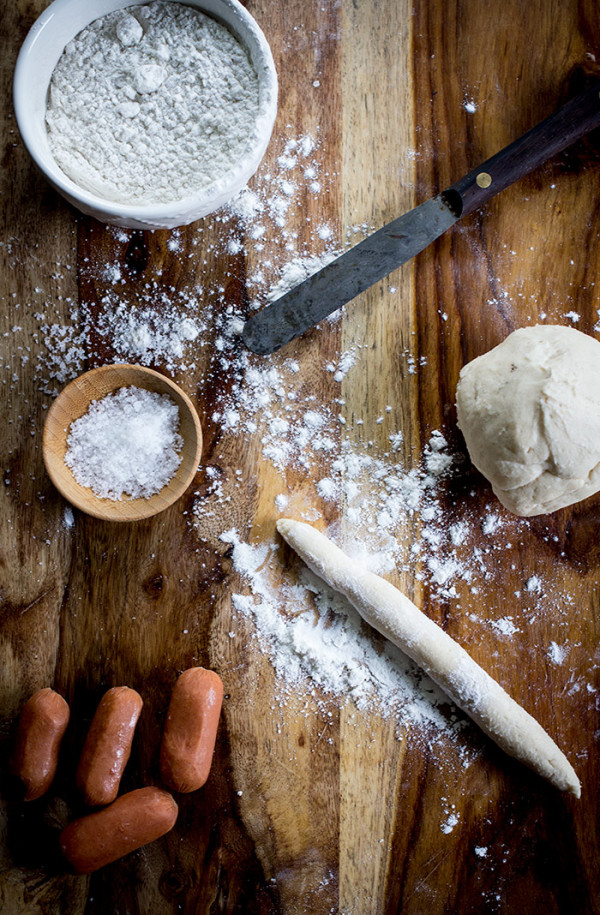 Fast forward to early April, my friend Barb from Creative Culinary invited me to join a virtual progressive dinner party called Progressive Eats. Of course, I said yes and imagine my delight when I learned that my first foray into Progressive Eats would have a pretzel theme!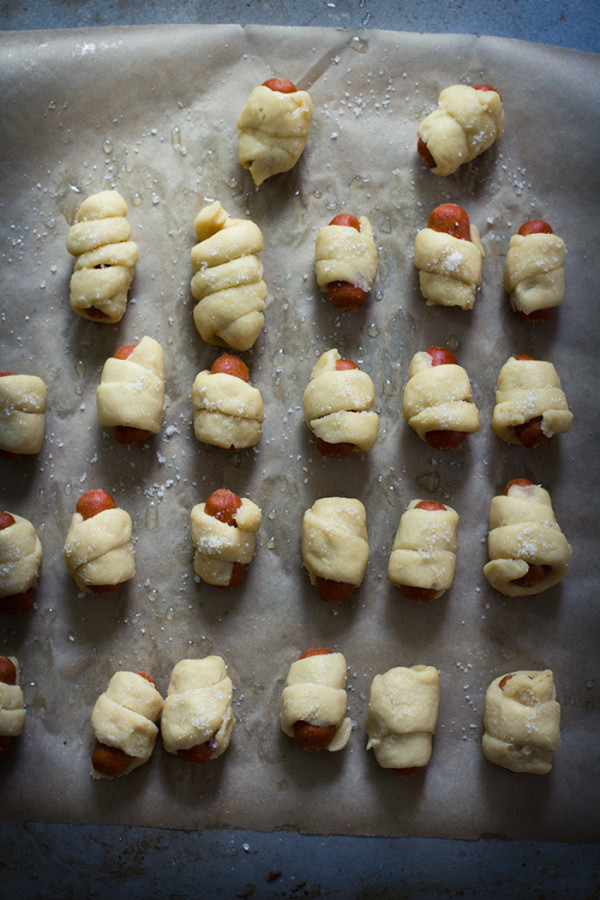 So here you have it. Tiny pasture-raised beef hotdogs wrapped in perfect pretzel dough and baked to a gorgeous golden brown. This recipe takes a bit of planning and requires some specific ingredients, but it's not a difficult recipe. These little dogs freeze perfectly. As a matter of fact, you can freeze them after they're wrapped and risen and just throw them directly into the baking soda bath while they're frozen. Double or triple the recipe and serve them at a party. I guarantee there won't be a single one left on the plate.

This recipe is adapted from Gluten Free on a Shoestring Bakes Bread by Nicole Hunn of the awesome website Gluten Free on a Shoestring. If you don't know her, you should DEFINITELY head right over to her site!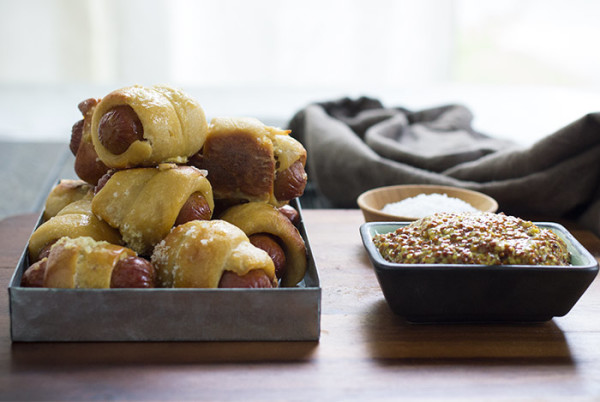 Rating 5.0 from 1 reviews
Prep time:
Cook time:
Total time: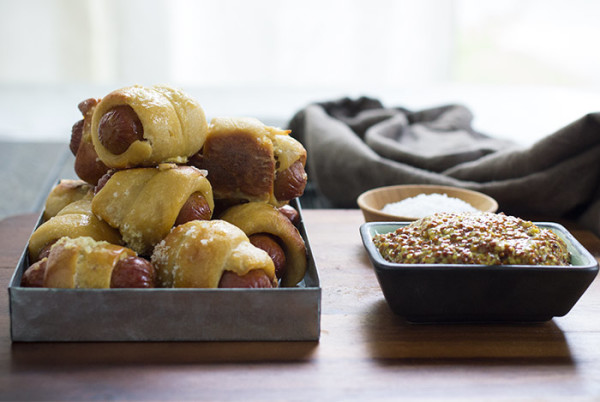 These gluten free mini pretzel dogs are an amazing treat. The pretzel flavor you remember without the gluten!
Ingredients
330g of Better Batter Flour
50 g Expandex
40 g nonfat dry milk, finely ground in a blender or food processor
2 teaspoons instant yeast
1 tablespoon packed light brown sugar
1 teaspoon sea salt
4 tablespoons unsalted butter at room temp
1.25 cups + 2 tablespoons warm water at about 100º
Baking Soda Bath
8 cups boiling water
½ cup baking soda
1 tablespoon sea salt
Coarse Sea Salt for Sprinkling
1 package mini hot dogs, I used Fork In the Road's mini grass fed beef dogs
(or 8 regular or long hot dogs cut into 2-3 inch pieces)
Instructions
Place flour, whey, Expandex, milk powder, yeast, and sugar in the bowl of a stand mixer and whisk until well combined. Add salt, and whisk again. Fit the mixer with your dough hook and add butter and water and mix on low speed until combined. Turn the speed up to medium and mix for five minutes. The dough will be very sticky, so to remove, coat a silicone spatula lightly with oil.
Move dough to a large lightly oiled bowl covered with oiled plastic wrap and allow to rise in a warm spot in the kitchen for two hours then place in the fridge for at least 12 hours or up to five days. This rest allows the dough to develop a deep pretzel flavor and also makes the dough much easier to work with.
When you're ready to bake your pretzel dogs, pull small (about 40 grams) pieces of dough off and shape into a ball then roll into little cylinders. Wrap the dogs in dough and place under a damp towel to keep moist. Once all of your hot dogs are wrapped, allow to rise in a warm area of your kitchen for about an hour.
Preheat your oven to 375º and prepare your baking soda bath. Drop the pretzel dogs into the boiling baking soda bath about 6 at a time for no more than one minute. Place on a parchment-lined baking sheet and sprinkle with salt. Be careful not to overcrowd. Repeat with the rest of the dogs.
Bake the dogs for 18-222 minutes. If you like you can brush them with butter or an egg wash in the last 10 minutes of baking for a deeper,shinier, golden brown color.
Serve with good mustard and gluten free beer!
Meet the other bloggers who are involved with Progressive Eats and check out their AWESOME pretzel-themed recipes.
Pretzel Party!
Pretzels as an Ingredient
Pretzels from Scratch