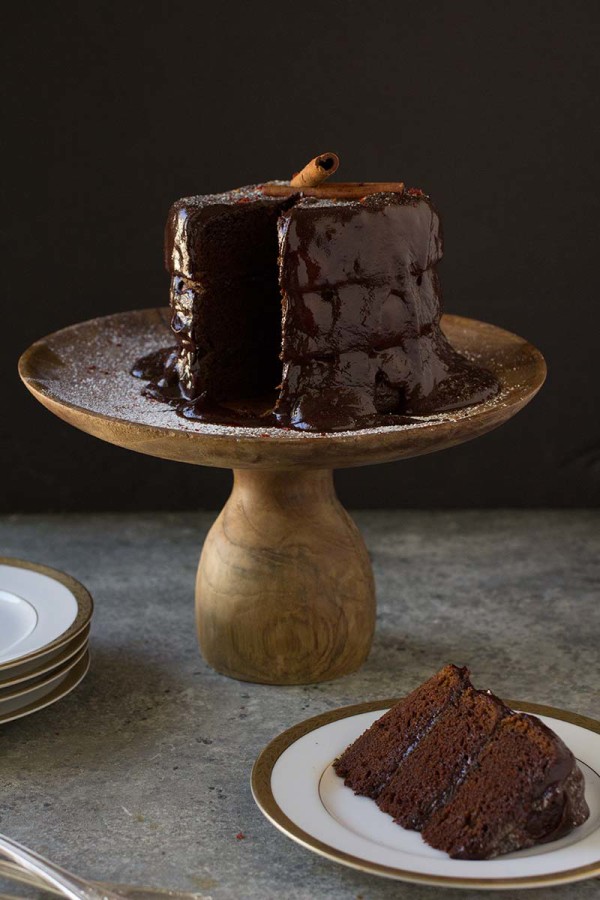 Meet your new best friend. This gluten free chocolate cake is enrobed in rich dairy free ganache which is also tucked between the deep dark chocolate layers of the cake. Cinnamon and chilli make this like a Mexican hot chocolate fell into a cup of coffee and married a gluten free dairy free chocolate cake. Jump straight to the recipe.
It's right there. It's in the jumbled front pocket of your handbag. On your nightstand when you sleep. It's in the kitchen while you're making dinner for your your family. It's poolside during vacation, and at the top of the mountain you've worked so hard to climb. It's right there. The whole world is literally at your fingertips.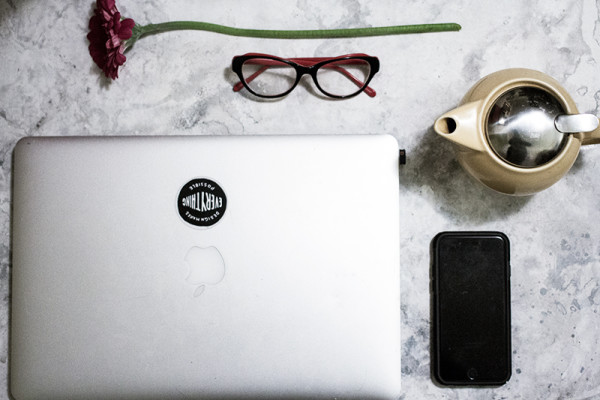 This massive shift in our culture is changing the way we interact and even the way we think. Yet with all of the access to our people all over the world, many of us report feeling more isolated, less connected, and longing for community.
I'm of two minds. Social media can have a terrible effect on a person's self esteem. The self-judging, the comparison, the feelings of inadequacy, the jealousy are rough on anyone. On the other hand, Social Media can be a powerful gathering place for friendship, advocacy, support, and community.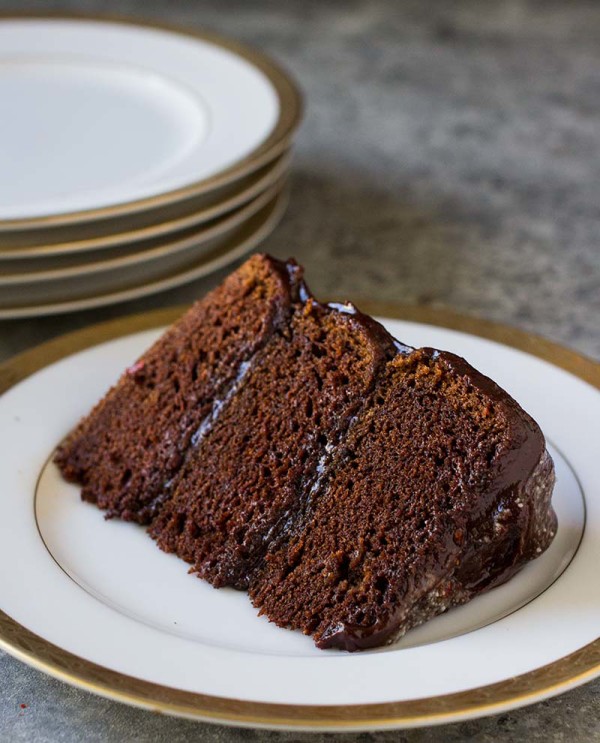 I've been so fortunate to find such a community in food blogging. Over the past five years, I've made friends I can turn to for advice on everything from gluten free baking, to finding a pet sitter, to how to use the latest apps and gadgets, to how to cope with personal losses.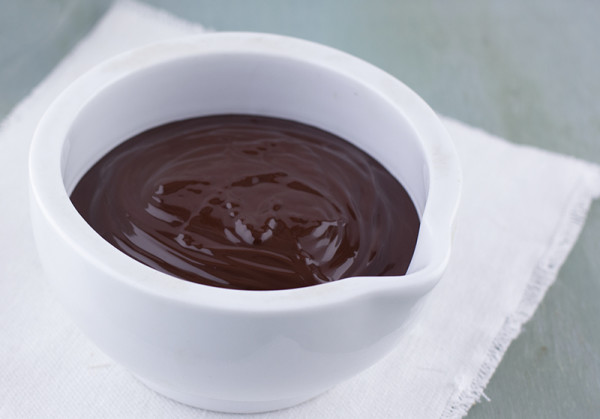 Our community was recently struck with a devastating loss when Joan Hayes of Chocolate Chocolate and More suddenly passed away from a heart attack in her sleep. Joan was vivacious, funny, generous, and whip smart. Though I only met Joan once in person, I feel so grateful that I had a chance to sit down and share a meal with her. We interacted often online and I considered her a friend and a colleague. I was looking forward to seeing Joan in Chicago at Blogher Food and at a little dinner party I was hosting with my friends from Gourmet Garden.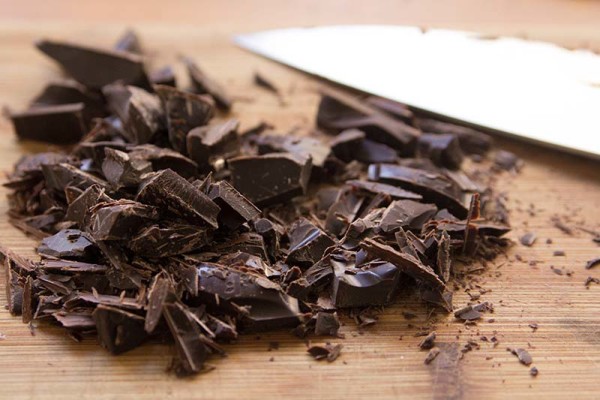 When Joan didn't RSVP on time, I thought it was unlike her. I was just about to send her a Facebook message when I heard the news that she had died. Just like that. I knew I wanted to make a proverbial place at the table for her at dinner, and it was my husband who suggested that I make one of her recipes and say a few words about her at the party.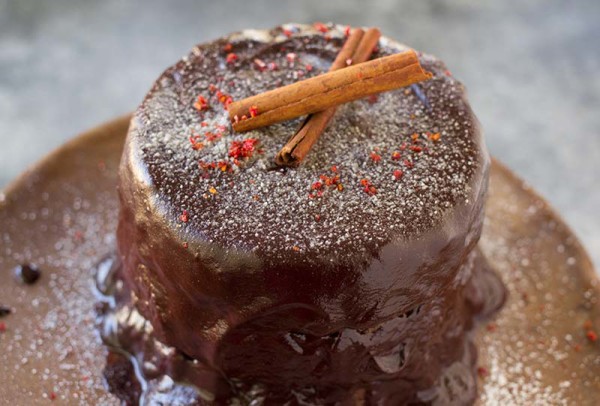 So this gorgeous gluten free chocolate cake is adapted from Joan's Chocolate Mocha Cake. In the spirit of Joan's warmth I added cinnamon and chilies. With a nod to Joan's generosity, I made a super-sized triple layer cake. In honor of her welcoming qualities, I chose to make it dairy free as well as gluten free so that everyone in attendance could enjoy it. And of course, it wouldn't be a tribute to Joan if it was not chocolate, chocolate, and more so there is a veritable boat load of dairy free chocolate ganache coating this beautiful cake.
If you have a chance to visit, Joan's blog, please do. Consider sharing her lovely recipes on Facebook and Pinterest. Joan may be gone, but as was her wish, her blog will carry on thanks to good planning on her part. Joan was a single mom and the blog, her sole source of income, will continue to support her three teenaged kids. Every time you visit, you're helping to support her three kids!
I hope you'll enjoy a big slice of this gluten free chocolate cake with its velvety dairy free gananche and Mexican hot chocolate flavors. I hope you'll share it with friends and make sure to hug them extra tight the next time you have a chance. Thank you for reading food blogs, for making this beautiful community possible. I am grateful for each of you, every day.
GLUTEN FREE CHOCOLATE CAKE WITH CINNAMON AND CHILLI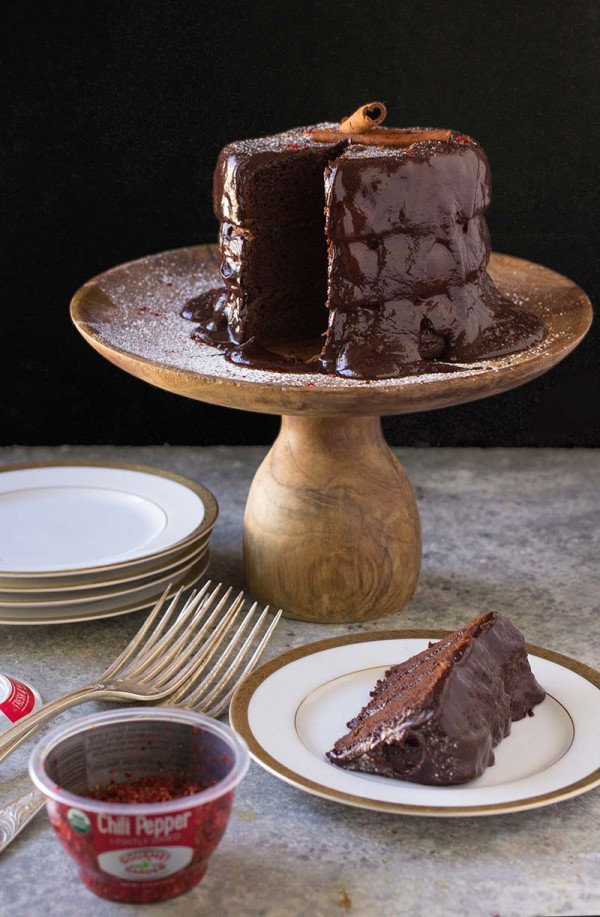 This dairy free and gluten free chocolate cake tastes like a Mexican hot chocolate in cake form. That's a good thing. The chocolate cake is fluffy and gorgeous and the ganache is rich and velvety. You couldn't ask for a better combination. For the chocolate, I used a mixture of 62% and 74% chocolate. To get coconut cream, refrigerate a can of full fat coconut milk overnight then scoop out all of the hard white cream leaving the coconut water for smoothies or other recipes. My favorite is Native Forest as I always seem to get the most cream from this brand.
This post is sponsored by Gourmet Garden. I have received both product and monetary compensation for this post. My opinions are 100% my own and I only work with brands I love and that I feel will be useful for my readers. Thank you for supporting the brands that help make The Tomato Tart possible.

Rating 5.0 from 3 reviews
Prep time:
Cook time:
Total time:

This gluten free and dairy free chocolate cake tastes like a Mexican hot chocolate in cake form. That's a good thing. The chocolate cake is fluffy and gorgeous and the ganache is rich and velvety. You couldn't ask for a better combination
Ingredients
For Cake
4 tablespoons coconut oil, softened
1 cup brown sugar
2 large eggs
2 ounces dark chocolate* (¼ cup), melted and cooled
1 teaspoon vanilla extract
1 cup all purpose gluten free flour, no xanthan gum needed
1 teaspoon baking soda
⅛ teaspoon salt
½ tablespoon cinnamon
1 tablespoon finely chopped gourmet garden lightly dried chili
½ cup coconut cream•
1 tablespoon apple cider vinegar
½ cup strongly brewed hot coffee or espresso
For Ganache
½ cup coconut milk
1 tablespoon gourmet garden lightly dried chili
3 cinnamon sticks
4 tablespoons coconut oil
10 oz dark chocolate (I used a mix of 64% and 72%)
Optional garnishes:
more finely ground Gourmet Garden lightly dried chili, smoked sea salt, powdered sugar, cinnamon sticks.
Instructions
Make the cakes
Preheat oven to 350º and grease and flour three 5 inch cake rounds. http://amzn.to/1RUXbts
In a large bowl or the bowl of a stand mixer, cream together coconut oil and brown sugar . Beat in eggs one at a time, mixing each egg until it it fully incorporated. Scrape down the bowl with each addition- to make sure every little bit of goodness is incorporated into the cake batter. Add in vanilla extract and melted chocolate. Mix again.
In a smaller bowl, combine flour, baking soda and salt. In a third bowl, vigorously mix coconut cream with vinegar. Next, we'll add these ingredients to the creamed butter mix. Alternating, add in the dry ingredients in three additions and the coconut cream in two additions. Start and end with the flour. Finally, stir prepared coffee into cake batter.
Pour batter into three greased and floured 5 inch round cake pan minutes, until toothpick inserted in center comes out clean (about 30 minutes). Remove from oven and let cool on cooling rack for 30 minutes before turning cakes out onto plates or boards. Let cake cool all the way before frosting with ganache.
Make Ganache
In a small saucepan, heat coconut milk, cinnamon sticks, and dried chili. Slowly bring to a fast simmer, then lower heat to the lowest setting and steep cinnamon and chili for at least 10 minutes. Keep warm, but don't let it boil.
Melt coconut oil in a medium saucepan over low to medium low heat. Add chocolate and stir often. Go slow, erring on the side of a too cold pan rather than a too hot pan. Once chocolate is all melted, strain warm coconut milk through a fine sieve and slowly pour the liquid into the chocolate, stirring to incorporate. Allow to cool for 10 minutes before frosting the cake.
Assemble The Cake
If cakes are domed in the middle, use a good serrated knife to slice across the top of the cake removing the domes so you have a nice flat surface to work with.
Place the bottom cake layer on the plate you plan to serve it on. Spread a layer of ganache about ¼ inch thick over the surface of the cake. Repeat with the next two layers. Once you have the thin layer of ganache spread across the top layer, start pouring the rest of the ganache all over the top of the cake. Use an offset spatula or the back of a large spoon to encourage the warm ganache to spill over the edges of the cake. This creates the dripping waterfall look you see on the finished cake.
To garnish, sprinkle powdered sugar and cinnamon through a sifter or fine mesh sieve. Then top with finely minced Gourmet Garden Lightly Dried Chilli and top with two cinnamon sticks.
This cake will keep well in the refrigerator for a couple of days. If you're storing a frosted cake, don't let the plastic wrap
Please visit some of the other bloggers who have done tributes to Joan Hayes
A roundup of posts dedicated to Joan #chocolateforjoan
Dine & Dish's Boozy Milkshake for Joan
Texanerin's Ultimate Hot Chocolate