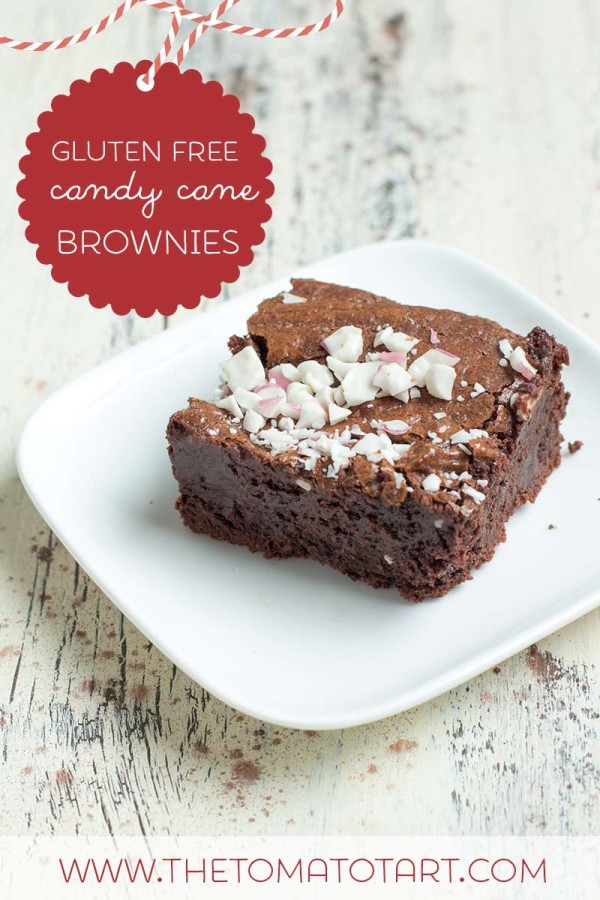 Gluten Free Brownies with Candy Cane Crunch
My dad was a cookie guy. Every morning, he ate a couple of Chinese almond cookies with his milky tea. I can still see him sitting at our kitchen counter with the newspaper and a small plate of golden-hued cookies.
My husband is a cookie guy, especially if there is chocolate involved. Give the man a bag of Tate's Gluten Free Chocolate Chip Cookies, and he is happy.
Me, I'm a cookie agnostic. I enjoy a cookie or two, but I am not a cookie craver. There is, however, one exception. Mint + Chocolate = me going cookie crazy. Before I knew about the whole "my body thinks gluten is poison" thing, we lived near a bakery in San Francisco called Arizmendi. They made a vegan double chocolate mint cookie that still stands as the best cookie I have ever eaten. I have tried (and failed) to replicate those cookies for years.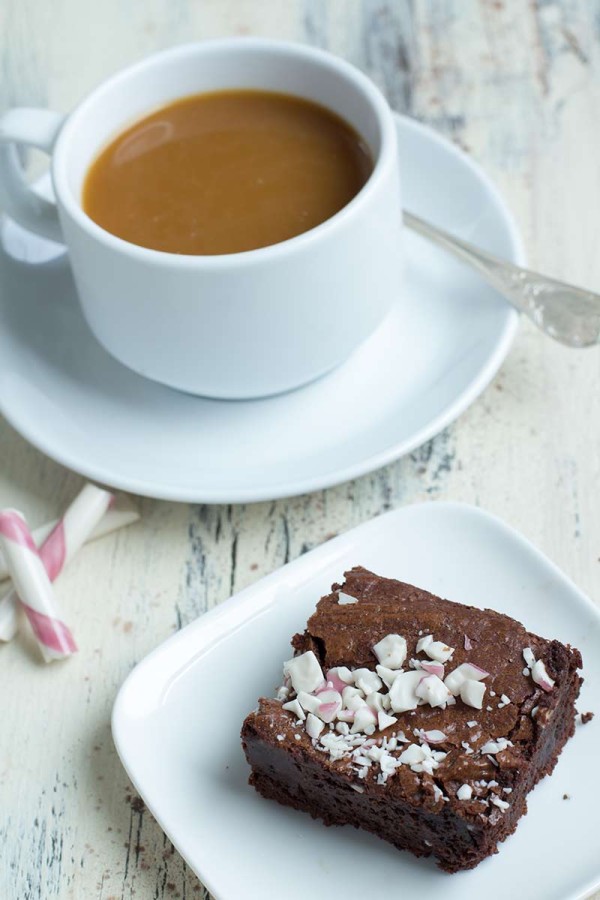 When I decided to join The Great Food Blogger Cookie Swap of 2014, I knew my cookie had to involve chocolate and candy canes- what says Christmas more than chocolate and candy canes? The cookie swap benefits Cookies for Kids Cancer, a national nonprofit committed to funding new therapies for cancers that affect children. I have some choice words for cancer, but none that are fit for this blog. So, I'll just say, I wish cancer would take a long walk off a short pier.
Though technically not exactly a cookie, I love sending gluten free brownies to people. Partially because they hold up so well and partially because well… brownies. These candy cane topped gluten free brownies are rich and fudgy and SUPER easy. They look so cute on a cookie plate and if you want leftovers, you'd better make a double batch. Best of all, these gluten free brownies are also grain free. I have made them with organic sugar, muscavado sugar, and even coconut sugar for a paleo-friendly version.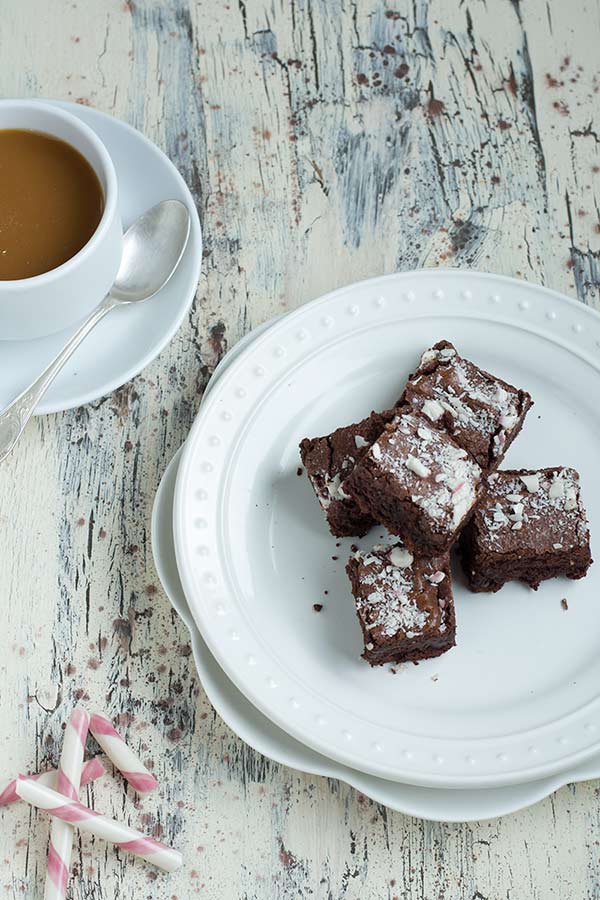 I hope you all have a happy holiday season this year. Be sure to check out my fellow swappers. I received some truly delicious cookies from these lovely ladies.
Amanda of Heartbeet Kitchen
Christina of Body Rebooted
Jessica of Kettler Cuisine
And Megan of Brooklyn Locavore
Also, a big shout out to Lindsay and Julie for organizing The Great Food Blogger Cookie Swap. You can bet your knickers that I'll be joining again next year.
Gluten Free Brownies Ingredients
Based on these gluten free brownies from David Lebovitz
Ingredients
12 tablespoons butter (1.5 sticks/170 grams)
455 g chopped dark chocolate. I chose 72% for this (1 lb)
2 tablespoons cocoa powder (2.25 oz/ 65g)
300g organic sugar (1.5 cup/10.5 oz)
heavy pinch of salt
85g tapioca (1/2 cup/ 3 oz)
2 drops peppermint oil
1 tablespoon vanilla extract
4 large eggs
2 candy canes, crushed
Instructions
Line a 9×13 baking pan with greased parchment and heat oven to 350º.
In a double boiler over medium heat, melt butter. Add chocolate and stir with wooden spoon until incorporated.
In a small bowl, whisk together cocoa powder, salt, and tapioca.
In a separate bowl (I used my stand mixer) Beat the melted chocolate and butter with the sugar, mix it with all your heart! Add the eggs, one at a time making sure each is incorporated before adding the next. Take care to scrape down the sides of the bowl between each addition. Then add your vanilla and peppermint extracts.
Add in the dry ingredients and beat on low for several minutes. The mixture should become nice and smooth and pull away from the bowl a bit.
Bake for 35-40 minutes. The brownies should still be just a little squidgy in the middle. Take care not to over bake.
Once the brownies are slightly cooled (about 20 minutes), sprinkle them with the candy canes and gently remove them (using the parchment) from the pan. Cool all the way before cutting.