Gluten Free Boxty Recipe for St. Patrick's Day
Boxty is a staple in Irish cuisine, but gluten free boxty was not the first thing that came to mind when I was working on a new St. Patrick's Day recipe. When brainstorming ideas for St. Patrick's Day, I thought of my friend Siobhan. Siobhan is from Dublin, and I have had the extreme pleasure of eating her tasty food for many years. We've lived together a couple of times in the past, and one of my favorite things about it was coming to the smell of her killer potatoes on the stove. On weekends, I often arose to a hot cuppa, the New York Times, and the sizzle of spuds in a cast iron pan. Jump straight to the recipe.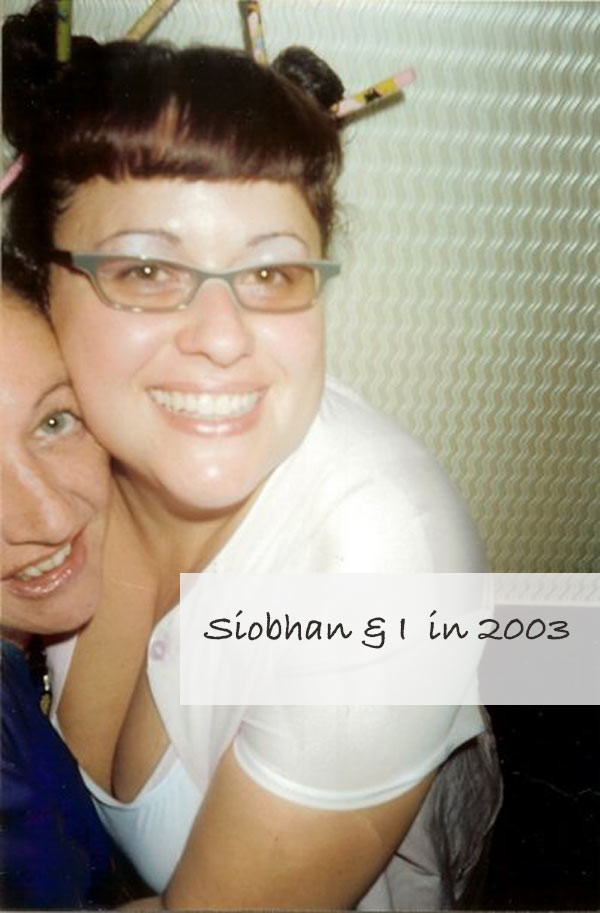 I knew I wanted to make a potato dish as a nod to my good friend. Colcannon and champ crossed my mind, but as I dug deeper, I thought of the potato cakes that my mom had made when I was growing up. Leftover mash always became potato pancakes. Siobhan did the same exact thing. In Ireland, it's called boxty, and boxty is such a fixture of life in some parts of Ireland, there is even a nursery rhyme:
Boxty on the griddle,
boxty on the pan,
If you can't bake boxty
sure you'll never get a man
I can't say that I nabbed my man by making these gluten free Irish potato pancakes, but I can tell you that everyone who's tried them has proposed marriage. Okay, fine, no one proposed marriage, but our Irish friend Mike liked them a bunch and complimented me profusely. Close enough?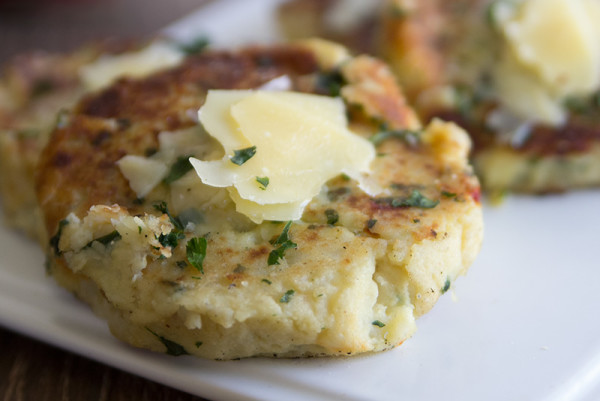 I looked at a ton of recipes on the web and I think there are as many recipes for boxty as there are Irish grandmothers. What I didn't find were a ton of gluten free boxty recipes, but lucky for me, it is a very simple task to convert the basic formula. I started with the recipe from a fantastic cookbook by Clodagh McKenna
, Clodagh's Kitchen Diaries: Delicious Recipes Throughout the Year.
I decided I wanted to stray a bit from Clodagh's recipe in that I wanted to spare you rolling the dough. I also knew I wanted to spice things up a little, so I added some Gourmet Garden lightly dried parsley and some of their lightly dried chili. The result is a brightly flavored potato pancake with just a hint of heat. The herbs add a pretty bit of color to the potatoes, too!
If you're not familiar with Gourmet Garden's lightly dried herbs, I can't recommend them highly enough. They're nothing like the freeze dried, dusty-flavored herbs you might remember lingering at the back of your mom's spice cabinet. They're pretty amazing and keep for a month in the refrigerator once opened. Though I love growing my own herbs, my parsley and cilantro (my favorites) never last through the winter. I hate it when I buy a bunch of herbs only to have them turn into a slimy mess within a couple of days. When I first had the opportunity to try these, I was blown away by the way they completely rehydrate as soon as they're in the proximity of moisture. Even a little steam does the trick.
---
This post is sponsored by Gourmet Garden herbs. Though I received monetary compensation for this post, my opinions are entirely my own. I only work with brands I love and that I feel will be useful for my readers. In addition, some links to books or products I mention may be affiliate links.
---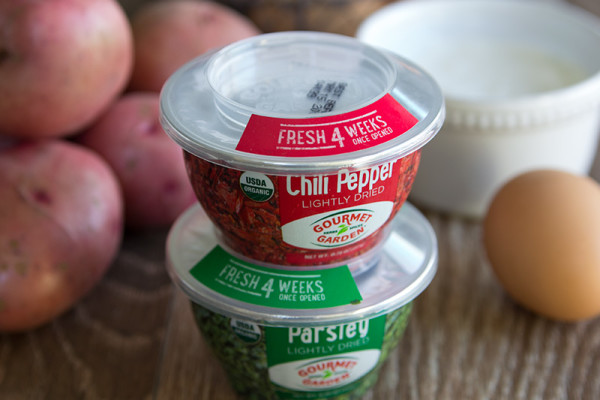 These gluten free boxty come together really quickly especially if you have leftover potatoes. They make a great light meal for Meatless Monday when served aside some cabbage or kale. Of course, if you ask my husband and our friend Mike these gluten free potato cakes are a pretty killer snack. Though I haven't tried to serve these to my friend Siobhan, I'll venture a guess that she'd approve.
Gluten Free Boxty Recipe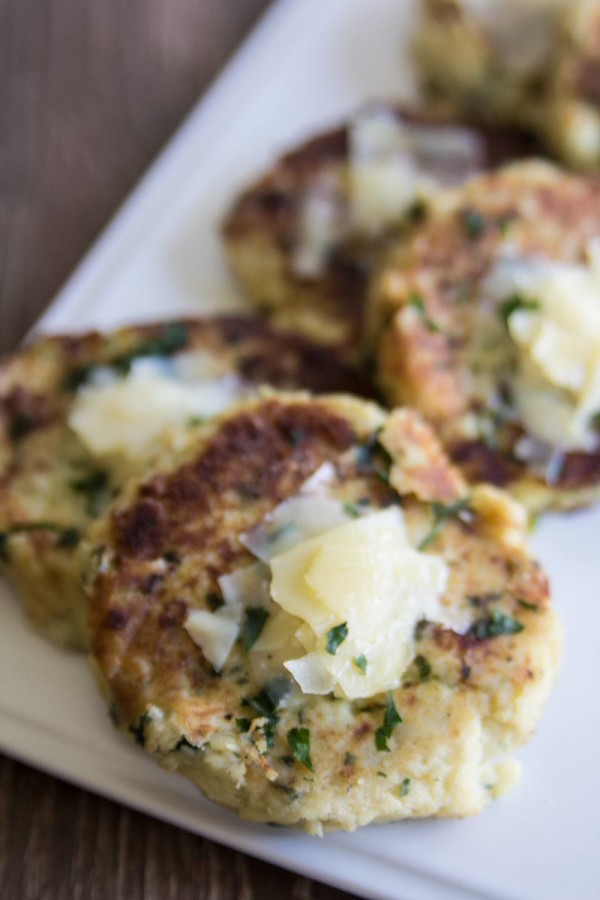 These gluten free Irish potato pancakes (boxty) are very simple to make. Choose a potato that is not too crumbly or starchy. I like red potatoes here. Be sure to choose potatoes that are all roughly the same size to ensure even cooking. This recipe adapts very well. Try adding crumbly bacon to the mix, or a bit of finely grated Irish cheddar. Green onions are amazing in these too! Have fun and happy St. Patrick's Day.
Makes 8 potato pancake patties (boxty)
3 lbs red potatoes
½ cup sour cream, greek yogurt, or creme fraiche
2 eggs, lightly beaten
¼ cup gluten free flour mix (I used 3 tablespoons extra fine brown rice flour and 1 tablespoon tapioca starch)
2 tablespoons Gourmet Garden Lightly Dried Parsley
1 teaspoon Gourmet Garden Lightly Dried Chilies (optional)
¼ teaspoon sea salt
¼ teaspoon black pepper
2 tablespoons of butter
1 oz Irish cheddar, finely shaved or grated (optional)
Extra lightly dried parsley for garnish
Fill a pot with cold water high enough to cover the potatoes by an inch. Bring to a boil over high heat and cook until you can easily pierce the largest potato with a fork. Immediately plunge the hot potatoes into a bowl of ice water. Use your finger to gently push the skin aside and remove all the skins.
Mash potatoes with a fork or potato masher add sour cream and eggs and stir to combine.
In a separate bowl, mix flour, parsley, and chilies with salt and pepper and add to the potato mixture.Stir very well to combine. Using your hands, form the potato mix into 8 equal patties.
Heat a large cast iron skillet on medium high heat. Add a bit of butter, and as it melts, swirl the pan to spread the butter.
Cook patties on medium high for 4-6 minutes on each side, they should be crusty and golden. Serve with Irish cheddar and herbs.