Inspired by salade Lyonnaise, this French potato salad has little red potatoes, crisp bacon, hard boiled eggs, frisee lettuce and a warm bacon vinaigrette. I hope your potato salad is ready for an upgrade! Jump to the recipe >
French Potato Salad with Bacon, Egg, and Warm Bacon Vinaigrette.
I love potato salad in all of its forms. The German potato salad made with bacon fat, the American potato salad with mayonnaise, and the Jewish deli potato salad with sour cream— these all have a place at my table. But the potato salad I grew up with and the one I love the most is French potato salad. It is made with skin-on little red potatoes and a bright and garlicky vinaigrette.
When my friends at Side Delights Steamables asked me to give potato salad a fresh makeover- a #PotatoSaladRedux- if you will, I knew I had to go back to my French roots.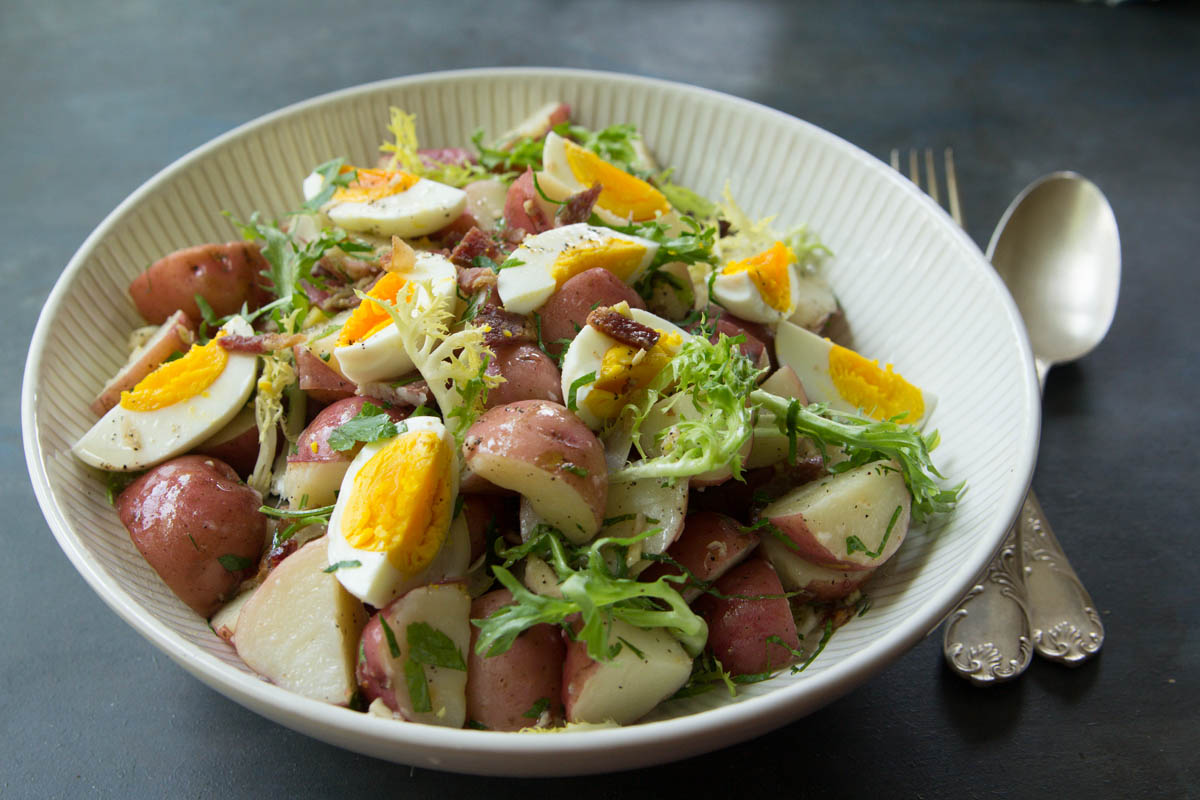 The salad I love the most- like in the whole world- is the salade Lyonnaise. It features frisée lettuce, bacon, soft cooked eggs, and a simple vinaigrette. This potato salad is like a mashup of my grandmother's French potato salad and the salade lyonaisse. It has little red potatoes, crisp bacon, hard boiled eggs, and a warm bacon vinaigrette. It is, in a word, transcendent.
Besides being totally magnificent, this potato salad is easy to pull together, and can be enjoyed either warm or cold. Prep is made even simpler with the Side Delights Steamables. One of the kitchen tasks I really hate scrubbing potatoes, but these little red beauties come all clean and ready to use.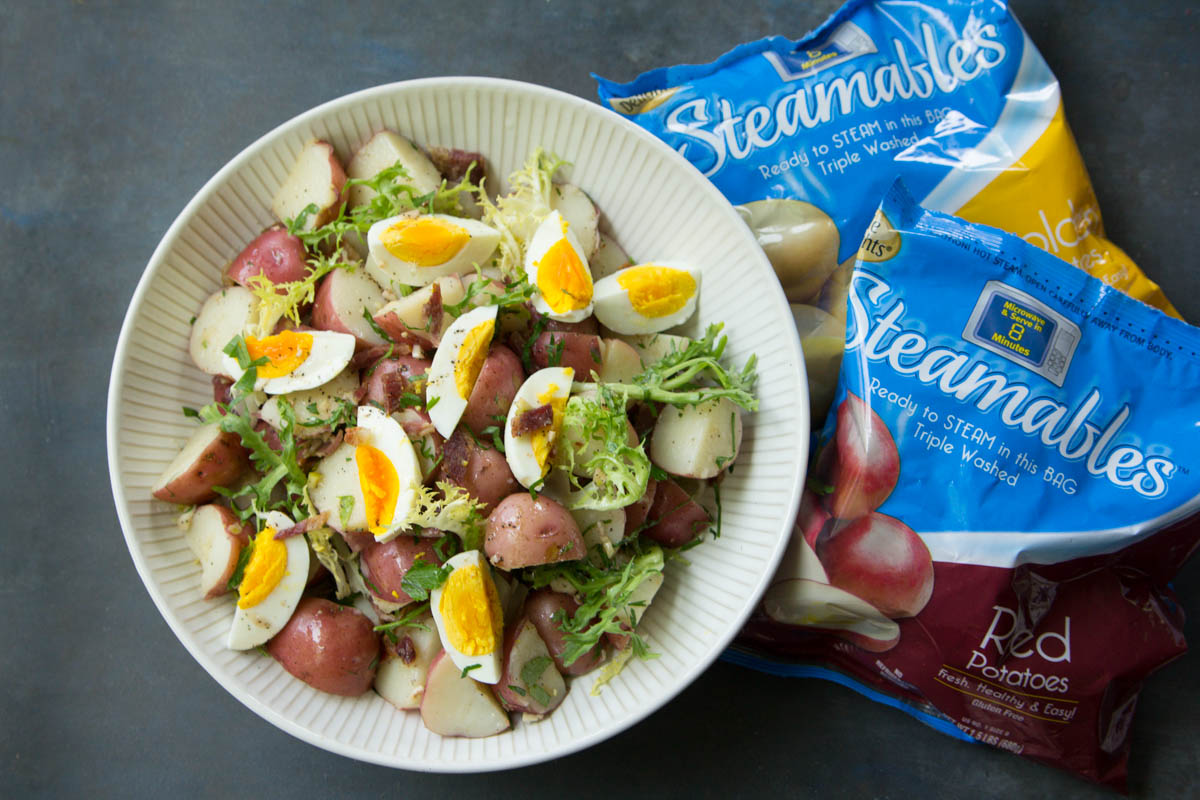 Though you can steam the potatoes right in the bag in the microwave, I prefer to cut these first and then steam them. It helps the skins to stay a little more in tact- and I loooove the tender skin on these potatoes. It would be a shame to lose any of it.
If you're serving this one cold, you can prepare all your ingredients the day before and dress the salad with the warm bacon vinaigrette just as you're about to serve it. No one needs to know your new potato salad masterpiece is inspired by a famous salad from Lyon, France. All they need to know is whether there's enough for seconds.
This post is sponsored by Side Delights Steamables.  Though I have received monetary compensation and products from the company, my opinions are entirely my own. I only work with brands I love and I feel will be useful for my readers. Thank you for supporting the brands that make The Tomato Tart possible.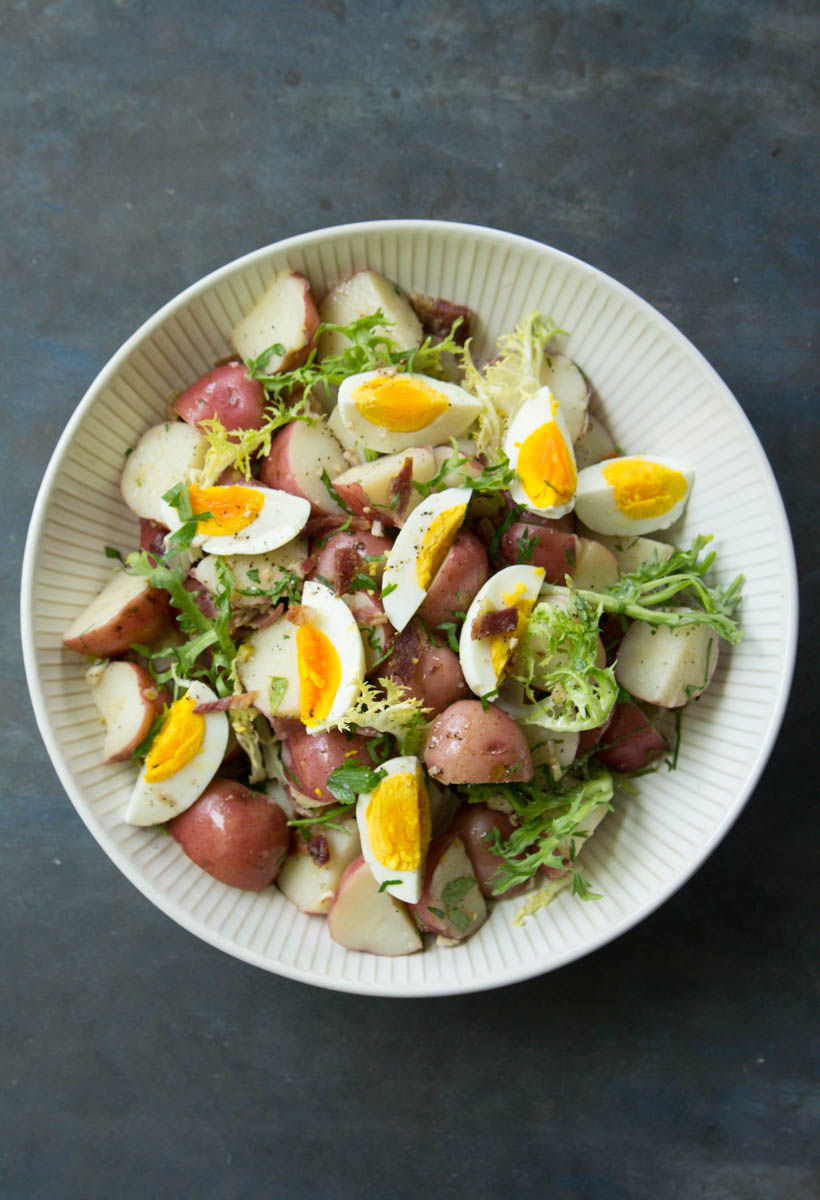 Rating 4.7 from 3 reviews
Prep time:
Cook time:
Total time:
Inspired by salade lyonnaise, this French potato salad has little red potatoes, crisp bacon, hard boiled eggs, frisée lettuce and a warm bacon vinaigrette.
Ingredients
2 packages Side Delights Steamables Reds or 3lbs small red potatoes
¾ lb thick cut bacon
1 head frisee lettuce, well washed and torn into bite sides pieces
4 large boiled eggs, peeled and quatered
¼ cup bacon fat
1.5 tablespoon red wine vinegar
3 cloves finely chopped garlic
¼ cup chopped fresh parsley
salt and pepper to taste
Instructions
Cut potatoes into 1.5 inch wedges. Set a steamer basket in a large pot- filled with water to just below the bottom of the steamer. Steam for 20-25 minutes on high then check for doneness. If they are still a bit hard, steam until they are fork tender, but not mushy.
Cook bacon in a large skillet over low heat- pouring off and reserving a bit of rendered fat each time you turn the bacon. When bacon is ready, cut into small pieces and set aside.
Make Dressing:
 Just before assembling, warm bacon fat until it is completely liquid. Whisk in vinegar and garlic. Since some bacon is quite seasoned, I recommend holding off on adding salt and pepper until you've tasted your vinaigrette.
Assemble the Salad: Toss potatoes and bacon with vinaigrette, letttuce, and chopped parsley. Top with quartered boiled eggs and a dusting of coarse ground black pepper.