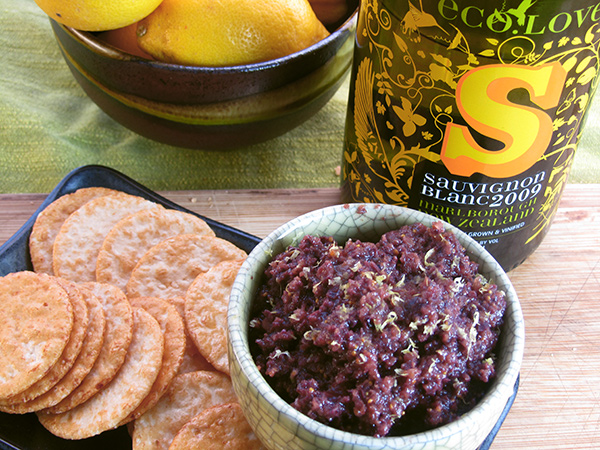 Fig And Olive Tapenade Gluten Free, Paleo, and Vegan
Anyone who knows me knows that I love to entertain. If I like you, you're invited to my house. I love to have a handful of simple elegant appetizers up my sleeve in case we end up at my place.
 Okay, that ended up sounding racier than it actually is.
All joking aside, in the last year, I've hosted a wedding reception, a chocolate party, several cooking parties, a Latin-themed Thanksgiving, and recently a celebration on what would have been my father's 68th birthday. This weekend, I am co-hosting a party for my brother's big 2-9! I am telling you, I love parties.
But sometimes, get togethers are not so planned. Or, maybe they are, but still who doesn't love a simple appetizer, anyway?
This one can be on the table in 25 minutes. Most of that time is just soaking the figs- so you're just chatting away, pouring wine, and being the ebullient host or hostess that you are- because I know you're ebullient!
Speaking of racy parties (or not) and ebullient hosts, let's talk about figs. What is sexier than a fig? Ripe, bursting with pink flesh and seeds that go "pop"!  Unfortunately, the fig season seems to be winding down right now, but that doesn't mean we can't enjoy them.  In this tapenade, briny kalamata olives are softened by the sweetness of dried figs made succulent again with the help of sauvignon blanc.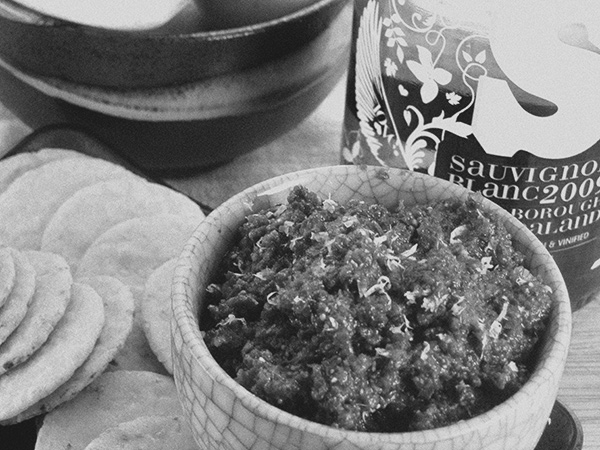 Serve this tapenade with artisan bread, crisp rice crackers, salty manchego cheese, apples, walnuts, and of course a glass of crisp sauvignon blanc.
Note: this is addictive and I will totally forgive you if you skip the party and just make a giant vat of this for yourself.
PS: don't forget the wine.
INGREDIENTS FIG AND OLIVE TAPENADE

 1 cup kalamata olives- pitted
1 cup dried black mission figs- quartered and stemmed
juice of ½ half of of an organic lemon
zest of one organic lemon
1 cup sauvignon blanc
¼ cup extra virgin olive oil
INSTRUCTIONS FIG AND OLIVE TAPENADE

Soak quartered figs in wine for at least a half hour and up to 2 hours
Drain figs reserving the liquid
Add figs, olives, lemon juice, ¾ of the lemon zest, and about 1 tablespoon of the wine to the bowl of your food processor and pulse until blended.
Add more wine if the mixture is too hard to blend. Do not over process. It should still have texture.
Finally pulse in olive oil.
Put into a pretty serving dish and garnish with the rest of the lemon zest.
This tapenade tastes great right away, but even better the next day.