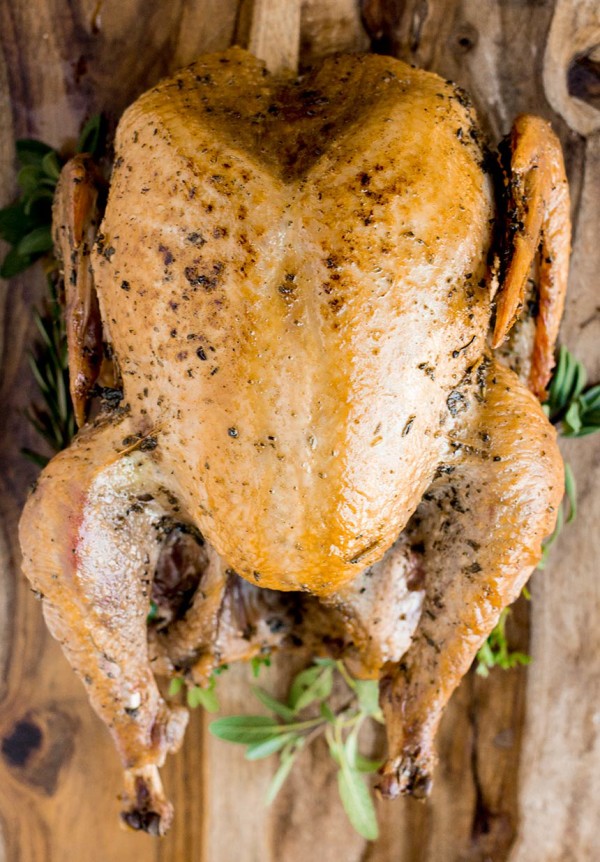 Super Simple and Easy Roast Turkey with Herb Butter
Turkey has a bad reputation as fussy to cook and not that great, but guess what, I'm here to dispel that myth with the easiest turkey recipe! After a couple of days of salting and just hanging out in the fridge, this juicy turkey takes almost no effort on the day of cooking. Rub it down with a bit of butter and herbs, shove it in the oven, and forget about for a couple of hours. No basting, no trussing, no nothing, just juicy roast turkey and crispy crackly skin. Jump Straight to The Recipe
I like to think of myself as an adventurer in the kitchen. Even on on Thanksgiving when people tend to stick to their traditional family recipes, I am always keen to venture out into uncharted waters. For Thanksgiving 2010, I did a gorgeous Latin-inspired feast and made everything from a 25lb pork leg with cracklins to huitlacoche and poblano tarts. A few years back, I did an all vegan Thanksgiving feast! Last year, I went southwestern and even made my own chorizo!
I think I even shocked myself a little when, this year, I reached for the file of recipes from my mother and grandmother. Something about this year made me crave the simple homespun recipes I grew up with. My grandmother's turkey was always perfect, though we never once ate it warm because my grandfather had to carve the bird in his very special way so that it looked like a bird when he was through with it.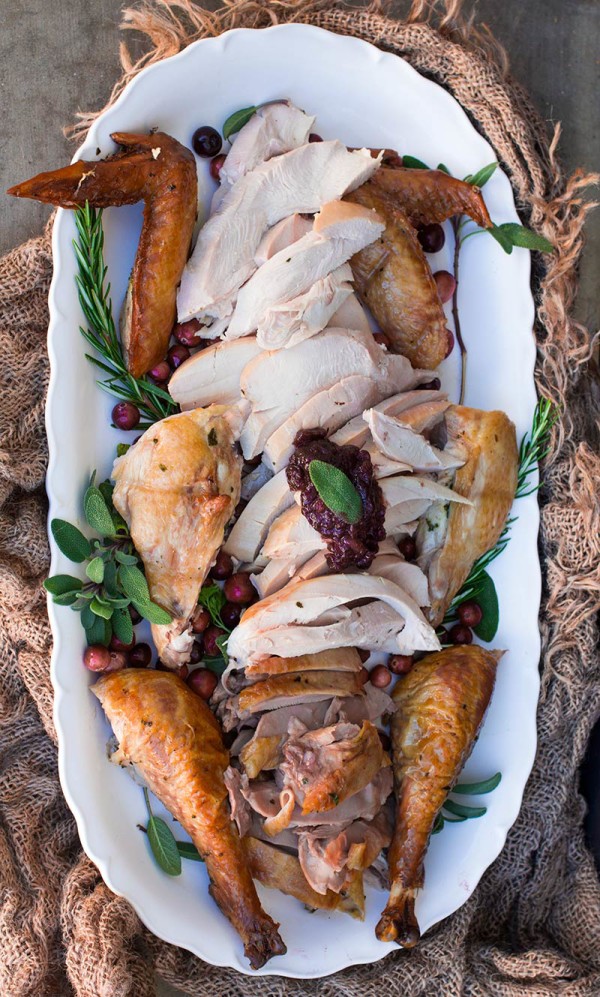 This year, I decided to make a bird that would take very little effort on my part. Aside from the dry brine, you barely even have to think about this turkey. Once it's in the oven, it's no baste, no fuss and no muss! Also, it's delicious with a juicy breast, crispy skin, and succulent legs.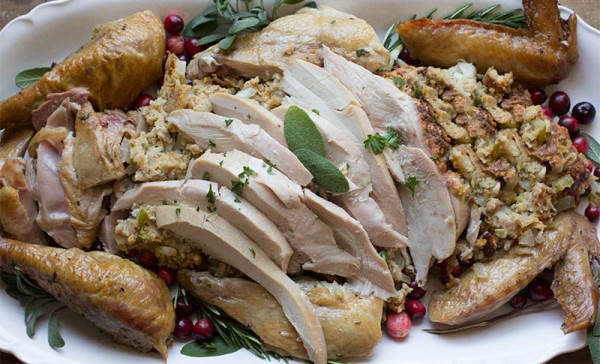 A word of warning, all of the ritual of checking the bird, basting it, and worrying over it- well that's sort of done for. You may even have to talk to your drunk uncle rather than hanging out in the kitchen fussing over your turkey. Or better yet, you can sequester yourself in the kitchen and drink a glass or two of champagne before going out to talk politics and religion with folks you shouldn't be discussing either with.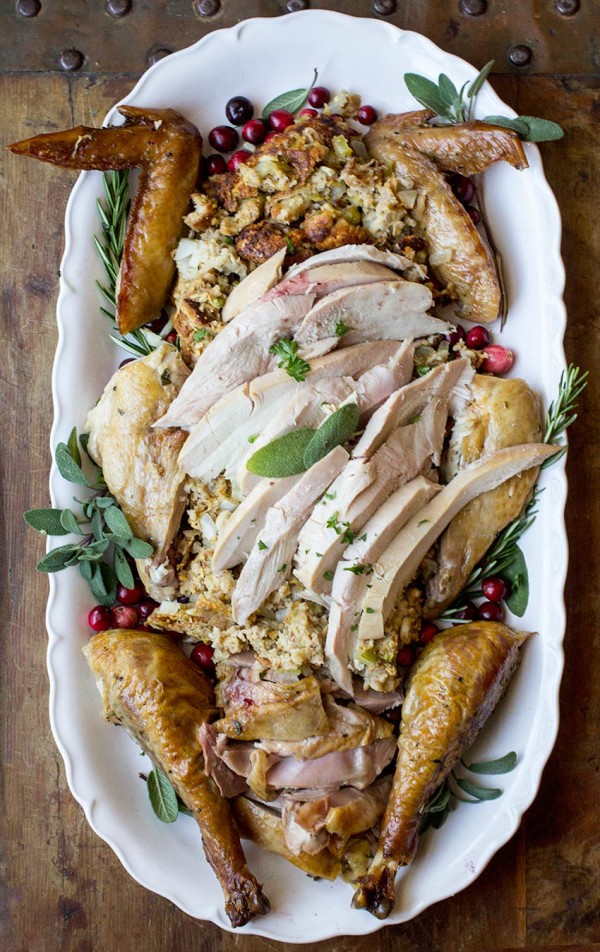 This turkey borrows from my grandmother, as well as the great Judy Rodgers, and Kenji Lopez Alt. Now if that's not a vote of confidence, I don't know what is. Now, it might seem strange to ditch the roasting pan, but this method from Kenji Lopez Alt gets amazingly even cooking. If you're interested in why the roasting pan is a bad idea for roasting a whole turkey, Kenji talks about the science, here. The other key here is to heat the oven for a long long long time— the baking steel or stone retains a ton of heat and is also important for getting that even cook on the bird. This one uses a lovely herb butter and the stuffing cooks outside the bird. It's almost too easy, but once you bite into that juicy turkey with crispy skin, you'll be sold. Other than that, your turkey doesn't really need anything special except a great meat thermometer. I love the Thermapen for it's dead-on accuracy, durability, and quick read.

Prep time:
Cook time:
Total time: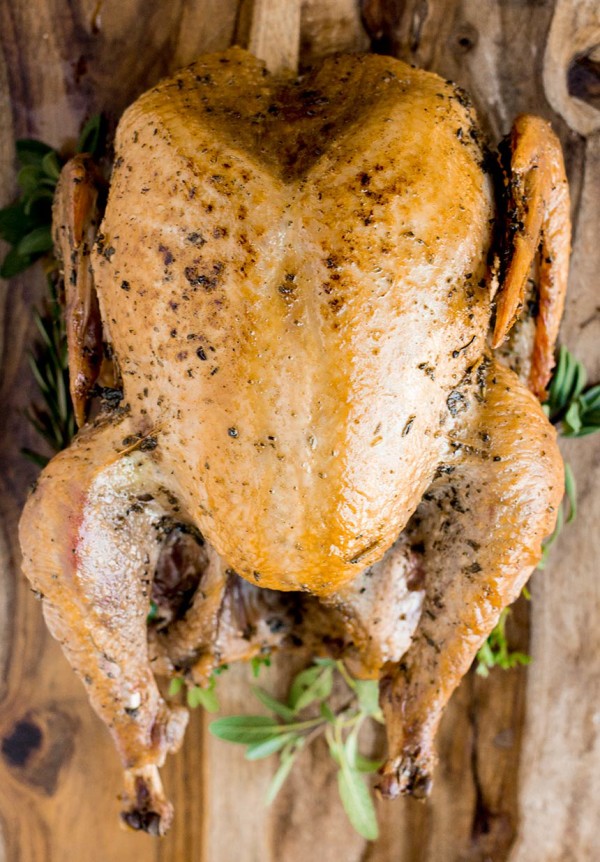 This simple recipe works wonders for a small roast turkey. In fact, this is the easiest most foolproof turkey recipe I've ever encounters. The keys to success here, are the salting, the air drying, and the use of the baking stone in conjunction with the cookie sheet and roasting rack. I promise if you follow these instructions, you'll have an awesome turkey for dinner!
Ingredients
1 8-12 lb turkey
¾ Teaspoon coarse sea salt for each pound of turkey
1 stick of butter
3 tablespoons dijon mustard
2 tablespoons honey or maple syrup
½ cup finely chopped fresh herbs (I used sage, parsley, rosemary, and lemon thyme)
Instructions
One to three days before cooking, salt the turkey both inside and out. Cover tightly and leave in the refrigerator for at least 12 hours and up to 48 hours. Eight hours before (or the night before) cooking, gently rinse the turkey and pat it dry with a towel. Place it on a rack on a baking sheet uncovered in the fridge for 8-12 hours. This is what ensures truly crispy skin. Do not leave the turkey uncovered for more than 12 hours to avoid getting tough leathery skin.
On cooking day, Take the turkey out of the fridge and bring to room temperature while you make the herb butter and heat the oven. Place a baking steel or pizza stone on the middle rack of your oven and preheat to 500º for a minimum of one hour while the turkey looses its chill. Line a baking sheet with foil so that it comes up the sides, and overlaps well then place a v-shaped cooking rack on top.
Make the Herb Butter
Melt butter with mustard and maple syrup or honey over low heat. Once butter is completely melted, stir herbs in and allow steep in butter for about 10 minutes before brushing on the turkey.
Brush the herb butter all over the turkey and even put a bit inside the cavity. Set the turkey on the roasting rack then put the baking sheet, rack, and turkey in the oven right on top of your baking steel or pizza stone. Immediately lower oven temp to 300º and roast for 2-3 hours until a temperature, thrust into the deepest parts of the breast registers 150º and the deepest part of the legs register 165º.
Remove the turkey from the oven and tent with foil for 30 minutes before carving.
I hope you have a very happy  holiday with people you love and treasure!
Check out these awesome Gluten Free Thanksgiving Recipes:
Goat Cheese Mousse
Cranberry Chutney
Gluten Free Vegan Green Bean Casserole
Caramelized Shallot Mashed Potatoes with Creme Fraiche
Roasted Butternut Squash Stuffing
Gluten Free Butternut Squash Cake with Maple Cream Cheese Frosting