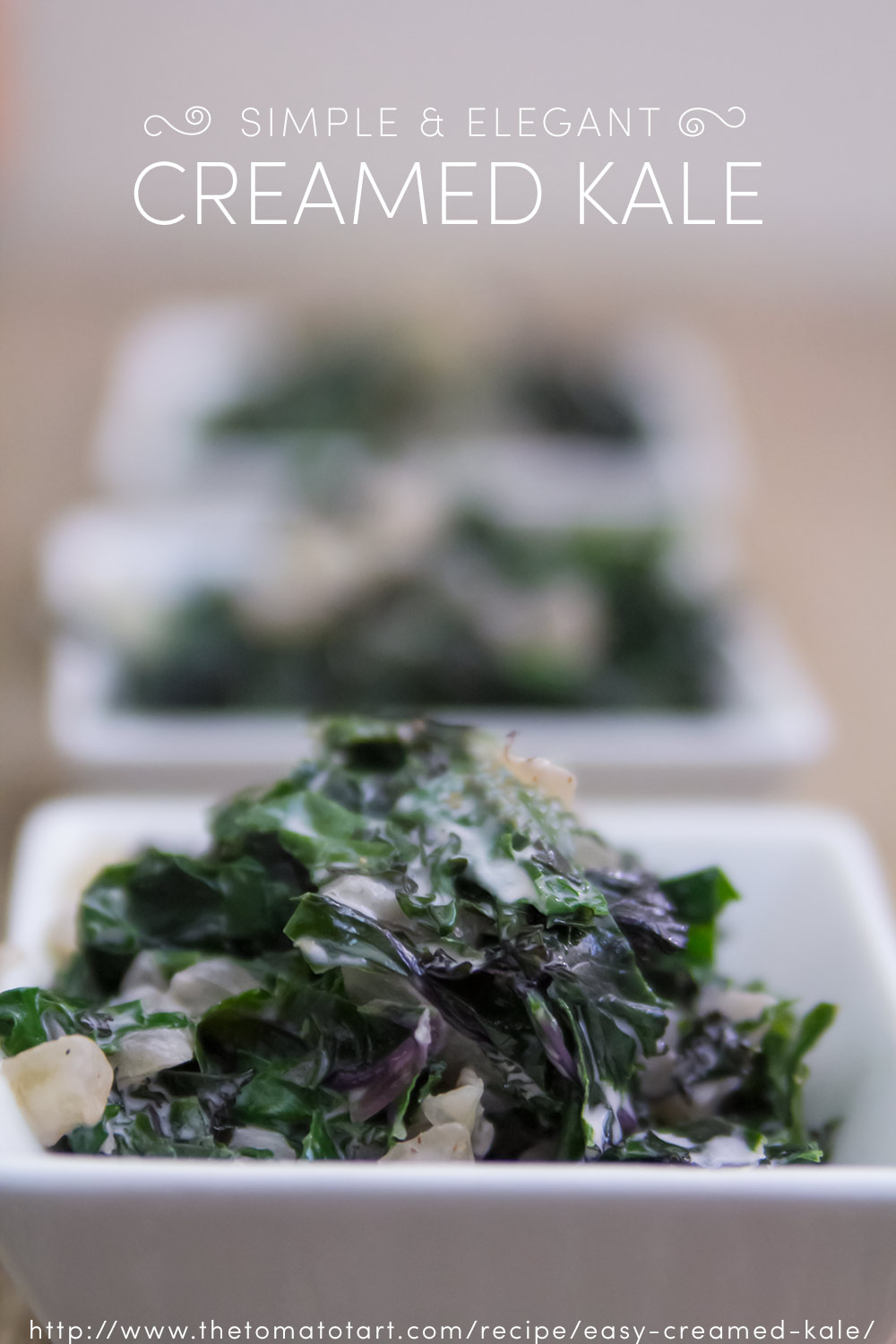 Easy Lightened Up Creamed Kale
I'll never forget the first time I tasted kale. Spoiler alert, it wasn't creamed kale. It was 25 years ago, my grandfather had recently moved to Palm Springs with his new love, Irène. Let's just say she didn't cook like my grandmother– who was one of the best French home cooks imaginable.
Irène cooked everything (I mean everything) in the pressure cooker until it was dead six times over. So, needless to say, I was skeptical when I saw her bright green mashed potatoes. I politely asked why they were green, and she told me that they were spiked with kale. Again, politely, I tasted the mashed potatoes. To my surprise, they were delicious.

When I became a vegetarian, two years later, I occasionally bought some kale and made those mashed potatoes. But it wasn't until about ten years ago, when we joined our first CSA that I really got to know all about kale. It's no secret that I love greens and I love cauliflower and brussels sprouts. To me, kale tastes like a combination of all three.
Kale is the perfect vegetable- unless you ask my husband. Joshua HATES kale. This is a guy who eats pretty much everything, but to him, kale tastes a little like battery acid.
Since I love kale, I'm always trying to find ways he might like it. There are a few preparations that he doesn't hate. But this… this creamed kale, he asks for seconds. He asked me to make it for Thanksgiving. This is a kale home run!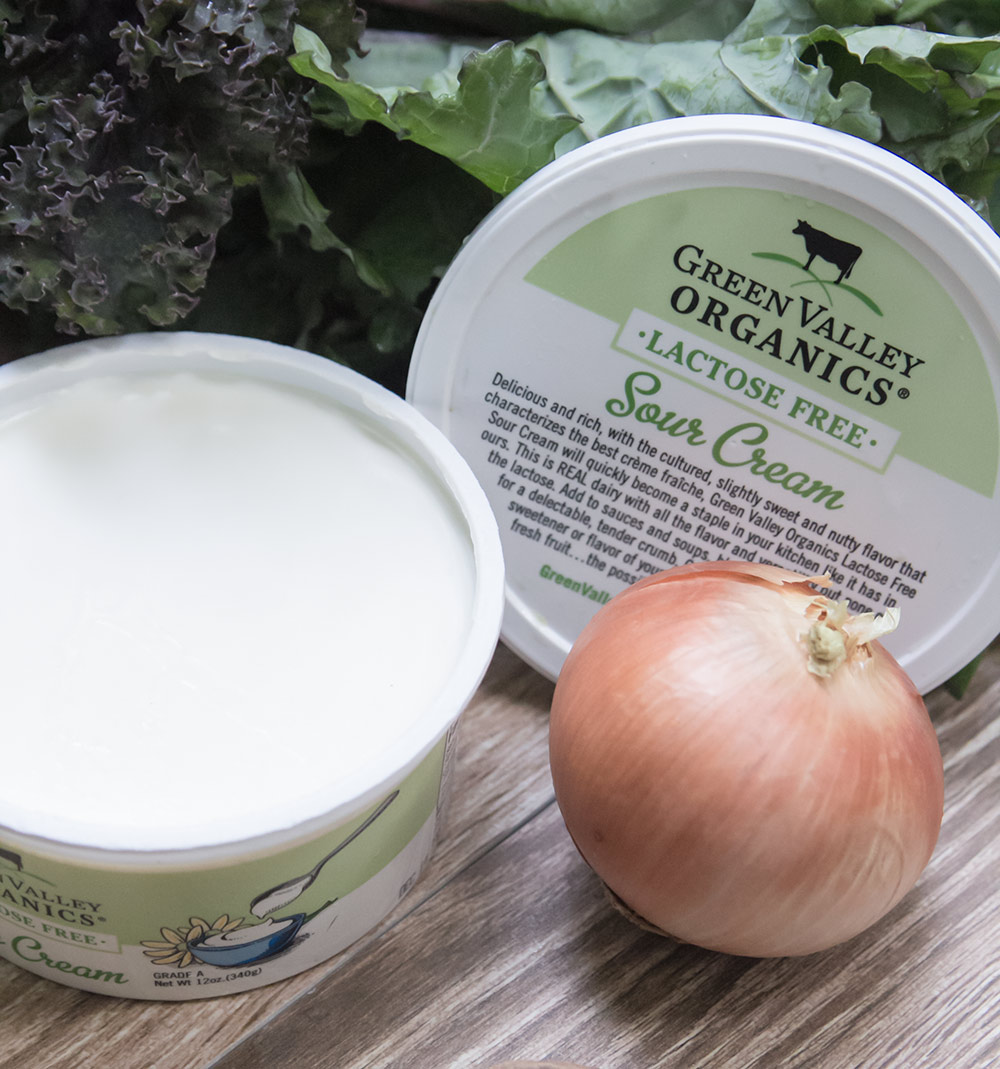 My creamed kale has only a few ingredients and it's super easy to prepare, because instead of making a roux and a white sauce like traditional creamed spinach, you whip up some Green Valley Organics Sour Cream and add it to the sautéed kale at the end of the cooking process. No roux, no flour, one tablespoon of butter instead of one stick.
Green Valley Organics sour cream is more like crème fraiche which means it won't break when heated on the stovetop it also means it tastes amazing. We always have it our house. I often add it to scrambled eggs instead of milk, we eat it with our mashed sweet potatoes, and it's luscious when I whip in a vanilla bean add a dollop to a piece of fruit for dessert.
Green Valley Organics Lactose Free Sour Cream fits our unprocessed diet with its three ingredients: cream, lactase enzyme, and cultures. It also fits our ethics since the milk comes from a certified humane dairy and all of the milk comes from one ranch so there's no question of the supply chain.
It's hard to mention their products without mentioning the kindness and dedication of the Bice family- who have been in the dairy business in Sonoma County since 1968. I am pleased to work with this ethical and super tasty product. While I was compensated for this post, my views are 100% my own. I've been writing about Green Valley Organics and their sister company Redwood Hill Farm and Creamery for years- long before we had a working relationship.
I hope you enjoy this creamed kale. I have pledged to post every day in November as part of National Blog Posting Month aka #NaBloPoMo. I've also committed to sharing a gratitude list each day in November; I'd love to hear what you're grateful for, too.
Daily Gratitude Nov 7, 2013
Warm Socks
Yoga Pants
Olive and Benny
Joshua
Coffee
Persimmons
Redwoods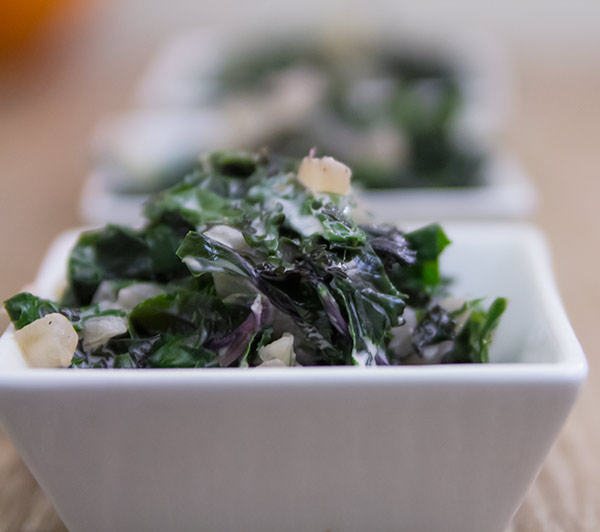 This recipe for creamed kale is simple simple simple. I used a combination of red Russian kale and purple curly kale this time, but I have made it with all types of kale. The key is to remove all of the thick stems and then chop the leaves into little pieces. The other key is to use a crème fraiche style sour cream like Green Valley Organics, as regular sour cream may break when you add it to a hot pan.
Ingredients Creamed Kale
1 tablespoon butter
1 cup onion, cut into ¼ inch dice
¾ cups of water
2 bunches of kale, stems removed and leaves finely chopped (about 8 cups of uncooked chopped kale)
1/3 cup Green Valley Organics Sour Cream at room temperature
1/8 teaspoon fine grain sea salt
¼ teaspoon black pepper
a heavy pinch of freshly grated nutmeg
Instructions Creamed Kale
Melt butter in a large skillet over medium-low heat. Add onions and sauté until translucent- about 5 minutes.
Remove onions from skillet and place aside. In the same skillet, add kale, water, salt and pepper and raise heat to medium-high. Cook until water has dissipated and kale is tender- about 7-10 minutes depending on the type of kale.
Drain kale in a strainer- making sure there is no water left in the skillet.
Whip crème fraiche until it is smooth slightly thinned out.
Add kale, onions, and crème fraiche to the skillet stirring crème fraiche into the kale. Once mixed and warmed through, add nutmeg and adjust seasoning to taste.