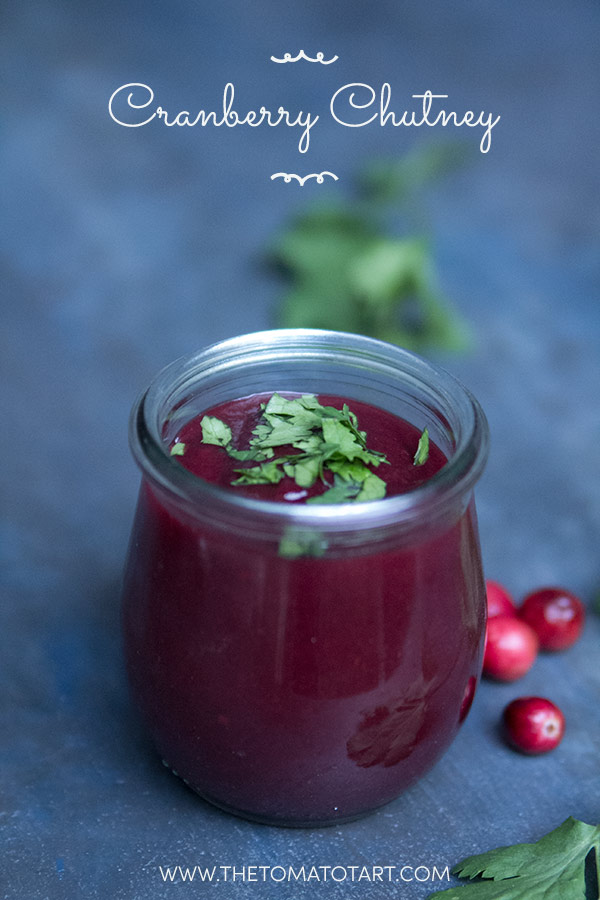 Cranberry Chutney: Paleo, Vegan, & Gluten Free
It was 1981, and I spent every free moment at The Dance Theater Workshop in San Bruno, CA. In between dance classes, we'd run to the market next door to buy Jolly Ranchers. The market was half convenience store, half Indian grocery and haberdashery.
Saris beckoned from the back corner. Vibrant pinks, oranges, and reds were punctuated with golden spangles and embroidery. Having gone to a Montessori school headed by two lovely women from India and Sri Lanka, I was the resident expert. "This is how you play the finger symbols… That dress is called a sari." I might have spent all day playing with gold bangles and admiring statues of Ganesha if I didn't have to get back to class. Well that, and… the curry.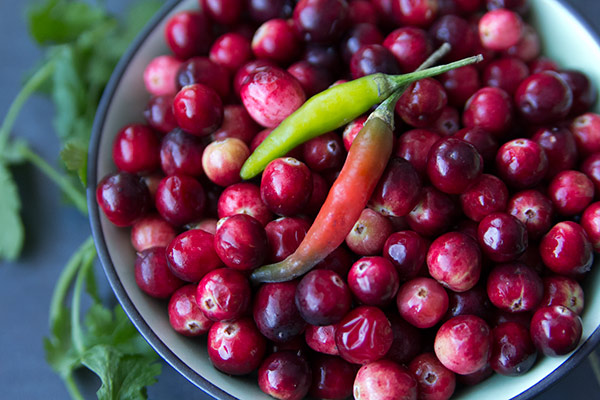 There were giant open barrels of spices in the market. Today, I would love wandering through a space redolent with the scents of India, cardamom, ginger, turmeric, asafoetida (yes, I actually like that smell), mustard seed, fennel… When I was 8, not so much. I remember the smell of curry seeping through the adjacent walls and filling the dance studio with pungent spice on hot sticky days. I would avoid Indian food for almost 20 years because of those days.
When I met Joshua, my attitude towards Indian food shifted radically. He had worked in an upscale Indian restaurant in Chicago and was an amazing guide to Indian and Pakistani food. The more I ate, the more I loved it. We ate curries, chutneys, dosas, dal, idli sambar, and even Indian pizza. I think we've eaten in Indian restaurants more than any other type of food aside from Sushi.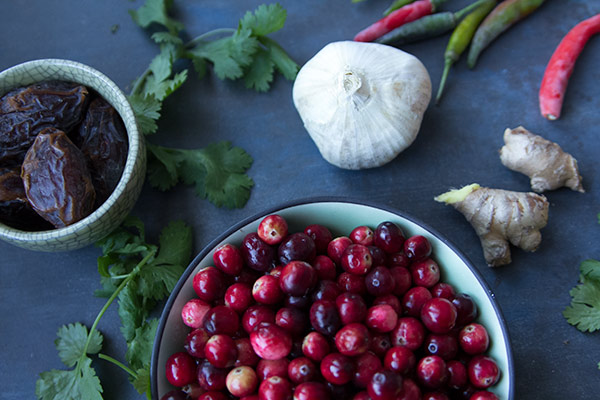 Over the last 15 years, my love of Indian food has grown. Indian spices crept into my kitchen. In the early days, in the form of curry powder, but soon I was seasoning dishes with homemade garam masala and sambar powder.
Last weekend, I made a gorgeous Indian feast of baingan bartha, tandoori roast chicken, and cranberry chutney. I even made the gluten free naan from This Cookbook
. This cranberry chutney completely rocked our world. It came to be because I was too busy to go on a hunt for tamarind, and I thought cranberries would be a good substitute. Turns out, I was right.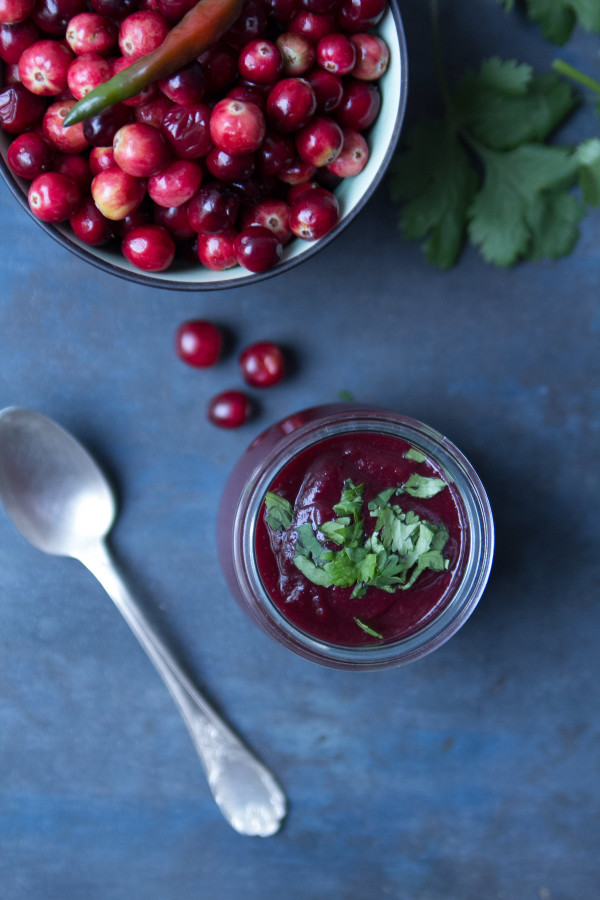 The cranberries are cooked with medjool dates, garlic, and ginger then seasoned with a mixture of toasted Indian spices including green cardamom, fennel seed, fenugreek, and cumin seed. The result is a brightly flavored chutney with a sweet and spicy finish. It's great with Indian food, but also goes will with grilled chicken and makes a killer grilled cheese! You can use either fresh or frozen cranberries in this dish. Both are equally delicious.
Ingredients:
1 teaspoon whole cumin seed
1/2 teaspoon whole fennel seed
1/4 teaspoon whole fenugreek seed
2 green cardamom pods, seeds only
4 cups fresh or frozen cranberries
6 Medjool dates, pitted
½ cup coconut sugar
1 small red chili, stem removed (optional)
1 inch piece of ginger, finely grated
1 small clove of garlic (or a portion of a larger clove)
¾ cup water + more for blending
In a heavy saucepan over medium heat, toast cumin, fennel, fenugreek, and cardamom seeds. Shake pot to move seeds around every 30 seconds. Cook until they become fragrant and toasty smelling- just a couple of minutes. Place seeds in a bowl and set aside.
In the same pot, add cranberries, dates, coconut sugar, chili, ginger, garlic, and water. Bring to a boil over high heat then turn down to medium and cook for 20 minutes. Stir often, and if anything begins to stick, turn heat down a bit.  Add spices to the pot and cook for 5 more minutes. The cranberry chutney should be thick and jammy at this stage.
Add contents of the pot to a blender or food processor and blend until nice and smooth. Strain through a fine mesh strainer using a spatula to push the liquid through.
If you like, save the pulp to coat veggies or chicken before roasting
Crazy about cranberries? Love Chutney? Me too.
 Can't believe it's gluten free, Cranberry Bundt Cake
 An adorable trick for holiday ice cubes in this Pear and Rye Cocktail.
 Grilled cheese with berry chutney, Yup!