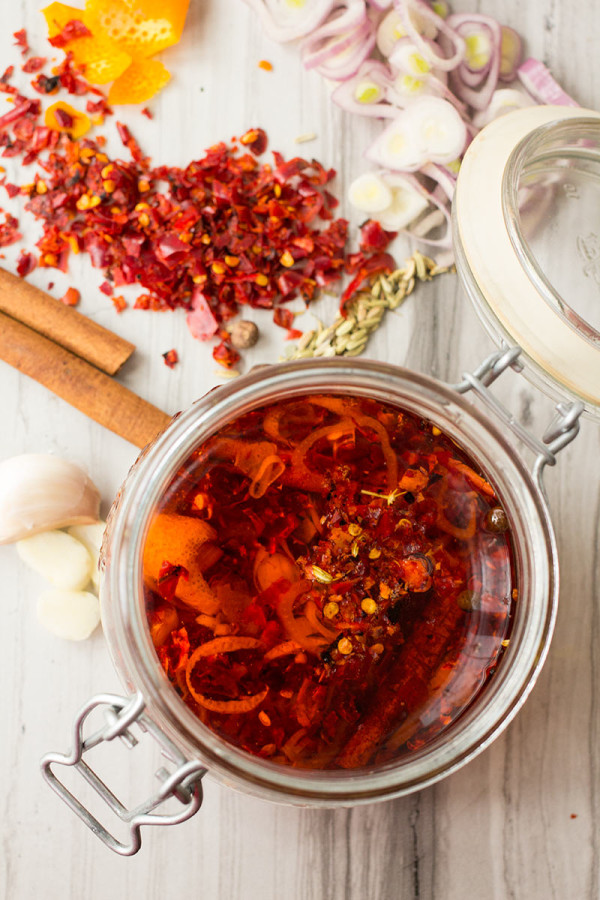 No Chinese meal is complete without some hot chili oil, and this homemade chili oil is made with healthy, clean ingredients. If you've never tried homemade Chinese hot oil, you are in for a very serious treat. Just a few ingredients and 10 minutes of your time will yield a stunningly flavorful infused oil. Jump Straight to The Recipe
Homemade Chinese Chili Oil
I once heard Lynne Rossetto Kasper refer to herself as the condiment queen. HEY wait, I thought, that's my title. Then I realized, I would totally share my queendom with Ms. Kasper.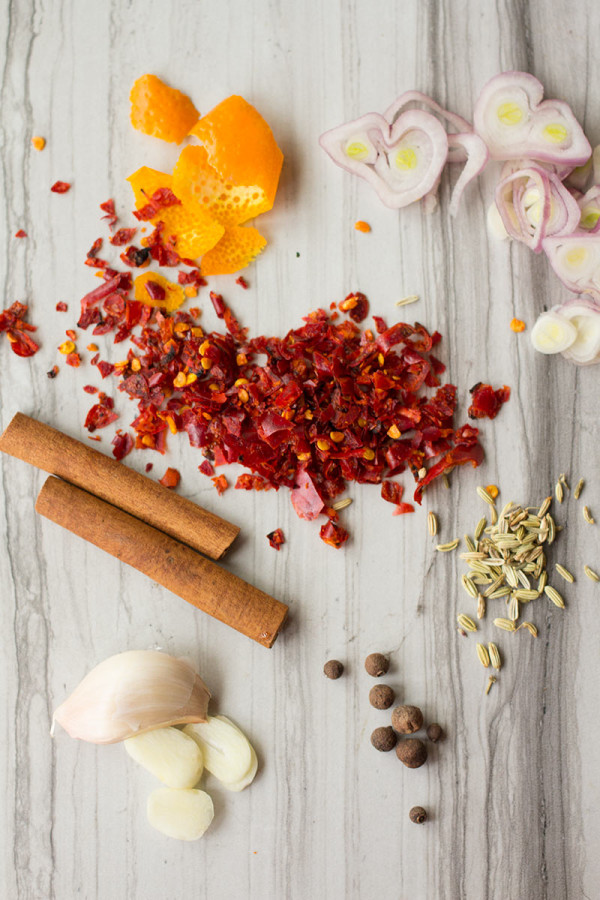 One of the condiments I am never without is Chinese Chili Oil. Also known as Chinese hot oil, this beautiful bright condiment is a staple in Hunan, Sichuan and Yunnan cuisines and it appears in Chinese-American restaurants from coast to coast. If you've only ever had hot chili oil from a jar, it's pretty good. But I'm here to tell you you're missing out. Homemade chili oil can feature rich and layered flavors including cinnamon, star anise, and shallot. Best of all, you control what goes into your chili oil- from good quality oil to your preferred spice level!
Chinese chili oil is so simple to make. With just a few ingredients and about 10 minutes, you have yourself some chili oil. The flavor just keeps improving with time, and I've learned that I should always make a double batch so it can just keep infusing for a couple of weeks in the fridge.
This Chinese chili oil is not too spicy- the sweetness of the chili pepper really comes through since we're using Gourmet Garden Lightly Dried Chili Pepper rather than the fully dried red chili flakes. I've made this with fresh chili, fully dried, and with the lightly dried, and I think this is the best version. Supporting the heat, is the exotic and lovely mix of cinnamon, allspice, fennel seed, garlic, shallot, and citrus peel. The resulting flavor is heady and full of complexity.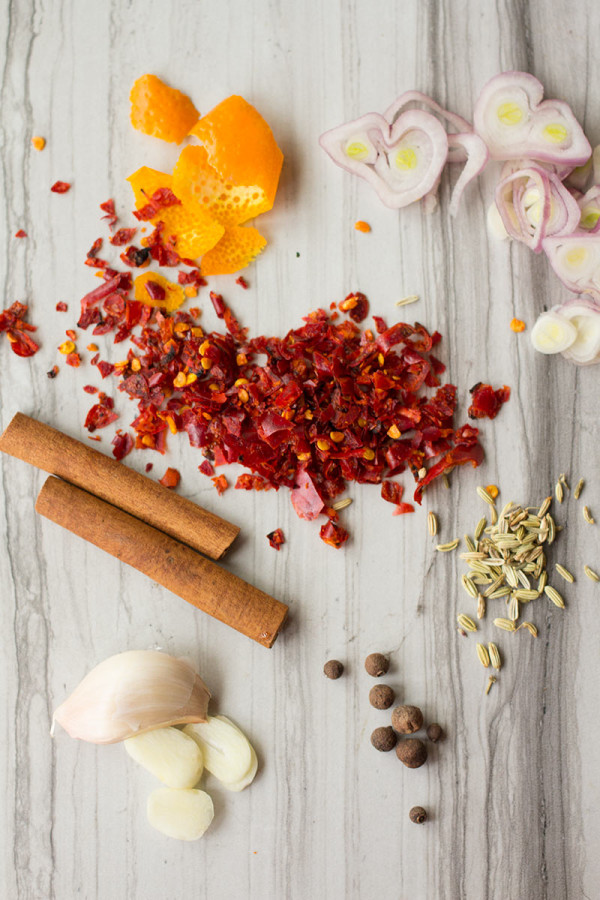 I eat this chili oil with any meal of the day. It's amazing on avocado toast or eggs for breakfast, drizzled over salads or spread on sandwiches for lunch, and with any manner of roasted veggies, grilled meats, or grain bowls for dinner. And don't think this chili oil is just for Asian food! I think you'll be surprised how well it enhances all kinds of cuisine.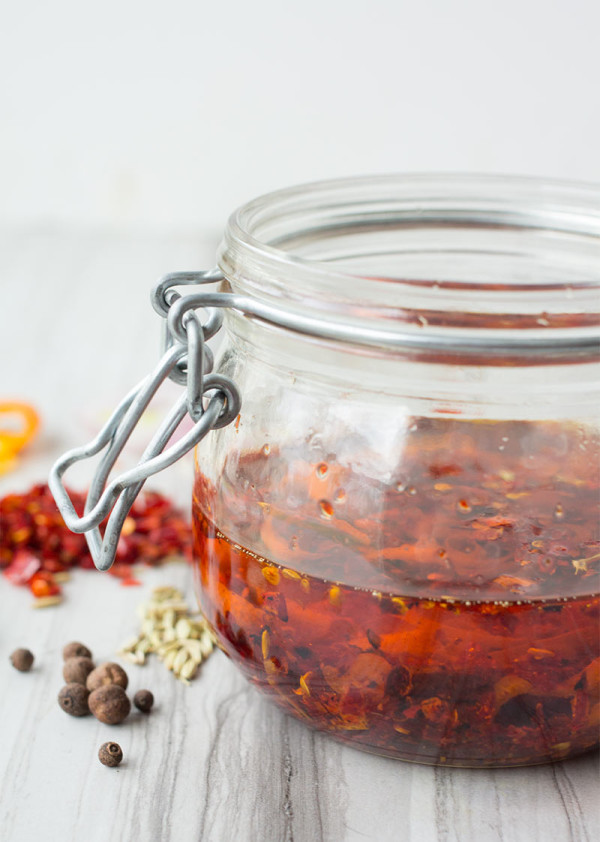 This post is sponsored by Gourmet Garden. I have received both product and monetary compensation for this post. My opinions are 100% my own and I only work with brands I love and that I feel will be useful for my readers. Thank you for supporting the brands that help make The Tomato Tart possible.

Rating 4.0 from 2 reviews
Prep time:
Cook time:
Total time:

No Chinese meal is complete without some hot chili oil, and this homemade chili oil is made with healthy, clean ingredients. If you've never tried homemade Chinese hot oil, you are in for a very serious treat. Just a few ingredients and 10 minutes of your time will yield a stunningly flavorful infused oil.
Ingredients
1 cup expeller pressed grapeseed oil (or other neutral flavored oil like avocado)
2 tablespoons Gourmet Garden Lightly Dried Chili Pepper (you can add more or less according to your desired heat level)
2 cinnamon sticks
1 inch wide slice of orange peel with white pith removed
1 teaspoon allspice berries
1 teaspoon fennel seeds
1 shallot, finely sliced
2 cloves of garlic
Instructions
In a heavy saucepan, heat all ingredients over medium heat until oil is bubbling fairly rapidly. Reduce heat and simmer for 10 minutes. Cool in the pot until room temperature. Important: remove the cloves of garlic from the oil before transferring to a mason jar to store in the fridge for up to two weeks.
Check out these aweseome spicy gluten free recipes:
Pear and Goat Cheese Salad with Brown Butter Vinaigrette
Gluten Free Irish Potato Pancakes (Boxty)
Chicken Tortilla Soup with Hatch Chilies
Chicken Stir Fry with Chili and Garlic
Gluten Free Chocolate Layer Cake with Chili and Cinnamon