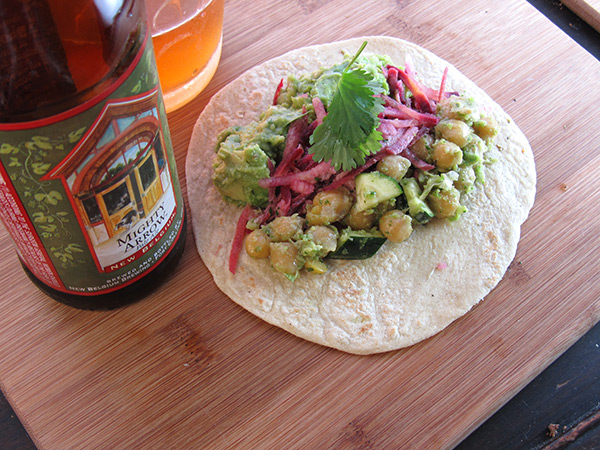 Spring is here. It's been sprinkling in the mornings, sunny and a little breezy in the afternoons. On my long walks with Ruby, cherry blossoms float by in their gentle, dreamy way. Though our street is tree-lined, we often walk along Shotwell Street where we are greeted by the smell of jasmine and magnolia and surrounded by tall Edwardians.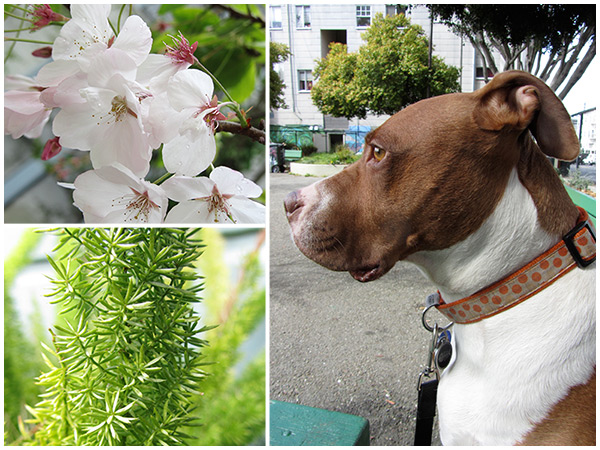 Sometimes we stay in our immediate neighborhood, east of the mad hustle that is Mission Street, but sometimes, it's fun to jump into the mêlée for a while. Ruby's little nose twitches as we pass the bacon wrapped hot dog vendor and she stops for pets and belly rubs at every outdoor café.
By the time we get home, it's time to start cooking. This Saturday, I was looking forward to making some chickpea tacos with a little twist. I have been obsessed with harissa for about a year now. I often have a jar of it in the refrigerator, but I had decided to make a green harissa for a bit of a change. I was also excited to pair these spicy vegan tacos with beer from New Belgium Brewing Co.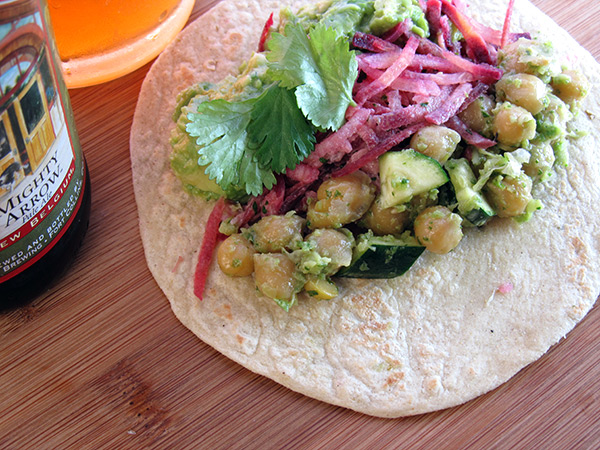 Most people are very familiar with Fat Tire by New Belgium. The brewery was very generous in providing a stipend for beer and ingredients to develop a recipe for them. What a fun project! While, I often lean towards Belgian-style ales and trippels, I wanted to step out of my comfort zone and drink something lighter. Enter spring and enter Mighty Arrow which is an American pale ale. It is bright and bubbly, with a grapefruity citrus taste and a hint of biscuit flavored malt- not quite caramel. It was just perfect for my tacos.
Now, on to the tacos- these don't just hint at spring, they dust off the welcome mat and say, "come on in". With citrus, cilantro, and chiles, the chickpeas are bright in flavor and in color and I love the contrast of the apple and purple carrot slaw. Then, of course, guacamole- this is my standby recipe. I hope you'll enjoy.
Chickpeas Ingredients

2 cups dried chickpeas soaked overnight then drained
½ teaspoon baking soda
2 zucchini chopped into ¼ inch pieces
Green Harissa Ingredients

1 cup cilantro
½ cup grapeseed oil
½ lime, peeled and cut in half (pith removed)
2 jalepenos, seeded and sliced in half
1 serrano chile stem removed, sliced in half
½ teaspoon of coriander seed
1 teaspoon ground cumin
3 cloves of garlic
Slaw Ingredients

3 large purple carrots shredded*
1 pink lady apple shredded*
½ red onion shredded*
1/3 cup veganaise (grapeseed oil)
¼ cup grapeseed oil
3 cloves garlic
juice from ½ lime
½ Serrano chili
¼ cup cilantro
heavy pinch of cumin seed
heavy pinch of salt
½ teaspoon fresh ground pepper
*I used my food processor fitted with the shredding disc to grate/shred the veggies. It is a real time saver, but a box grater will work just fine.
Guacamole Ingredients

3 ripe avocados
2 tablespoons diced red onion
1 clove of garlic very finely chopped
1 tablespoon cilantro very finely chopped
juice of ½ lime
salt and pepper to taste
8 Tortillas, I used green chile flour tortillas
Chickpeas Instructions

place chickpeas in heavy bottomed saucepan with water covering them by 2 inches and bring to a boil.
Lower to a simmer and add ½ teaspoon baking soda. Skim any foam from the top.
Simmer for about one hour until chickpeas are tender but still hold their shape, then drain and toss with green harissa and raw zucchini
Harissa Instructions

Add all ingredients to small food processor and pulse until well blended
Slaw Instructions

Add veganaise, grapeseed oil, garlic, lime juice, chilies, cilantro, and spices to small food processor or blender and blend until well combined
Mix with carrots, apples, and onions and refrigerate until ready to use.
Guacamole Instructions

Mash lightly with a fork I like lots of big chunks of avocado.
Warm tortillas over your burner or in a grillpan and fill with chickpeas, guacamole, and slaw