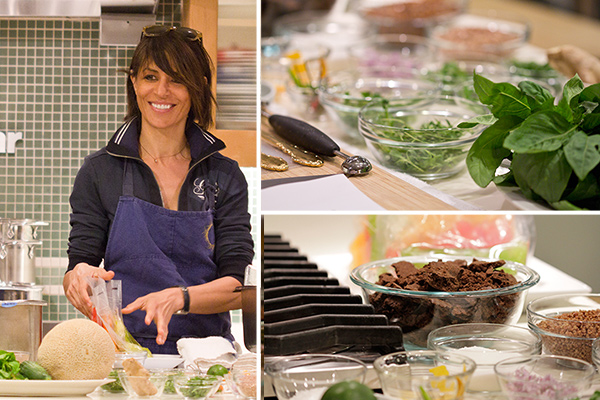 Last Saturday was fantastic. I mean really really great. I woke up, walked the dog, fussed around the kitchen a bit. Made some tart dough, got dressed in favorite summer dress and headed downtown to attend a cooking demo at Macy's in union square.
I must admit this was my first time attending one of the culinary council's demos (I'll definitely go again). So, why now?  Two words. Dominique Crenn. Chef Crenn is one of the hottest chefs in the country right now, and though I haven't had the chance to dine at her extraordinary restaurant, Atelier Crenn, it has been at the top of my list since it opened earlier this year. I have it on excellent authority that we will be doing the 11 course tasting menu on my birthday!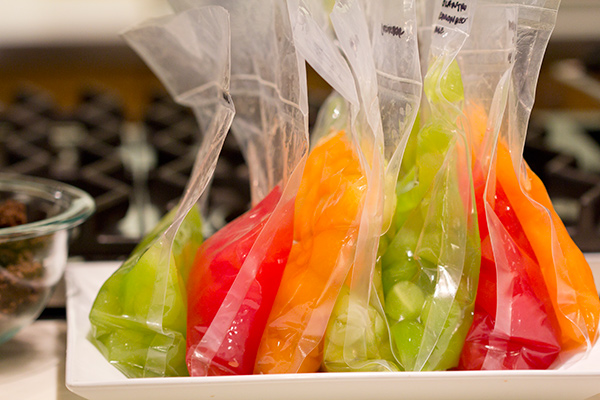 I arrived early for the demo and had a chance to chat with Chef Crenn, a recent champ on Iron Chef (battle yogurt vs. Chef Symon). I dug her instantly and was thrilled to find that we share many of the same food philosophies. She spoke passionately of food as art, of soulful cooking, and of spending time eating and enjoying conversation and laughter with the people you love being an important part of an excellent meal. (see, I told you we shared a lot  in our food Philosophy).
Helping with the demo/MCing the event was the utterly charming Liam Mayclem the host of Foodie Chap on KCBS.  I also can't say enough good things about this guy. He claims not to cook, but he handled the melon baller pretty well. I was excited to learn the he will be MCing all of the SF Chefs preview events. If you're in San Francisco, come by and meet both of us. I'll be covering them for this blog, starting next Saturday at 2pm at the Ferry Building.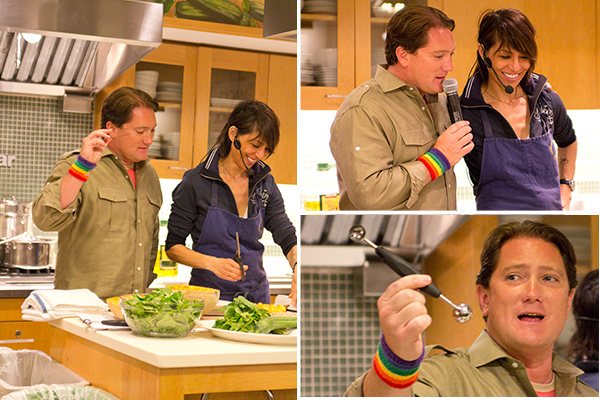 Chef Crenn's demo was part of Macy's Pride celebration. For it, she prepared a beautiful and light rainbow salad with compressed melon and cucumbers, crisp olive bread, buckwheat that had been fried and smoked (YUM), and micro greens. Each melon had been prepared with a different simple syrup. I wish you could have tasted this salad. It was my exact flavor profile perfection. From ginger lime to cilantro and chile. Simple syrups matched perfectly with a salty sweet olive bread.  Textures played on colors played on scents. Expertly balanced and remarkably fresh is the only way to describe this dish, and I get the feeling Chef Crenn can do this dish with her eyes closed.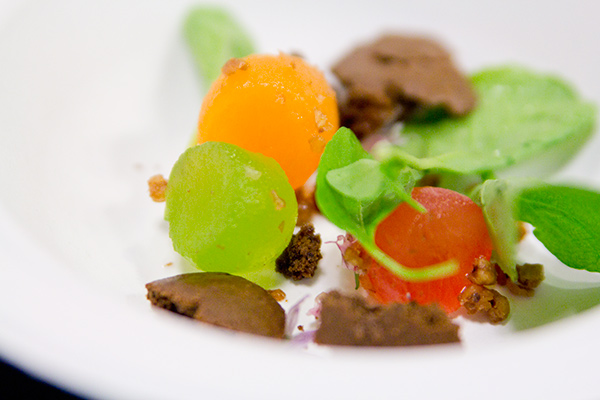 I was so inspired by the flavors, colors, the compressing technique, and Dominique Crenn's marvelous energy and generosity of spirit that I was immediately compelled to make a dish as an homage to Chef Crenn's salad. So, meet my heirloom tomato and watermelon gazpacho with compressed cucumbers. I hope you'll enjoy this icy cold soup with spicy sweet cucumbers. We most certainly did on a rare warm San Francisco evening.
You will hear more from me on Chef Crenn, but I'll leave it at that. Keep your ears peeled for more news and please, when you get the chance, go eat at Atelier Crenn, which is one of the top restaurants in the country today.  Oh, and pick up the July issue of GQ for Alan Richman's piece on San Francisco Restaurants. It's all about how they're kicking the tails of New York's. Dominique Crenn and Atelier Crenn figure heavily into the piece.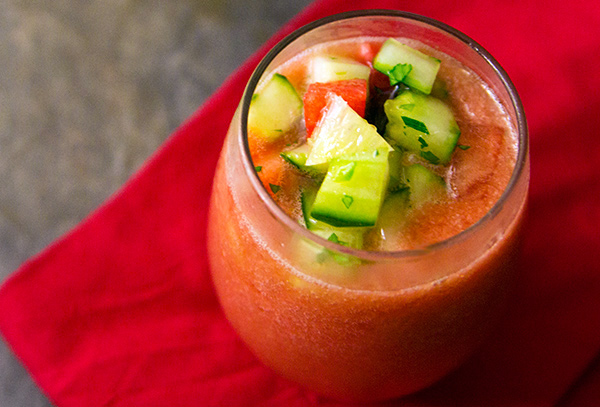 Ingredients For the Gazpacho
½ mini watermelon cut into large chunks
2 heirloom tomatoes cut into large chunks
1 piece of good quality gluten free white bread. Crusts removed and torn into pieces
¼ of one white onion cut into chunks
¼ cup of water
1 teaspoon smoked paprika
fine grain sea salt and white pepper to taste
Ingredients For the Chili Lime Simple Syrup
1 cup organic sugar
1 cup water
peel of 1 organic lime
handful of organic cilantro
1 jalapeño halved
Gazpacho Topping Ingredients
1 English cucumber mostly peeled, (I like small a couple of small stripes of peel) halved and seeded and cut into ¼ inch pieces
¼ cup watermelon cut into ¼ inch pieces
cilantro
Instructions for Gazpacho

Blend watermelon, tomatoes, and white onion in a blender with ½ of the water only adding the rest if needed. The texture should be smooth, but not like juice.
Add one slice of white bread and blend until incorporated and smooth.
Refrigerate until ice cold.
Instructions For Compressed Cucumbers in Simple Syrup

Add the water and sugar to a heavy bottomed saucepan and stir over medium high flame until sugar is dissolved.
Add lime peel, cilantro, and jalapeño and bring to a rolling boil.
Remove from heat, remove cilantro, and pour into a mason jar.  Allow to cool for a few minutes; you can add a bit more fresh cilantro at this point if you like.
If you have a vacuum sealer, this part is super simple, if not, you can get creative like I did or… well, you'll see.
a.    Vacuum sealer method: Add cucumber chunks to your sealer bag, add enough (cooled) simple syrup to cover, and seal. Allow to marinate in the fridge for 24 hours.
b.    Simple zip top bag method, Add cucumber chunks to a zip top bag. Cover with cooled simple syrup, press out as much air as possible, and refrigerate for 24 hours.
c.    Crazy girl's zip top bag method. Now, I was only making this for my husband and I. I think this might be a little unsanitary for anyone you wouldn't kiss- at least pretty close to their mouth. And, I now have a vacuum sealer on order. But, I'm just telling you how I did this. Surely, my husband does not mind my lips on a straw near his zip top bag of cucumbers. Nope, that's not any sort of euphemism. Add cucumbers and cooled simple syrup to a zip top bag. Seal all but one small corner of the bag. Press and roll the bag so that air is escaping from the little corner. During this process, you may lose a little liquid, this is okay as long as the cucumbers remain covered. Finally, insert a straw and suck out any remaining air being careful not to suck out any simple syrup no matter how delightfully spicy sweet it may be. Once sufficiently sucked and sealed, refrigerate for 24 hours.
These will keep in your fridge up to one week, Chef Crenn said she'd gotten interesting textural results having frozen the compressed cucumber/melon as well. I haven't tried this yet.
To assemble: Chill some glasses in the freezer for at least 20 minutes
While glasses are chilling, strain cucumbers, mix with ¼ cup chilled diced watermelon, and finely chopped cilantro to taste Taste soup once more for a final seasoning check. Add salt and pepper if needed. Ladle into glasses, top with a bit of the cucumber and melon and enjoy.