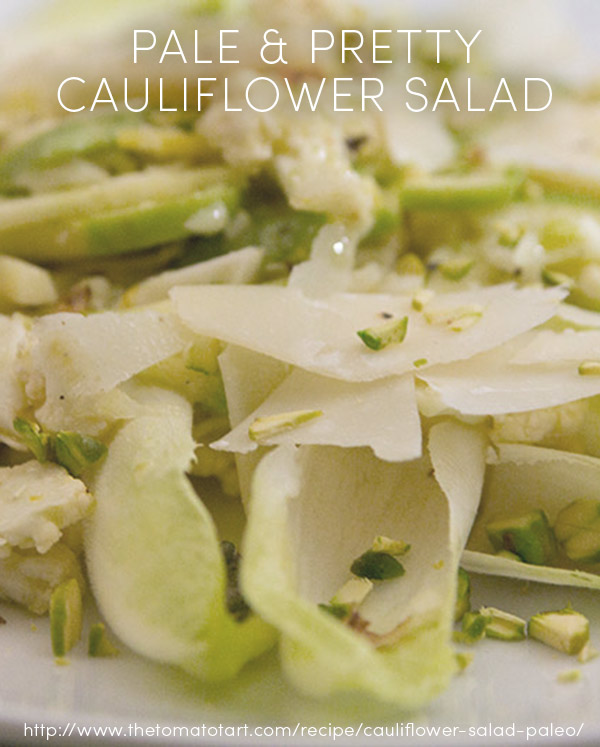 Paleo Cauliflower Salad With Endive, Pistachio, and Lemon Vinaigrette
You never know where inspiration for a dish will come from. Sometimes, it's straightforward, you've had a fabulous meal and want to recreate some aspect of it at home, you've brought home a lush basket of berries from the farmers market, or you're simply craving your grandmother's far off home cooking. Sometimes, the inspiration is a little more- obscure. Abstract even.
I read once, about a white salad filled with cauliflower, potatoes, toasted bread cubes and blue cheese. The white salad stuck in my mind and I thought it would be a gorgeous addition to my holiday table.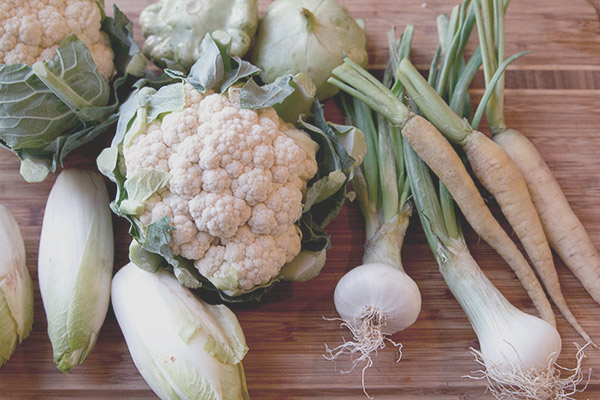 For my version of a white salad, I wanted to make something lighter that might refresh the palate after eating the rich foods we eat on the holidays.  I walked the aisles of my local organic grocer looking for vegetables with the palest hues, and came up with this pretty palette.
Not only does this salad look beautiful, it also features one of my favorite vegetables, cauliflower!  I'd like to say cauliflower is my favorite because it's full of antioxidants and cancer-fighting compounds, or because it's anti-inflammatory and good for your heart. But the truth is, I just love cauliflower whether it's in soup, salad, roasted, or raw.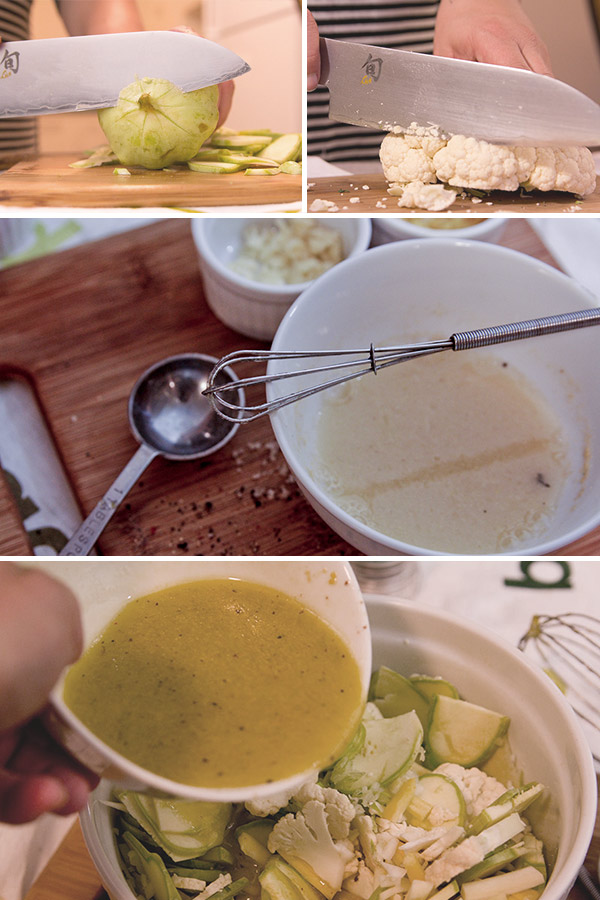 Don't love cauliflower? No problem because this salad is endlessly adaptable. It can change with the seasons and to your taste. Other additions or subsitutions could be celery, jicama, apples, pears, baby peas, fava beans, green grapes, napa cabbage. You could replace the pistachios with marcona almonds. Of course, this paleo cauliflower salad is easy to make vegan, just leave out the parmesan and perhaps add a bit of nutritional yeast or miso to the dressing for a savory kick.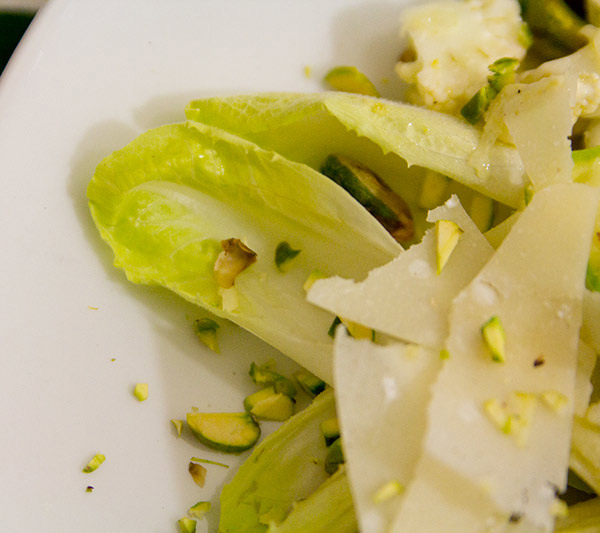 INGREDIENTS PALEO CAULIFLOWER SALAD
1 small head of cauliflower, cored, and shaved
2 pale green sunburst squash halved, and thinly sliced
2 spring onions finely chopped
4 pale yellow carrots cut into bite sized pieces
½ cup raw pistachios-
3 heads of Belgian endive
¼ cup Parmesano Reggiano, finely shaved
for dressing
juice and zest of one large lemon
1/3 cup + 1 tablespoon of olive oil
1 tablespoon dry mustard
4 cloves of garlic
1 teaspoon coarse sea salt
fresh cracked black pepper
INSTRUCTIONS
Mix cauliflower, squash, onions, and carrots in a large bowl.
Toast raw pistachios in a dry pan over medium low heat, tossing often. For about 7 minutes until lightly crunchy and fragrant. Be very careful not to burn.
In a separate bowl, whisk lemon juice and dry mustard until fully combined. Add sea salt and whisk to combine, add in garlic and give a good whisking, add in lemon zest and whisk vigorously making sure to break up. Add in olive oil in a slow trickle whisking the entire time to make a good emulsion. Finally add the last bit of salt and pepper to taste.
Top veggies with vinaigrette and allow to marinate for at least one hour. Four is good, but no more than eight. Serve atop white endive and sprinkle with chopped pistachios. Finally garnish with big slices of shaved parmesan and enjoy.
Check out these gorgeous paleo cauliflower salad recipes:
Cauliflower and mixed vegetable salad
Warm Squid and Roasted Cauliflower Salad
Purple Cauliflower Salad with Pistou
Cauliflower Salad with Dill and Horseradish Dressing
Daily Gratitude:
Masala Chai
Shea Butter
Lip Balm
Puppy Snores