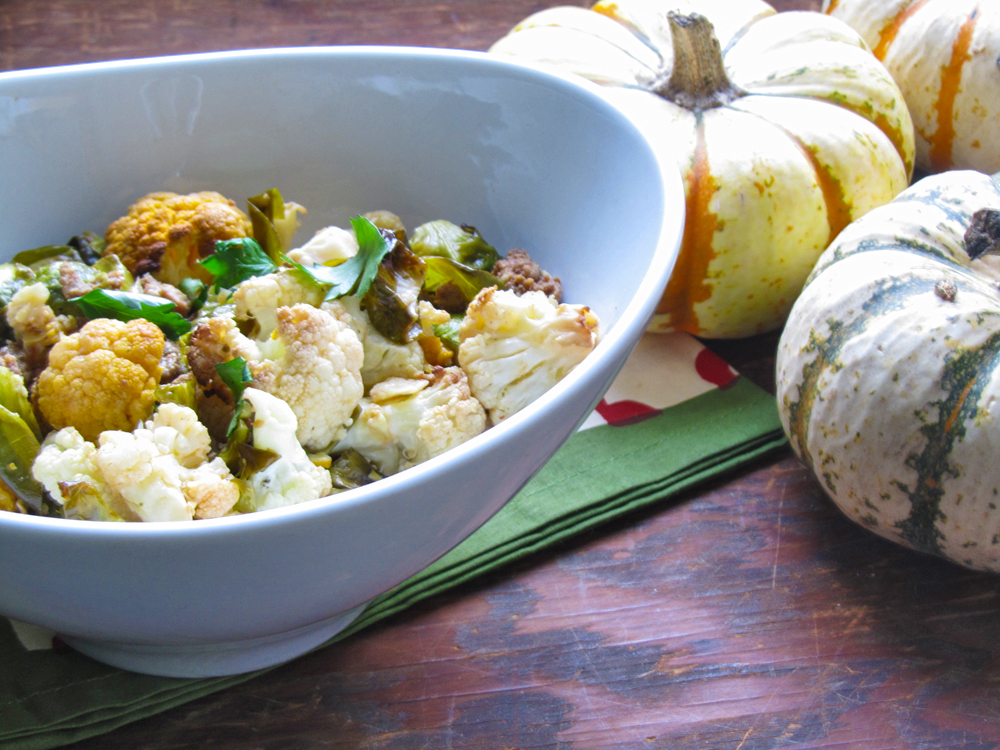 This dish came about when I was trying to figure out a way to make brussels sprouts and cauliflower fit into my
Latino-influenced Thanksgiving menu. The first thing that came to mind was, to replace the ever-popular bacon with chorizo. The rest came together in the kitchen when I started tossing things right into the bowl of my Cuisinart.
This was one of the last dishes I made during our massive meal (for which I lost my sous chef [read:husband] at the last minute) and it was so easy and pain free, I can happily recommend it any time you're cooking for a crowd.
It was also one of the most favored dishes at the meal. People were going gaga for brussels sprouts and cauliflower, ladies and gents. You may be thinking to yourself that I doused them in Chorizo made from Heritage Piggies from the grand people at Marin Sun Farms. It's also true that it was sold to me by the nicest grocery store in the world Bi-Rite Market, and I believe that makes a difference. But the fact remains, people were still totally mad over their veggies. That's a feat!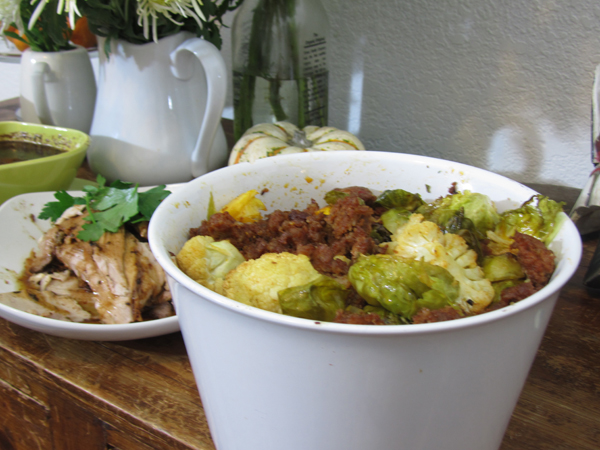 INGREDIENTS
3 small heads white cauliflower
1 small head yellow cauliflower
1 lb brussels sprouts
1 lb chorizo no casings
3 tablespoons butter very well softened
¼ – ½  cup olive oil *
½ cup parsley
½ cup cilantro
4 cloves of garlic
zest of 1 lemon
juice of ½ lemon
or you can replace the zest and juice with one whole meyer lemon if you have it.
heavy pinch of salt
ground black pepper to taste
*this variance depends on how big your small cauliflower are. You need enough to coat the veggies so they roast up golden, but don't burn
INSTRUCTIONS
Preheat oven to 400º
Line a cookie sheet with parchment paper
remove stem of brussels sprouts and halve them
cut cauliflower into small florets
set chorizo to brown in a pan on medium heat draining grease from time to time
put remaining ingredients into your food processor and mix until well blended
toss the veggies in the butter/oil/herb mixture and spread out evenly on cookie sheet
roast for 25-30 minutes until they are golden brown checking at 20 minutes
peel off any burnt leaves of the brussel sprouts toss with chorizo (drained of grease) and serve to oohs ahs and yums!