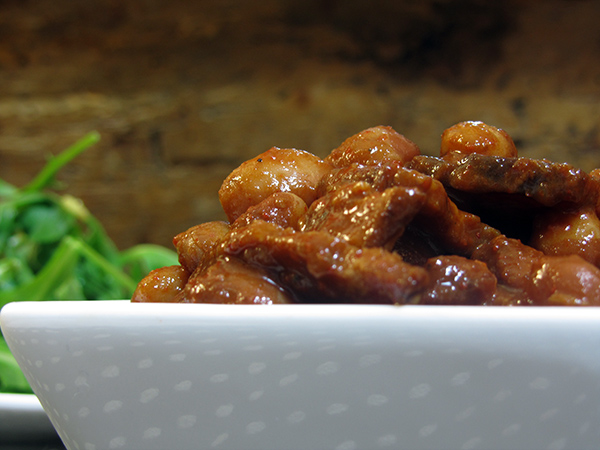 My mother was a master of the one-pot meal. From chicken cacciatore to coq au vin, to jambalaya, to French puy lentils with sausage, her dishes her dishes were always laced with garlic and wine and a good dose of fines herbs.
Each family member had his or her favorite dish- mine was chicken with vinegar and cream, a recipe my Uncle Johnny begged off of the chef at Oak Hill Grocery in Yountville.  He was sworn to secrecy, but I loved it so much as a girl, he agreed to share it with my mother. Now, of course, I have it, but I will never publish it, so don't ask. My brother's favorite was chicken cacciatore-  he called it red chicken. My dad's was easily boeuf bourguignon- which he loved to pronounce in his terrible French accent.  Incidentally, all of my father's French centered around food, his favorite expressions being "á table", "passé moi le beurre", and "merci pour le bon dinner"
My mother never wrote down a recipe in her life- ever.  I am not sure how she made her chicken cacciatore or her jambalaya or any of the one-off improvised dishes she invented.  But, some of the dishes she made are in my culinary soul and I go back to my own version of them time and again.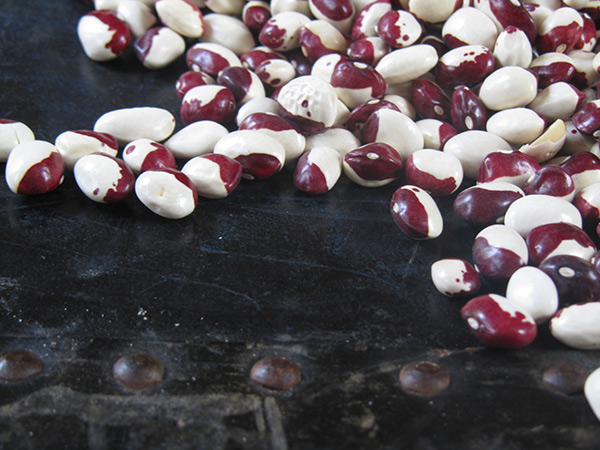 Like my mother, some of my best creations come when I'm improvising in the kitchen, but in the last several months, I've had to start documenting what exactly goes into each dish. Otherwise, I'd be a pretty lousy food blogger.  This one pot meal was composed in the spirit of my mother. No recipe. No reference. Just on a feeling. These beans lie somewhere in between chili beans and baked beans. Bathed in a thick liquor slightly sweet from maple sugar and single origin dark chocolate, quite smoky from bacon, pork stock, and California chile powder, and fiery from the habañero, I can safely say my French mother would have said "my tongue doesn't know which way to go in my mouth" which is exactly what she said when she ate anything hotter than a pepperoncini.
INGREDIENTS
12 oz red calypso beans or other good quality small dried beans
1 diced red onion
1 tbsp olive oil or pork fat
2 tbsp dried California chile
½ teaspoon habañero powder
1 tbsp maple sugar (or maple syrup)
1 tsp cumin seed
3 cups stock (I used home made pork stock)
1 lb thick cut bacon
1 oz dark chocolate (minimum 65%)
sea salt and pepper to taste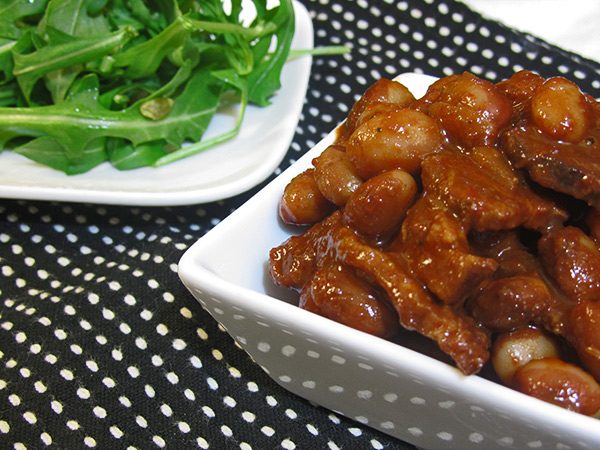 INSTRUCTIONS
Soak beans overnight- up to 24 hours in a large bowl filled with cold clean water.
Sauté the onion in the fat over medium heat in a large Dutch oven until it becomes transluscent and smells sweet. The edges may turn slightly golden, but not brown.
Add stock, California chile, cumin seed, and beans, turn heat to high and bring to a boil then immediately lower heat and bring back down to a simmer. Add maple sugar, chocolate, and half of habañero powder. Cover and leave at simmer for one and a half to two hours stirring occasionally and checking more frequently as the  doneness nears.
Line a baking sheet with foil. Make sure bacon is not too crowded on the baking sheet. Place cooking sheet in a cold oven and turn to 350º for roughly 20-25 minutes for perfectly cooked bacon. Place meat on paper towels to drain, and strain bacon fat and save in mason jars for later use.
Chop bacon into bite sized pieces.
Once beans are 20 minutes or so from being done, add final seasoning including the chopped bacon because, as my husband always says, "bacon is a spice".
Serve this one with a big green salad and homemade lemonade or a cararmel-scented Beligian-style ale. Try Allagash Curieux.