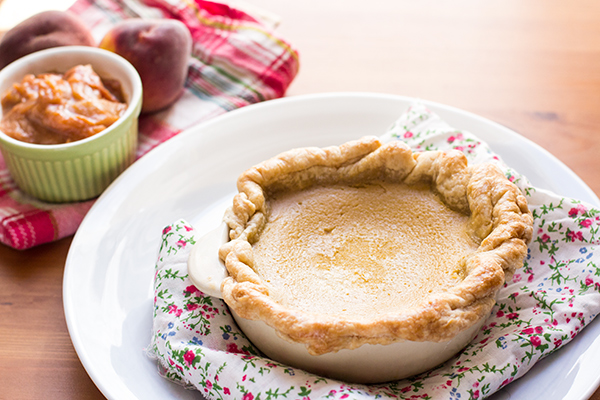 Gluten Free Buttermilk Pie with Bourbon Brown Butter Peaches
It's Pie Day!  Just about one year ago, I fell head over heels with the art and alchemy of mixing flour and fat and water and working it into flaky puffy magic. I fell in love with pastry dough in a very serious way.  So now, I make pie. I make hand pies. I make tarts, gallettes, and crostatas too. Sweet or savory, doesn't matter I love making pie. I also like to eat pie.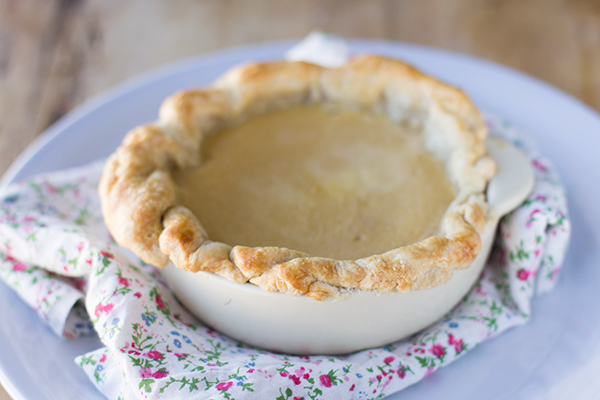 When I was trying to figure out what kind of gluten free pie to make for the Pie Party, I kept going back to the idea of incorporating buttermilk. I'm having a total crush on the buttermilk and cottage cheese from a brand called Kalona Super Natural, so naturally I want to put in or on everything I cook. Buttermilk? Buttermilk? Buttermilk in pie? I thought to myself. But then, I seemed to remember that there is such a thing as buttermilk pie. Yes yes gluten free buttermilk pie just had to happen!
As I began to research buttermilk pie, the traditional Southern recipes were a little terrifying to this relatively healthy California girl. Goodness knows, I'm not afraid of decadent desserts or a good chunk of butter in a recipe, but these pies called for up to 3 cups of sugar, a stick of butter, and only a cup of buttermilk. I wanted to taste the buttermilk not cover it up with sugar and butter. Then I found Heidi's buttermilk maple pie on 101 cookbooks. She treats it more like a traditional custard with the ratio being 2 cups buttermilk to 6 eggs with only 1 cup of sweetener. Perfect.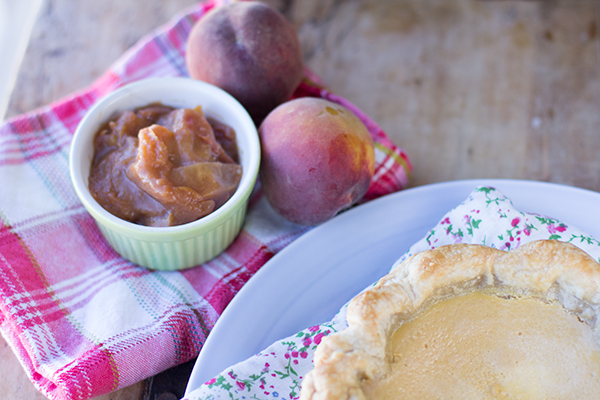 I only slightly modified Heidi's recipe, subbing brown and white sugar for maple syrup, modifying the amount of flour, omitting the lemon zest (see what I mean) and making it gluten free. I rarely post other peoples' recipes here, but buttermilk pie is everything I hoped it would be. The accompaniment to my pie is brown butter brown sugar bourbon peaches. Yes it's a mouthful- and you're going to want a mouthful… and then another. Let's make some pie.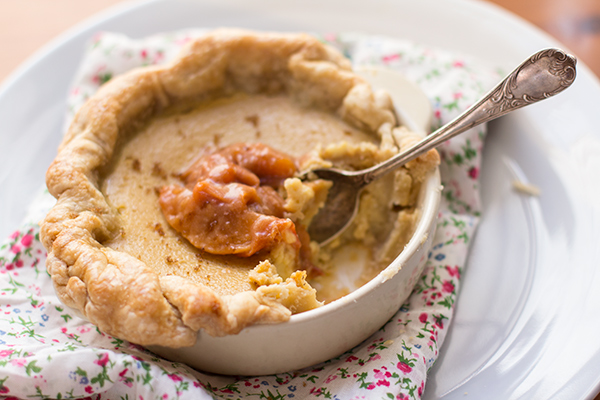 GLUTEN FREE BUTTERMILK PIE
Flaky gluten free all butter pie crust  get the recipe, and no fail method here.  You'll need to make 1.5 times the recipe outlined. For 4 small crocks, I used 18 oz flour, 2.5 tablespoons ground chia, 12 oz butter, 6 oz liquid
INGREDIENTS  BUTTERMILK FILLILNG
6 eggs
½ cup organic cane sugar
½ cup packed brown sugar
3 tablespoons gluten free flour
2 cups buttermilk
a pinch of sea salt
 INSTRUCTIONS BUTTERMILK PIE
If you're using little crocks like I did, be sure they're shallow. Deep ramekins will not work for this custard.
Remove your chilled dough from the fridge and give it a minute or so to ever so slightly warm up.
Roll the pie dough to 1/8" thickness. If using small crocks, cut the crust to appropriate size, with plenty of overhang.  If using a 9" pie pan, roll the dough out to about 12 inches.  Flute the crust- I like big thick crusted pies, so I use my thumb and forefinger to flute. You can used the tines of the fork if you like less crust.
 Place the rolled out crusts, in their baking vessel(s) back in the freezer for twenty minutes while the oven heats. Yup 20- at least- don't skip this step it will make all the difference between sad soggy pie crust and happy lovely pie crust.
 Preheat your oven to 375º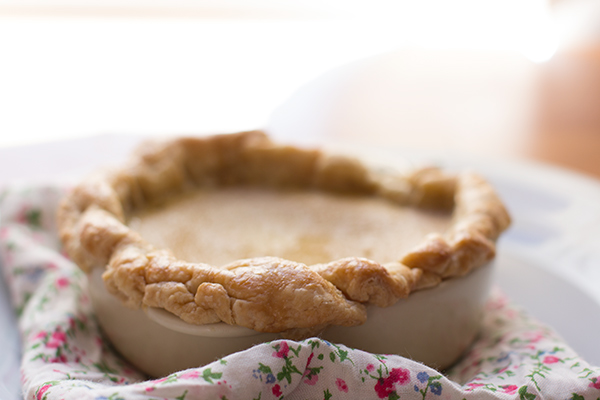 Blind bake the crusts by lining them with parchment paper and some weights. You can use beans or pennies or ceramic weights if you have them. This should take 20 minutes with the parchment paper inside. Then, open the oven, remove the parchment and the weights and bake for another 10 minutes to get the crust nice and crispy on the bottom.
Allow the crust(s) to cool completely before filling with the custard.
Mix your filling. Whisk eggs, sugars, and sifted flour until there are no lumps from the flour then whisk in the buttermilk and sea salt.  Simple, right? Cover it and wait.
Lower your oven to 325º   Fill pie crust(s) with buttermilk mixture and bake for 40-45 minutes for individual pies or 50-60 minutes for a large pie. Note, your custard can be just a smidge wobbly when you pull it out of the oven. I do love a bit of wobble in my custard, but I suppose that's a personal preference.
You'll need to wait for the pie(s) to cool if you care to slice it. Of course, you can eat it warm with a spoon if you like. I promise, I won't tell, but it's much better once it's set.
Serve with a big heaping yummy spoonful of bourbon brown butter peaches.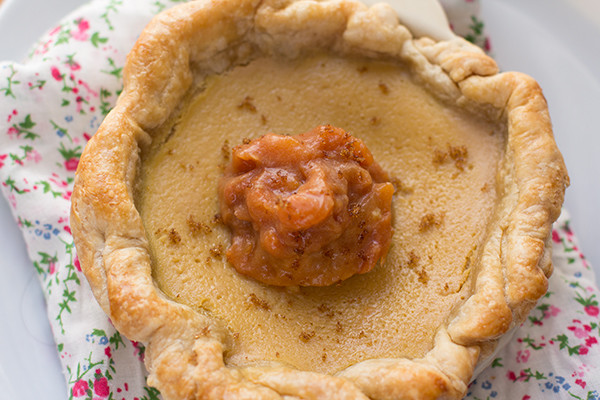 INGREDIENTS BOURBON BROWN BUTTER PEACHES
4 oz butter
1 ½ lbs peaches, choose a mix of white and yellow firm and super ripe. Sliced thinly.
2 oz bourbon
½ cup dark brown sugar
pinch of sea salt
INSTRUCTIONS BOURBON BROWN BUTTER PEACHES
Let's make some bourbon brown butter peaches. Slice the butter- into tablespoonish sized bits. Put a medium sized sauced pan over medium heat. Add the butter and swirl around the pan. Watch the progression of colors. It will turn from melted golden yellow, to light amber, to a dark amber, to light nut brown and the color will smell nutty. That's what we're looking for.
Immediately pour the sliced peaches into the sauces pan and toss to coat with the butter. Then you get to melt at how good it smells. Add the brown sugar, bourbon, and sea salt (tiny pinch), and cook over medium stirring gently. It will should bubble a bit- but watch that it doesn't burn. We're looking for a nice thick sauce with lots of big thick peachy slices.