What's better than a smashed potato? Well, how about a smashed potato slathered in homemade buffalo sauce, kissed with ranch, and topped with blue cheese? The level of deliciousness is off the charts with this recipe. Eat it up, yum! Jump Straight to the Recipe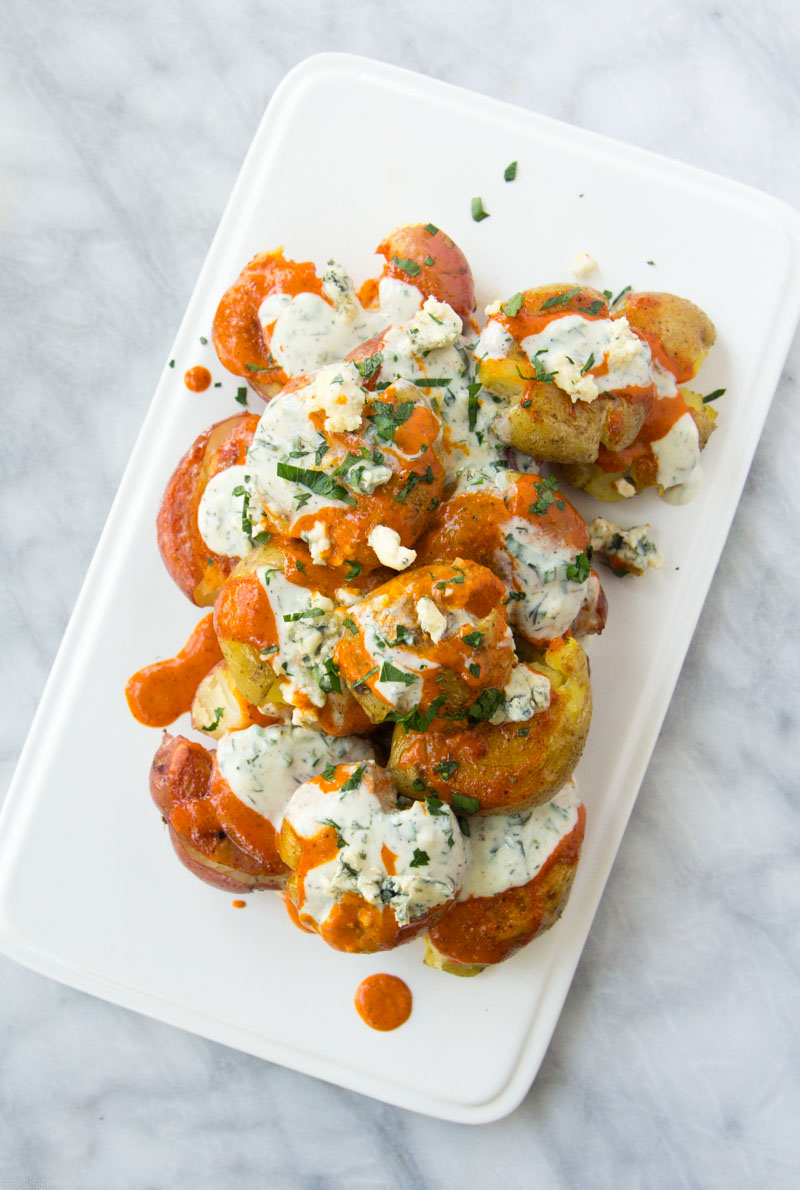 I'm gonna let you in on a little secret. Ready? Here it is…
I love potatoes.
Alright, that's not really a secret. Everyone loves potatoes (except my niece, Ruby, but we'll fix her).
Okay, here's my real secret.
I love anything drenched in Buffalo sauce.
Yep, spicy, vinegary, buttery, delicious Buffalo sauce. Add some ranch, blue cheese crumbles, and celery, and we're in business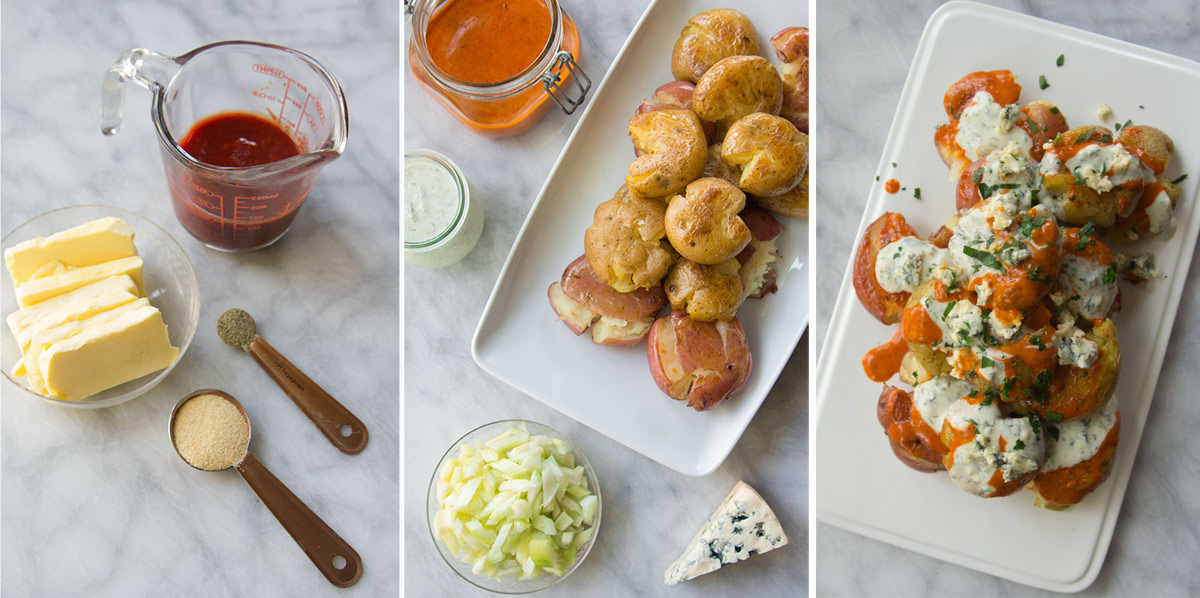 These buffalo smashed potatoes are insanely tasty. Gorgeous roasted smashed potatoes are dripping with homemade buffalo sauce, drizzled with ranch, and topped with blue cheese.
Buffalo smashed potatoes make a fun Meatless Monday meal when served with a big salad, or a great side on burger night. You could even make them to go with my buffalo chicken thighs and have an all buffalo dinner to spice up a dreary weekday!
I've paired up with Side Delights® Steamables™  to talk about delicious potato side dishes. The first thing they asked me was "Do you mash it or smash it?" That's a tough question, but I decided to go with Smash It.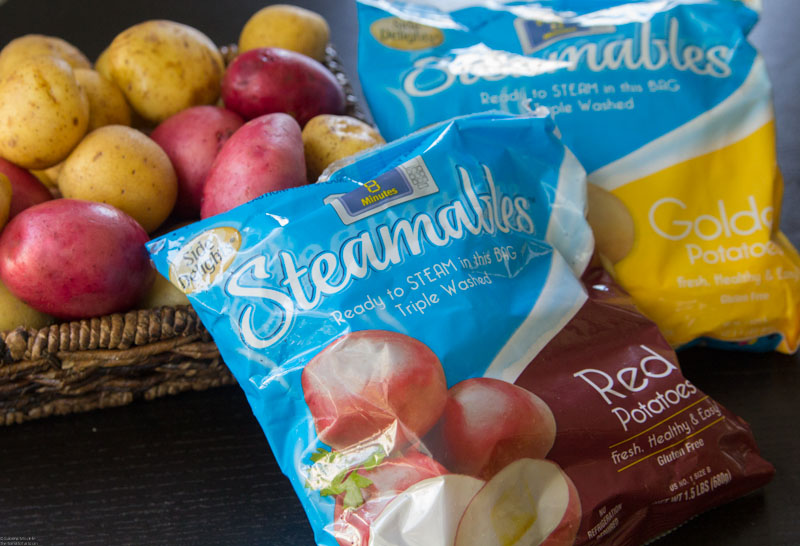 Have you heard of Steamables? They are little potatoes that you can steam right in the bag, in a stovetop steamer basket, or even your trusty Instant Pot. I've tried all three ways, and they're all equally tasty.
Cleaning potatoes is one of the few kitchen tasks I hate. I think my hatred can be traced back to my first time making roasted potatoes and ending up with grit in my teeth. I cringe every time I think about getting a mouthful of dirt in my spuds. Steamables are triple washed. No grit, no dirt, no washing.
While you're steaming your potatoes, you whip up your homemade buffalo sauce (and homemade ranch dressing if you're feeling industrious). After steaming, smash those spuds and throw them in the oven for a bit. They come together easily with only about 10 minutes hands-on time- which makes them perfect for an exciting weeknight side.

So what about you? Do you #MashItOrSmashIt?  Inquiring minds want to know.
This post is sponsored by Side Delights Steamables.  Though I have received monetary compensation and products from the company, my opinions are entirely my own. I only work with brands I love and I feel will be useful for my readers. Thank you for supporting the brands that make The Tomato Tart possible.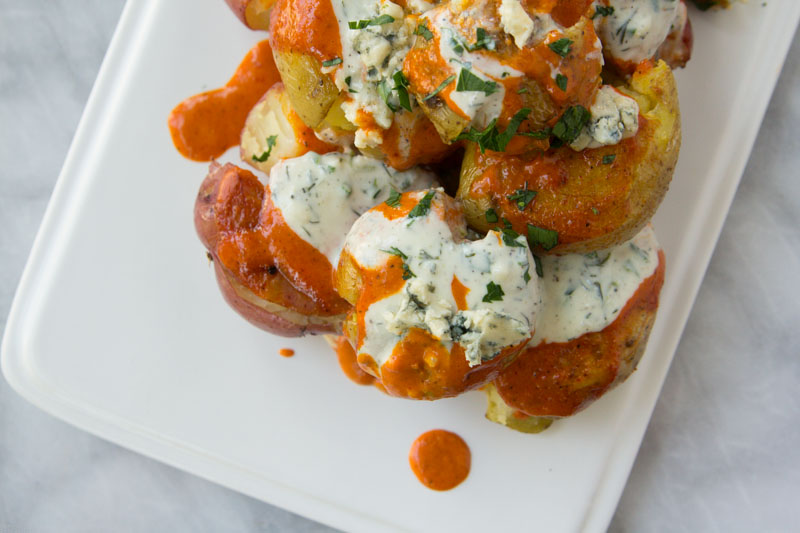 This makes a double batch of buffalo smashed potatoes which will feed a hungry crowd of four adults as a main dish. Feel free to halve this recipe or even double it for parties or game day gatherings. The sauce will keep in the fridge for at least two weeks in an airtight container. You can also steam the potatoes a day or two in advance. Just steam, then refrigerate right away. When you're ready to roast them, just pull them straight from the fridge. You may need a couple of extra minutes in the oven.

Rating 5.0 from 3 reviews
Prep time:
Cook time:
Total time: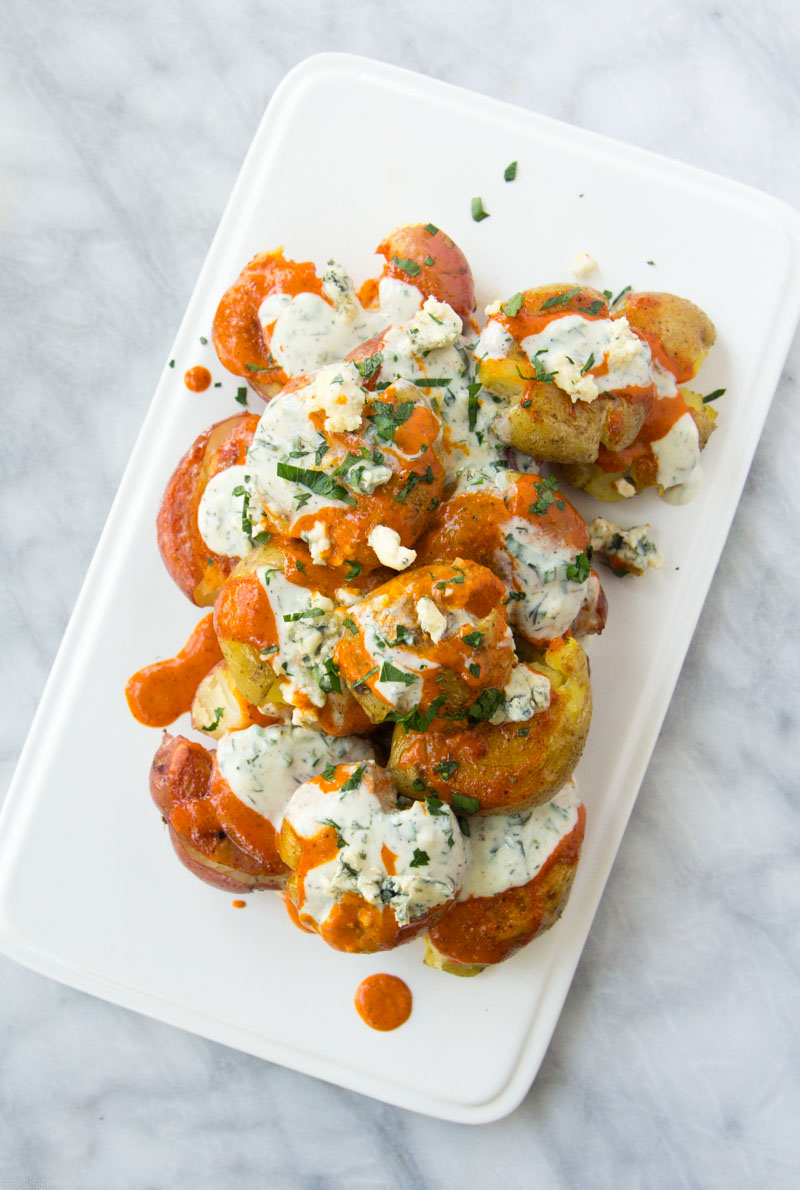 These Buffalo smashed potatoes are an awesome way to spice up your sides. Say no to dull weeknight spuds and say yes to fun & creative meals.
Ingredients
Smashed Potatoes
2 packages of Side Delights® Steamables™ Potatoes
½ tablespoon olive oil
½ cup Buffalo sauce- recipe follows
3 tablespoons ranch dressing
2 oz crumbled blue cheese (optional)
parsley, chopped (optional)
diced celery (optional)

Buffalo Sauce
½ Cup butter
½ cup hot pepper sauce
1 tablespoon granulated garlic
1 teaspoon ground black pepper
Instructions
Preheat oven to 450º and line a baking sheet with parchment or foil.
Steam Potatoes in a microwave, pressure cooker, or on the stove top. Cool steamed potatoes for about five minutes and then use the palm of your hand or a mason jar to gently press down on them to create the "smashed" potato. Drizzle with olive oil and bake for 30 minutes. Flipping once in the last 10 minutes.

Make Buffalo sauce: In a saucepan on medium heat, cook butter, pepper sauce, garlic and pepper until butter melts and it begins to simmer. Use an immersion blender or regular blender to emulsify. This step keeps the sauce completely smooth and helps prevent separation.

To serve, pour Buffalo sauce over smashed potatoes, drizzle with ranch, and top with blue cheese, parsley, and celery if you like.
Ricotta and Herb Mashed Potatoes from Lisa Huff – Snappy Gourmet
Smashed Potatoes with Dill & Sour Cream from Carrie Vibert – Poet in the Pantry
Chipotle and Garlic Mashed Potatoes from Toni Dash – Boulder Locavore
Curried Smashed Potatoes from Anita Schecter- Hungry Couple NYC
Gouda Smashed Potatoes from Julia Joliff – A Cedar Spoon
Loaded Smashed Potatoes from Jordan Hamons – The Hungry Traveler