In case you were wondering, Hanukkah begins on the 24th, at sundown this year. (I had to Google it). While I am half Jewish (technically the wrong half), my mother was raised Catholic, but was a practicing Za Zen Buddhist when I was born. To make things all the more confusing, I went to Catholic school, but never had to go to church. I was raised to be very proud of my Jewish heritage on both sides. Yep, both.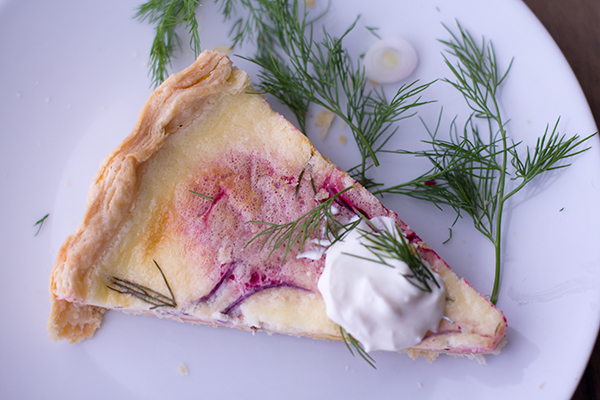 So, while we celebrated Christmas, we also celebrated Jewishness. Not Jewish holidays, or customs really. I was happy to be a Jewish girl at Catholic school. Proud that my great grand uncle was Alfred Dreyfus, the Frenchman falsely accused of treason and the subject of one of France's great political scandal's known as The Dreyfus Affair.  Aunts and uncles spoke in hushed tones of how I didn't get The Jewish Nose. This made me sad, but appeared to make them happy.
Our Jewishness revolved mostly around food, Yiddish words, and the odd piece of jewelry- a Star of David here, a Mezuzah there. But if I'm honest, it was mostly about the food. Saturdays were deli days. My dad, my brother, and I would go to Mo Greenburg's Jewish Delicatessen and get knishes, pickles, corned beef or pastrami sandwiches, latkes & pickled Beets. This was as close as I ever got to a temple until I entered high school. This was all I knew of Jewish holidays until my grandmother came to live with us when I was 14.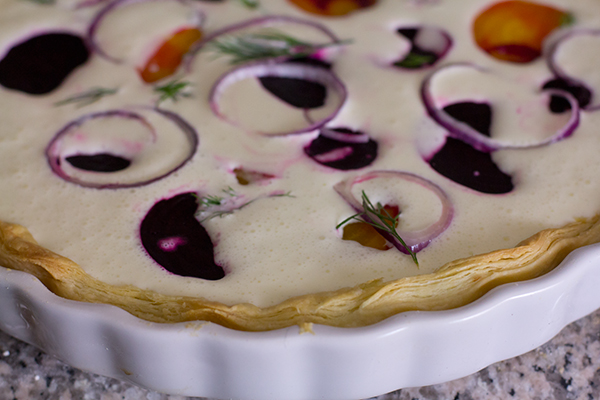 A funny thing about the beets, whether or Saturdays at the deli, or Sundays with my French family in Napa, there were always beets. This tart is the ultimate fusion of my heritage. It's like a French Jewish Deli quiche of sorts.  It's got a cream cheese and egg base, boiled beets- (when I know damned well that roasting is the chic way to eat them), caraway and dill,  and everything is tucked into the flakiest all butter crust (no lard in this deli tart).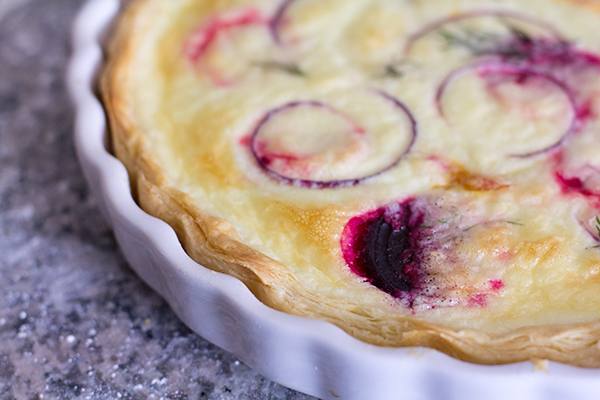 I love this dish because it tastes like memories of my father on a Saturday afternoon. It tastes like laughter and warmth. I brought a slice to my husband, warm from the oven.  Though he never knew my father, he loved it too, and I smiled as he asked for more.
INGREDIENTS BEET TART

½ recipe flaky all butter gluten free pastry crust
½ tablespoon caraway seeds
½ teaspoon coarse sea salt
3 eggs
6 oz cream cheese (I use deli cream cheese- Sierra Nevada & Gina Marie are two great brands without fillers)
1/2 cup heavy cream
3 small boiled beets, ¼ inch slices
6-10 very thin slices of red onion
fresh dill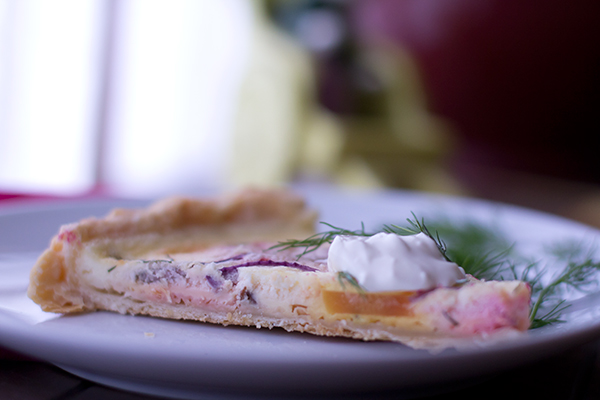 INSTRUCTIONS BEET TART

Preheat oven to 425º
Roll pie dough to fit a 9" tart pan, and trim dough to fit flush with the tart pan by rolling your rolling pin over the top of the tart pan. Freeze for 20 minutes.
Line with parchment paper, and fill to the very top with pie weights, dry beans or uncooked rice. Bake for 12 minutes, then remove the parchment paper and bake for another 10-12 minutes until golden brown.
Turn oven down to 375º
crush caraway seeds and sea salt with a mortar and pestle
add caraway seeds, salt, eggs, cream cheese, and cream to the bowl of a food processor and combine until smooth.
Once tart shell has cooled for 10 minutes or so, slowly, pour egg & cream cheese mixture in. Add beets, then red onion, and finally a few sprigs fresh dill
Bake for 25 minutes or until eggs are just set- you can sprinkle with fresh dill and a bit of black pepper to serve.
Happy Hanukkah/Chanukah/Hanukah/Chrismanukah
Check out these beet recipes
Warm Beet Salad with Citrus Vinaigrette
Beet Salad with Summer Fruit and Feta
Roasted Golden Beet and Blue Cheese Salad (from me)
Honey Roasted Chioggas with Goat Cheese and Crispy Shallots from Taming the Tart (hey, I can't be tamed!!)