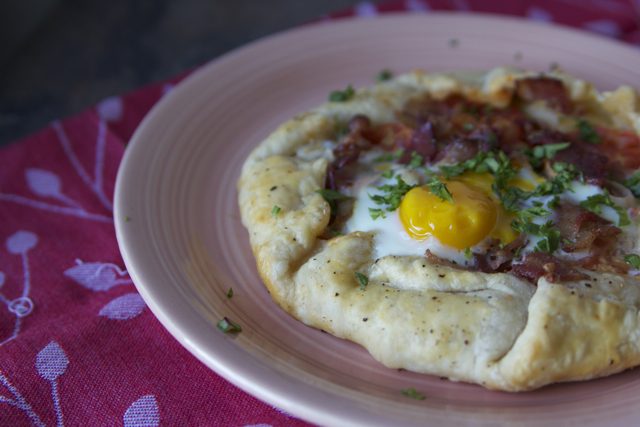 Tomato Tart With Bacon and Egg
Vive la France! Vive la Tomat Tart!. It's an exciting day for two reasons. It's my 101st post. It's also Bastille Day, and while I'm sure the French side of my family would very much approve of my newfound pastry making skills, I am not sure how well my latest interpretation of a tomato tart would be received. You see, in France, a tomato tart is just that, a tart with tomatoes perhaps a bit of cheese and some herbs not much beyond that.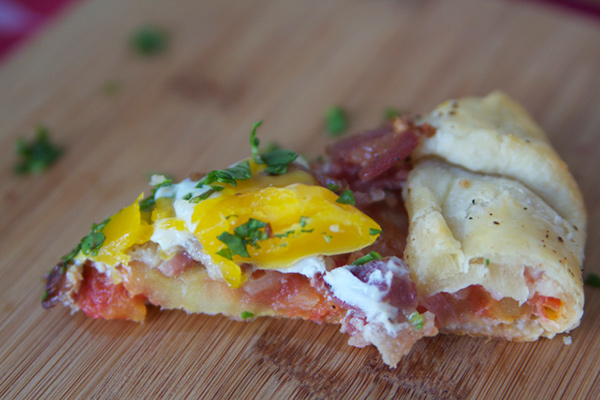 It should be quite obvious that I adore tomato tarts considering the name of this blog (it's The Tomato Tart in case you were wondering). Why I don't even correct people anymore when they say, "Oh, hey, you're The Tomato Tart". If you ask my, the perfect tomato tart begins with oven roasted tomatoes, which you sprinkle with just a little bit of sea salt. The oven roasting does two things, it brings out the sweetness of the tart releases some of the tomato's natural moisture- lessening the chances of a soggy bottom (ew).
My tomato tart took a rather revolutionary turn for the All-American one June day, when I looked at my husband, out of the blue and said "BLT tarts!" and then I whispered oh so gently "with a farm egg on top". I knew I was making some serious sexy talk right there, and he practically threw me out of the living room and down the hall to the kitchen.
So, has this replaced a traditional tomato tart? No. Are my French ancestors rolling in their graves? Perhaps, the stodgier ones are. My French mother would have loved this, but then BLTs were her favorite sandwich. I'm not sure what my grandmother would have thought, but I suspect she would have adored it. Of course, she would have. I made it, and so in her eyes, it would be perfect.
Vive la France! Viva la revolution de Tarte à la tomate.
Makes four tarts
INGREDIENTS TOMATO TART WITH BACON AND EGG
1 recipe flaky pastry dough
4 ripe but still firm heirloom tomatoes- try choosing some of different colors and flavors.
8 slices very good quality thick cut bacon
a few thin very thin slices of red onion (optional)
mixed salad greens chopped very finely- try arugula, mizuna, cress, and lettuces with a lot of flavor
1.5 tsp dried mustard
1.5 tsp maple sugar or brown sugar (muscavado is best)
1 tsp black pepper
4 very nice farm eggs at room temp
1/4 cup of uncooked oats
sea salt
1 egg for egg wash + a bit of water
INSTRUCTIONS
Slice tomatoes into thick slices and sprinkle on both sides with sea salt, place on paper towels- flip once after 10 minutes.
Line a cookie sheet with parchment paper then place a rack on top of that.
Lay the bacon out so that it is not touching, and sprinkle evenly with mustard, sugar, and pepper, then pat it into the bacon.
Place pan in a cold oven then turn heat to 350º and cook for about 20 minutes or until just under done- about 20 minutes.
Turn oven up to 400º
Blot on paper towels, and allow to cool before cutting into bite-sized pieces. It is, now, okay to steal a piece.
Blot tomatoes to remove excess moisture. Roast tomatoes on the same cookie sheet set up with the rack for 10 minutes. They should be roasted, but not mushy. Allow to cool, and lower oven temp back to 350º. Line a clean cool cookie sheet with parchment paper.
Split each disc of chilled pie crust into 2 pieces and form those into rounds. Roll out until about 8 inches round. Sprinkle with some oats an brush with an light egg wash and bit of black pepper. (for complete crust making and rolling instructions go here)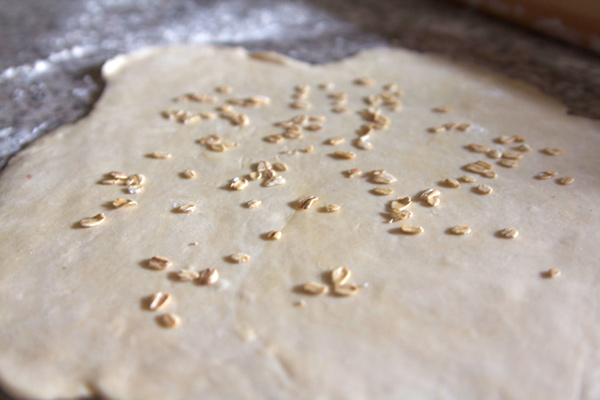 Layer tomatoes slightly overlapping, then onions, and top with bacon, leaving about two inches of dough overlapping. Place on the fresh lined cookie sheet and place in the freezer. Repeat the process with the rest of the dough.
When all of the tarts are made, chill for at least 10 minutes, and then brush the crusts with egg wash and sprinkle with black pepper.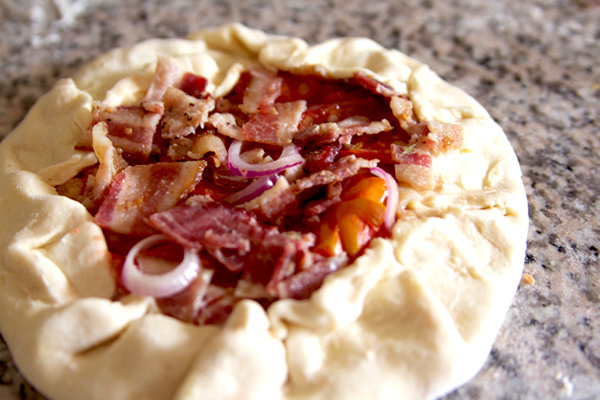 Bake for 20 minutes at 350º. While tarts are baking, crack your room temperature* eggs into separate ramekins or bowls.
Pull the tarts out of the oven and slide one cracked egg onto the top of each tart. Increase the temp to 400º and cook the tarts for another 7-10 minutes. My eggs were small so they got a bit overcooked for me by about 10 minutes. If you like your eggs more done, you can hit them with the broiler, but, I highly recommend trying one with a nice runny yolk.
sprinkle with chopped lettuces and eat it up!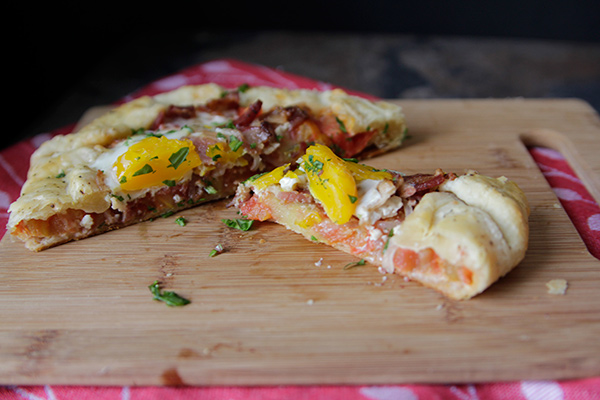 *If you ever forget to bring your eggs to room temp, here's a trick, place a cold egg in hot water for about 2 minutes et voila. Room temperature egg.