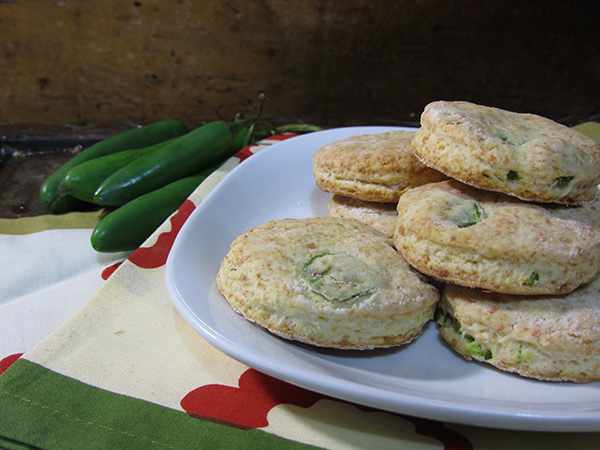 The other night we ate dinner at the St. Francis Fountain. I ordered The Poor Man. It's a steaming hot bowl of chicken and cilantro soup with a lovely biscuit plopped right down in the middle of it. It is, simply stated, perfection.Of course, I've been craving biscuits ever since.
Since I still had lots of chilies left  over from my Thanksgiving meal and a whole bunch of cotija cheese, I thought I'd whip up a batch of fluffy yummy bicuits with a little Mexican kick to them. They're not particularly spicy, but the green chilies look beautiful and the cotija gives just a little tang. The raw sugar also ads a beautiful layer of crunch and sweetness.   This became one of those embarrassing nights where we ate bread for dinner.
Ooops!
PS: Oh you can make these veggie by going half shortening– non hydrogenated of course- or all butter.
INGREDIENTS
2 cups of flour sifted then measured
2 tbsp baking powder
1 seranno chili sliced
4 tbsp cotija cheese
1 tbsp raw sugar
scant ¼ tsp sea salt
½ tbsp fresh cracked black pepper
2 tbsp butter
2 tbsp good quality lard
¾ cup skim milk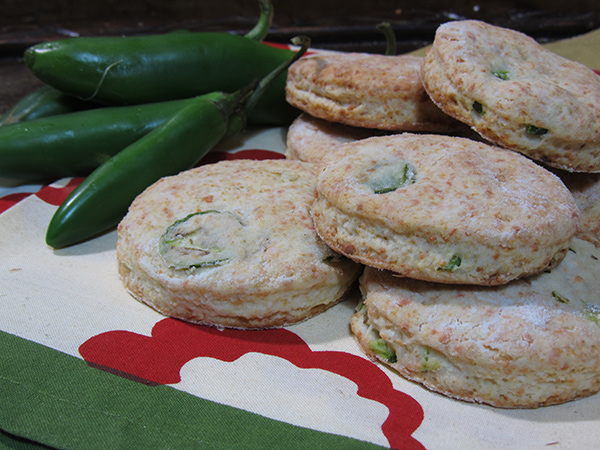 INSTRUCTIONS
Preheat oven to 400º
Line a cookie sheet with parchment paper
Sift two cups of flour then measure
Add baking powder and salt & pepper then sift again
Add cotija cheese, sugar, and sliced serranos
Cut in butter and lard until mixture resembles coarse corn meal (I do this with my hands for bicuits)
Using a fork to stir the mixture, slowly add in milk until dough holds together
Roll out dough to ½ thickness and using ring mold or biscuit cutter, cut into rounds and bake for 10-12 minutes
Serve warm with butter