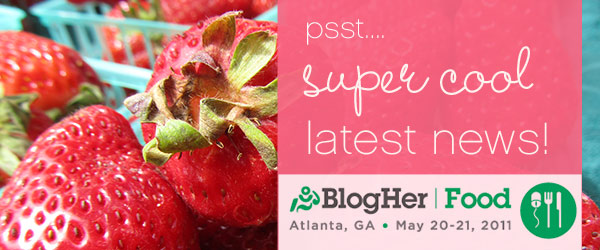 The last five weeks have been very full for me, to say the least. If you keep up with this blog, even a little, you'll know that I hosted The Online Bake Sale for Japan which raised over $8,000 for Second Harvest Japan. You may also know that I had a pretty serious kitchen accident on the 20th of March from which I'm still recovering (hence the lack of recipes posted, Now, I am really excited to officially announce a bit of really exciting news. Ready?
Irvin Lin, of Eat the Love, and I will be leading a panel at Blog Her Food in Atlanta on branding and design for food bloggers. The panel will focus on how to think like a designer, branding expert, and if I have my way, we'll throw a little web usability in there too. We'll walk through some of the same branding exercises we've used on clients from small nonprofits to Fortune 100 companies. We'll even cover the basics like- how to choose a color palette for your blog.
Irvin and I met in November at FoodBuzz Fest and we had instant chemistry, we chatted food and design that first day, but it wasn't until I attended one of his monthly DIY Desserts parties that he had the idea that we should host a panel together. It turns out that our skill sets fit so beautifully together it's almost like it was meant to be.
Irvin is a branding genius; I am a web design expert but we each happily do both
Irvin leans towards baking; I lean towards cooking and we each love both
Irvin is a boy and I am a girl- there's nothing about both here
We each have more than 15 years experience in the design world
Oh, and we both have a tendency to have a teensy bit of fun
We're also very open to your suggestions.  So please, leave comments on my blog or on Irvin's or on my Facebook page and tell us about your design and branding questions. Are you a new food blogger? Is your blog years old and the thought of redesigning just seems like a ginormous hurdle? We want to hear your thoughts.
We would love to see you at BlogHerFood in Atlanta, GA May 20-21.
Follow Irvin and me on Twitter for lots of updates on our panel, Atlanta plans, general yumminess, and deliciously fun chatter.