Coffee Macadamia Baked Brie
This unique spin on baked brie is inspired by the flavors of Hawaii. Ooey gooey warm brie is topped topped with dark coffee syrup, macadamia nuts, and fresh strawberries. Every bite is a study in balanced, contrasting flavors. The best part is that my Hawaiian Baked Brie is beyond easy and on the table in 15 minutes! Jump Straight to The Recipe
August 28th, 1999, I met a really cute boy at a bar. Little did I know, that six years later—to the day, we'd be married on the island of Maui. I'll never forget the look on Joshua's face during the ceremony. He was so serious that my heart exploded into a thousand tiny pieces. At the end, Pastor Lucky blew the conch and it was time to party. The ukulele player sang tiny bubbles as we toasted with our pineapple champagne and chatted with our guests as we munched on a beautiful macadamia-topped baked brie.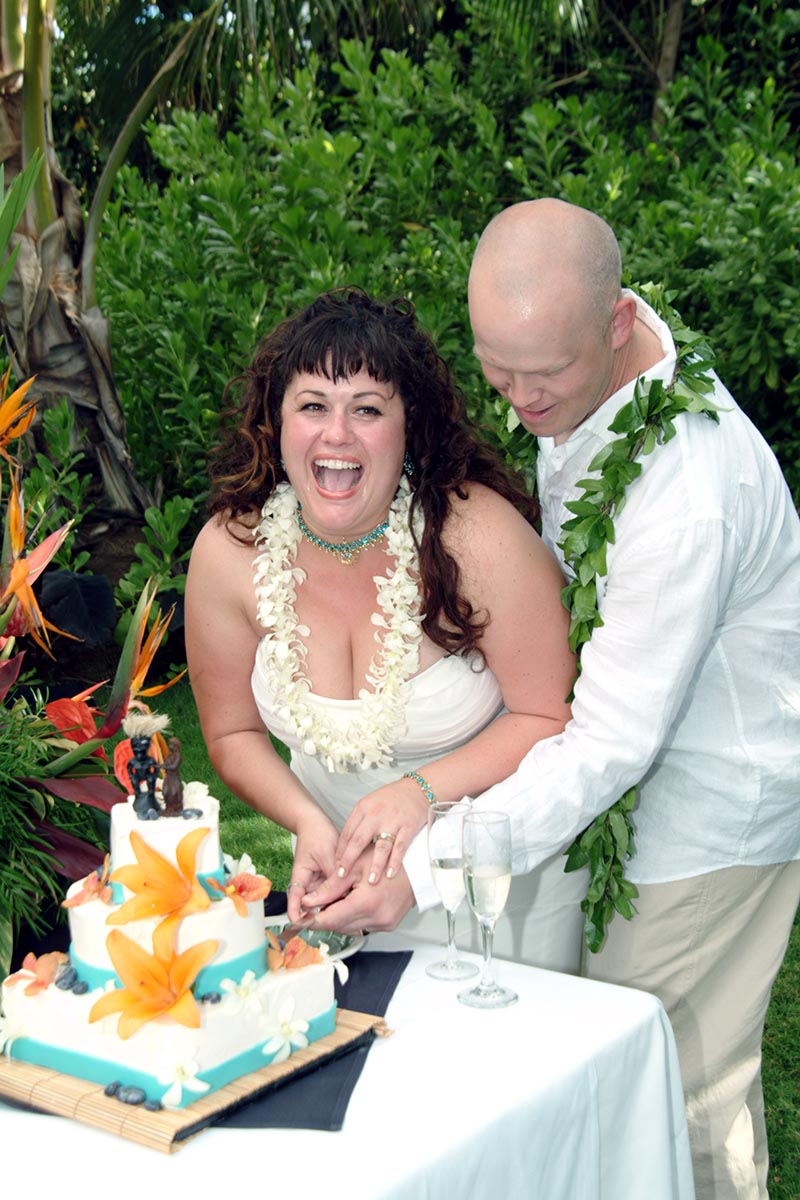 When the good people of San Francisco Bay Gourmet Coffee asked me to create a recipe that celebrated coffee and Hawaii, I toyed with a lot of ideas even going so far as to develop and shoot one of the other dishes. But my first idea, the idea of a coffee and macadamia baked brie, just wouldn't leave me alone. So, I came back to it, and I am I so glad I did.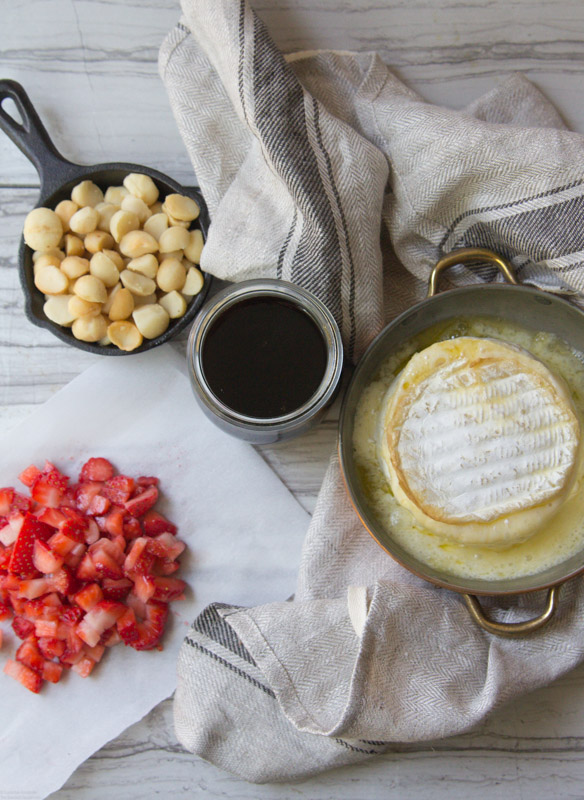 This coffee macadamia baked brie is inspired by my Hawaiian wedding in 2005. Brie, coffee, macadamias, and strawberries may seem an unlikely combination, but I assure you, it is extraordinary. A rich, dark, coffee syrup plays with sweetness, acidity, and roastiness. The macadamias give fantastic crunch, and the strawberries act as a bright element to balance the richness of the brie.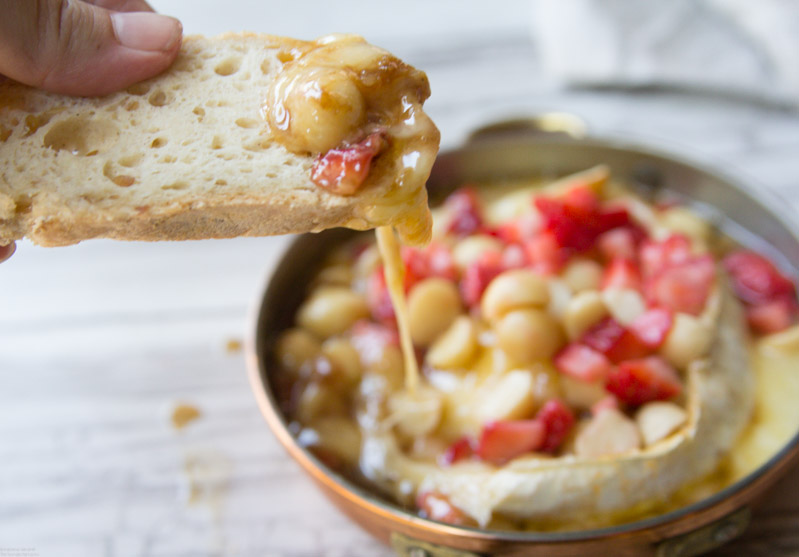 You won't find an easier or more elegant appetizer. You can have it on the table in 15 minutes from start to finish. I am really excited for you to try it!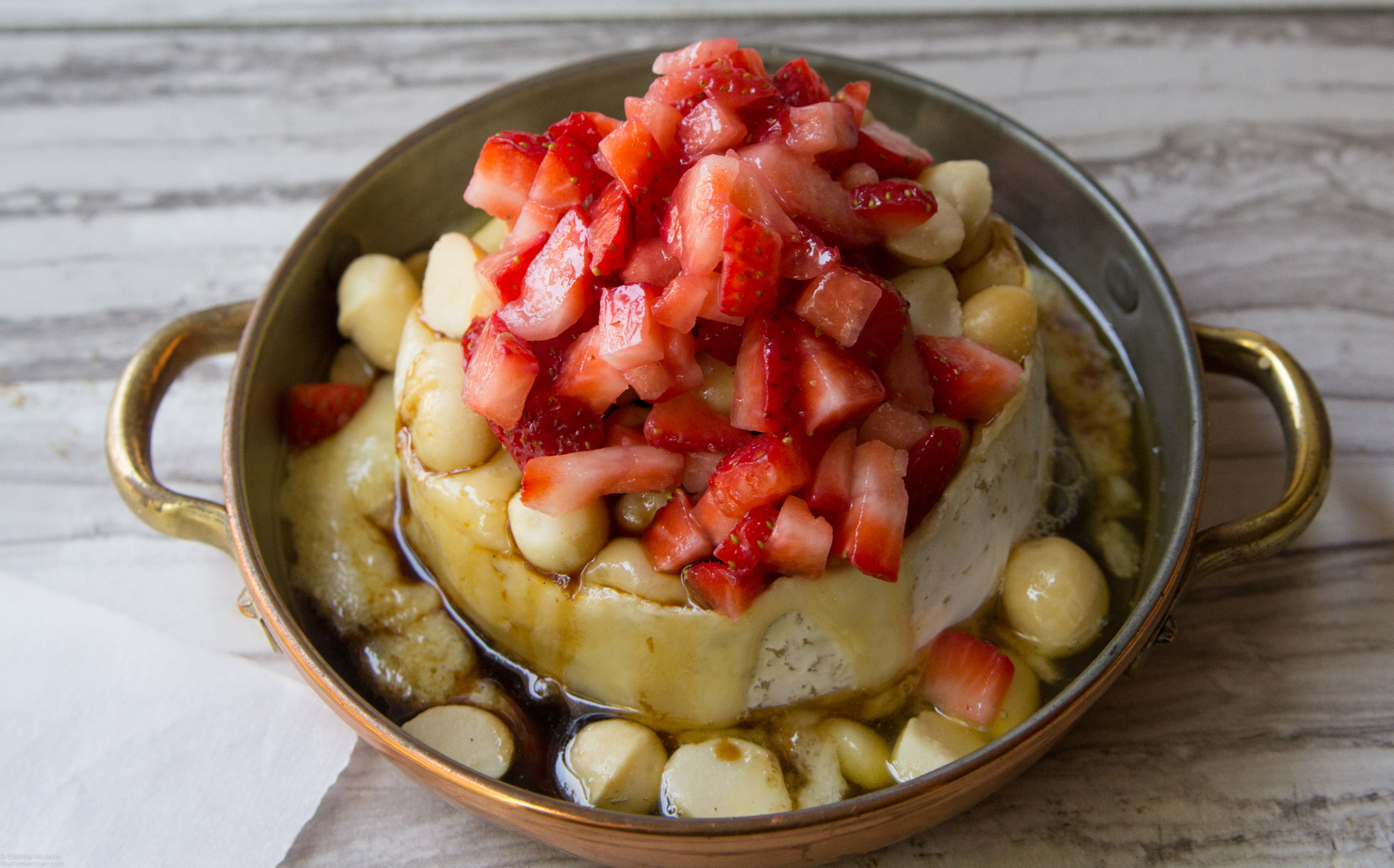 I am also excited to be working with San Francisco Bay Gourmet Coffee– in part because I love their coffee, but also because I believe in what this family company stands for. Three generations of the Rogers family are now working together to create delicious coffee and a culture of social good. Since the 1980s, San Francisco Bay Gourmet Coffee has donated money to build homes and schools to help improve the lives of coffee growers and pickers. From their first donation of $20,000 to $1.7 million in 2015, San Francisco Bay Gourmet Coffee walks the talk.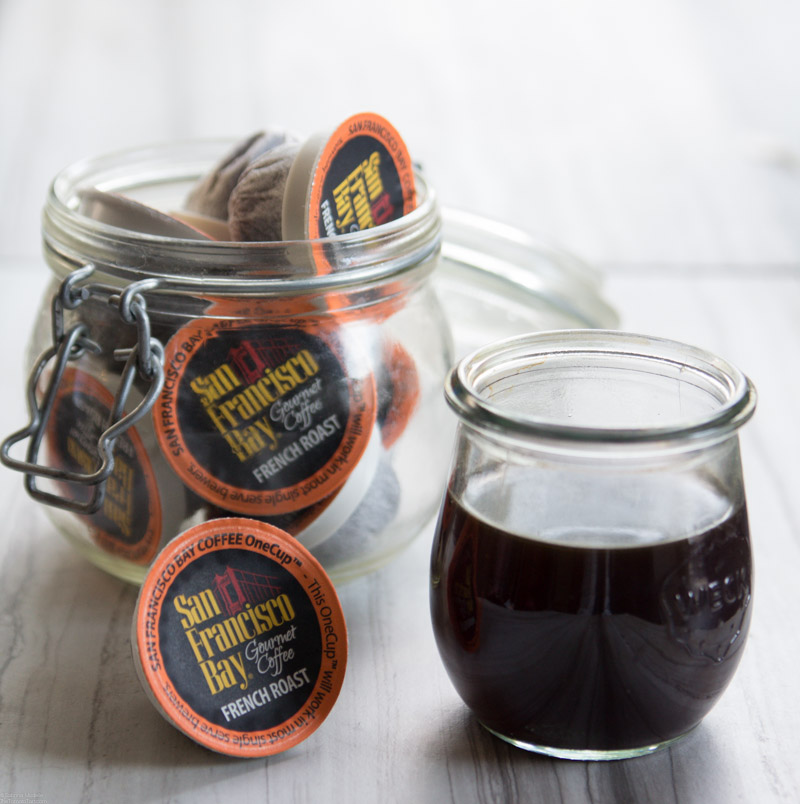 August is National Coffee Month, and to celebrate, San Francisco Bay Gourmet Coffee is giving away a trip to Kona, Hawaii. The winner will even get to visit their coffee farm and their gorgeous coffee bar in Kona! You have to hurry though- entries close at midnight. I would love to see a reader from The Tomato Tart win a trip to Hawaii. I won't even make you take me as your plus one.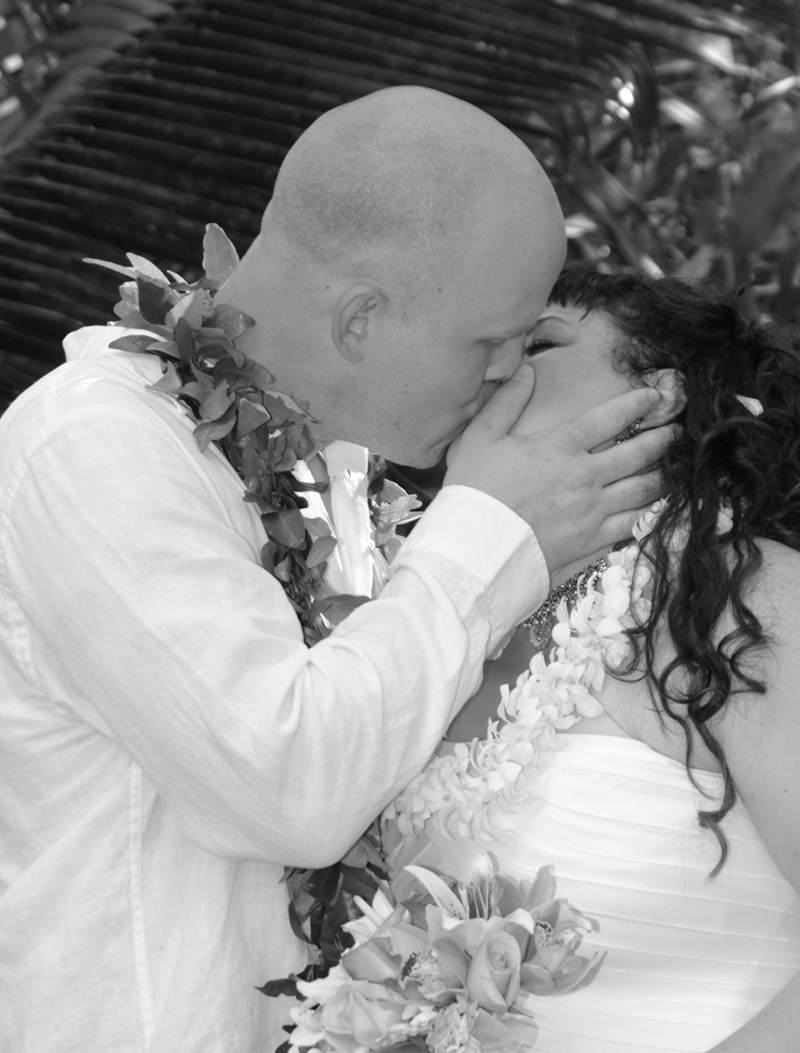 This post is sponsored by San Francisco Bay Gourmet Coffee. Though I have received monetary compensation and products from the company, my opinions are entirely my own. I only work with brands I love and I feel will be useful for my readers. Thank you for supporting the brands that make The Tomato Tart possible.
Rating 5.0 from 1 reviews
Prep time:
Cook time:
Total time: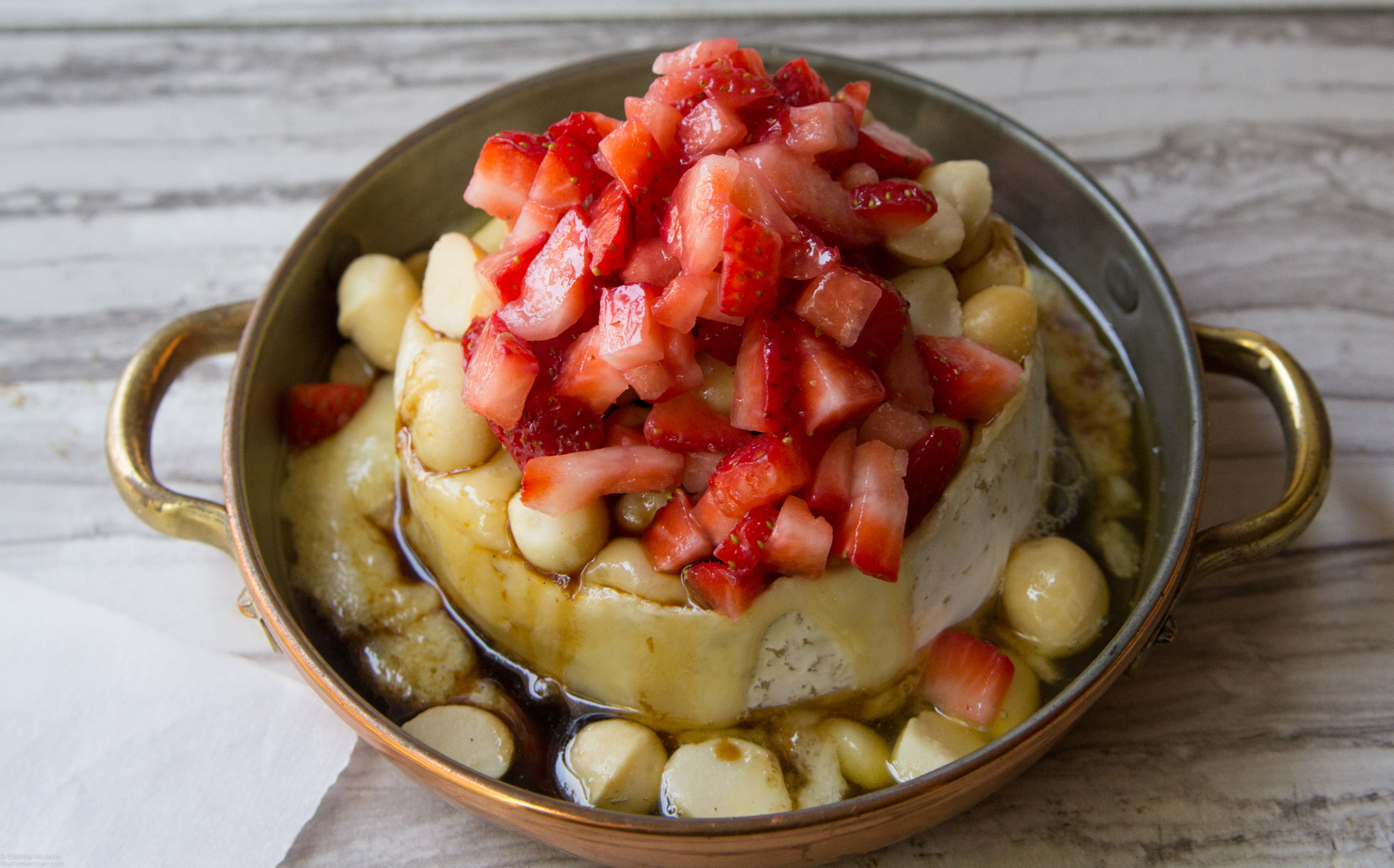 This simple appetizer has only a few ingredients, but it's sure to wow anyone who tastes it! Because there are so few ingredients, each one matters. Choose a mild triple cream brie that is still firm and not too ripe or stinky-- I used Cowgirl Creamery's Mt. Tam. For the coffee syrup, I used the San Francisco Bay Gourmet Coffee French Roast and coconut sugar to keep it refined-sugar free. If you like, you can use an equal amount of dark brown sugar (not packed!) to replace the coconut sugar. My macadamias were roasted and lightly salted, but you could use unsalted if you prefer.
Ingredients
1 wheel of mild brie
4 oz strongly brewed coffee
1 cup coconut sugar
⅛ teaspoon salt
pinch of black pepper
⅓ cup macadamia nuts
⅓ cup chopped fresh strawberries
Instructions
Preheat your oven to 350º
Slice the top rind off your brie—removing as little as possible. Put the top back on and place in a small oven-safe baking dish that is pretty enough to serve in. Bake for 7 minutes.
While cheese is in the oven, put coffee, coconut sugar, salt and pepper in a heavy bottom sauce pan and bring to a rolling boil over high heat. Boil for one minute, then turn heat to medium and continue to reduce the syrup.
Remove cheese from oven and remove the top rind. Drizzle 1-2 tablespoons of syrup over the brie, top with macadamias and another drizzle of syrup, then add diced strawberries and another drizzle of syrup. Return to oven for 5 more minutes and serve immediately.