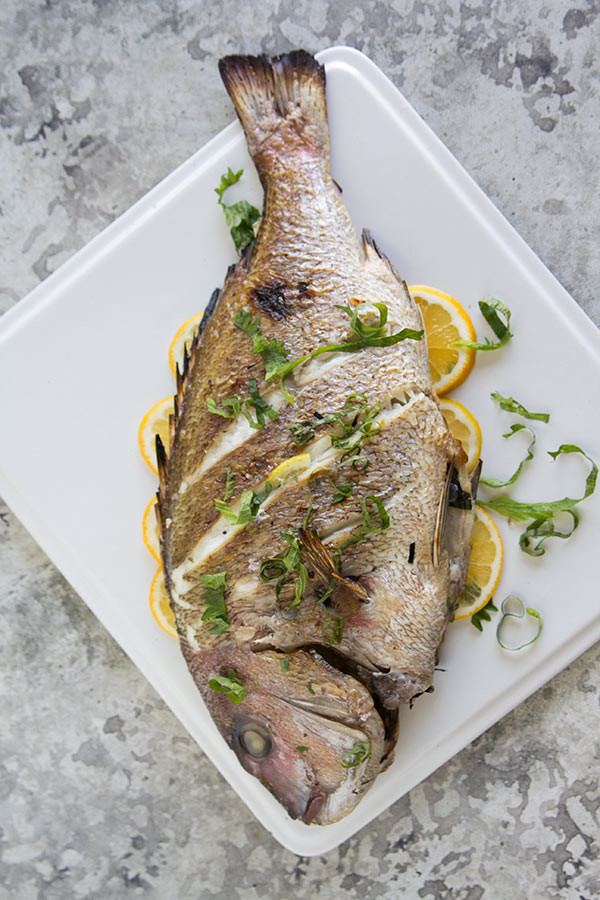 This whole roasted snapper recipe is simple and so healthy. Crisp skin and a succulent interior, fragrant with lemon and shiso, make this rustic fish recipe something truly special. This gluten free, dairy free, paleo recipe is also low carb! Jump straight to the recipe
When I first met my husband, I had been a vegetarian for nearly half of my life. Shortly after we moved in together, that changed. I started eating meat as though I was making up for lost time.
I devoured chili, and burgers, and pizza. I tried real chorizo for the first time after eating soyrizo for a decade. I ate Japanese food- especially sushi, sushi, and more sushi!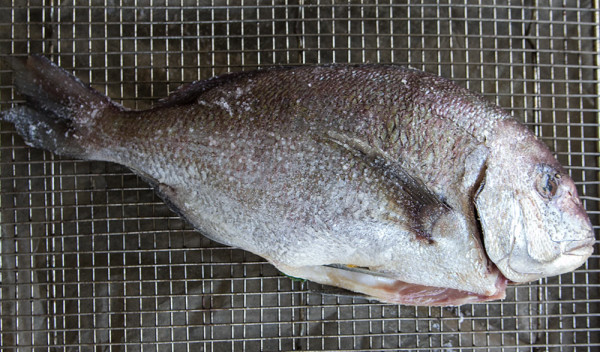 I definitely had some quirks in my early days of eating meat and fish. The number one rule was that meat, could not, in any case, look as though it had once been alive. Yeah, I know, it's a little crazy. Bacon was okay, but a roast chicken was out of the question. Hamburgers yes, whole fish no.
The first time I cooked a whole fish for Joshua it was a Thai red snapper. I stuffed it with chilies and onions and lime and kaffir lime leaves. It smelled so good and some of my favorite flavors were represented, but I got squeamish at the last moment and couldn't even eat it. The worst part is that I knew what I was missing with that delicious whole red snapper.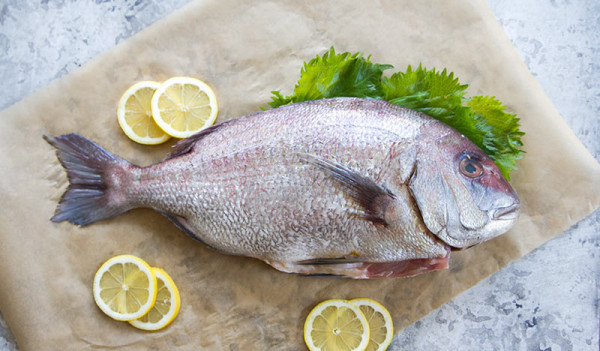 That squeamish phase lasted longer than I'd like to admit, but eventually I started to learn about humanely raised meat and sustainable fish. I began to respect the meat and recognize how precious it was. I learned how not to waste anything.
One whole fish might go through three incarnations in our house. A fish dinner one night, fish cakes the next, and a batch of fish stock which becomes the base for a fish soup or stew. A whole fish makes for a gorgeous, rustic presentation, and is very simple to prepare.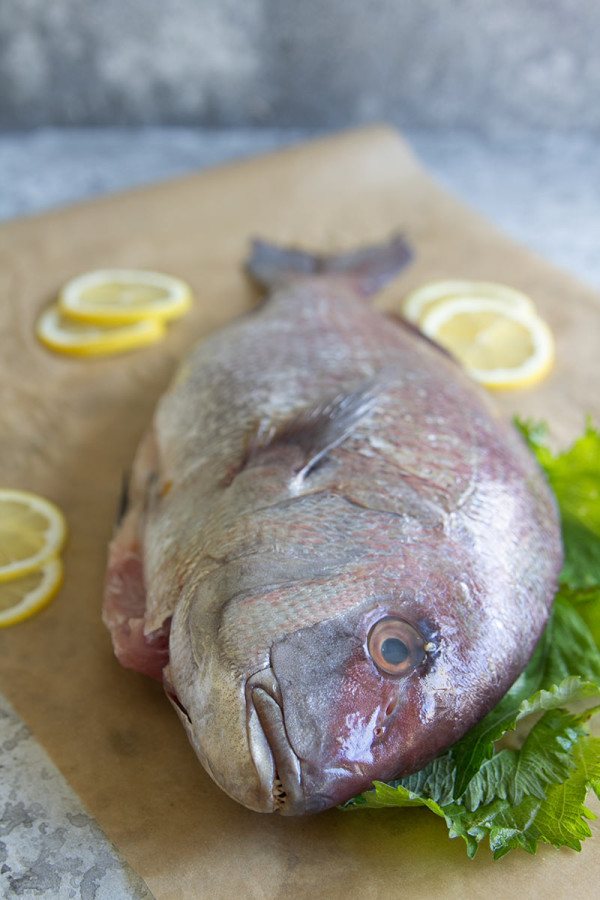 This recipe was inspired by the lovely La Fuji Mama. Believe it or not, she is even more delightful than her blog. I had pinned this recipe a while back and when I picked up my sustainably certified snapper at my local fishmonger, Suhn Fish, I knew exactly what I was going to make.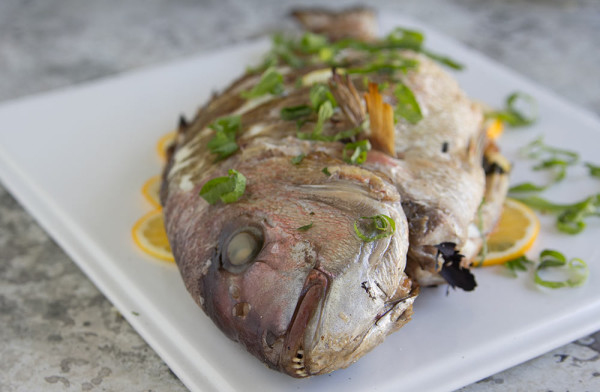 Oven Roasted Whole Red Snapper with Shiso and Lemon
Adapted from La Fuji Mama
When looking for red snapper, ask your fishmonger if it is true red snapper. There are quite a few imposters on the market. Snapper is a fish that has been overfished in the past, so it is important to ask if it is sustainably fished. This recipe will work with just about any whole fish. You may have to adjust cooking times depending on weight and thickness. Shiso is a Japanese herb which you can find at any good Japanese market. It tastes like a cross between lime leaf, mint, and… heaven. If you'd like to substitute this herb, try a mix of parsley and cilantro or kaffir lime leaves with basil and lime wheels. This lovely fish dinner can be on the table in under an hour with only a few minutes of active time.
Whole Red Snapper Ingredients

Whole red snapper about 3-4 lbs

Shiso leaves

1 lemon, thinly sliced

Sea Salt

Black Pepper
1. You will need 1 1/2 teaspoons of salt per pound of fish. Divide the salt in half and sprinkle each side of the snapper with equal amounts. Allow the fish to rest at room temperature for 30 minutes on a rack over a baking sheet. After 30 minutes, rise the salt and dry the fish very well.
2. Preheat the broiler to high, for at least 10 minutes and line a baking sheet with parchment.
3. Make two big slashes in the fleshiest part of each side of the fish. Using your fingers, press salt into the slits, the gills, and the cavity of the snapper. Place lemon slices inside the cavity along with about 8 shiso leaves. Also place a half a lemon slice and a shiso leaf in each of the gills. Sprinkle the whole fish with sea salt and black pepper.
4. Transfer the fish to the prepared baking sheet and cook for 8 minutes under the broiler. Remove the fish from the oven, carefully turn over, and return to the broiler for another 4-5 minutes.
5. Check for doneness by prodding the slit with your finger. It should feel firm and should easily flake away from the bone using a fork. The juices will run milky white. If the fish is not done, return to oven checking every two minutes and pulling out when slightly underdone. Allow the cooked fish to rest for about 10 minutes before serving.
6. Serve with a bit a shiso garnish and a nice bowl of rice or a daikon salad.
Follow The Tomato Tart's board Amazing Fish & Shellfish Recipes on Pinterest.