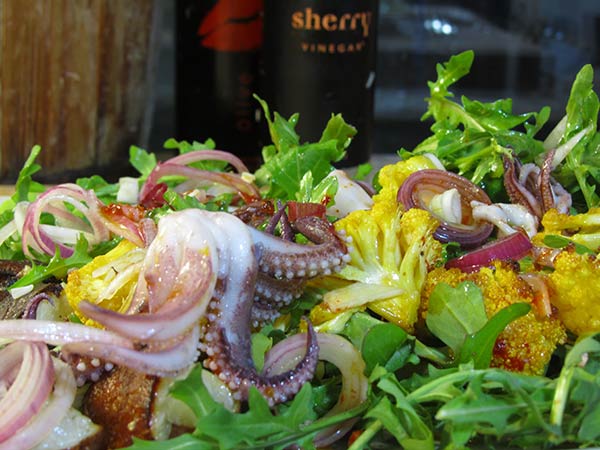 My step inevitably quickens as I approach Wednesday market. Its smell hits me before I see what's before me. Sometimes the salty sweet scent of kettle corn sneaks round the corner. At other times the warm aroma of waffles beckons, and still others, the roasted goodness of Roli Roti's deservedly famous roasted chickens reaches my nose, first. As delicious as these things are, I'm not here for chicken or waffles or popcorn.
I come to The Heart of the City Farmers Market market for produce, for nuts, for fish. This week, I was enthralled with some Fuji apples from Rainbow Orchards; crisp, juicy, yellowy-green with red striations and lots of flaws these reminded me of the apples that grew in my grandmother's yard and left me with a huge grin.  Miramonte Farms had a bountiful display of winter squashes with rosemary and sage. I picked up a blue hubbord squash and a butternut as well as some torpedo onions. From another of my favorite producers, Specialty Produce, I picked up a golden cauliflower, some red potatoes, wild arugula, and some garlic. Last stop, the fish monger, where I procured fresh whole Monterey Bay squid smelling only of ocean breezes. The eyes were glassy, not cloudy, and the skin speckled purple.
I love warm squid with flavorful olive oil and farm fresh produce. I had a lovely version with chick peas and olives at Bar Jules and one with saffron broth and cherry tomatoes at Foreign Cinema.  The interplay of hot and cold, salty and sweet, and differing textures in these dishes is the key to their successes. In this one, the cold and crispy onions and arugula are met by warm squid, potatoes, and cauliflower.  The flavors, too, contrast. The bite of garlic is tempered by the sweetness of the roasted vegetables and the smoked paprika is met by the richness of the olive oil. Balance also comes in the colors of the dish, with greens, purples, reds, and yellows nearly bursting from the plate.
I am fortunate to have a farmers market near me nearly every day of the week. If you're somewhere deep in snow, I hope some of these photos of the produce and the market tide you over until your farmers market opens at the first hint of spring.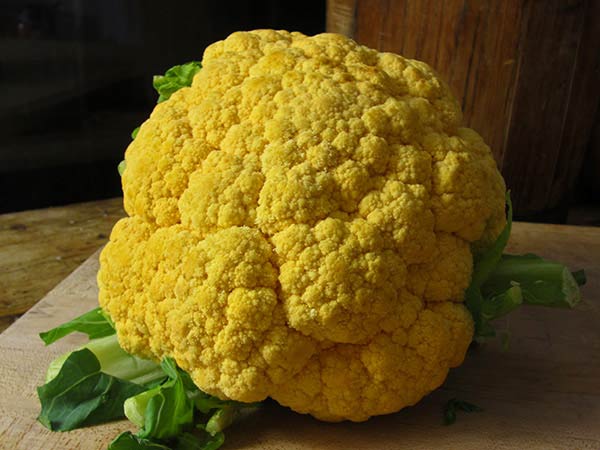 HEATHY WARM SQUID SALAD INGREDIENTS
¾ lb whole fresh squid cleaned- bodies cut into rings with tentacles
1 small head cauliflower (yellow or purple if you can get it) chopped into small florets
6 small red potatoes cut into half inch pieces
1 torpedo onion or a shallot sliced into rings
3 cups wild arugula
4 cloves of garlic minced
2 tbsp grape seed oil or other high temp cooking oil
Salt and Pepper
SMOKY SHERRY VINAIGRETE INGREDIENTS
2 ½  tbsp sherry vinegar
1 clove of garlic minced
4 tbsp Arbequina or other high quality olive oil for vinaigrette
½  tbsp smoked paprika
salt and pepper to taste
INSTRUCTIONS
Position one rack in the bottom 1/3 of your oven, and one on the rack just above it.
Preheat oven to 400º and line two baking sheets with foil
Toss cauliflower with ½ tablespoon oil and ½ of the minced garlic and spread onto one foil lined baking sheet
Toss the potatoes with oil and a little bit of salt and spread on a second foil lined baking sheet
Place the potatoes on the lower rack, and the cauliflower above. Bake for about 25-30 minutes- turning once half way through.
Meanwhile…
Soak the torpedo onion slices (or shallot) in one tbsp of the sherry vinegar to soften the flavor of the onion
Whisk the remaining 1½ tbsp of the vinegar with the smoked paprika and a pinch of sea salt- make sure the paprika is all the way incorporated. Add in the olive oil- a little at a time whisking without stopping. This way, you'll get a good emulsification. If you like, you can do this in a blender or mini-food processor, but I like to do it by hand and don't like the extra clean up of the food processor.
Toss squid with a pinch of sea salt
Heat an ovenproof skillet over high flame. When a drop of water added to your pan skitters across (kind of like a ball of mercury) before evaporating, you are ready to add your oil.
Heat 1 tbsp oil and garlic for about 1 minute until very hot but not smoking. Add the squid and cook for just about 1 minute until just cooked. Be very careful not to overcook and remove from pan immediately once they're done.
Serve and enjoy with a dry Spanish white, some crusty bread, and some Castelvetrano olives on the side.