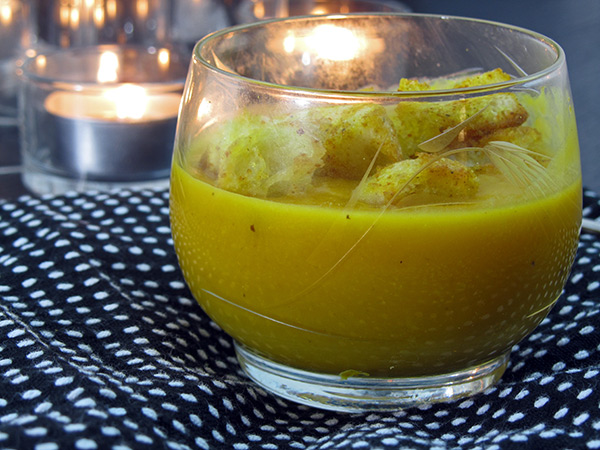 I concocted this soup recipe to serve in pretty vintage punch glasses for my friends' wedding. It provides a big mouthful of flavors- salty, sweet, spicy, and herbaceous, so it works well as an amuse bouche or an appetizer when served this way or even in tiny shot glasses. It is also a perfect hearty (yet still) vegan soup if you're feeling like a big bowl of warming spices and pure deliciousness on a cold an rainy day.
INGREDIENTS FOR THE SOUP
1 tbsp coconut oil
1 inch knob of ginger peeled and cut into thin coins
1 large yellow onion, thinly sliced
1 green chili seeded and chopped (optional)
1 tablespoon good quality curry powder
1/4 teaspoon salt
5 cups of water or veggie broth
1 medium butternut squash 2-3 lbs, peeled and cubed
1 can coconut milk
INGREDIENTS FOR THE CROUTONS
½ loaf of day old gluten free baguette cut into tiny cubes
1 tablespoon olive oil
1 tablespoon tandoori spice (or hot madras curry powder)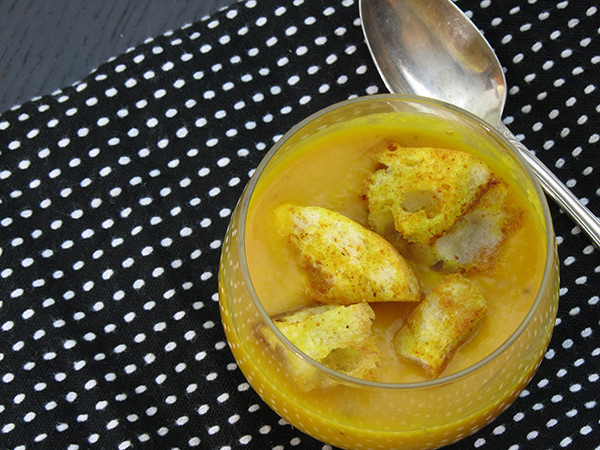 INSTRUCTIONS FOR THE SOUP
Sauté onions, ginger, and spices in coconut oil over medium heat in a large dutch oven until onions begin to soften– about five minutes
Add butternut squash and water and turn heat to high. Bring to a boil and cook until butternut squash becomes exceedingly tender 20 or so minutes.
Working in batches, add butternut squash, onions, and some of the cooking liquid to the bowl of your food processor and puree until very smooth.
Once all of the soup is puréed, return to pot, stir in the coconut milk and cook for a few minutes longer. You can put the soup through a food mill if you like to get it super smooth; I did not.
FOR THE CROUTONS
Heat oven to 375º, and like a baking sheet with parchment paper
Toss bread cubes with olive oil and tandoori spice to coat
Bake for about 5 minutes until bread is nice and crispy