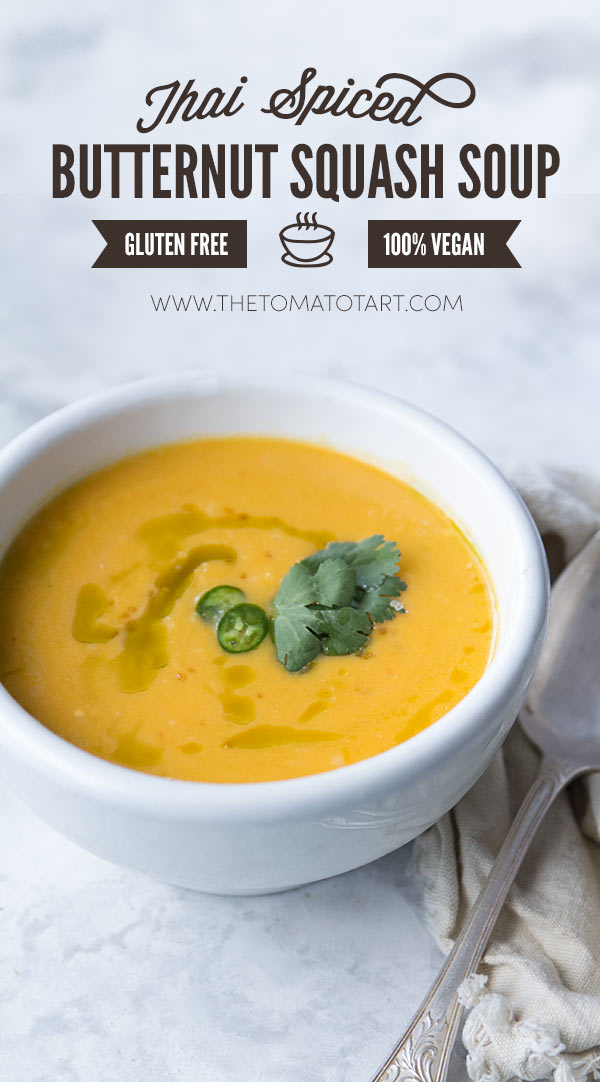 Thai Butternut Squash Soup
Yesterday, we sat by the window and watched with delight.  Cars stopped, people stared, and when neighbors wandered over, we went outside to greet them. With less than a week until Halloween, we placed the decorations outside.  The seven-foot tall wraith, the gravestones, the ghostly heads, and our scary clown are the culmination of a month's worth of work.
Planning, carving, painting, gluing, starching, and building have been fun but time-consuming tasks.  When I say it was worth it, I am not kidding. A little girl called Tiana came over on her bicycle. She is four and when I asked her if my clown was scary, she told me he was silly and asked what his arms were made of. She also suggested we name our seven-foot tall reaper, Joey. So yeah, meet Joey.

With all of our spare time going to the preparations for Halloween in our new home, I've leaned on simple-to-prepare meals. The weather has finally started turning towards fall and this soup was my first soup of the season on our first chilly day.
Thai spices shine in this butternut squash soup, which gets richness from a bit of coconut oil and nice balance from a tart apple.  It is full of flavor from all of the fall produce, but low in fat, vegan, gluten free, and Paleo.  It is a soul-satisfying soup with a bit of spice from the ginger and chili.  In other words, this tastes like a fall classic with a Thai bent.
I wish you a Happy Halloween! Be safe, have fun, and when you come home, enjoy a bowl of steaming hot soup to warm you up.
Need help? Learn how to prep a butternut squash in six simple steps.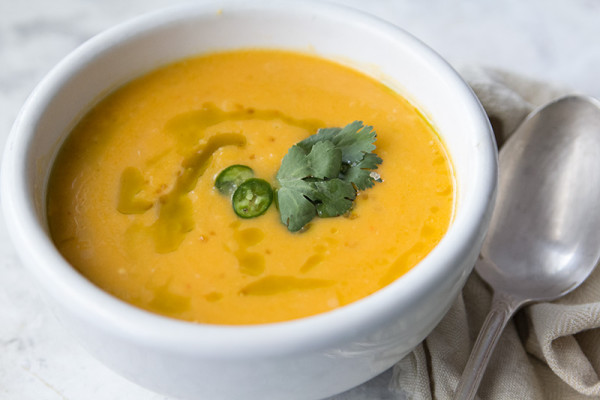 INGREDIENTS

One medium butternut squash (2.5-3lbs), peeled and cubed.
1 tart apple, peeled, cored, and sliced
1 medium onion peeled and sliced thinly
1 inch piece of ginger, peeled and thinly sliced
1 hot red chili (optional)
1 stalk lemongrass outer leaves removed and finely minced (optional)
4 cloves of garlic, peeled
2 tablespoons coconut oil
½ teaspoon sea salt
Melt coconut oil in a large pot over medium heat. Add butternut squash, apple, onion, ginger, chili, and lemongrass. Sautée for 10 minutes.
Fill pot with enough water to cover veggies by about an inch. Then add garlic and salt. Bring to a boil, then turn heat down to low and simmer for 30 minutes or until all vegetables are very soft.
Blend soup with a high speed blender or an immersion blender. Strain through a mesh strainer and serve with a drizzle of olive oil and some fresh herbs.
Follow The Tomato Tart's board Butternut Squash on Pinterest.