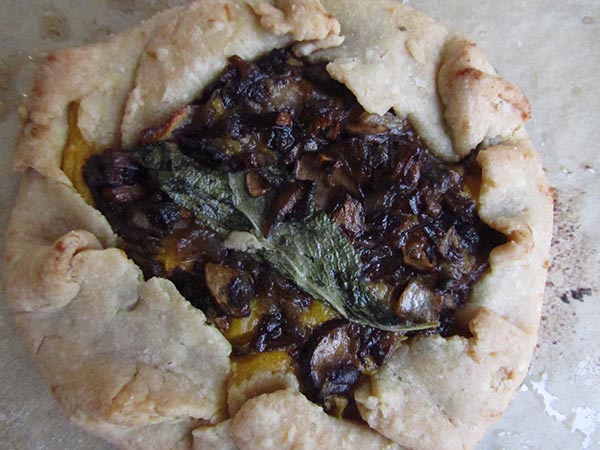 Vegan baking… wow! Though I was a vegetarian for 10 years and even flirted with veganism, I never attempted to anything too complex. As a veggie, I ate lots of stir fry and plenty of omelets. I have to admit, my vegan diet looked a lot like soy milk, peanut butter and naked produce.
Follow The Tomato Tart's board Vegan Recipes on Pinterest.
Luckily, San Francisco reader, Heather, gave me the best first assignment ever for my weekly cooking challenge. You see, this quintessential San Francisco family has a vegetarian daughter with a nut allergy (there went my idea for tamale pie with homemade cashew cheese) and a niece who's a vegan. Everyone else eats varying degrees of red meat, no meat, pescatarian, etc. So, what Heather needed was an amazing seasonal vegan entrée for a Halloween brunch and it had to please even the most hard core meat eater's palate.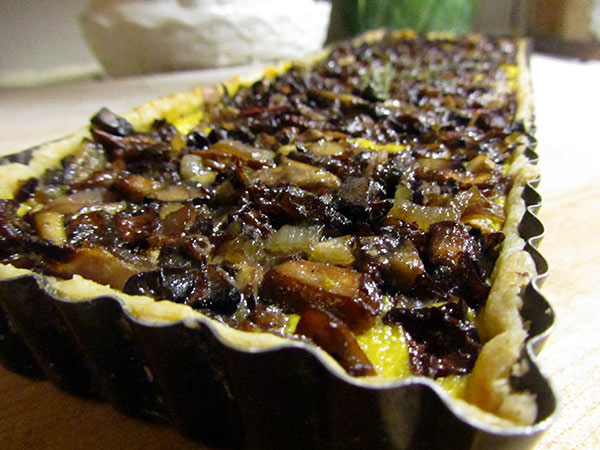 Heather's one request was that it be a tart. What a perfect challenge for Halloween- because until this week, I couldn't have conjured anything more frightening than baking a pastry crust without my beloved butter. Hell, normally, I might even lean on a little Boccolone Lard in crust for a tart like this. But I jumped into this challenge with both feet first and I had a blast doing it.
This dish is bursting with autumn flavors. After lots of testing (I mean LOTS) we have an amazingly flaky and delicious crust filled with a butternut squash custard and topped with earthy wild mushrooms in a sage brown "butter" gravy that gets a hint of sweetness from pure maple syrup. The final tart got delicious approval from meat eaters, vegans, & even an affirmed mushroom hater. I didn't even miss the butter in the crust or the eggs in the custard!
Now, I have to give a HUGE shout out to Lolo at Vegan Yum Yum. After trying out a couple of vegan tart crusts, I loved hers the most. Thanks Lolo for your amazing resource. Also, if you do not want to attempt to make your own crust- vegan or otherwise, never fear, you can get non-hydrogenated frozen pie shells at Whole Foods and other healthy foods stores or if you're not worried about it, you can get Pillsbury. I think they are "accidentally" vegan meaning they're full of transfats and probably don't taste great, but they'll get the job done and cut down on the prep time of this tart.
I want to thank Heather for posing this exciting challenge. It was really fun and it changed my mind about a few things. Heather, I hope your family enjoys this tart as much as we've enjoyed eating the successes and even the failures around here.
If you have a cooking fear, challenge, or question, please ask me, The Tomato Tart! I promise to tackle one thing that is completely new to me and to you once per week. I love a good adventure, don't you?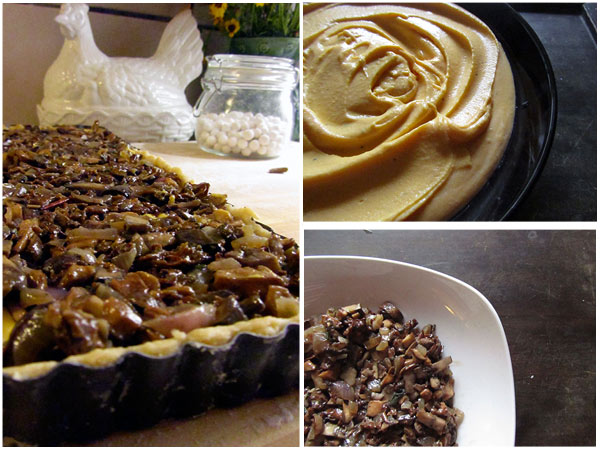 PASTRY CRUST INGREDIENTS
1¼ cup organic whole grain pastry flour chilled
¼ cup vegan butter* cubed and chilled in the freezer for at least 15 minutes
¼ cup non hydrogenated vegetable shortening**
½ teaspoon salt
4-6 tablespoons ice water
INGREDIENTS: BUTTERNUT SQUASH CUSTARD
1 medium sized butternut squash about 2.5 bs should get 3 cups diced squash
1 cup silken tofu (well drained)
3 tbsp vegan butter
fresh whole nutmeg to taste
salt
pepper
INGREDIENTS: MUSHROOMS in MAPLE SAGE BROWN BUTTER GRAVY
½ lb chanterelles diced
½ lb crimini mushrooms diced
1 oz dried chanterelles (rehydrated, drained, & diced)
½ cup dry vermouth
½ cup mushroom broth***
1 tbsp olive oil
2 ciopollini onions diced (or shallots)
1 tbsp vegan butter
1 tbsp sherry vinegar
1 tbsp flour
10+ sage leaves
1 tbsp maple syrup
warm water
salt
pepper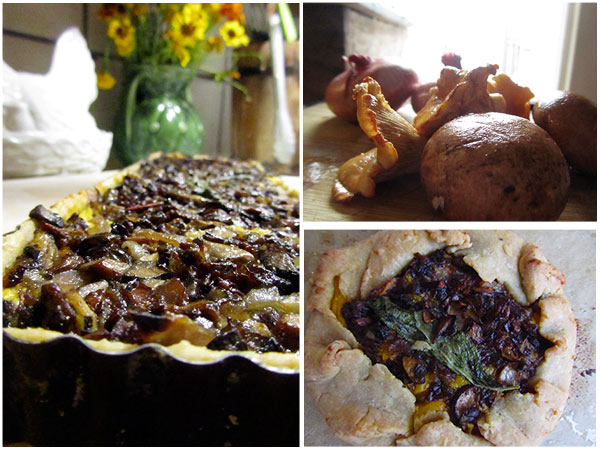 VEGAN PASTRY CRUST INSTRUCTIONS
In the Food Processor pulse flour, fat, and salt 6-8 times until mixture resembles coarse corn meal with pea sized fat balls.
Pulse in the iced liquid a bit at tbsp at a time until the dough comes together at the center of the bowl.
Put dough on a floured work surface and form into a ball with your hands then press into a fat disc.
Wrap in plastic then chill for at least one hour and up to two days.
Roll pastry out onto a floured surface into the proper shape for your tart tin.
Carefully place dough into lightly greased tart tin pressing gently to fit into the corners and creases and trim excess from edges.
Preheat oven to 400°
Place tart tin and dough in the freezer for at least 45 minutes- do not think that you can skip this step or you will face embarrassing shrinkage. Remember what happened to George Costanza when he tried to explain shrinkage- you just can't.
BUTTERNUT SQUASH CUSTARD INSTRUCTIONS
Cut the neck and the bottom off of a butternut squash and then use a knife to peel the skin off.
Once all of the skin is removed, slice squash down middle and remove all of the seeds and fibers from the center of the squash then cut into 1 inch chunks
Steam squash in a steamer for about 10 minutes or until very soft
Purée 3 cups of squash with 1 cup of silken tofu, 3 tbsp earth balance butter, ¼ tsp fresh grated nutmeg , heavy pinch of salt, and heavy pinch of pepper in the bowl of a food processor.
Chill and allow to set for at least an hour
MUSHROOMS INSTRUCTIONS
Sautee diced ciopollinis in 1 tablespoon of olive oil over medium heat- and do not disturb for at least five minutes. We want to allow them to get soft and golden and then flip over and cook for another five minutes.
Add the diced mushrooms plus ¼ cup mushroom broth, ¼ cup vermouth, pinch of salt and 3-4 sage leaves roughly chopped. Cook until all liquid is absorbed and the mushrooms are very fragrant- about 25 minutes.
In a small saucepan over high heat add ¼ cup mushroom broth, ¼ cup vermouth, 1 tbsp sherry vinegar, 1 tbsp maple syrup, 7 sage leaves (roughly chopped), and a pinch of salt, and reduce by half.
Mix 1 tbsp flour with with a bit of warm water in a small bowl and whisk to remove any lumps
Add 1 tbsp Earth Balance to reduction and whisk in as it melts. Then whisk in the flour and water mixture and allow to thicken for a minute or two.
Add the sage & maple gravy to the mushroom mixture and toss to coat.
BLIND BAKING & TART MAKING INSTRUCTIONS
note, you will not blind bake the tart if you are making a galette. 
Remove from freezer and dock your pie crust by piercing all over with a fork to create holes for air to escape. This prevents bubbles.
Place parchment paper inside dough and fill to the ABSOLUTE TOP with pie weights, rice, or dried beans.
Bake for 15 minutes in preheated 400º oven then remove weights and parchment paper.
Cool tart for 20 minutes and lower oven temp to 350º
Fill blind-baked tart shell ¾ full of butternut squash custard, top with mushroom mixture and bake for 20-25 minutes
During the last five minutes, melt 1 tbsp vegan butter and 1 tsp maple syrup in a small saucepan
Place sage leaves at center of tart for color
Brush butter mixture over entire tart making sure to get edges of pastry
Cook for 5 more minutes and remove when edges begin to get a golden brown color
*Vegan Butter I used was Earth Balance Buttery Sticks
**Shortening I used was Spectrum pure vegetable shortening
***I used Pacific Organic Foods Mushroom Broth. It comes in a Tetra Pack box and I bought it at my local Whole Foods. Alternatively, you could use the strained liquid from your dried chanterelles.