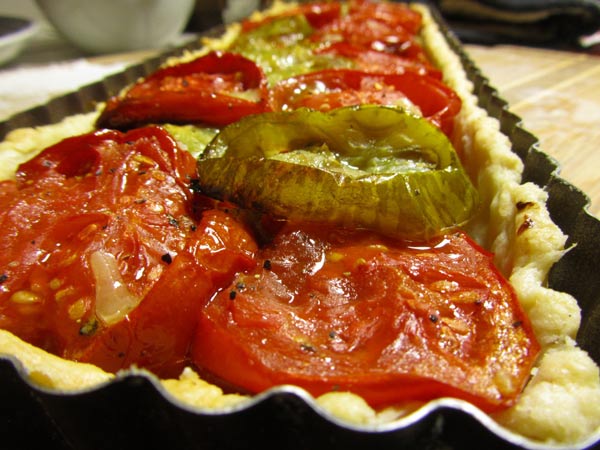 This blog is called The Tomato Tart for a reason. I am mad mad mad for savory tarts, but particularly for tomato tarts. The funny thing is that my mother once told me that one of my first sentences was, "Mommy, I HATE pomatoes". I emphatically hated "pomatoes" for most of my childhood. I hated their mealy pink icky insides and refused to eat them raw. Sometimes the visual of a lovely cherry tomato would appeal to me, and I would try, but to no avail.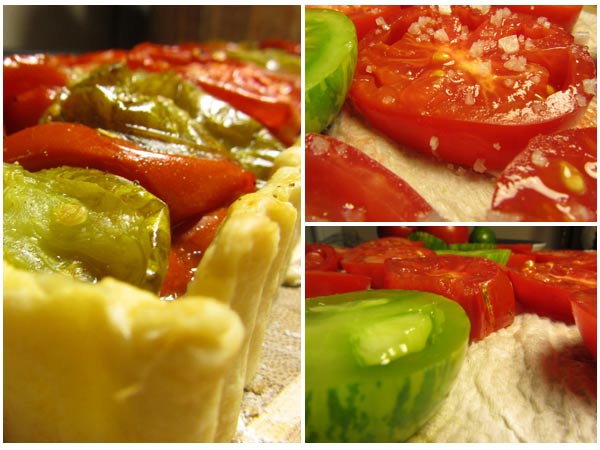 [/caption]
The turning point came, when my Auntie Gilda (soft G, please) in Napa served me her home grown tomatoes vinaigrette on her terra cotta deck.  With the sun streaming down on the long table through the live oaks, my life changed forever on that day. I do believe she fed me heirloom tomatoes at least full decade before the trend hit even the trendiest restaurant.
Today, if you ask me what I would eat for my last meal, I quickly answer, a tomato tart and a frisee salad with lardons and a poached egg with a bottle of 1985 Charlie. Here's one of my recipes for a tomato tart.
FOR THE PASTRY CRUST
INGREDIENTS
1¼ c flour chilled
6 tablespoons butter cubed and chilled for at least 15 minutes
½ teaspoon salt
2-6 tablespoons iced vodka (or a mixture of vodka and water)
Parmesan or Gruyere
INSTRUCTIONS
Preheat oven to 425°
In the Food Processor (mine is called Maggie- all of my small appliances are named after Tennessee William's "heroines"), pulse flour butter and salt 6-8 times until mixture resembles coarse corn meal with pea sized butter balls
Pulse in the iced liquid a bit at tbsp at a time until the mass literally comes together.
Put dough on a floured work surface and form into a ball with your hands then press into a fat disc. Wrap in plastic then chill for at least one hour and up to two days.
Roll pastry out onto a floured surface into the proper shape for your tart tin.
Carefully place dough into lightly greased tart tin and trim excess from edges.
Place parchment paper inside dough and fill with pie weights, rice, or dried beans.
Bake for 20 minutes then remove weights and parchment paper
Add  a sprinkling of  freshly grated parmesan or gruyere and fresh ground black pepper – (you can do an egg wash if you like at this point) and return to the oven for five more minutes or until fully baked-
FOR THE TOMATOES
INGREDIENTS
2 LBS of the best tomatoes you can find*
Sea Salt
Black Pepper
Extra Virgin Olive Oil
INSTRUCTIONS
Preheat oven to 425°
Slice tomatoes into ½ thick slices, place on a paper towel and sprinkle with high quality sea salt. Allow to rest for 30-45 minutes then press with another paper towel.
Arrange tomatoes on a baking sheet lined with parchment paper then drizzle with olive oil. Bake for 25-30 minutes until they just begin to caramelize.
Sprinkle with fresh ground black pepper and set aside.
*I used dry farmed Early Girls & Green Zebras this time & the combination was divine!
assemble the tart

Assemble the tart by placing alternating colors of tomatoes one on top of the other. You can add a bit of cheese and pepper on top or leave it as is. Et voila! C'est simple!