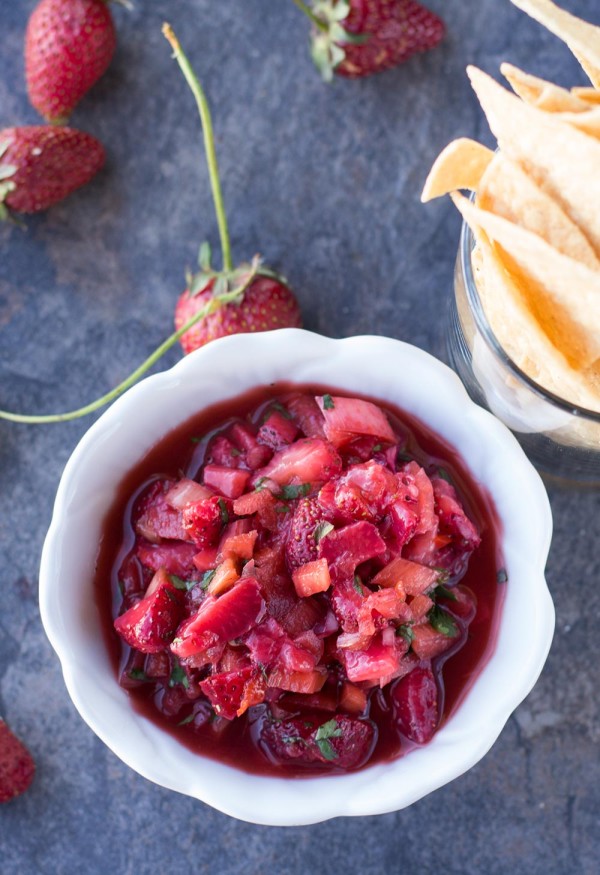 It's Cinco De Mayo Week at The Tomato Tart, and I'm so excited to celebrate with friends and family and fantastic food like this strawberry rhubarb salsa. Cinco De Mayo or May 5th , is one of my favorite culinary holidays. Celebrated as Mexican Independence Day in the US, Cinco De Mayo is actually the date that the Mexicans beat the French in the battle of Puebla in 1882. If you're questioning why a French girl loves this holiday so much, no need. Never question a French person's passion for excellent food and a good party.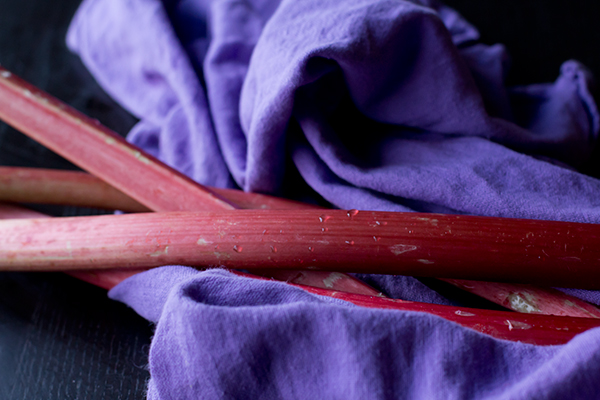 I'm also from California, so I've always been surrounded by friends and extended family of Mexican ethnicity. Which also means, I've been lucky enough to eat the food in authentic eateries and in the kitchens of talented home cooks for most of my life. Tacos, ceviche, sopa de tortilla, salsas, quesadillas, mariscos of every shape and size, soft and fluffy arroz, flan, cajeta, sopapillas, and pozole. I love Mexican and Latin food of every origin.
Another aspect of being from California means that I'm sensitive to my friends' dietary restrictions and preferences.  This week, I'll be offering a menu of foods that you can prepare for Cinco de Mayo for everyone- whether gluten free, vegan, lactose-intolerant, pescatarian, or omni.  We'll start off with this vegan, gluten-free, strawberry-rhubarb salsa.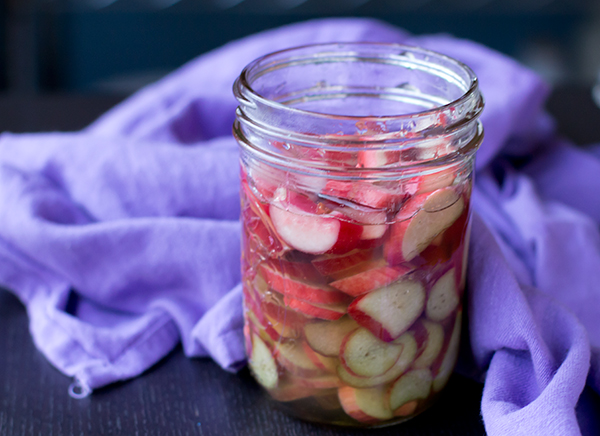 I love this fresh and perfectly seasonal spring salsa for a few reasons- not the least of which is the inclusion of tart and crisp raw rhubarb. The rhubarb gets a 24-48 hour soak in a cilantro simple syrup to take away some of the bracing sourness. I happen to like that flavor, but I understand that it's not everyone's cup of tea. I also like the balance of sweet and hot- the strawberries and rhubarb are totally offset by the smoky sea salt and spicy serrano chili.  Some things just beg for a big bowl of chips. This recipe is easily doubled or tripled for a crowd, just make sure to make extra syrup for the rhubarb if you're doing so.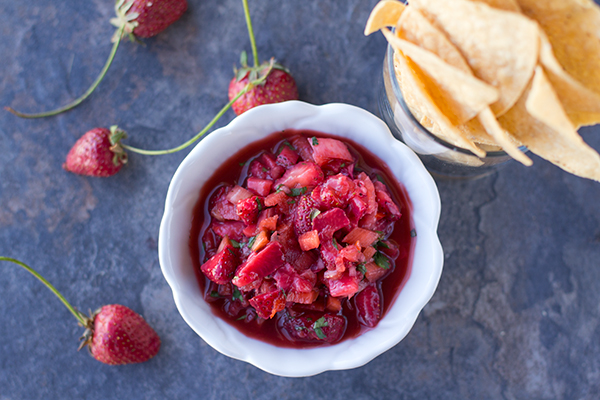 INGREDIENTS STRAWBERRY RHUBARB SALSA

2 stalks of rhubarb (toxic leaves and roots discarded!) thinly sliced
1 cup sugar
¾  cup water
1 bunch of cilantro
zest of 1 lime
4 cups of organic strawberries (I used sweet tart chandler strawberries)
1 shallot
1 serrano chili
smoked sea salt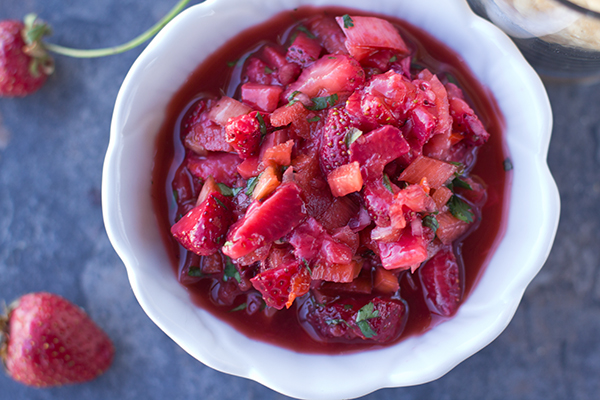 INSTRUCTIONS STRAWBERRY RHUBARB SALSA

Bring sugar and water to a boil over medium high heat. Stir gently to dissolve sugar, and boil for five minutes.  Add a large handful of cilantro and the lime zest and boil for five more minutes.
Strain the cilantro lime syrup into a mason jar and add sliced rhubarb.  Cool for at least one hour before refrigerating- then refrigerate for 24-48 hours.
Remove tops from well-rinsed berries. Finely dice the strawberries into ¼ inch pieces and add to a bowl.
Drain the rhubarb and dice into 1/8 inch pieces, and add to the strawberries.
To the strawberry & rhubarb mix, add 3 tablespoons finely minced shallot, 1 finely diced serrano chili (seeds removed if you want to avoid the heat), one large handful finely chopped cilantro, and mix well. Add smoked sea salt to taste and serve with crispy tortilla chips.
PS- I like salt free organic chips so I can salt my salsa, and never have to worry that my chips will make it taste too salty!