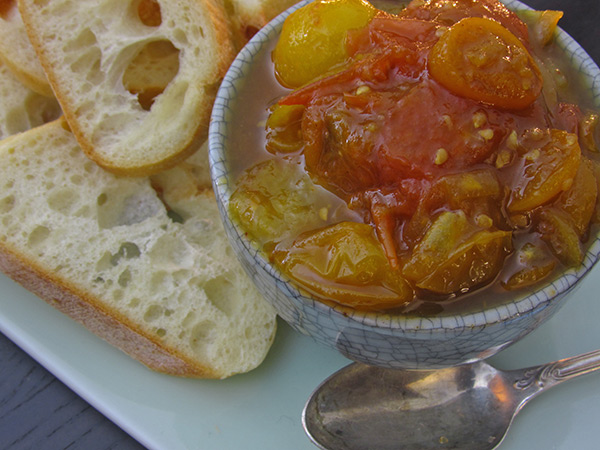 Spicy Tomato Jam with Kumquats
I created this recipe to serve with toasted ciabatta for my friends' wedding. It is so simple to make and so delicious, that I will be making this over and over again. I love the combination of tomato, ginger, & kumquat with the spicy kick of chilies at the end.
For a quick, simple, & elegant appetizer, cut store bought puff pastry into bite-sized squares with a bit of goat cheese and a dollop of the jam and cook according to package instructions.
This jam would make a great hostess gift for the holidays. I love that it covers gluten-free and vegan guests or gift recipients. One thing's for sure, I'll definitely be canning a big batch this summer when tomatoes are bountiful again.
INGREDIENTS FOR SPICY TOMATO JAM WITH KUMQUATS
4 cups heirloom cherry tomatoes
1 cup of packed brown sugar
1 tbsp grated ginger
1 cup of thinly sliced kumquats
1 hot chili finely minced or cayenne or habenero powder(optional)
2 tbsp orange juice
¼ teaspoon salt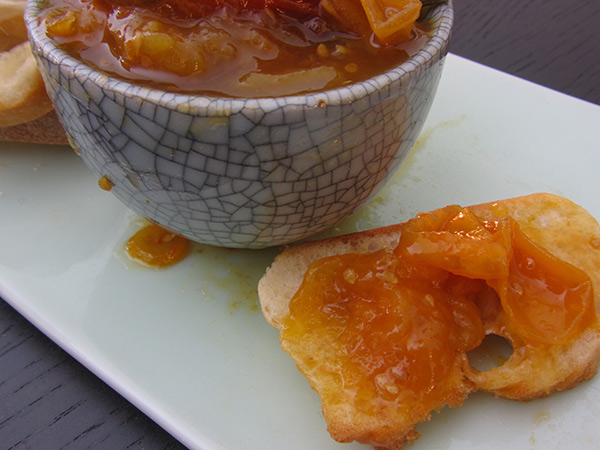 INSTRUCTIONS FOR JAM
smush 1 cup of cherry tomatoes over a plate or bowl to catch all of the juices leaving the rest of the tomatoes whole
add all ingredients to a heavy saucepan and bring to a boil over medium-high heat
lower heat and allow to simmer until thick and jam-like. About 1 hour and a quarter to an hour and a half.
allow to come to room temperature before serving