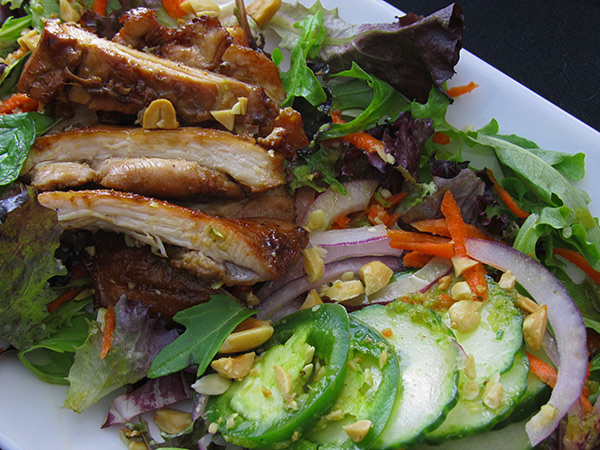 Who doesn't love all of the holiday goodies, rich treats, and party food that can go along with this time of year?  I do, for sure! This year, I have the added fun of developing recipes just for my blog, so on a night when we might normally eat a nice bowl of soup and a salad, right now, we're eating puff pastry squares and cookies. I find myself ready for a healthy post- a New Year's resolution style-recipe before Christmas.
Last night, I caved. Salad for dinner is my absolute favorite- I am a California girl, after all.  Since it's cold, wet, and rainy, having a dinner salad can seem counter-intuitive, but with the right flavors and ingredients, it makes perfect sense.
When I called Joshua to ask if he wanted a big salad with some chicken thighs, he was so on board and just asked me to text him a list and he'd go pick up the ingredients.  As I ran through options in my head, Thai Spicy Salad just popped in. Here's how it goes:
INGREDIENTS FOR THE CHICKEN
1 lb boneless skinless chicken thighs
¼ cup tamari
juice from 1 lime
1 tbsp honey
1 tsp fish sauce
1 inch piece of ginger finely grated
1 tbsp virgin coconut oil
INGREDIENTS FOR THE DRESSING
Handful of mint
Handful of cilantro
½ jalapeño- seeds and ribs removed (or a small amount of Thai chilies if you have it)
1 lime, skin removed
¼ cup tamari
1 small clove of garlic
1 tbsp honey
1 tbsp fish sauce
2 tbsp grapeseed oil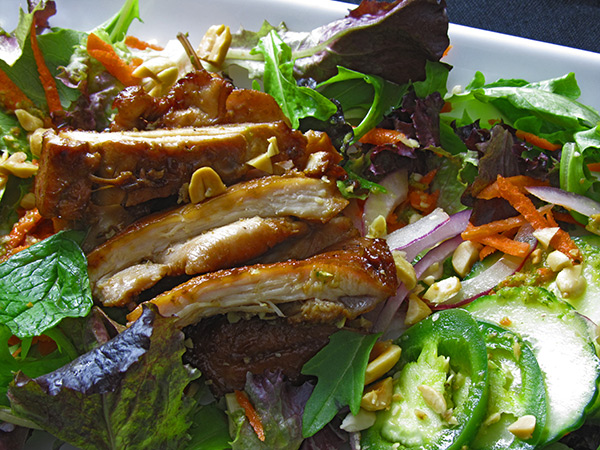 INGREDIENTS FOR SALAD
4 cups salad greens
½ English cucumber very thinly sliced
¼ red onion very thinly sliced
2 carrots grated
a few cilantro and mint leaves plucked from stems
½ cup peanuts roughly chopped (I used roasted unsalted)
CHICKEN INSTRUCTIONS
Preheat oven to 350º
Pound chicken thighs with a meat mallet a few times. We're not making cutlets, just flattening things out a bit and tenderizing the chicken so it soaks up the marinade a really well.
Add chicken to marinade and allow to sit for 20 minutes
Heat a grill pan on high until very hot then add ½ of the coconut oil- brushing it onto the high points of the grill pan as it melts
Add chicken thighs to pan- being careful not to crowd the pan. Work in batches if you need to.
Have another large  (oven safe) skillet standing by- gently heat the rest of the coconut oil in this pan making sure it covers the bottom of the skillet. If you need a little more coconut oil, add a bit now, allow to melt then turn flame to low.
Flip chicken thighs once after about 5 minutes. Gently lifting one corner of the thigh to make sure it lifts easily and is ready to flip. You should see some grill marks now.
Cook on the other side for about 3 more minutes then add chicken and marinade to the larger skillet.  Repeat for a second batch of chicken.
Put large pan of chicken into 350º oven and cook until the internal temp reaches 160º. It should take just about 12-15 minutes depending on the thickness.
Immediately, put chicken on a plate to rest and cool for about 10 minutes before slicing.
Slice into even pieces and put them in the fridge to cool further if you like.
DRESSING INSTRUCTIONS
Add all dressing ingredients except the oil into the bowl of your food processor and process until lime and chili are fully incorporated.
With the processor still running, drizzle in the oil to emulsify.
SALAD INSTRUCTIONS
Pile cucumber, carrots, and red onion atop the greens, then drizzle with the dressing. Add the chicken pieces, then sprinkle peanuts and finally add a few mint and cilantro leaves for garnish.