This spicy whole grain salad borrows its flavors from Japan. Sesame and chili oil make this a hearty Asian dish. The whole oat groats come from Gluten Free Prairie in Montana and are certified gluten free.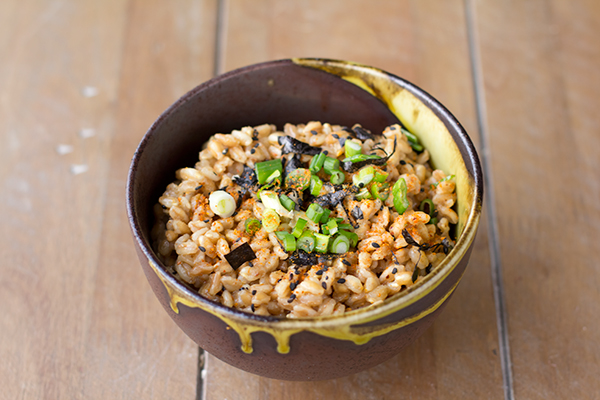 My closest people would say that I rarely repeat a dish twice, and in a way it's true. Once I've poked and prodded and looked at a recipe from the inside out, I'm ready to let it go.
But there is another type of dish, the dish that is not really a recipe, the one that comes naturally- without thought. These are the dishes Joshua and I eat throughout the week. Packed off to work in Mason jars, shared with friends who stop by unexpectedly. Never precious, never fancy, always satisfying… these are the meals that warrant lunchtime texts of "Mmmm… thanks for lunch. Soo good. Do we have leftovers?"

Oat groats serve as a major staple in our house- and provide the basis of many such dishes. I love oat groats for their sweet and nutty flavor, firm texture, and versatility. Depending on how long the whole oat groats are cooked, they can be eaten like a risotto or more like a breakfast porridge. It can be eaten hot or cold or even at room temperature.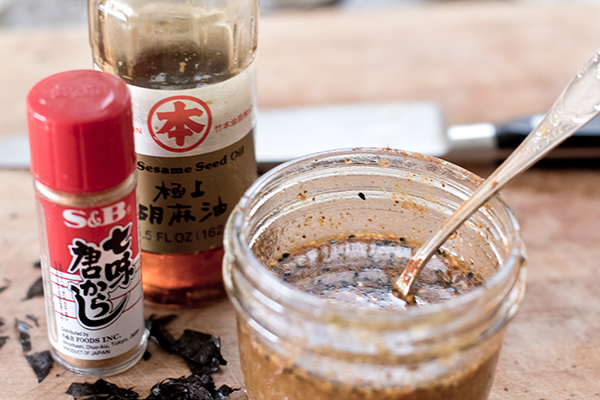 This oat dish is served cold, but the flavors are bold, and spicy with a Japanese influence. A dish at Boulette's Larder in the Ferry Building provided my original inspiration. When I first tasted it, I was taken aback by the bold and nutty  olive oil & black sesame dressing.
This version of a healthy whole grain salad, adds nanami togarashi, a Japanese spice mixture including dried peppers, orange peel, and seaweed. Each time I've made it, it has gotten a little spicier, a little tangier, and now it's just perfect. So, now, I'm sharing with you. I hope you'll pack it in mason jars, share it with your friends, and eat it with gusto. Kampai!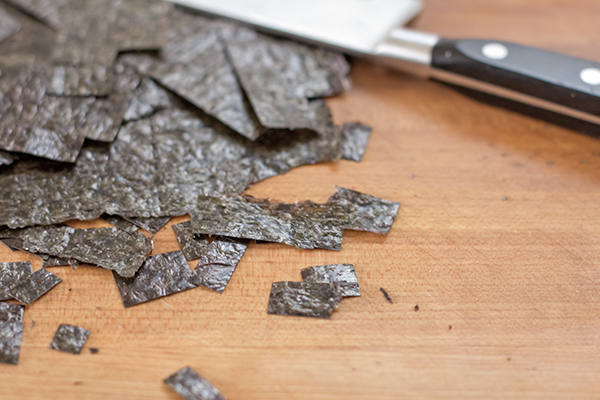 INGREDIENTS JAPANESE OAT SALAD
3 cups whole oat groats
4 ounces brown rice vinegar (unseasoned)
3 tablespoons tamari
2 tablespoons nutritional yeast
1 tablespoon muscavado sugar
1 teaspoon sesame oil
2 tablespoons olive oil
1(+-) tablespoon nanami togarashi (to taste)*
2 tablespoons black sesame seeds*
1 sheet of toasted nori finely chopped*
4 scallions finely chopped, white and light green parts only*
* (you may also want to some extra scallions, nanami togarshi, sesame seeds, and nori for garnish)
INSTRUCTIONS JAPANESE OAT GROAT SALAD
Add oats to 6 cups boiling salted water, return to a boil, and lower to a simmer. Cook for 40-50 minutes until oats are just tender. Drain if there is any water left over.
In a small bowl, whisk together rice vinegar, tamari, nutritional yeast, and sugar until combined. Add in sesame oil and grapeseed oil and whisk until emulsified. Add in nanami togarashi, and whisk again (adding more or less to taste)
Place oats in a large serving bowl, toss dressing in and mix well. Add in sesame seeds, nori, and scallions and give another good toss. Adjust seasonings to taste.
This recipe was orginally made with Farro, but now (since I can't eat farro) we make it with certified gluten free oat groats. Please feel free to experiment with your favorite grains.