I love eating with the seasons. It just seems so right. A cold night just gets better with warming flavors. It's as if nature knows what we need to sustain us and to make us feel happy and comforted in our meals.
The other night, I was wandering through the market with my honey and he let me know that he was ready for a nice piece of meat.  We found some lovely heritage pork chops- all thick cut and bone in. I decided to pair them with the figs that call to me so often during this season. The meal was completed with parsnip puree and a simple golden beet and blue goat cheese salad. Now, that tasted like the Autumn.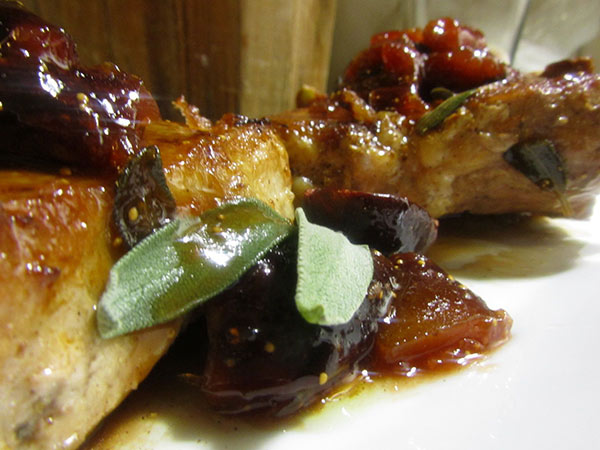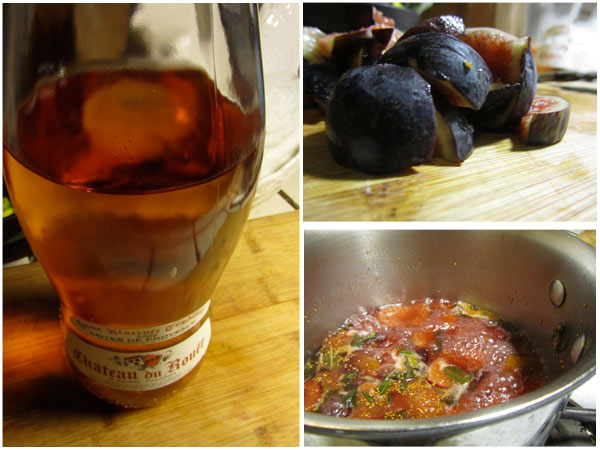 INGREDIENTS FOR FIG & SAGE REDUCTION
4 cups rosé
2 cups chopped fresh figs
2 tbsp fresh sage roughly chopped
1 cup good herbaceous honey (sage if you have it)
salt to taste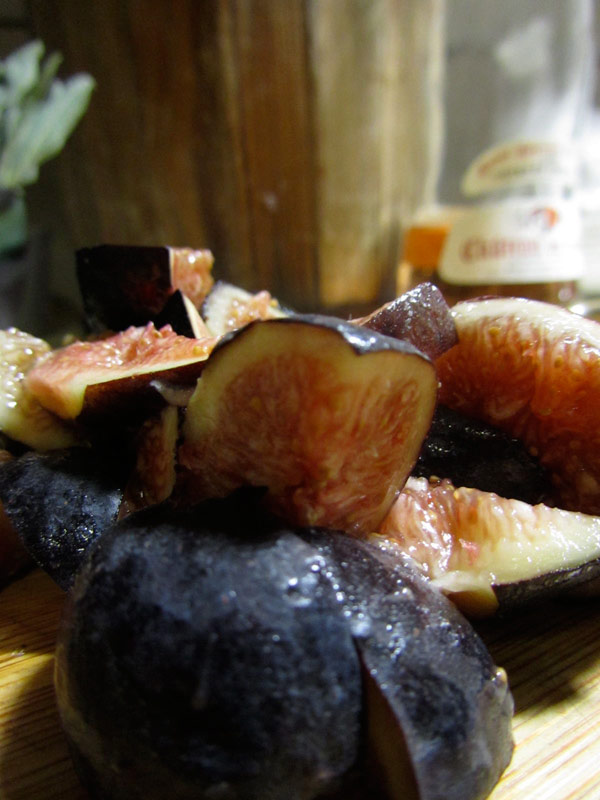 INGREDIENTS FOR PORK CHOPS
4 2 inch thick bone-in pork chops
smoked sea salt
black pepper
pinch dried mustard
1 tbsp butter
INGREDIENTS FOR PAN SAUCE
¼ cup rosé
¼ cup chicken stock
INSTRUCTIONS FOR FIG & SAGE REDUCTION
reduce all ingredients over medium high heat until they have a thick jammy texture at least 15 minutes. I like it really thick and jammy, so mine takes about 20.
INSTRUCTIONS FOR PORK CHOPS
Preheat oven to 425º- make sure the oven is hot before you begin cooking the pork on the stove.
Pat your pork chops dry then season on both sides with dry mustard, pepper, and smoked sea salt.
Heat a cast iron skillet over medium-high heat until a drop of water dropped in immediately forms a little droplet and vaporizes (merci, grandmama for this never-fail kitchen trick).
Add butter and swirl in the pan
Add the pork chops and make sure they're not crowded in the pan.  Allow them to brown undisturbed for about two minutes then check one by gently lifting one corner with tongs. If it is nicely browned and lifts easily, it's time to flip them. If not, allow to brown for another minute and repeat process.
Flip pork chops, and brown on the other side for one to two minutes then put into your hot oven.
Check pork chops after 5 minutes. We are going for an internal temp of 145º.  Pork should be medium-rare and juicy not white and overdone in the middle.
Allow pork chops to rest on plate while making a quick pan sauce.
INSTRUCTIONS FOR PAN SAUCE
Add rosé and stock to the cast iron pan with all of the pork chop drippings.
Cook over medium head scraping all of the brown bits free and reduce by half.


Serve pork by drizzling a bit of the pan sauce over pork, then topping with fig reduction, garnish with fresh figs and sage.