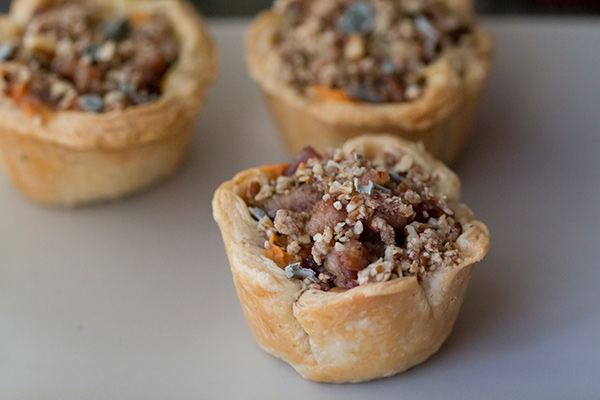 Savory Sweet Potato Pie with Sausage and Oat Crumble
As I come to the close of an amazing weekend surrounded with food bloggers at Food Buzz Fest, I think about how much things have changed in the last year. At the end of my first Food Buzz festival, I had been blogging for only five weeks. I had met hundreds of food bloggers over the weekend, some of whom would become great friends. Some of them will be at my house in just a couple of hours for a food blogger cooking party.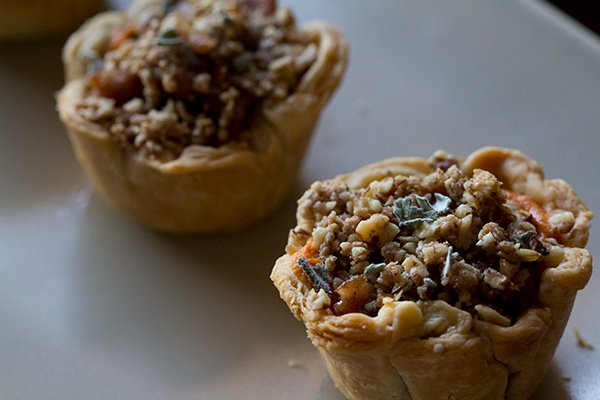 Shortly after that conference, I met another food blogger, this time on Twitter. She invited me to join a vintage recipe swap. That blogger was the amazing Christianna from Burwell General Store. Though I didn't have time or gumption to hop on board for the fritter challenge, I joined for the second, "Company Time Lemon Cake".
The recipe swap is now one year old and it is so very cool. If you're not familiar with the concept, we put creative and often very modern spins on old recipes from a depression-era cookbook/hymnal that Christianna found in a junkstore. It's called "All Day Singin' and a Cookin' on The Ground". This time we're doing maple cake.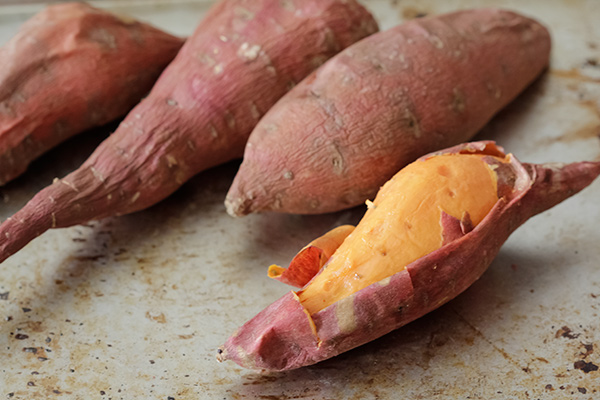 Since I've already done a butternut squash cake with maple cream cheese frosting, I thought, maybe I'd do a savory play on this. And, you know how I feel about pastry crust…
Check this out…
INGREDIENTS SAVORY SWEET POTATO PIE
4 sweet potatoes, baked
½ cup maple syrup
1 teaspoon stone ground mustard
4 eggs (divided)
2 links of good quality sausage (I used bacon and herb sausage)
3 leaves of sage)
½ red onion finely chopped
1 recipe gluten free pie crust
½ cup maple syrup
2 tablespoons certified gluten free oats
1 tablespoon pecans
1 teaspoon maple sugar or brown sugar
2 teaspoons of stone ground mustard
½ teaspoon dry mustard
½ teaspoon ground pepper
sea salt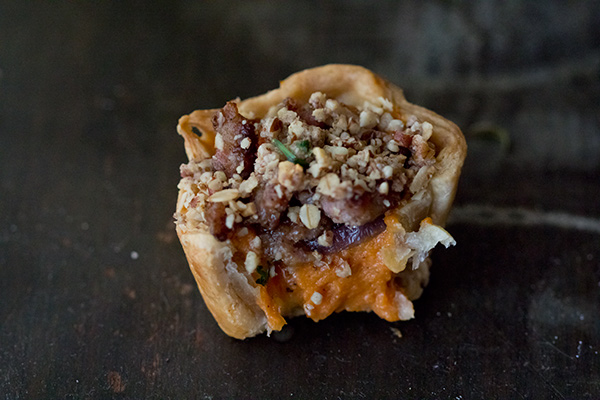 INSTRUCTIONS SAVORY SWEET POTATO PIE
Bake sweet potatoes in skin for about 45 minutes at 375º on a baking sheet (you can do this the night before)
Prepare your pie crust at least one hour before rolling out. (you can do this the night before) Cut into 3.5 inch rounds. You should get about four rounds from each "chubby disc" (8 in all).
Press the rounds into muffin tins. Pierce pie crust with a fork on the bottom and sides for venting.
Put these in the freezer for a minimum 15 minutes. Grease a piece of parchment paper and press into the crust, fill with pie weights to the very top. Parbake the crusts for 12 minutes in a preheated 375º oven. Allow to cool for a bit, and remove the weights from the pies.
Scoop cooled flesh from skin of sweet potatoes and mash in a large mixing bowl- discarding skin
Beat three eggs lightly and add the maple syrup, sage, ground mustard, and ½ teaspoon of salt to the sweet potatoes and blend with an immersion blender until very light and fluffy.
Sautée onions with a bit of olive oil until translucent (about 5 minutes). Remove sausage from casings and sauté with onions until fully cooked. Drain grease.
In a small food processor, mix oatmeal, pecans some pepper, dry mustard, sugar, and a pinch of salt.
Assemble pies for baking: fill three quarters of the way to the top with sweet potato puree, then top with a bit of sausage, then top with oatmeal crumble.
Brush the crust with with the yolk of one egg whisked with one tablespoon of water and bake for 20 minutes. Check for doneness in the form of beautiful golden brown crust. You can add more sage and some chopped chives to serve.