Every cook should have, in her arsenal, recipes that take nearly no time or effort to prepare. This Spanish-style sautéed shrimp can be on the table in just a few minutes. Easy to cook and way faster than takeout, these smoky garlic shrimp are a household favorite.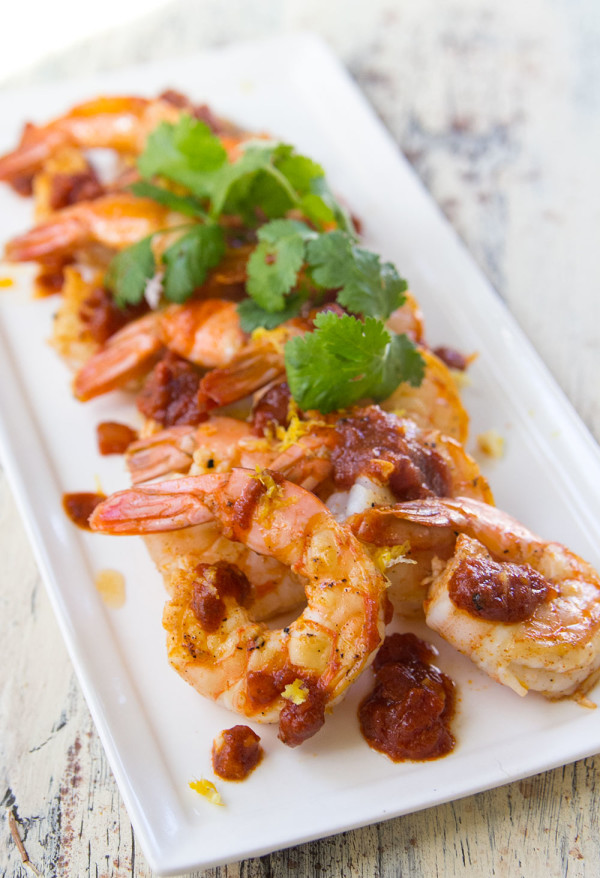 Warning, if you are in the throes of a winter storm, you may to skip this post and get straight to the recipe. Or perhaps the promise that spring is right around the corner will give you hope. Or perhaps you just saw 50 Shades of Grey and you'd like a side of torture with your sautéed shrimp.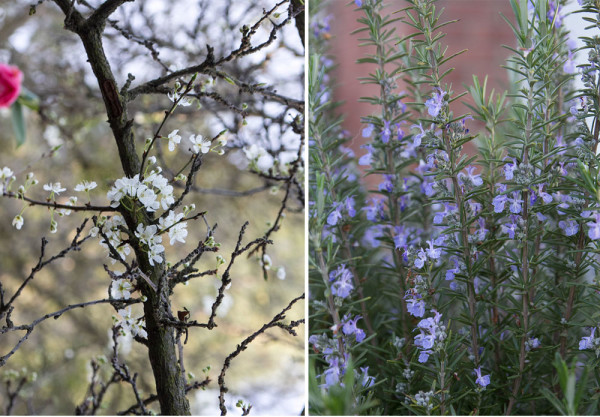 So with that, I will tell you that is has been warm here in Sacramento. On Saturday, I actually had a few minutes of feeling hot as I stood outside of our local farmers market and chatted with the market manager. This weekend, I was determined to drink in the warm spring-like sunshine and the scent of my newly blossoming plum trees.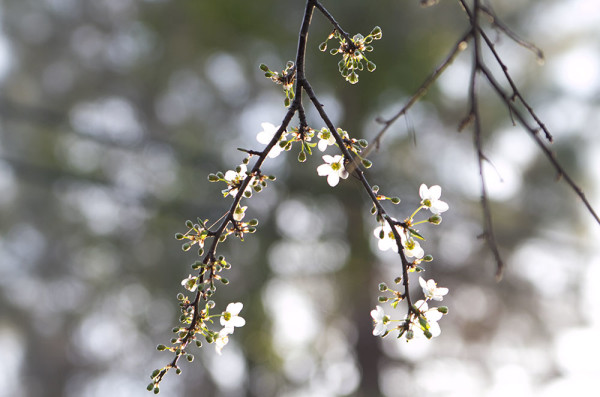 I was practically giddy from my trip to the market- my first since my surgery 5 weeks ago. I browsed the stalls and found the makings of a spectacular salad: green garlic, mustard greens, radishes, and spring onions. When I got home, I looked in the fridge and saw the sustainable shrimp I'd picked up the day before. I thought I'd like something a bit smoky, a little spicy, and super quick.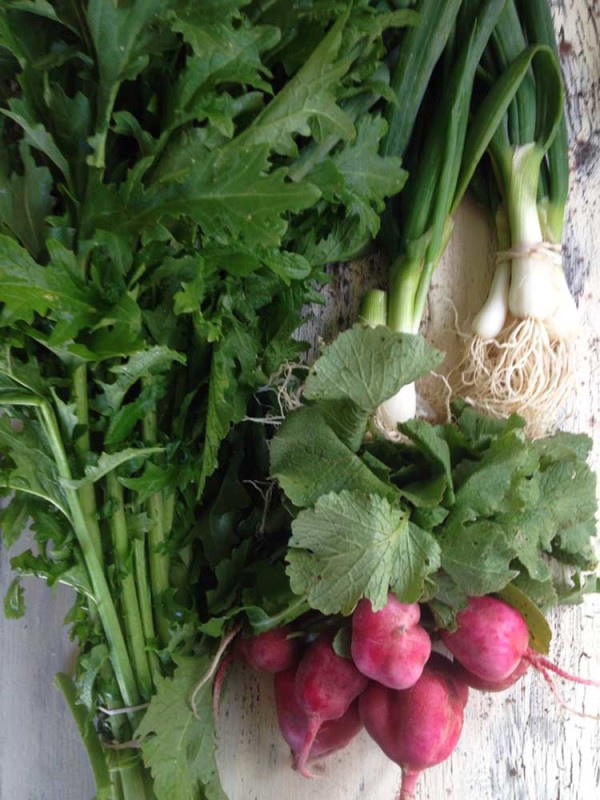 I whipped up this Spanish-style marinade and had a lunch of Spanish-style sautéed shrimp and mustard greens salad on the table in about 20 minutes. All the more time to enjoy the gorgeous sunny day.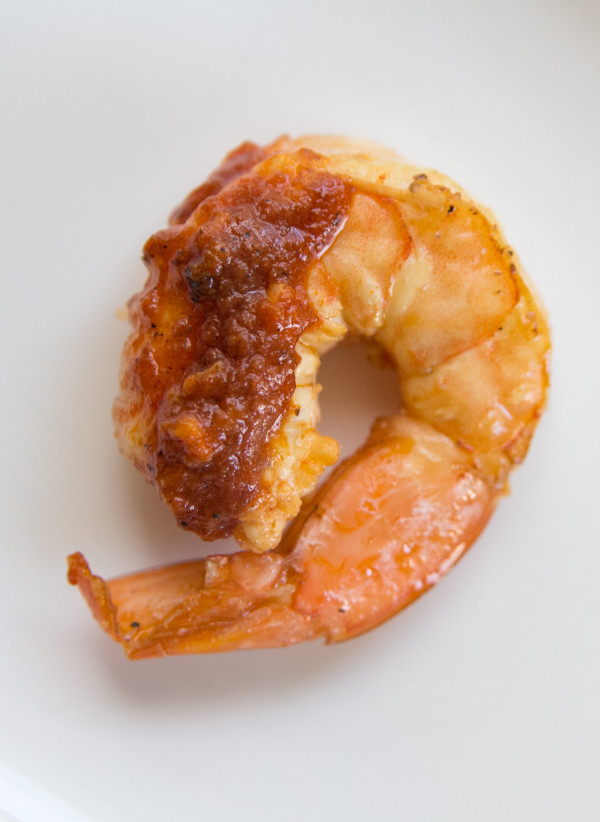 Spicy Spanish Sauteed Shrimp with Smoky Garlic Tomato Sauce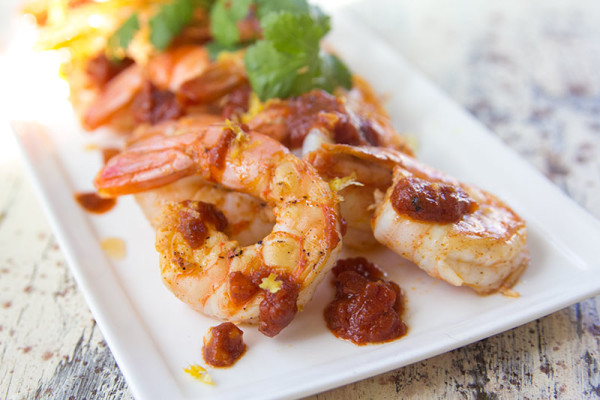 These Spanish Sautéed Shrimp are flavorful, bright, and simple to prepare. If you are starting with frozen shrimp, be sure they are thawed before you cook them. To thaw, place shrimp in a zip top bag, push out all the air, and seal. Place that bag in a bowl of warm water. Change the water every few minutes. Your shrimp should be ready to cook in about 15 minutes.
Spanish Sautéed Shrimp

1 lb shrimp, cleaned tails in tact (16/20 Count)
1 tablespoon olive oil + 2 teaspoons for cooking
1 tablespoon smoked paprika
¼ teaspoon cayenne pepper (optional)
juice and zest of one small lemon
⅛ teaspoon salt
⅛ teaspoon fresh cracked pepper
Whisk together 1 tablespoon olive oil, smoked paprika, cayenne, lemon juice, salt, and pepper. Marinate shrimp in the mixture for 5-20 minutes, then drain reserving marinade.
Heat a heavy skillet over medium until it is hot but not smoking. Add a teaspoon of olive oil and half of the shrimp. Cook for two minutes on one side and one minute on the second side. The shrimp are cooked when they are curled into a perfect c-shape. Remove the cooked shrimp and any liquid from the pan and cook the remaining shrimp in the same manner.
Serve with quick smoky tomato sauce and top with lemon zest.
Quick Smoky Tomato Sauce
1 cup canned diced tomatoes (I use the Bionaturae brand)
reserved marinade
2 cloves garlic, minced
In a small heavy-bottomed sauce pan, cook diced tomatoes, reserved marinade, and minced garlic over medium high heat for 5-8 minutes. Stir often to prevent sticking. The sauce is done when it looks thick and chunky.
Check out these great gluten free shrimp recipes
Sautéed Garlic Shrimp
Gluten Free Lemon Pasta with Shrimp
Pad Thai with Shrimp
Sriracha Shrimp with Zoodles
Thai Shrimp with Mango Dipping Sauce